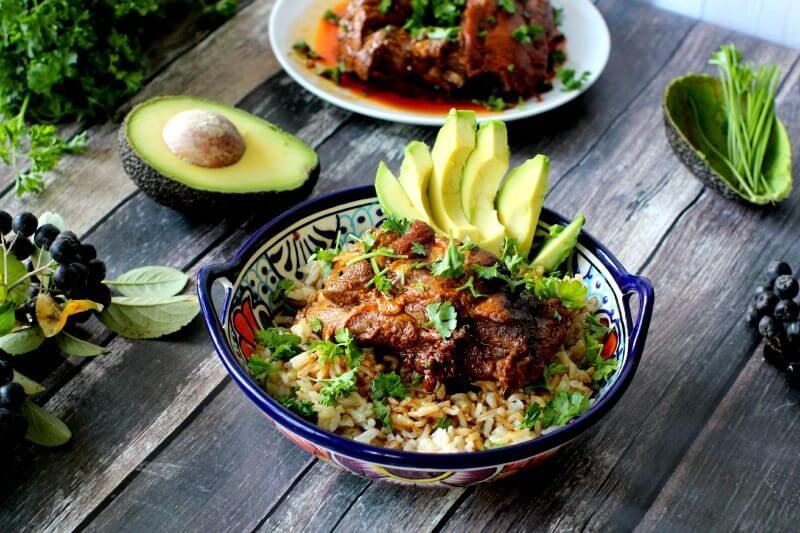 Slow Cooker Beer Ribs Rice Bowl
Slow Cooker Beer Ribs Rice Bowl are tender and fall of the bone, while easy to make in the slow cooker, and the perfect weeknight dinner.
We love making tender and delicious ribs, like our famous Instant Pot Ribs, Instant Pot Short Ribs and Slow Cooker Asian Short Ribs.
Slow Cooker Beer Ribs Rice Bowl
Slow Cooker Beer Ribs Rice Bowl is easy, delicious and satisfying comfort food at its best. This meal is insanely easy to make with no fuss. It requires to cook a big batch of brown rice over the weekend and store it in the fridge for quick, hearty and healthy dinner.
The ribs are cooked to perfection in beer with smoked paprika, which makes the meat tender and falling of the bone. The delicious smoked paprika adds such a nice flavor, and combined with the beer, it creates the most amazing smoked sauce that you just have to pour over the rice. Served in a bowl over brown rice with avocado and some cilantro to brighten up the dish.
Slow Cooker Beer Ribs Recipe Tips:
Use quality meat, preferably organic pork ribs, as the meet tends to be extra tender, which is perfect in this recipe.
Make sure you brown/sear the ribs, don't skip this step in an attempt to save time. It will make a huge difference in taste!
Sear the ribs in batches. I like to sear the ribs on both sides.
You can also make this recipe with wine instead of beer.
Why cook ribs in the Slow Cooker?
Its easy and convenient. You just have to add all the ingredients and wait for the pork to cook to fully perfection. This meal requires minimum prep work, and the slow cooker does all the heavy lifting for you. As a result, the meat will be incredibly tender and juicy.
Can you make this recipe with Pork Chops?
Yes, you can. Preferably you should brown the pork chops in a hot skillet over medium-high heat for a few minutes before adding them to the slow cooker. Other than that, follow the instructions from the recipe card and cook on Slow for 5-6 hours.
LOOKING FOR MORE PORK RECIPES? CHECK THESE OUT:
Deliciousness to your inbox
Enjoy weekly hand picked recipes and recommendations