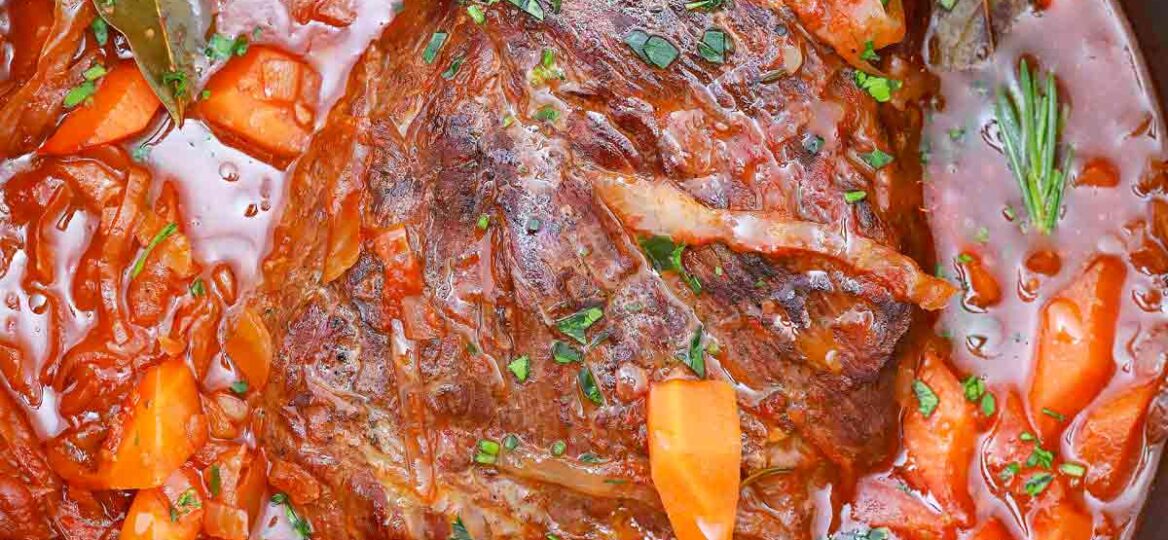 German Pot Roast and cabbage almost melts in your mouth after being slow-braised in broth, German mustard, brown ale, and spices. Insanely flavorful and perfect for family dinners and celebrations!
Don't have time for slow cooking? Use your Instant Pot to make Coconut Curry Chicken, Jambalaya, and Balsamic Chicken. These dishes taste like they've been simmered the whole day, but take less than an hour!
German Pot Roast and Cabbage Recipe
German Pot Roast is a rustic dish made with seared then slow-braised beef. What makes this recipe so unique is the addition of German mustard and brown ale to the broth, which gives it that trademark tangy richness. Another special element is the cabbage which we add near the end so it gets infused with flavor without getting overcooked.
And the smells that fill the house during those 4 hours of slow cooking— nostalgic, comforting, and incredibly mouthwatering. This is a well-loved dish in our home, and we're sure you'll love it too!
What is German Pot Roast?
Aka Sauerbraten, it's the German version of the classic pot roast. The rich gravy tastes dark, amazingly complex, and slightly tangy thanks to the brown ale and mustard. Instead of the usual potatoes, thin-shredded cabbage is added during the last hour to braise and absorb all those fantastic flavors. It's hard to describe just how good it is without tasting it yourself!
What is the difference between a pot roast and a Yankee pot roast?
Both involve slow-braising beef for hours. What makes a Yankee roast different is the inclusion of root veggies like parsnips, turnips, and sweet potatoes in addition to regular spuds and carrots.
What cut of meat is best for sauerbraten?
A well-marbled chuck roast is my top choice for sauerbraten and most pot roasts. It's perfect for this recipe because the slow braising process breaks down the meat and turns it super tender and juicy. If you can't find chuck, you can also use brisket, shoulder steak, and round roast.
How to make German Pot Roast from scratch?
Sear. Brown the seasoned chuck on all sides. Aim for a deep brown color with a slightly caramelized crust. Set aside.
Make the braising broth. Sauté the aromatics, paprika, and carrots together, followed by the tomato paste. Pour the brown ale in, and deglaze all the brown bits from the bottom of the pot. Boil, then simmer for a couple of minutes. Add your mustard, stock, and Worcestershire.
Add the beef back. Place the beef chuck back into the pan with the braising stock, then add the herbs.

Braise. Cover your Dutch oven, then oven-braise at a low 275F for 4 hours. Uncover and arrange the cabbage on top. Braise for an additional hour, until both the beef and cabbage are tender.
Serve. Slice or shred the beef, sprinkle parsley on top, and serve with the rich gravy. Enjoy hot.
Recipe variations and substitutions:
Brown ale substitute: You can use equal amounts of mushroom stock, root beer, beef broth, or coke for an alcohol-free version. If you can't find brown ale, any dark beer will do.
German mustard substitute: You can use brown mustard seed.
Include other vegetables: For extra tanginess, try adding pickles to the braise. Mushrooms, cloves, celery, and potatoes are also great additions.
Use other beef cuts: Instead of chuck, you can sub with brisket, round beef cuts, or tri-tip.
Add bacon: Chop about 5 strips of bacon and sauté along with your aromatics! Adds a delicious, smoky flavor to the dish.
What to serve with German Pot Roast?
It's perfect over mashed potatoes, mashed cauliflower, or mashed sweet potatoes. We also love to eat ours with home-baked rolls or crusty bread to wipe up all that delicious gravy! We also recommend eating it over spaetzle (German noodles), egg noodles, or rice.
How to store leftovers?
Cool the leftovers first, then transfer to a sealed container or freezer bag. You can keep this in the fridge for up to 5 days, but try to finish it ASAP to prevent the veggies from getting soggy. You can also freeze the beef for up to a month.
To reheat, thaw first if heating up from frozen. Microwave until hot, or simmer in the skillet with a bit of broth to loosen up the gravy.
More Beef recipes to try:
Recipe Tips:
Choose chuck with the most marbling you can find. Not only will you get extra tender meat, but all that rendered fat will make the gravy so rich and delicious.
You can cut the beef into two if it's too big to fit in your Dutch oven.

Don't skip the searing! It gives a beautiful, brown color to the beef and brings out all the flavor.

You can chop the cabbage into chunks instead of shredding it into ribbons if you like your vegetables with more bite.
Deliciousness to your inbox
Enjoy weekly hand picked recipes and recommendations