Swedish Pot Roast is oven-roasted until fork-tender before getting smothered in a creamy, buttery, and rich mushroom gravy. An incredibly easy, family-friendly meal that is sure to become a dinner staple!
For more creamy and comforting dishes, add Hamburger Steak with Mushroom Gravy, Creamy Chicken and Mushroom Casserole, and Mushroom Pork Chops to your upcoming dinner line-up!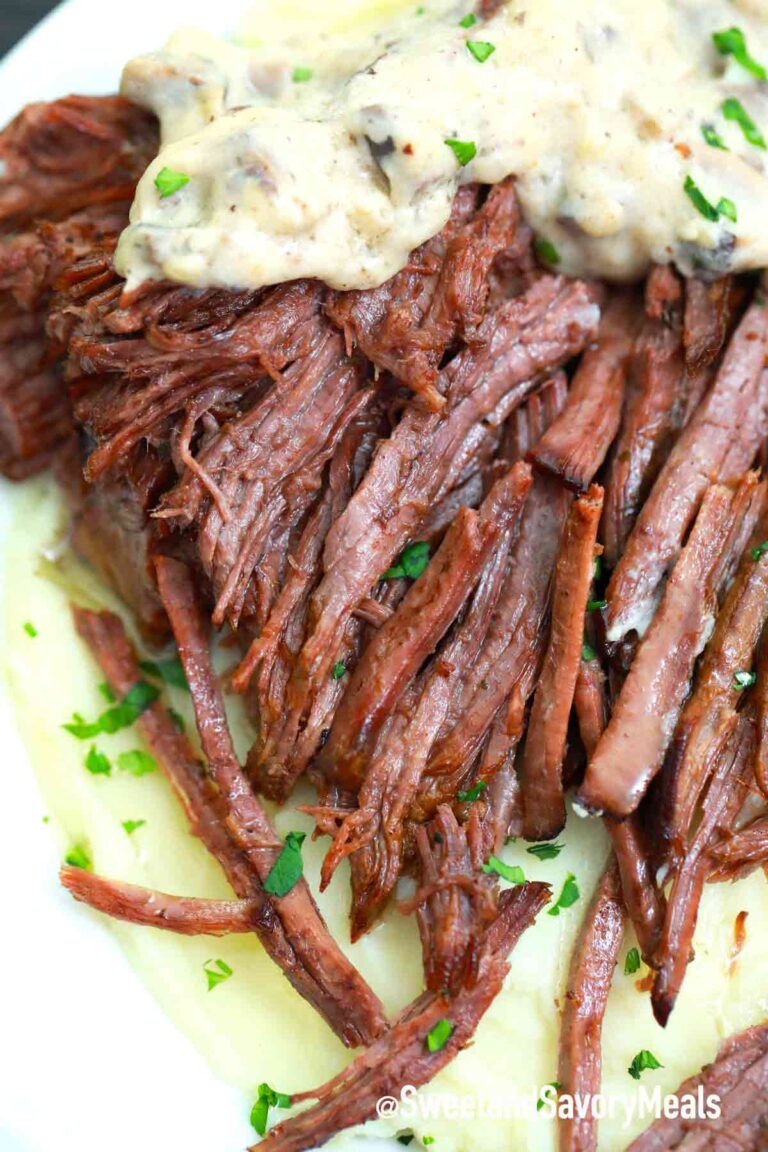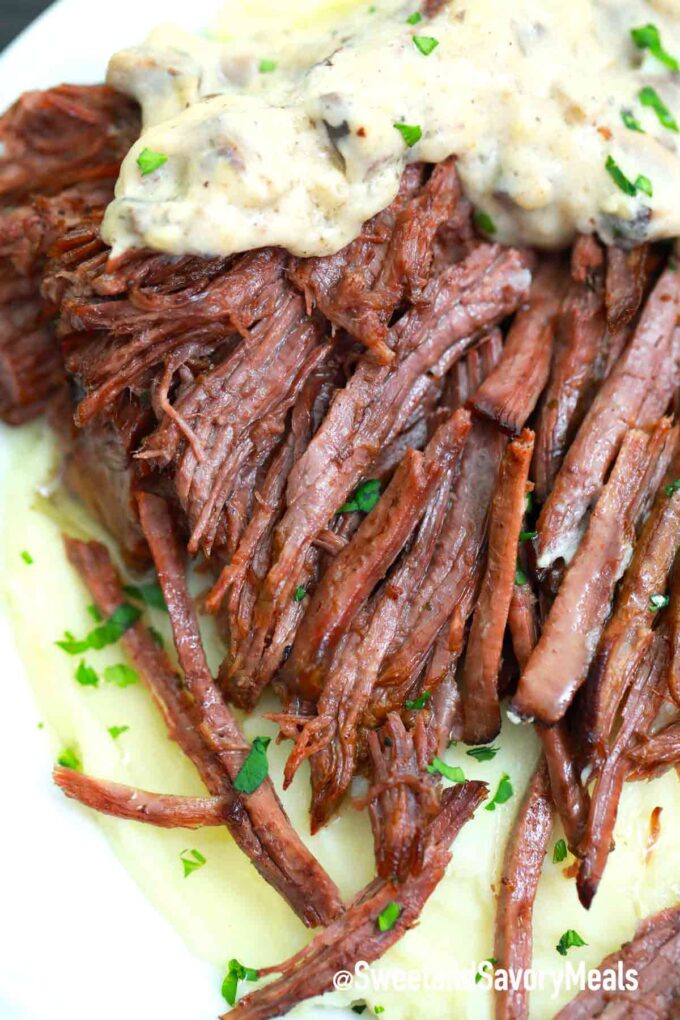 Swedish Pot Roast with Gravy
Swedish Pot Roast is one of the most-requested dishes in our home— especially by the kids! Every part of this dish is pure comfort food, from the simple, perfectly seasoned tender beef to the decadent milk gravy studded with mushrooms.
There's very little prep work involved, too. After seasoning and the beef, it goes right into the oven to bake for hours. Then, the luscious Swedish gravy takes less than 10 minutes to make. You're going to love this!
What is a Swedish pot roast?
If you're a fan of Swedish meatballs (who isn't?), you're going to love this twist on the Sunday dinner classic! It features beef that's so tender, it practically melts in your mouth. Setting it apart from the classic roast is a rich, creamy, and buttery gravy you'll want to pour over everything.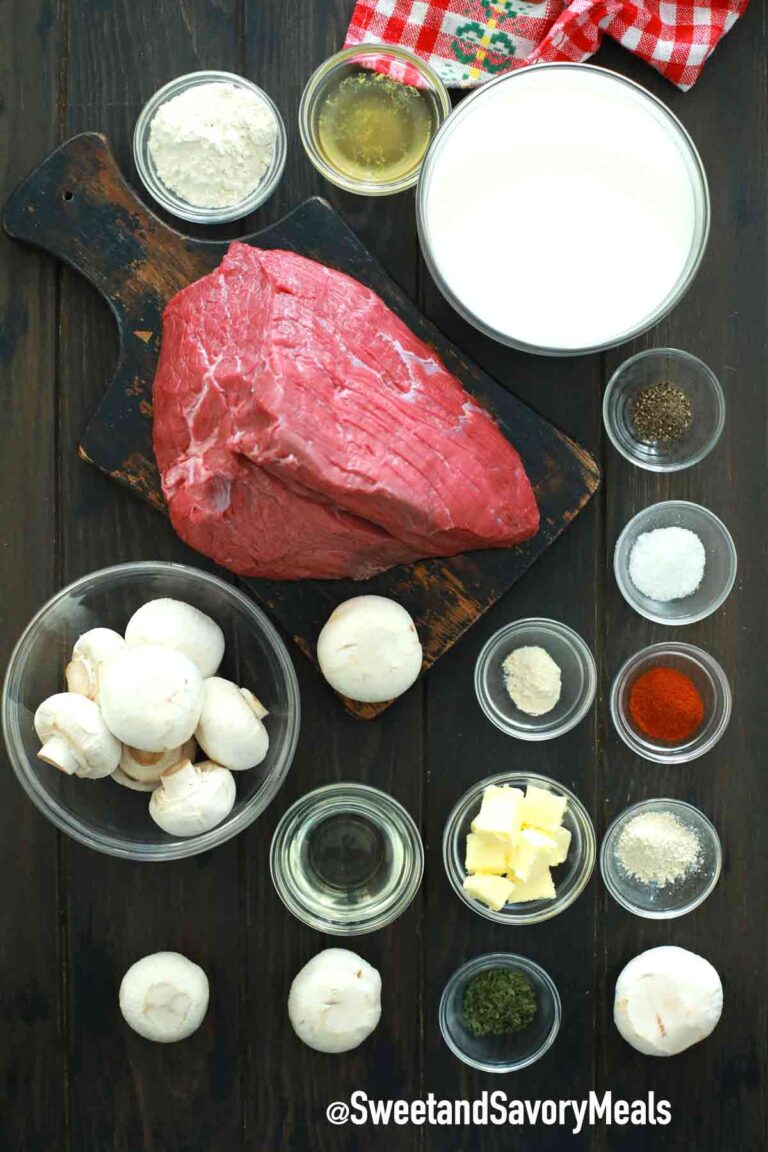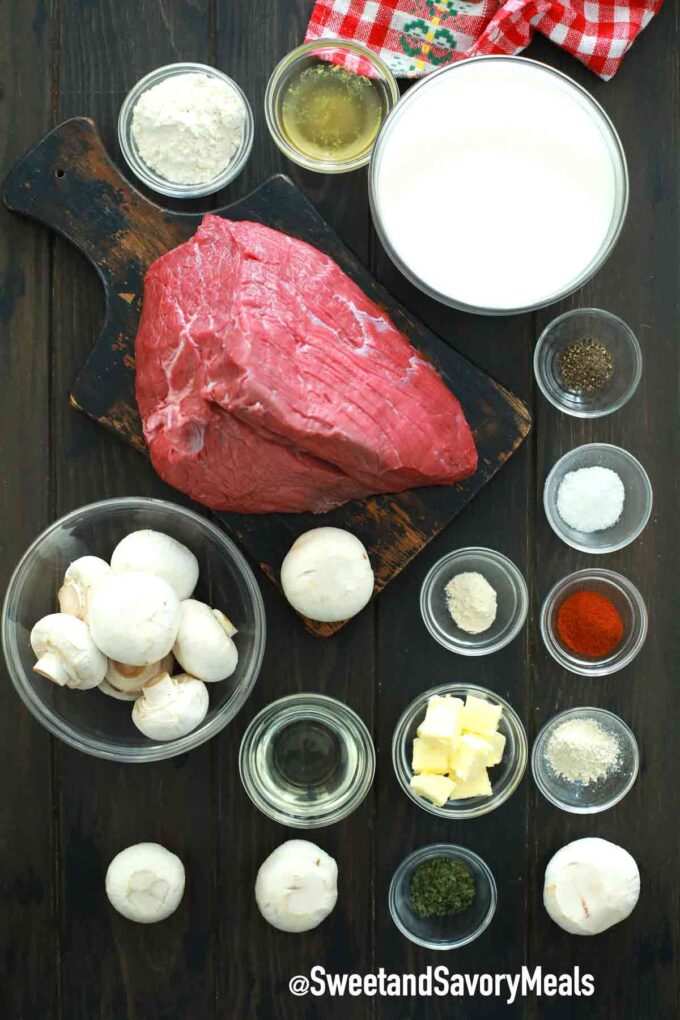 What do you need to make a Swedish pot roast
English shoulder roast: If you can, get organic grass-fed meat because it's incredibly flavorful and tender.
Rub: Fresh ground pepper, powdered spices like smoked paprika and onion powder, plus dried parsley, fresh-ground pepper, and oil to bind the seasonings to the beef.
Gravy: We're using the usual combo of butter and fresh whole milk, made more savory by beef bouillon, drippings from the cooked beef, and ground pepper for spice. Then, we're thickening it up with a dash of flour. Mushrooms add extra umami and meatiness to the gravy!
How do you make a Swedish pot roast with Gravy
Sear it until it's nice and brown. First, combine the oil with the rest of the seasoning rub, then massage it into every side of the beef. Then, sear every side until lightly brown all over.
Bake. After it's lightly browned, slow-bake your roast for 3-4 hrs. at 300F.
Cook the gravy. Meanwhile, brown the mushroom really well in the butter before adding some of the juice from the oven-roasted meat. After that, add your bouillon, flour, plus seasonings then mix everything well. Next, whisk in a little milk until you have a smooth, loose paste. Add the rest of the milk gradually and keep whisking on low heat for about 5 to 7 mins. until nice and thick.
Serve. Shred your beef, then plate up with the gravy. Enjoy hot!
Recipe Variations:
Slow cooker: Brown the meat before transferring to your crockpot, then set it on LOW (7 to 8 hrs.) or high (4 to 5 hrs.) Proceed with the gravy according to the recipe.
More herbs: Add the warming flavor of herbs with dried oregano, Italian seasoning blend, or fresh dill.

Gravy options: Chop a white onion into thin strips, caramelize it, and add to the gravy for extra flavor! You can also add some garlic for a huge flavor boost.
Keto: Use heavy cream instead of milk, and loosen up the gravy with extra broth.
Other beef cuts: You can also use chuck or brisket for this recipe, but add some broth to the pan while roasting to help it get more tender.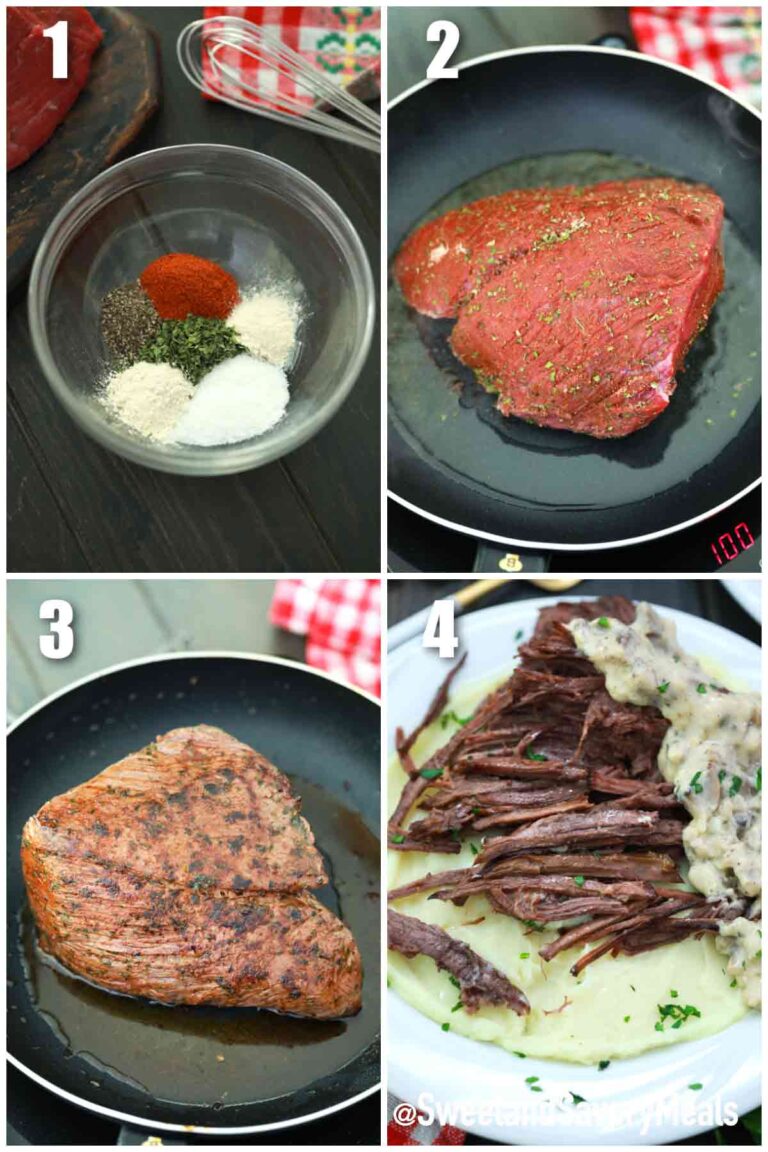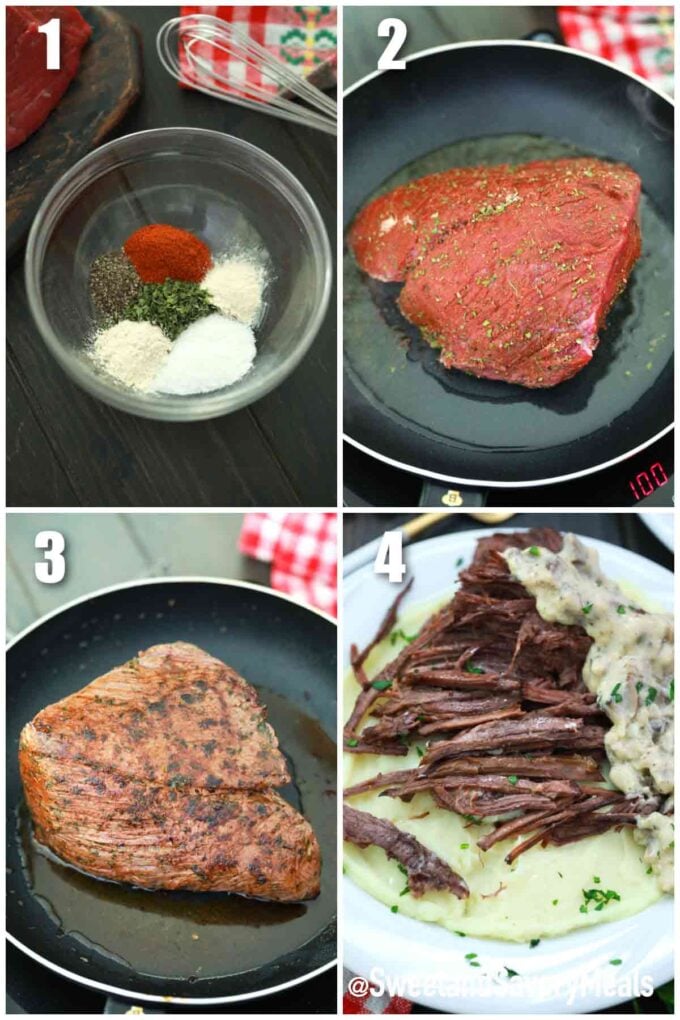 Frequently Asked Questions
How do you serve Swedish pot roast?
It's lovely over a bed of egg noodles or some pasta. You can also have it over mashed potatoes or mashed sweet potatoes— don't forget the dinner rolls to mop up that amazing sauce! We also like serving it with roasted veg like Crispy Roasted Rosemary Potatoes, Roasted Cauliflower, and Brown Sugar Roasted Carrots.
What is the best pot roast meat cut?
Chuck will always be our preferred cut. It's full of tough muscle plus tissues that break down into the most tender meat when cooked low and slow. The English shoulder roast is an excellent choice too, and it's the star of this recipe!
Do you submerge pot roast?
In most recipes, yes. Therefore, submerging it prevents the beef from drying out while making sure the low heat works on tenderizing the meat.
Do vegetables go on the bottom or top of the pot roast?
Under the meat, usually, because that way, they absorb those delicious, flavor-packed drippings.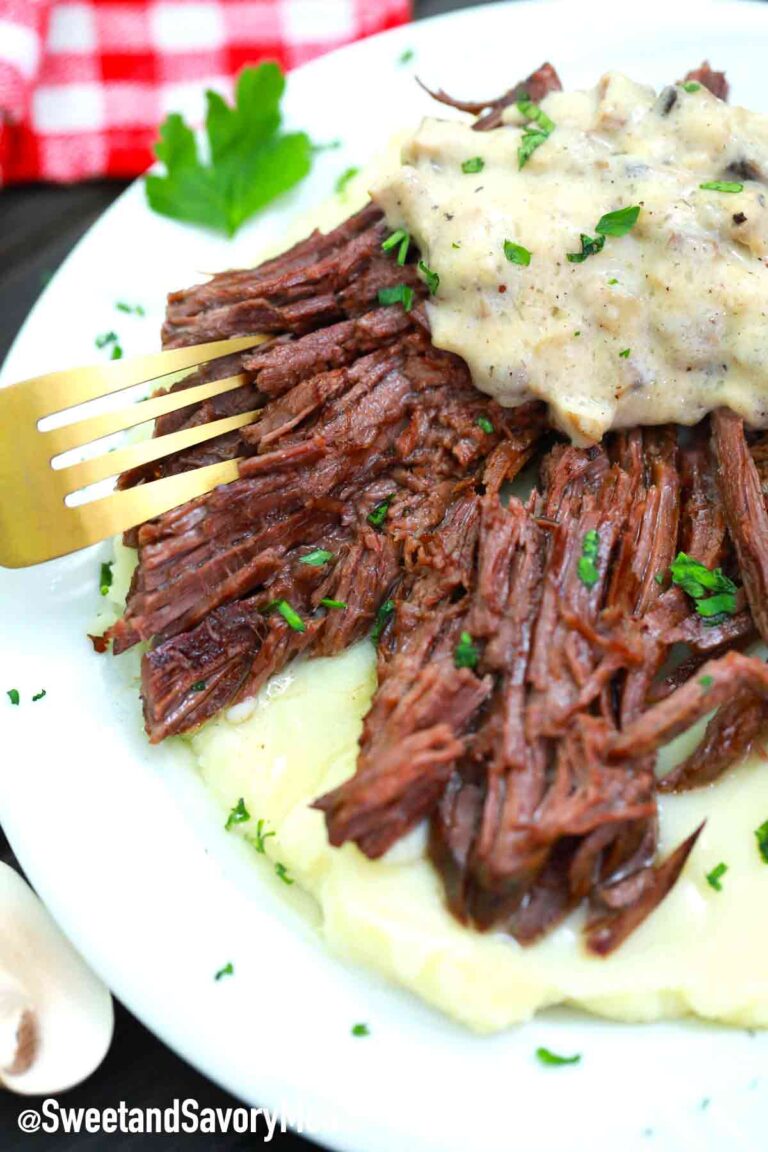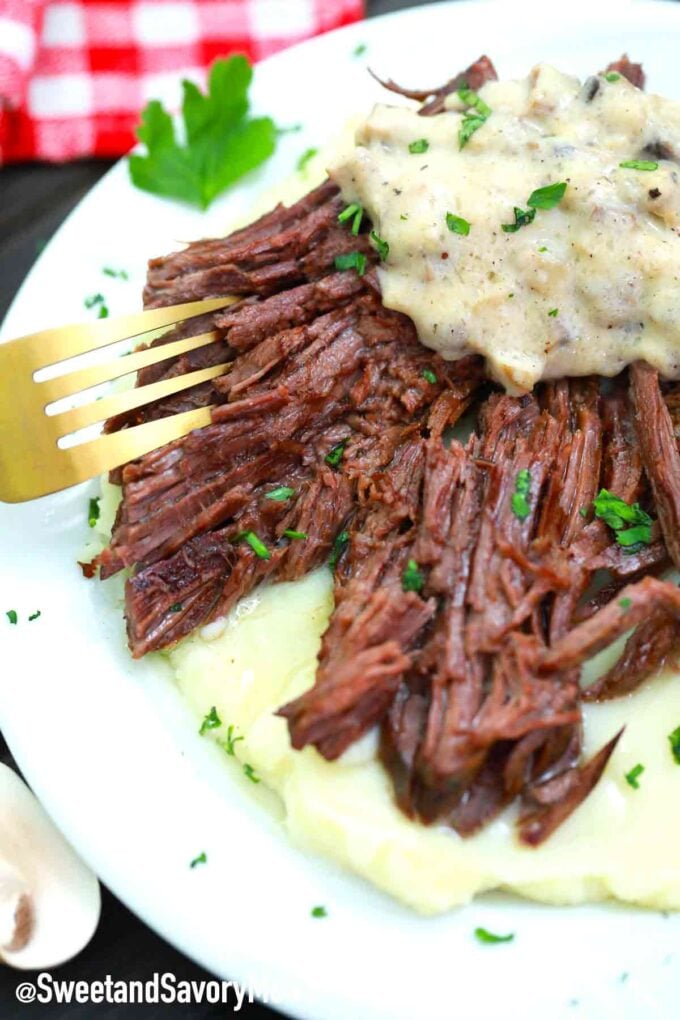 What to do if there's too much liquid in the pot roast?
Simply let it cook for a little longer to allow the excess liquid to evaporate. In addition, try adding a slurry to thicken it up faster.
What liquid do you put in a pot roast?
The broth is the most common, no-fail option. But you can definitely add different liquids to make it more flavorful! You can add beer, red wine, balsamic vinegar, juice, sodas like Dr. Pepper, just plain water, or a combination of several liquids!
How do you store leftovers?
After the leftovers have cooled down, place them in a large container then cover them with remaining gravy. Seal before chilling in the fridge, and finish within 4 days. Microwave until hot when you're ready to eat it.
Freezing instructions:
First, place the meat in a freezer bag, and cover with remaining gravy before pushing out the air and sealing it up. Next, freeze up to 3 months. To serve, defrost, then microwave until hot.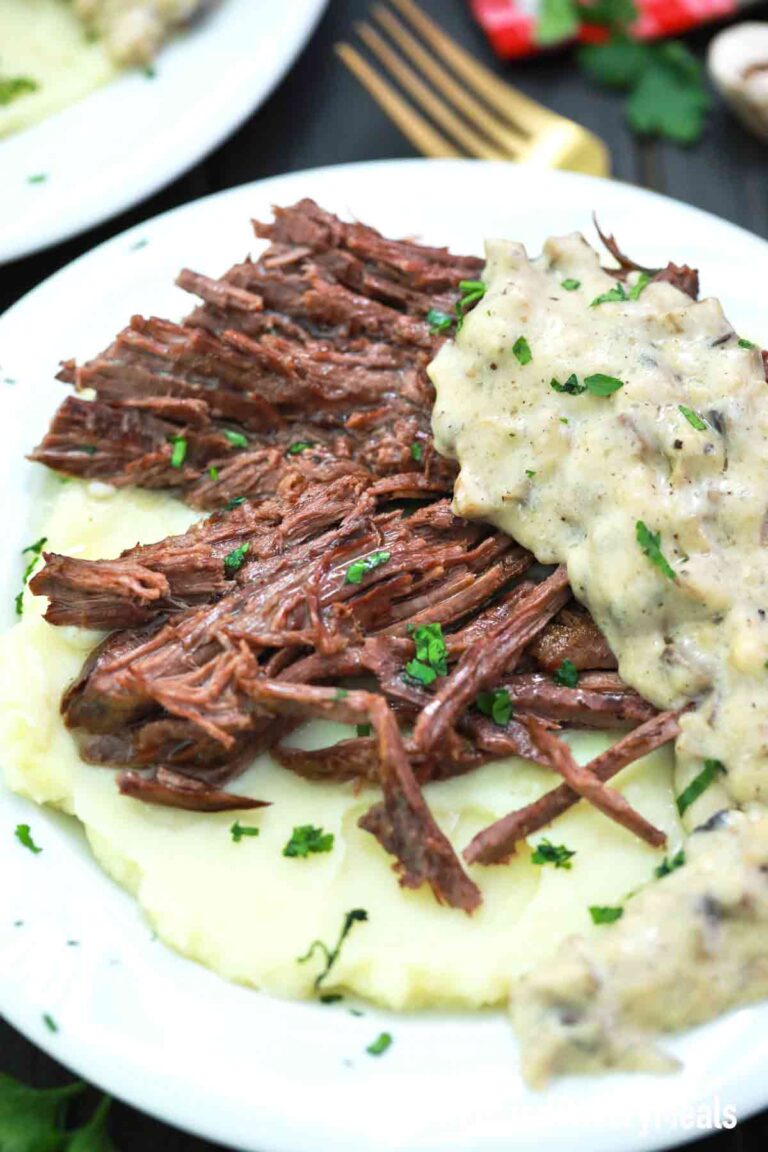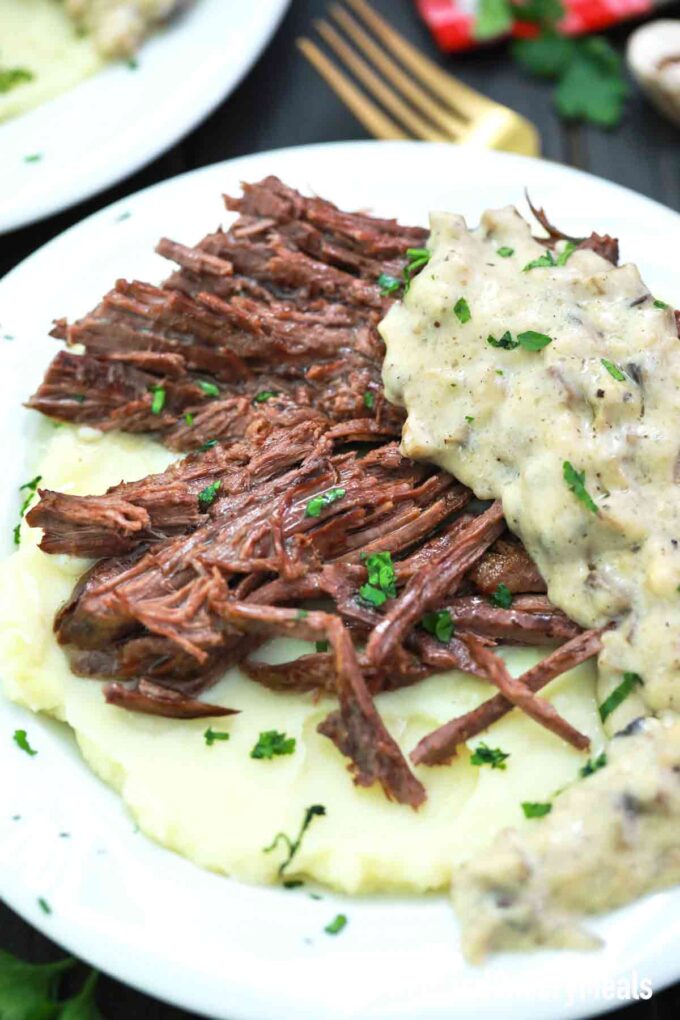 More Recipes You Might Like: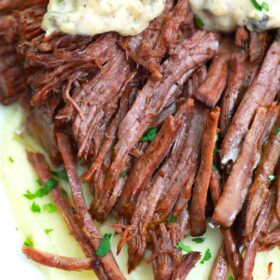 Swedish Pot Roast
Swedish Pot Roast is oven-roasted until fork-tender before getting smothered in a creamy, buttery, and rich mushroom gravy.
Save
Share
Print
Pin
Rate
Ingredients
Season the roast:
2

tablespoons

vegetable oil

1/4

teaspoon

salt

1/4

teaspoon

ground black pepper

1

tablespoon

dried parsley

1

teaspoon

smoked paprika

1/2

teaspoon

onion powder

1

teaspoon

garlic powder

2 1/2

pounds

English shoulder roast
For the gravy:
8

ounces

mushrooms

2

tablespoons

butter

(unsalted)

2

tablespoons

beef juices

(from the cooked roast)

2

tablespoons

all-purpose flour

2

teaspoon

beef bouillon granules

Salt and pepper black pepper

2

cups

milk
Instructions
Preheat oven to 300 degrees F.
Season the roast:
Mix together the seasonings in a small bowl and rub well all over the meat.

Place a large skillet over medium heat, and heat the oil.

Once hot, brown the roast on all sides until nicely seared and browned.

Place the meat into a 2 1/2 quart dutch oven and cover it with the lid.

Set aside the skillet with the dripping for the gravy later.

Bake the roast for 3-4 hours or until fork-tender.
Gravy:
Place the skillet with the drippings over medium heat and add the butter, melt it and add the mushrooms. Cook them stirring until nicely browned and tender.

Add two tablespoons of the juices from the roast from the dutch oven.

Add in the flour, beef bouillon, salt, and pepper, and mix well.

Slowly pour 1/2 cup of milk and whisk until the mixture is smooth.

Add the remaining 1/2 cup of milk and whisk until smooth and bring to a low boil, whisking constantly.

Cook for 5-7 minutes or until the gravy has thickened. Remove from heat.

Serve the pot roast and gravy over mashed potatoes.

Garnish with fresh parsley.
Notes
The gravy will continue to become thicker as it cools down, so don't go overboard with simmering it.
Sear the beef well to lock in the flavors and give the dish a nice color.

You can use whole or 2% milk.
Nutrition
Calories:
412
kcal
|
Carbohydrates:
9
g
|
Protein:
46
g
|
Fat:
21
g
|
Saturated Fat:
10
g
|
Cholesterol:
131
mg
|
Sodium:
480
mg
|
Potassium:
894
mg
|
Fiber:
1
g
|
Sugar:
5
g
|
Vitamin A:
477
IU
|
Vitamin C:
1
mg
|
Calcium:
134
mg
|
Iron:
4
mg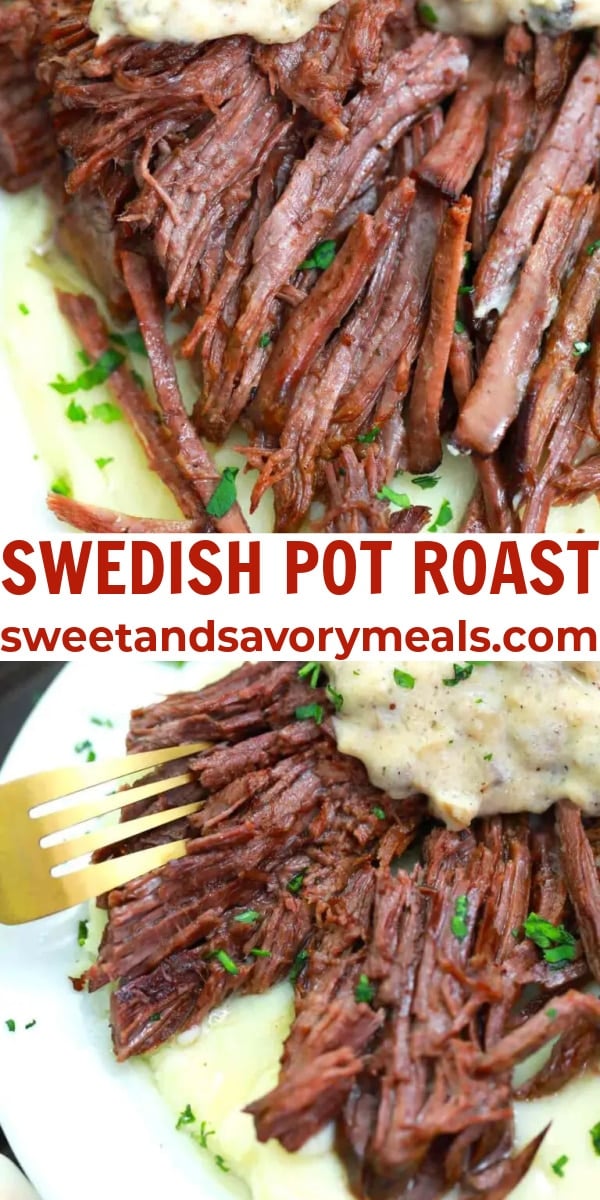 More recipes you might love