Crispy Oven Baked Chicken Tenders [video]
Oven Baked Chicken Tenders have a crunchy layer of crumbs on the outside and a juicy and tender on the inside! They are also simple and easy to prepare!
We love oven-baked recipes, as they are usually bursting with flavor and at the same time on the healthier side. You should definitely check our: Crispy Oven Baked Tilapia, Crispy Baked Tofu, and Barbecue Ribs!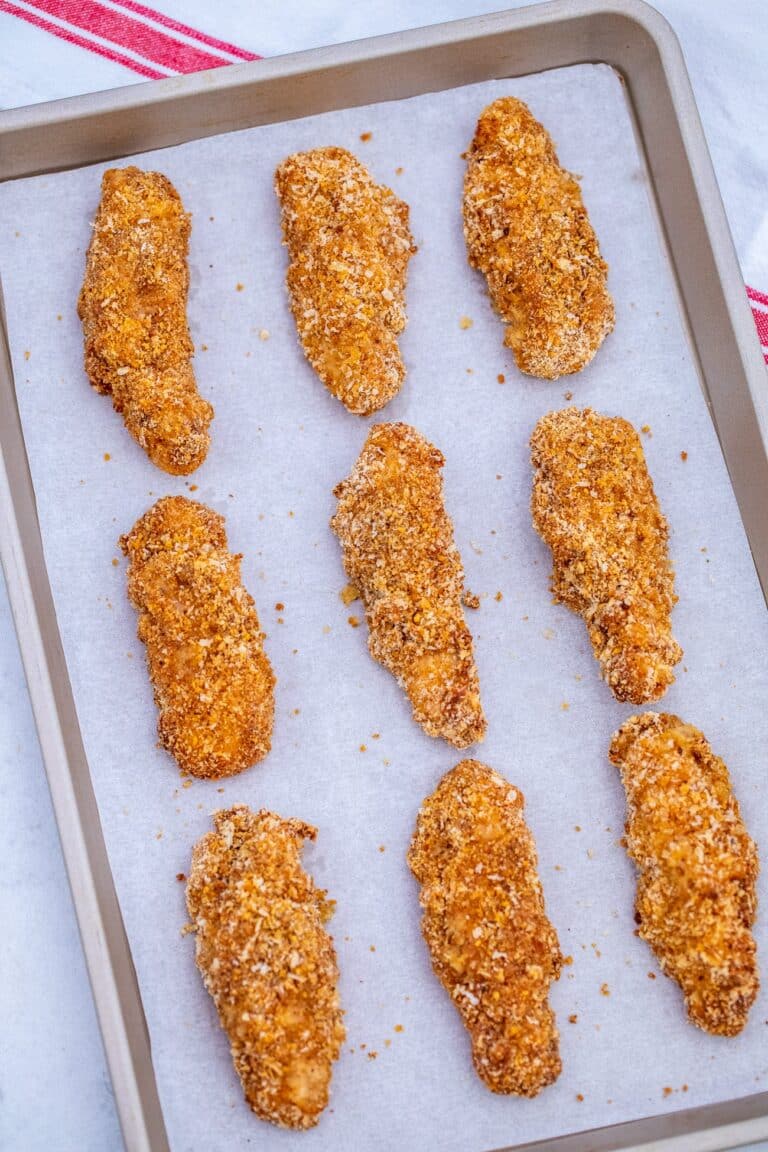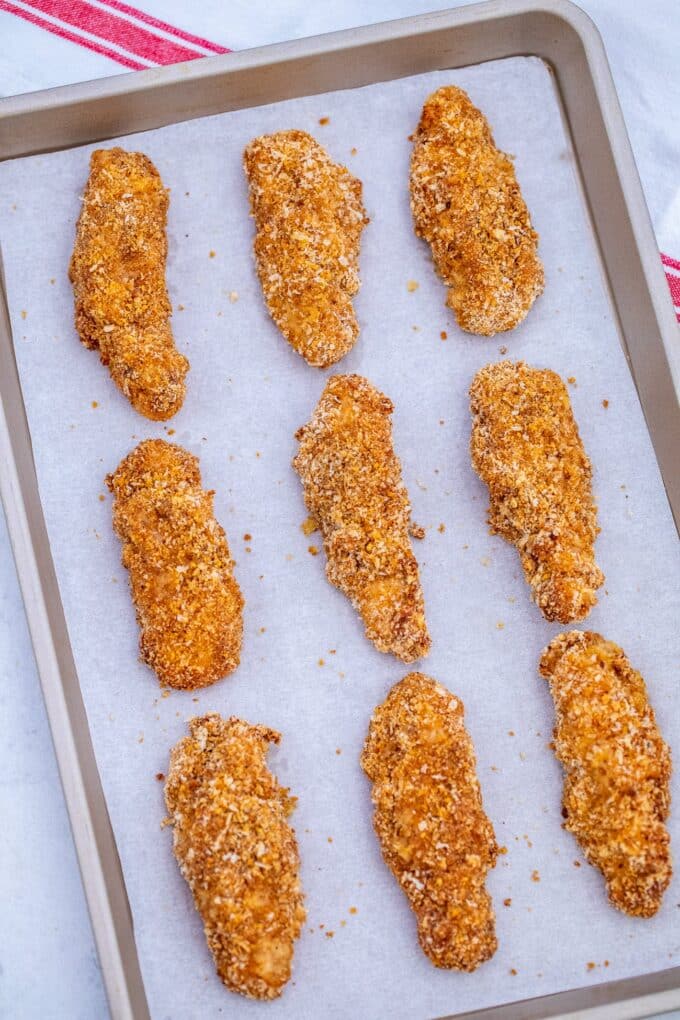 These Oven Baked Chicken Tenders are a crowd favorite! The different textures that this dish has adds to its overall appeal. It is extremely versatile, too. Serve it with an array of dip choices, and you get yourself a great party entree! Kids also love these, and they make great lunch box additions.
We use chicken breasts to make the chicken strips in this recipe. Since they are boneless, preparing the meat is easy. And this makes it ideal to serve as finger food, especially for kids!
However, this cut does not have a lot of flavors. And this makes the recipe a great way to prepare it since we will be cutting them into strips which increases the surface area. The increased surface area means more area to add seasonings, hence make chicken tenders taste amazing!
Ingredients used:
Chicken breast: I go with boneless and skinless breast cut into about 1-inch thick strips.
Flour: To coat the meat. It also makes them extra crunchy on the outside.
Seasoning: Onion powder, garlic powder, paprika, salt, and black pepper.
Eggs
Bread crumbs and panko bread crumbs: I like using both here for coating the meat.
Cooking spray
How do you make crispy oven baked chicken tenders?
Preheat the oven: First, set the oven to 400 degrees F. Then, line your tray with parchment paper or spray some non-stick spray.
Prepare the breading: Next, mix together the flour, salt and pepper, paprika, garlic powder, and onion powder in a shallow dish. Lightly beat some eggs in a separate bowl. In another bowl, mix together the panko breadcrumbs and regular breadcrumbs.
Coat: Then, coat each piece of poultry in flour mixture, egg, and breadcrumbs in this order. Spray each piece with cooking spray.
Bake: Lastly, arrange the pieces neatly on the tray and then, bake for 20 to 25 minutes until golden brown.
Serve: Enjoy them right away with your favorite sauce.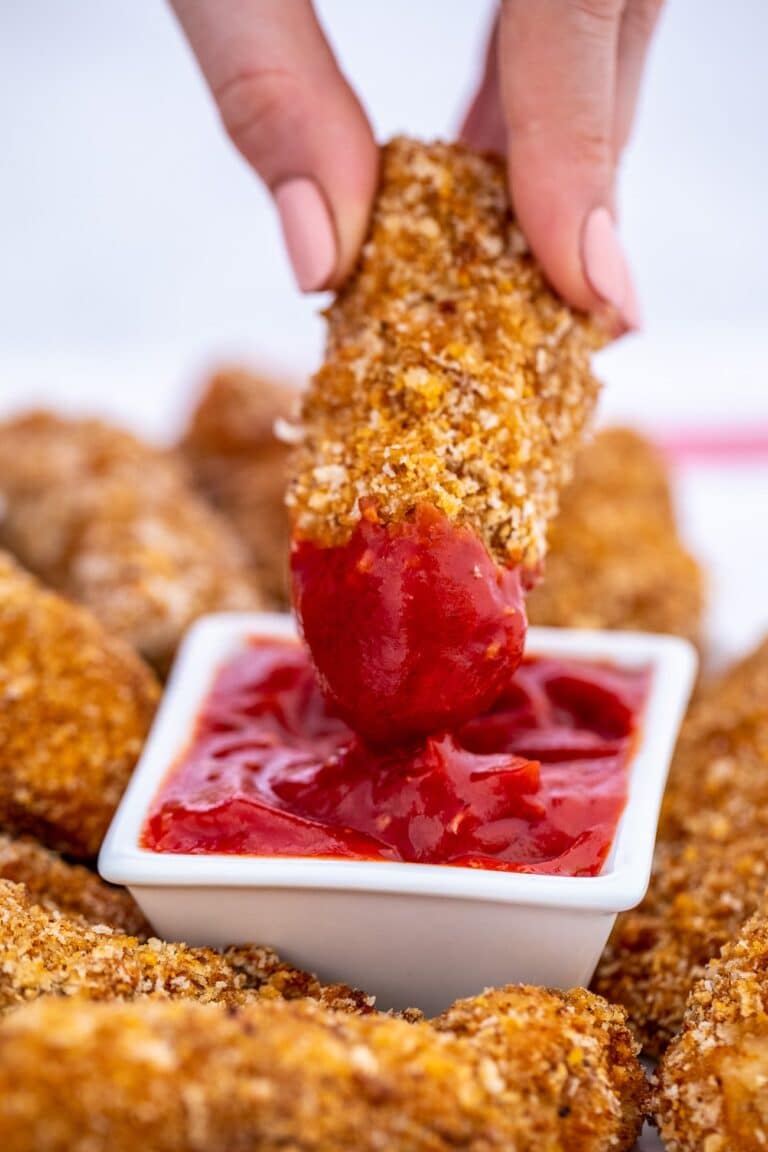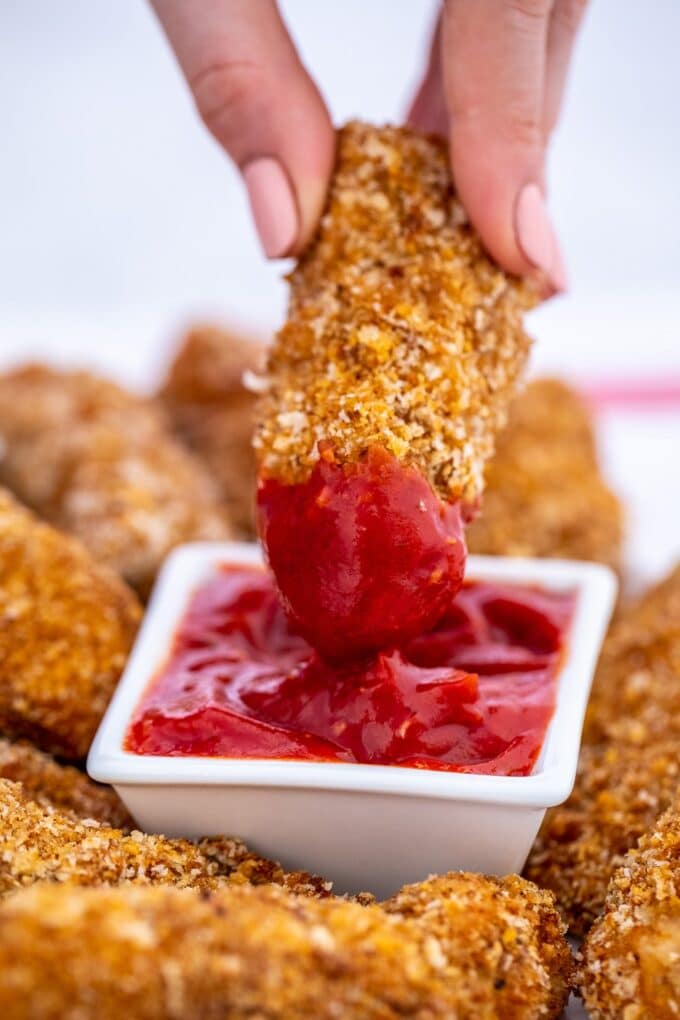 Frequently Asked Questions:
What are chicken tenders?
In the market, they are just breasts cut into strips. They are also called fillets or fingers.
But in reality, they are parts in the chicken beneath the breasts – essentially, the tenderloin and are pretty much the same as the pork's tenderloin.
What is the difference between chicken nuggets and tenders?
Tenders come from an actual part of the chicken and are solid. Meanwhile, nuggets are formed bits of meat, though the meat may come from the breasts, too. Nuggets are breaded and sometimes marinated.
Since the nuggets are more processed between the two, they may be less healthy. You will not know which part is used to make those nuggets, too. Hence, if you are to cook them, it is better if you can make them from scratch.
What temperature should chicken be cooked at?
According to USDA, poultry is safe to consume when its internal temperature reaches 165 degrees F.
Are chicken tenders healthy?
Yes! The white meat used for this recipe is lean, low in calories and a good source of protein. But when fried, the calories increase.
It's a good thing that this recipe calls for baking rather than deep-frying. Not only is the cleanup easy, but you have more room for the increase in calories brought about by dipping in sauces.
Can I make them in the Air Fryer?
Absolutely! Air Fryer is a great and quick way to cook them. Also, it is another healthy alternative because limited oil is used, but the result is the same – the meat is super crispy on the outside and tender inside!
Check out my Air Fryer Dorito Chicken – you will love it!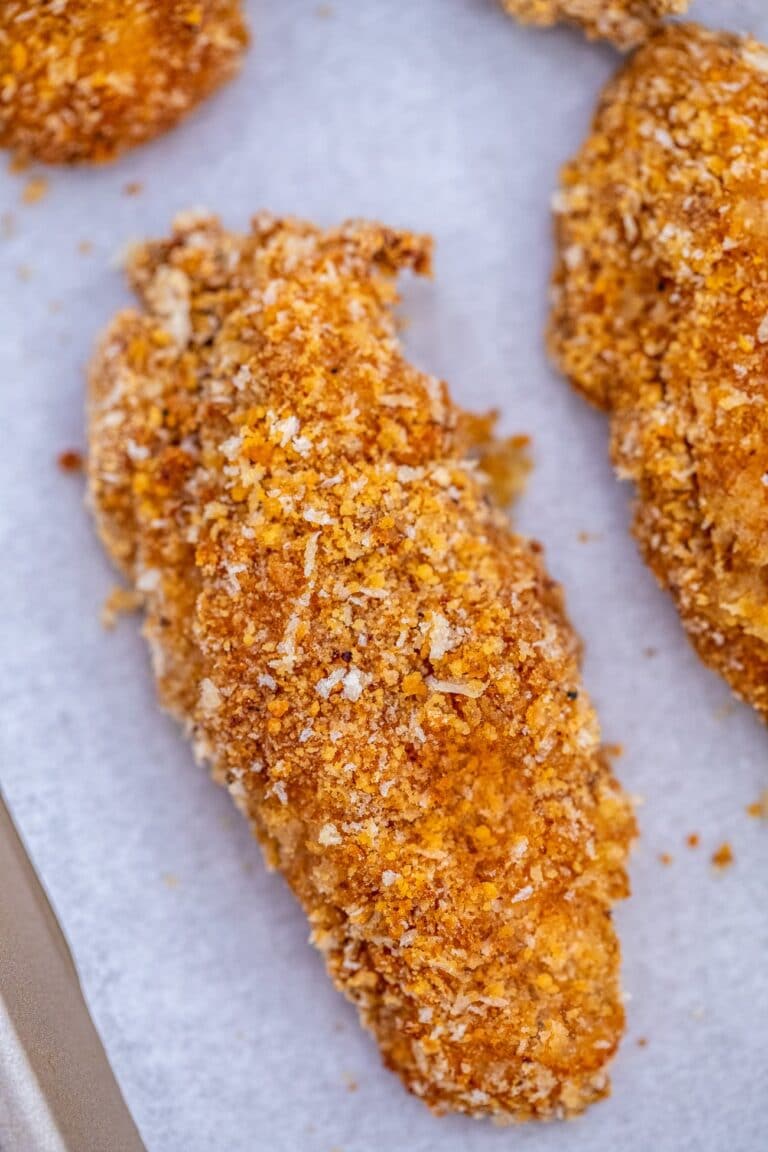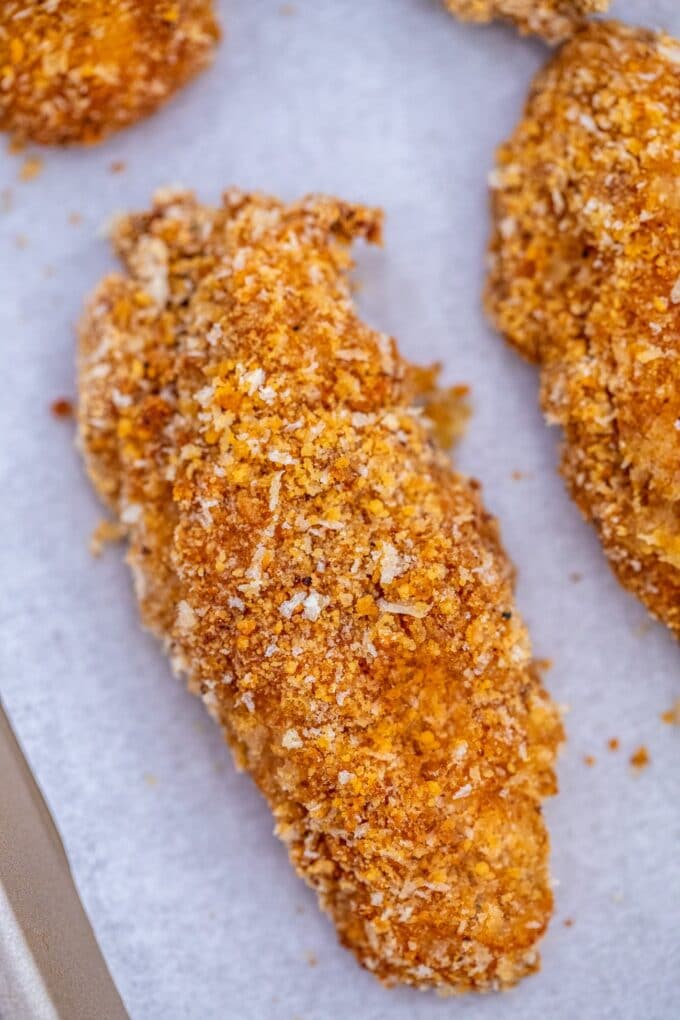 What to serve with them?
Serve this dish with something light and simple like roasted vegetables. Here are a few suggestions:
Favorite dipping sauces to go with them:
How to store leftovers?
Refrigerator: Store leftovers in an airtight container for 3 to 4 days.
Freezer: If you want it frozen, you can store it for at least 2 months.
To reheat: Thaw and bake the leftovers in the oven preheated at 350 degrees.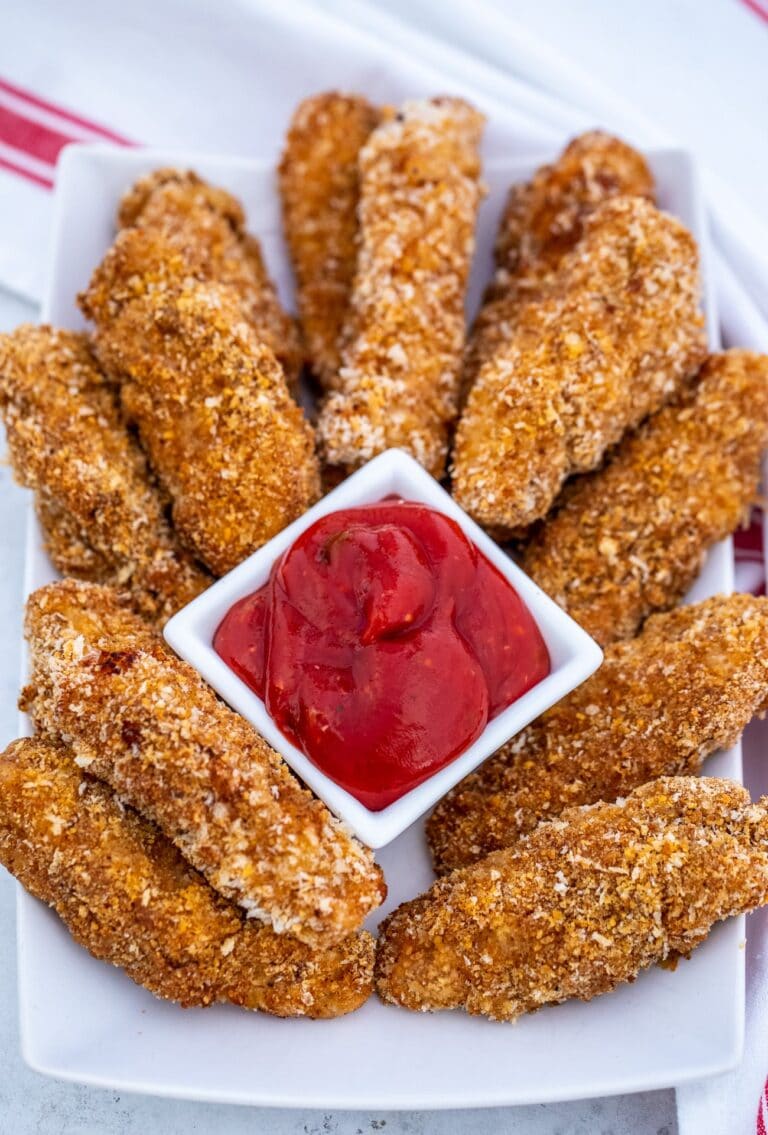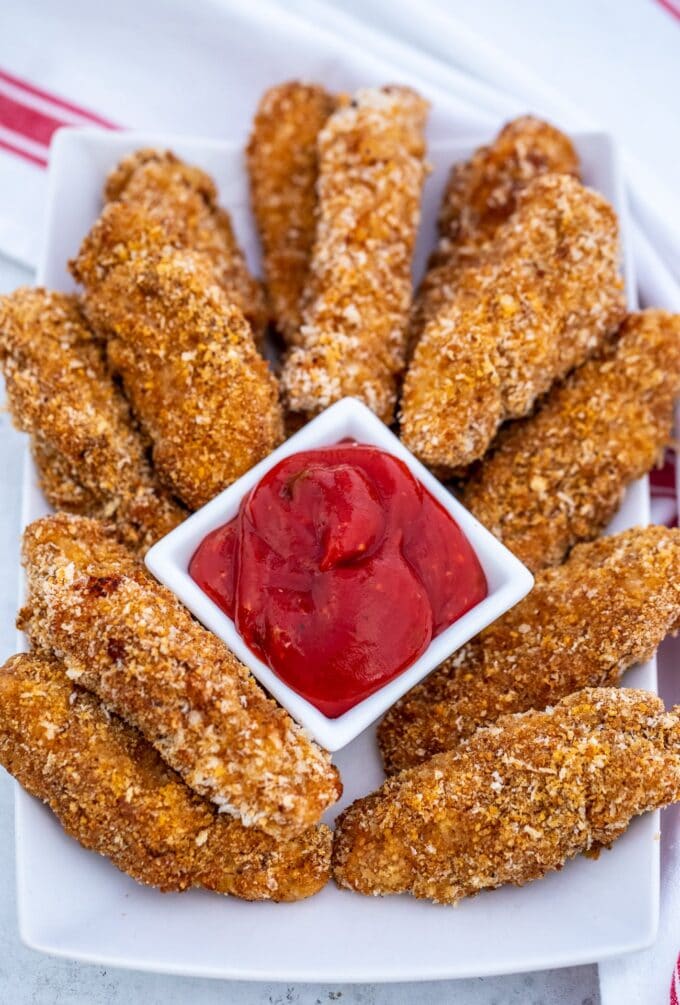 More chicken dinners:
Recipe Tips:
Aside from serving it with the sauce as a dip, you can coat the cooked chicken strips with the sauce. Put the sauce and strips in a plastic container, cover, and then, shake well until evenly distributed.
Also, do not microwave if you want to reheat this dish or else, it will dry out.
Make sure that the internal temperature of the chicken reaches 165 degrees for safety.
If you want them extra-crispy, drizzle them with some melted butter prior to baking.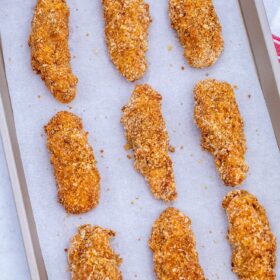 Oven Baked Chicken Tenders
Oven Baked Chicken Tenders have a crunchy layer of crumbs on the outside and a juicy and tender on the inside! They are also simple and easy to prepare!
Save
Share
Print
Pin
Rate
Servings:
12
chicken strips
Ingredients
2

lbs

chicken breast

(trimmed of excess fat and cut into 1-inch width strips)

1

cup

flour

1

teaspoon

salt

1/2

teaspoon

black pepper

1

teaspoon

garlic powder

1/2

teaspoon

onion powder

1

teaspoon

paprika

2

eggs

1

cup

breadcrumbs

1

cup

panko breadcrumbs

Cooking spray
Instructions
Preheat oven to 400 degrees F.

Line a baking sheet with parchment paper and set it aside.

In a shallow dish or pie pan, whisk together the flour, salt and pepper, paprika, garlic powder, and onion powder.

In another shallow dish, beat the eggs lightly.

In a third dish, whisk together the breadcrumbs and panko bread crumbs.

Dip each chicken strip in the flour mixture, then in the egg mixture, then toss in the bread crumbs mixture. Place on the prepared baking sheet.

Spray each of the chicken strips lightly with cooking spray.

Bake in the preheated oven for 20-25 minutes, or until golden brown and cooked through.

Serve with your favorite sauce.
Nutrition
Calories:
191
kcal
|
Carbohydrates:
18
g
|
Protein:
19
g
|
Fat:
3
g
|
Saturated Fat:
0
g
|
Cholesterol:
75
mg
|
Sodium:
394
mg
|
Potassium:
335
mg
|
Fiber:
1
g
|
Sugar:
0
g
|
Vitamin A:
145
IU
|
Vitamin C:
0.9
mg
|
Calcium:
35
mg
|
Iron:
1.6
mg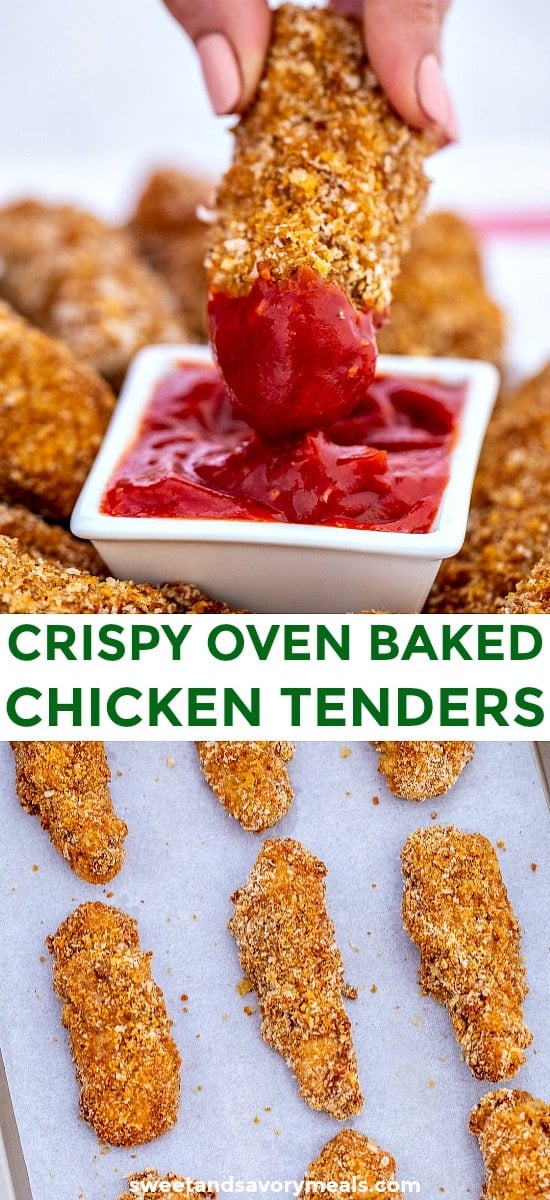 More recipes you might love