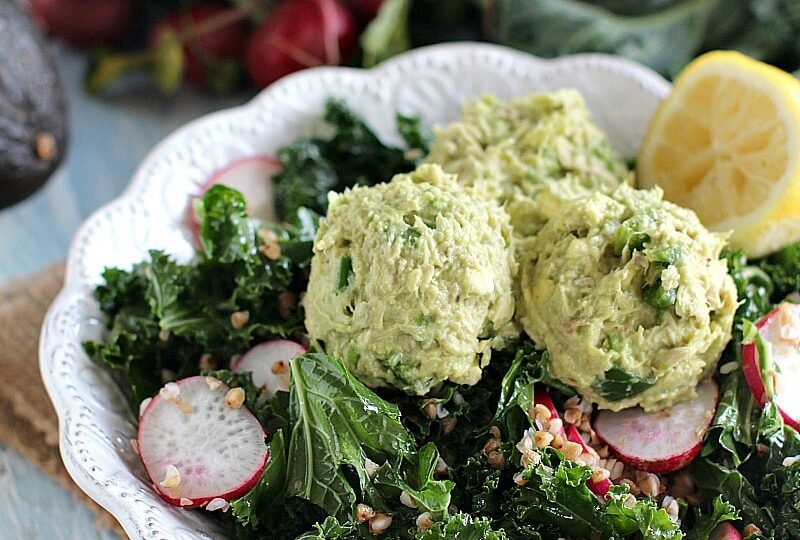 Avocado Tuna Salad is served over toasted buckwheat and kale, with crunchy radishes. It is nutritious, fresh and hearty with a spicy kick.
I love making quick, easy and delicious salads like BLT Potato Salad and Garlic Kale Salad.
Avocado Tuna Salad
Avocado Tuna Salad is a a quick and delicious salad made easily at home. I used white albacore in water as the main protein in this dish. Then, I mixed it with a ripe avocado, lemon juice and chopped jalapeno for a spicier kick. Just look at those tuna salad scoops, you can see huge chunks of tuna, and this is what I love about it: the firm texture, light color and fresh taste.
I served the Avocado Tuna Salad over a bed of kale mixed with buckwheat. In addition, I added some sliced radishes for a pop of color and some crunchiness. This salad is perfect and I like how quickly it comes together. Also being super filling, nutritious and delicious. To save time during the week, I usually cook some buckwheat during the weekend and store it in an airtight container in the fridge. I add it to salads or use it instead of rice. For the perfect kale texture, I massage the kale with some lemon juice and olive oil, so its soft and tender.
Why you will enjoy this Avocado Tuna Salad
It is easy to make with minimal ingredients.
Also, it is healthy and rich in protein.
In addition, contains lots of vitamins from kale and buckwheat
Can be topped with various flavors, such as tuna, chicken, bacon.
Suggestions for the perfect Avocado Tuna Salad:
Firstly, try to use organic products. I know they are more expensive, but taste wise they make a difference.
Also, if you want to add more proteins to the salad, add some extra beans.
Avocado should not bee too ripe, as it will make the salad mushy.
In addition, you can substitute tuna with chicken or bacon, or other meats if wanted.
Deliciousness to your inbox
Enjoy weekly hand picked recipes and recommendations