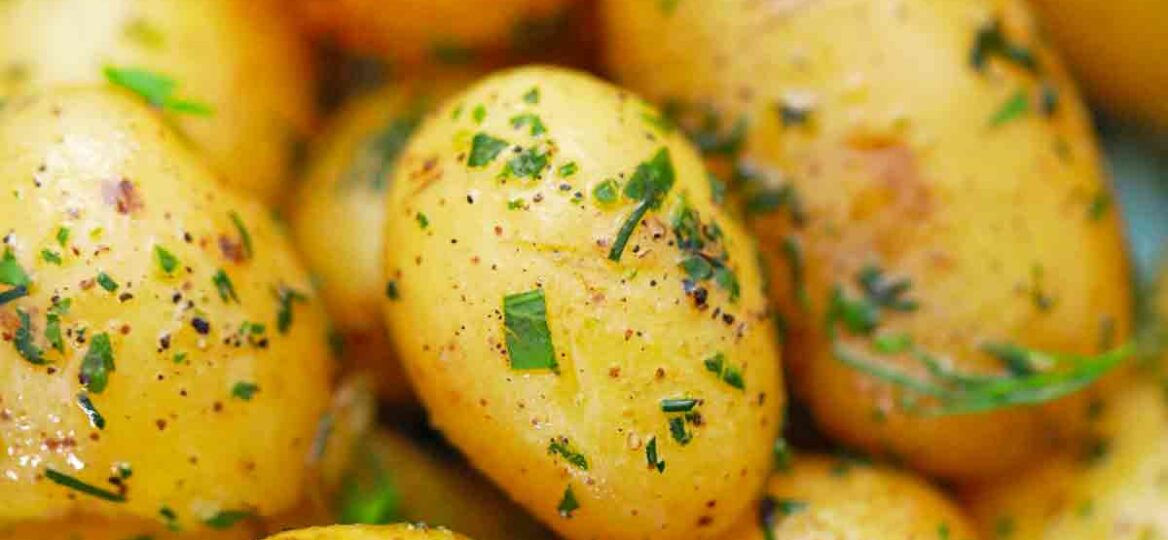 Buttery Boiled Potatoes
Boiled potatoes are buttery and delicious made with fresh herbs and drizzled with melted butter and a touch of fragrant olive oil. The insides have a nice creamy texture while the skin is soft and flavorful. This is my favorite way to cook taters and an easy side dish for any dinner.
Side dishes can either make or break a dish, they are a great option to add extra flavor and texture that would complement the main course. Another great recipe is this Crispy Smashed Potatoes recipe with red pepper flakes and green onions. Or try these Crispy Air Fryer Taters with smoked paprika and parmesan cheese.
Boiling potatoes is a good idea for any kind of potato recipe from classic potato salad to mashed spuds or serving plain for a quick side dish.
Recipes like this potato side dish are not just easy and delicious but they are also very inexpensive. You can make this entire recipe for less than 1$ per serving.
This is one of those easy delicious dishes that can also be made last minute. Also, it is perfect for summer cookouts, and in addition, it pairs well with any main dish, like fish, pork, steak, chicken, or shrimp.
You could also use these for this Deviled Egg Potato Salad made with green onions, celery, and a tangy dressing.
Make sure to choose organic new potatoes, this way you won't even need a vegetable peeler, you can the best-boiled potatoes with the peel on.
This is one of those easy recipes that will quickly win you over with its simplicity, versatility, and deliciousness. Once you try it, it will quickly become a favorite.
Ingredients needed:
For this delicious recipe, all you need are a few simple ingredients. Scroll down to our recipe card for the basic steps and measurements.
Small new potatoes: We enjoy making this recipe with white or small red potatoes. The blue and fingerling varieties are great as well.
Butter: Unsalted butter, melted.
Olive oil: We used extra virgin olive oil, while this is optional and you can only use butter on the tender potatoes, the oil adds just a bit of extra flavor.
Fresh rosemary sprigs: In addition, I recommend boiling the starchy potatoes with some fresh herbs for maximum flavor. The rosemary adds just the right amount of freshness and earthiness.
Salt: Kosher salt for salting the water and flavoring.
Pepper: Freshly ground black pepper is best.

Parsley: Fresh parsley finely chopped.

Dill: Fresh dill finely chopped.
How to make boiled potatoes?
Clean: First, wash potatoes well, scrubbing them to get rid of all the dirt. If they are large, cut them in half with a paring knife.
Boil: Second, place potatoes in a large saucepan with your rosemary and salt. Cover them with one inch of cold water and bring them to a boil on medium-high heat.
Cook: Next, reduce the heat to simmer and boil potatoes until they are fork tender. Typically, this takes about 10 to 18 minutes depending on the size, number, and type of potato.

Drain potatoes: After boiling spuds, drain and put them back in the pot or into a mixing bowl.

Butter and oil: Drizzle butter and oil over the taters and season with salt and pepper.
Serve: Finally, add parsley and dill before serving.
The boiling time will depend on the size of your potatoes:
mini potatoes will take the quickest between 10-12 minutes
small potatoes will take the quickest between 12-15 minutes
medium-sized potatoes will take between 15-18 minutes
larger potatoes will take between 18-22 minutes
Recipe variations:
Herbs: Feel free to add any kind of fresh herbs and spices you like.
Fingerlings: If you cannot find small new potatoes at your grocery store, you can use red or fingerling potatoes.
Bay leaves: Add a bay leaf or two to your boiling potatoes for a distinct flavor.

Vegetables: Toss in some other veggies like broccoli, carrots, or bell pepper for a heartier dish.
Garlic: A sprinkle of garlic powder in the water will add just enough flavor to be the best boiled potato you have ever had.
Compound butter: A great alternative to elevate this simple side dish is by topping it with compound butter. My favorite is black truffle butter or garlic butter.
Make boiled potatoes using the instant pot:
Alternatively, you can make these in an instant pot or pressure cooker too.
First, I prefer to cook them on a steamer rack or even better using a steamer basket. This way the spuds won't stay in the liquid and overcook.
After you add the steamer basket, add the spuds and rosemary. Close and lock the lid and cook them on high pressure for 5-7 minutes, depending on their size.
Once done cooking, make sure you immediately do a Quick Pressure Release, NOT a Natural Pressure Release. If you do a natural release, they will continue cooking and become mushy.
Finally, remove them from the pressure cooker, arrange the drained potatoes on a serving plate and top with butter, olive oil, salt, ground black pepper, and fresh herbs.
How to serve:
There are so many delicious ways to serve these tender spuds. Here are some good ideas you and your family might like:
To make these cooked potatoes a main dish, add some kind of meat like ground beef or sliced chicken or pork on top.
Serve like a baked potato with a variety of toppings like sour cream, chives, cheddar cheese, bacon, and whatever else you and your family like.
Use leftover boiled potatoes to make cheesy potato casserole or into a salad.
Serve alone as a simple dish with any entrée like these air fryer pork ribs and a light salad on the side.
Another recipe for these taters is duchess potatoes with cream and parmesan cheese.
Frequently asked questions
How long should I boil my potatoes?
Cooking time varies depending on the size, number, and variety of potatoes you are boiling. For example, whole potatoes take a little bit longer than cut or chopped spuds.
Baby potatoes take about as long as cut potatoes, which is 10 to 15 minutes. But if you are boiling larger potatoes, it takes longer, approximately 20 to 25 minutes.
What is the best potato for boiling?
The best potato for boiling is waxy potatoes such as Yukon Gold potatoes, Red Bliss, or fingerlings. New potatoes, also known as the baby potato, are one of the best candidates too as they have a firm flesh that will not get too soft.
White and yellow potatoes are fine too, but not as good as the waxy ones. Russet potatoes are not a very good choice because they are starchy, absorb a lot of water, and get mushy.
It also depends on what you are going to use them for. For example, russets are good for a mashed potatoes recipe if you boil them whole. But if your potato recipe is for potato salad, use one of the waxy varieties instead.
Are boiled spuds healthy?
Potatoes are very good for you, and they are perfect for healthy recipes. The waxy, new, and Yukon Gold potatoes are the healthiest but not enough to matter.
One cooked spud has 100 calories, zero fat, and 60% of your daily value of vitamin C. You will also get 8% of your total iron and 5% of your daily protein.
How to store leftovers:
Store: The easiest way to store leftovers is to put them in an airtight container in the fridge for up to five days.

Freeze: Alternatively, the best way to freeze them is by putting them in the freezer in a freezer bag for up to 90 days.
Defrost: Thaw overnight in the fridge before serving the next day.

Reheat: Reheat in the microwave, oven, or air fryer.
More side dishes:
Cooking tips:
No matter how you store your spuds, you do not want to boil them again unless you want them mushy. Therefore, use the oven, microwave, or air fryer to reheat them.

It's equally important to make sure to salt the pot of water so the taters absorb flavor while they boil. So please do NOT forget about the salted water if you want a perfect side dish!
In addition, make sure you use spuds of the same size to avoid uneven cooking.
Also, make sure you start them in cold water before bringing them to a boil, so they cook evenly.
Your spuds are done when they are tender enough to stick a fork into them easily.
If you can find King Edwards pink and white potatoes at your grocery store, be sure to stock up. They are the most delicious taters you can find and are not commonly found in US grocers.
Deliciousness to your inbox
Enjoy weekly hand picked recipes and recommendations