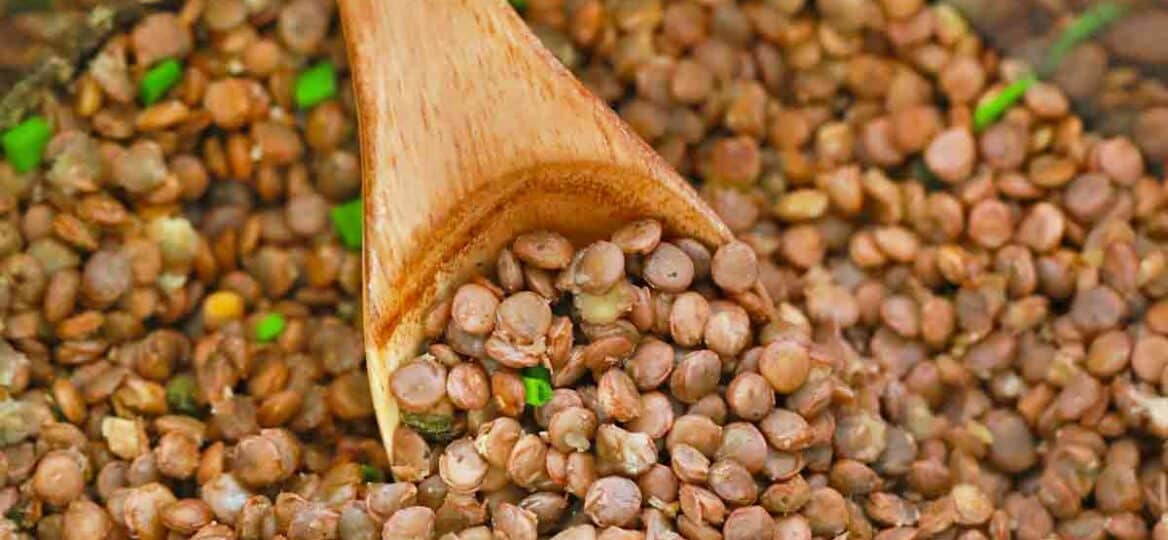 Instant Pot Lentils Recipe
Instant Pot Lentils are so quick and simple, you can make them with just a few ingredients and use them in other dishes or serve as is. Whether you want to add them to a meal or eat them right out of the pot, they are delicious.
Another excellent recipe for your pot is this IP Cabbage Soup made with red bell peppers, tomato paste, and cabbage. For a hot and tasty meal in three minutes, try this IP Rice and Beans with onion, brown rice, and jalapenos.
This recipe is so easy and fast, anyone can do it and have them done in minutes. With just a few ingredients you probably already have in the kitchen, you can have freshly cooked legumes in minutes.
There is literally no meal prep, and the cooking time is less than 10 minutes. This is one of my favorite things to cook in the instant pot because it is so simple, and they turn out perfect every time.
If you need a hearty side dish, our IP Baked Beans are perfectly made with liquid smoke, maple syrup, and bacon.
Ingredients needed:
You probably will not need to make a trip to the grocery store for this easy instant pot lentils recipe because you will likely already have these simple ingredients. For the full instructions, scroll down to our handy recipe card.
Lentils: Works best with common lentils like French green Puy, green, and brown, and black lentils.
Vegetable broth or water: You could also use beef or chicken broth.
Kosher salt: You can use whatever type of salt you want.
Black pepper: To taste.

Seasonings as desired: Bay leaves, fresh or dried herbs, whole spices, chopped onions, garlic cloves.
How to make instant pot lentils recipe?
Fill the pot: First, put the legumes and one cup water or broth in the bottom of the pot. Add seasonings and give it a good stir.

Cook: Next, close and secure the lid and select the high pressure cook setting. Set the cook time for six to eight minutes for al dente or 10 minutes for soft lentils.

Vent: After, allow a natural pressure release for 10 minutes and then do a quick release to allow the remaining pressure to vent.

Transfer: Lastly, remove and discard any aromatics and then transfer cooked lentils to a large bowl or airtight container using your slotted spoon.

Serve: Finally, serve with your favorite topping or mixed with olive oil and fresh herbs.
Recipe variations:
Slow cooker: Feel free to make these in the slow cooker or crockpot. Just add all the ingredients with an extra cup of water to the cooker and set it to high for three hours or low for six hours.

Make soup: Make your own instant pot lentil soup recipe by adding a can of tomato sauce, tomatoes, and a cup of brown rice or wild rice.
Pepper: If you want a more peppery flavor, add some whole peppercorns or freshly ground pepper.
Spicy: For a great side dish with a spicy kick, add some red pepper flakes or jalapenos.
Barbecue: Use barbecue sauce instead of broth for BBQ legumes.
How to serve:
The best part about these pressure cooker lentils is that you can serve them in all sorts of easy recipes like soups, salads, and curries. Here are some other great serving ideas:
Frequently asked questions
What are the different kinds of lentils?
There are many different types of lentils. In this recipe, we use whole lentils and do not recommend you use any that are typically used for Indian dal. Some of the most common types include the following.
Black beluga

French green

Green

Puy

Red

Whole brown

Yellow lentils
What is the water to lentil ratio in the electric pressure cooker?
For any lentil recipes you will need one part lentils to three parts of liquid for best results.
For example, if you are cooking one cup lentils, you should use three cups of water. Of course, this works with any kind of liquid including broth.
What is garam masala?
Garam masala is a blend of spices typically used in Indian cuisine including lentil curry and other easy recipes.
The spices usually include cardamon pods, cumin seeds, and coriander seeds as well as peppercorns, mace, and cinnamon. Some recipes include cloves, anise, and fennel seeds.
How to store leftovers:
Store: To store your leftovers, place them in the fridge in an airtight container for five to seven days.

Freeze: If you are not going to eat them within seven days, put them in a freezer bag and freeze them for up to four months.

Thaw: Remember to thaw these overnight in the fridge before serving.
Reheat: You can reheat these in a pot on the stove top or with a bit of water in the microwave.
Cooking tips:
For a softer texture, cook for up to 15 minutes.

Our cooking time works best for most of the common types, but it is not as good for lentils used for Indian dal recipes.
If you want to cook red lentils, only cook for five minutes at high pressure and do a quick pressure release. They have a mushy texture no matter what you do but if you cook them too long they will dissolve.
Although you do not have to soak the legumes, you should rinse them off first to remove the skins.
Do not use salt until after they are cooked because it can interfere with the cooking process.
Instant Pot Lentils
Ingredients
1

cup

lentils

thee cooking time works well for most lentil varieties like brown, green, French green, and black beluga

1 3/4

cup

water

chicken or vegetable broth

1/2

teaspoon

kosher salt

black pepper to taste
Optional:
1

bay leaves

1/2

teaspoon

dried herbs of your choice

1/2

teaspoon

garam masala

or other spices

2

cloves

garlic

minced
Instructions
Add the lentils, water, or broth to the inner pot of the Instant Pot.

Add salt, pepper, and any other seasonings you are using. Stir to combine.

Close and lock the lid, point valve to Sealing (on older models), and select the Pressure Cook setting on high. Select 6 to 8 minutes for al dente lentils, or 10 minutes for softer lentils.

When the timer beeps, allow a natural pressure release for 10 minutes. After that open the valve to release the remaining pressure.

Carefully open the pot, discard any aromatics, and transfer the lentils to a bowl.

Serve with tahini or white garlic sauce.

Store cooked lentils in an airtight container in the fridge for 5-7 days, or freeze for 4-6 months.
Deliciousness to your inbox
Enjoy weekly hand picked recipes and recommendations