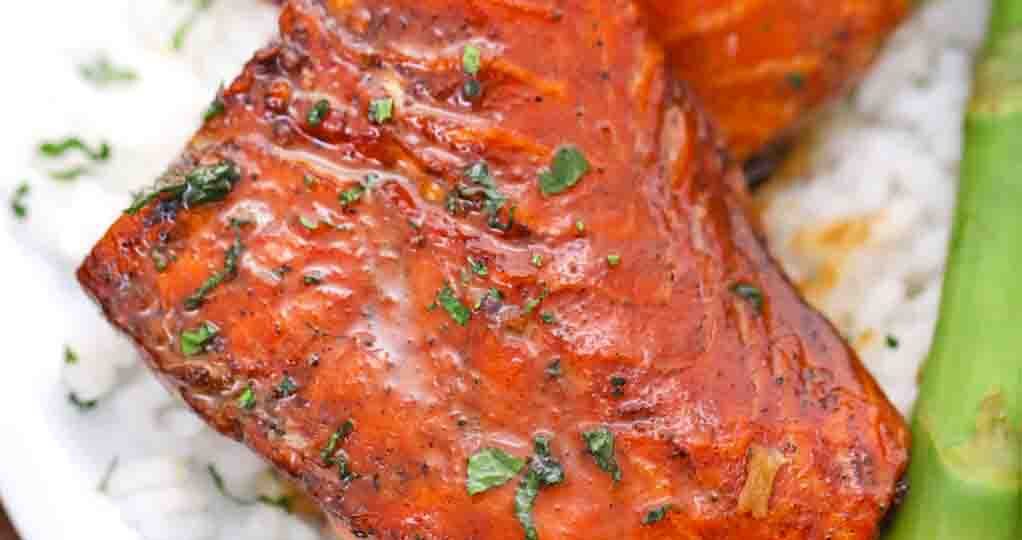 7 Ingredients – Maple Syrup Salmon Recipe
Maple Syrup Salmon is a healthy and delicious dish, incredibly easy to prepare and made with just 7 ingredients. The sweet and savory glaze with maple flavor pairs beautifully with the salmon flavor without being too sweet. You and your family will all agree that this is the best maple-glazed salmon recipe ever!
If you made this recipe and the whole family loved it, you may want to make this recipe for Garlic Brown Sugar Glazed Salmon. It is similar but also has brown sugar, honey, orange zest, orange juice, and lemon juice. For something a little bit different, try our Teriyaki Salmon with homemade teriyaki sauce. It is made from dark brown sugar, soy sauce, honey, ginger, garlic, vinegar, and red pepper flakes.
According to historians, it was northeastern indigenous people who first started using maple syrup and maple sugar. There is evidence in writings and archaeological artifacts that tell how they used maple tree sap. Some say it was the Native Americans in Massachusetts in the early 1600s who perfected the process and showed it to the pilgrims.
If you love to eat salmon, this is a fast and easy dinner you can make in minutes. For this delicious maple glazed salmon recipe, all you need are five ingredients including salmon fillets, maple syrup, soy sauce, whole grain mustard, and minced garlic. Fresh wild-caught salmon fillets are best.
Are you looking for more easy salmon recipes? If you love salmon, we have some great recipes you can try. If you have an air fryer, try this air fryer salmon recipe perfectly flavored with smoked paprika, ginger, onion, garlic, brown sugar, and red pepper flakes. Or you can make our grilled salmon skewers on the grill or in the oven. You will need salmon fillets, pineapple, onion, lemons, and fish marinade.
Follow us on Pinterest for more delicious recipes!
Ingredients needed:
Here are the basic ingredients for this maple-glazed salmon recipe. Gather these, scroll down to the bottom of the page, and find our recipe card with step-by-step directions and precise measurements.
Salmon: We used wild-caught salmon.
Glaze ingredients:
Minced garlic cloves
Whole grain mustard
Soy sauce
Maple syrup
Kosher salt
Black pepper
How to make maple glazed salmon from scratch?
Make the sauce: First, whisk the garlic, mustard, soy sauce, and maple syrup in a small bowl.
Prepare salmon: Then, place the salmon into a shallow glass baking dish and pour on your maple syrup mixture. Make sure it is thoroughly covered on both sides. Cover and marinate salmon in the fridge for at least 60 minutes, flipping after 30.
Preheat oven: While you let the salmon marinate, preheat your oven to 400 degrees F.
Marinate salmon: After you marinate the salmon for an hour, flip it one more time and then leave it in the baking dish. Season with salt and pepper.
Cook maple glazed salmon: Bake your prepared salmon in the oven for 15 to 20 minutes or until it flakes easily with a fork. The internal temperature should be 125 to 135 degrees F.
Glaze and serve: When it is done, remove it from the oven and pour a spoonful of maple glaze on top of each salmon fillet. Serve immediately.
How to make fried maple glazed salmon from scratch?
Mix and marinate: To begin, mix the maple syrup, soy sauce, mustard, and minced garlic in a medium bowl. Place salmon in the bowl and cover. Marinate salmon for 30 to 60 minutes.
Cook the fish: After it marinates, place the salmon in a hot pan with olive oil or nonstick cooking spray. Cook over medium-high heat for about four minutes on each side depending on the thickness of the fillets.
Add more glaze: Once it is cooked all the way, gently remove it to a serving dish and pour on the remaining maple glaze.
Season and serve: Finally, season with salt and pepper before serving.
Recipe variations:
Dijon mustard: For something a little tangier, use dijon mustard instead of regular.
Frozen salmon: You can also use frozen salmon (thawed) instead of fresh salmon if that is all you have.
Sesame: For more flavor, add 1/4 cup of sesame oil to the marinade and garnish with sesame seeds.
Fresh herbs: Feel free to add your favorite fresh herbs like ground ginger, thyme, rosemary, dill, oregano, and sage.
Spice it up: For spicy food lovers, add a pinch of chili flakes or red pepper flakes to your marinade.
Other veggies: In fact, you could also add more aromatic veggies like green onions, red bell peppers, chopped celery, and leeks.
Sweeten it up: If you want your salmon even sweeter, add 1/2 cup of brown sugar to your marinade.
How to serve:
This maple salmon recipe is ready in minutes so you can make it for dinner tonight! Try one of these serving ideas or you can share some of your own suggestions in the comments section at the bottom of the page.
This baked salmon goes great on a bed of brown rice. Try our delicious brown rice recipe.
Garnish with fresh chives or cilantro for extra flavor.
Use leftover salmon cold in a salad for lunch the next day. This recipe for Greek salmon salad would work perfectly.
You could also use leftovers in a casserole, soup, or stew.
Instead of the maple glaze, try our delicious and creamy salmon sauce.
This salmon also goes great on a pile of buttery pasta.
Salmon goes with just about any vegetable as a side dish.
Frequently asked questions
Is it okay to eat salmon skin?
I usually remove the skin before baking and marinating so the delicious sauce is able to be absorbed into the meat. But when cooked properly, salmon skin has a crispy and salty taste that some people like. However, if you do decide to eat salmon skin, make sure you clean it well to get rid of any toxins or other food hazards.
Is salmon healthy?
If you are worried about nutrition, calories, and fat, salmon fillets are an excellent choice. However, you can cut a few calories by using pure maple syrup instead of pancake syrup. The sugar is natural in the pure syrup, so it does not affect your blood sugar like the refined sugar in pancake syrup.
How long does it take salmon to cook?
At 400 degrees F, you should cook salmon for six minutes for each half-inch of thickness. So, if you have a quarter-inch fillet, you will just cook it for three minutes, flipping it after one and a half minutes. For a one-inch fillet, cook for a total of 12 minutes, six minutes on each side. To make sure it is completely cooked, use a meat thermometer. It should be 125 to 135 degrees F when it is done.
What are the nutrition facts in this recipe?
Each serving of maple glazed salmon has 211 calories, 16 grams carbohydrates, 8 grams fat, and 1 gram saturated fat. It also has 1,201 mg sodium, 18 grams sugar, and 60 mg cholesterol. On the good side, you will also get 26 grams protein, 130 mg potassium, 55 units vitamin A, 2 mg vitamin C, and 32 mg calcium.
How to store leftovers:
Store: Although it is best eaten the first day, you can save leftover maple glazed salmon in an airtight container. It can be refrigerated for one or two days.
Freeze: Freezing is not recommended.
Reheat: To reheat, wrap it in aluminum foil and put it in the oven for a few minutes. Or you can microwave it for 30 to 60 seconds.
More salmon recipes to try:
Cooking tips:
Buy skinless salmon fillets for a delicious dinner without worrying about having to remove the salmon skin yourself.
If you do not have fresh garlic, you can use one teaspoon of garlic powder.
To make sure your cooked salmon is done, check it with an instant thermometer. It should read 125 to 135 degrees F when it is fully cooked.
Use real maple syrup instead of pancake syrup for the best flavor. Nothing can beat the natural taste of pure maple syrup.
Whichever cooking process you use to cook salmon fillets, be gentle with them so they do not fall apart.
Salmon can dry out when reheated so add some more glaze or a bit of butter before heating.
To keep the skin from sticking, use large kosher salt.
Take your salmon out of the fridge at least 20 minutes prior to cooking after marinating. You want it to be about room temperature.
Make sure you use a preheated oven for the best results.
Maple Syrup Salmon
Ingredients
2

pounds

salmon

cut into fillets

1/3

cup

maple syrup

or honey

1/4

cup

soy sauce

1

tablespoon

whole-grain mustard

4

cloves

garlic

minced

Salt and pepper

to taste
Instructions
In a small bowl, whisk together the maple syrup, soy sauce, mustard, and minced garlic.

Arrange the salmon fillets in a shallow baking dish, and pour the maple syrup mixture on top, making sure to distribute evenly.

Cover the dish with plastic wrap, and marinate in the refrigerator for 30-60 minutes, turning once halfway through the process.

Preheat oven to 400 degrees F.

Flip the fillets one more time, with the skin facing down. Lightly season the top with salt and pepper. DO NOT DISCARD THE MARINADE.

Bake the salmon in the preheated oven uncovered for 15-20 minutes, or until easily it is easily flaked with a fork and the internal temperature in the center of the fillets is 125-135 degrees F.

Remove from the oven and spoon some of the glaze on top of each fish fillet.

Serve warm garnished with some fresh chopped green onions.