Sweet Chili Pineapple Salmon Recipe
Last updated on August 22nd, 2022 at 05:15 pm
Sweet Chili Pineapple Salmon is a yummy mixture of sweet and spicy chili sauce, fresh juicy pineapple, and tender flaky salmon fillets in one dish. With less than five minutes of prep time, you can have this delicious and spicy pineapple salmon on the table in less than 15 minutes.
If you are using a whole pineapple and have leftovers, use the rest to make our Pineapple Salsa with jalapenos, red onions, and Roma tomatoes. If you love salmon, you should try our Grilled Salmon Skewers seasoned with liquid smoke and orange juice. For a delicious side dish, add our Slow Cooker Rice and Beans with taco seasoning and chili powder.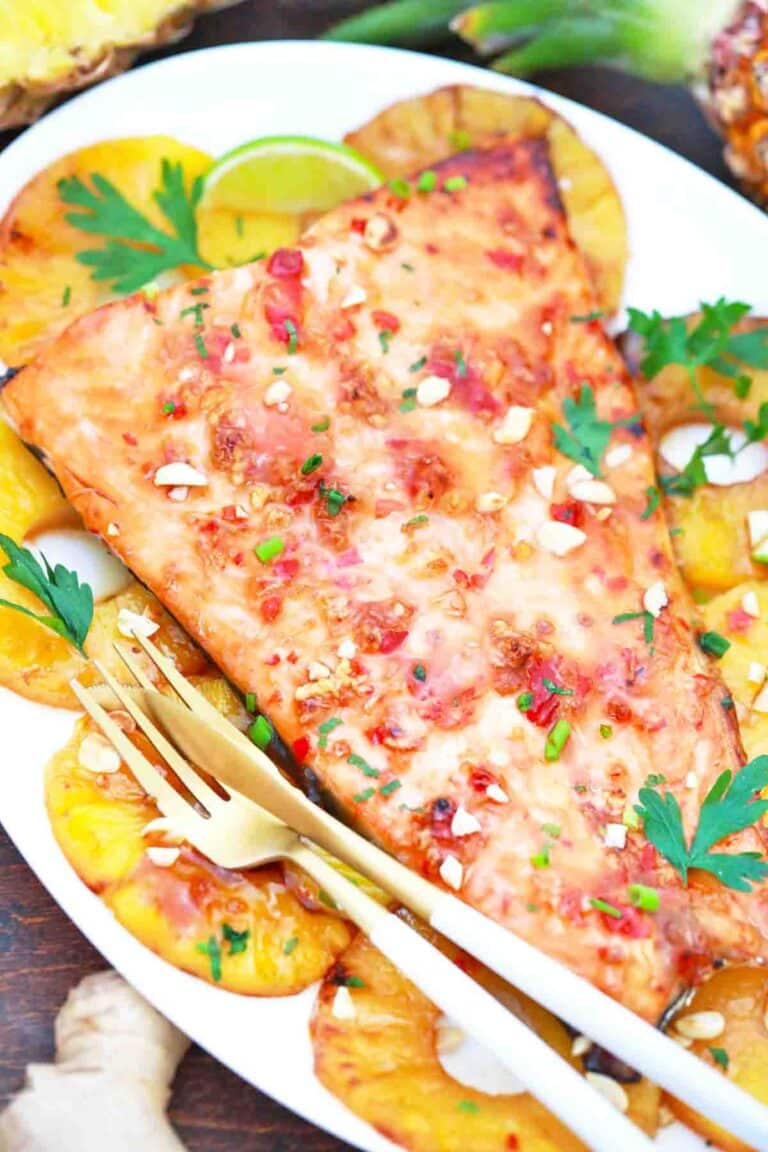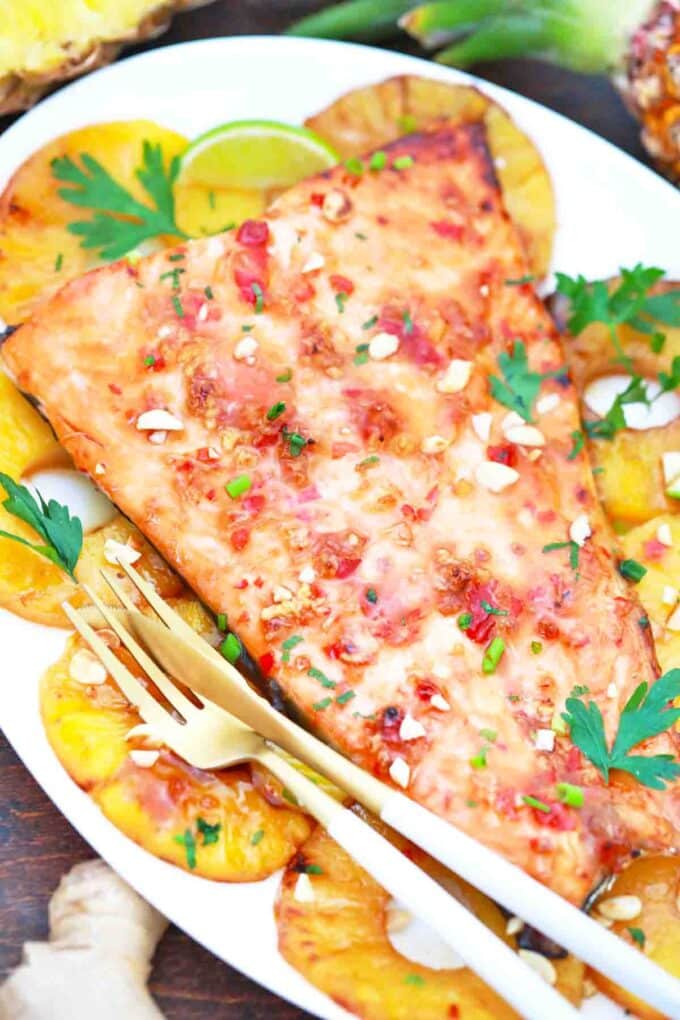 Have you ever wondered why we decided to start eating fish? According to the history books, humans have been eating fish since before words were invented. The pictograms or cave drawings depicting fish being cooked and eaten were like ancient recipes from over 40,000 years ago.
If you are trying to find something healthy as well as tasty that the entire family will love, this salmon recipe is just what you were looking for. With juicy baked pineapple salmon seasoned with a blend of sweet and spicy flavors, this dish is perfect for any night of the week because you can have it cooked and ready in minutes.
Looking for other salmon recipes? Try our delicious homemade lox recipe with pepper flakes, fresh dill, and liquid smoke. Also, this honey garlic salmon is one of the best salmon recipes we have tried. For something different, our great recipe for keto arugula salmon roll with cream cheese filling is outstanding.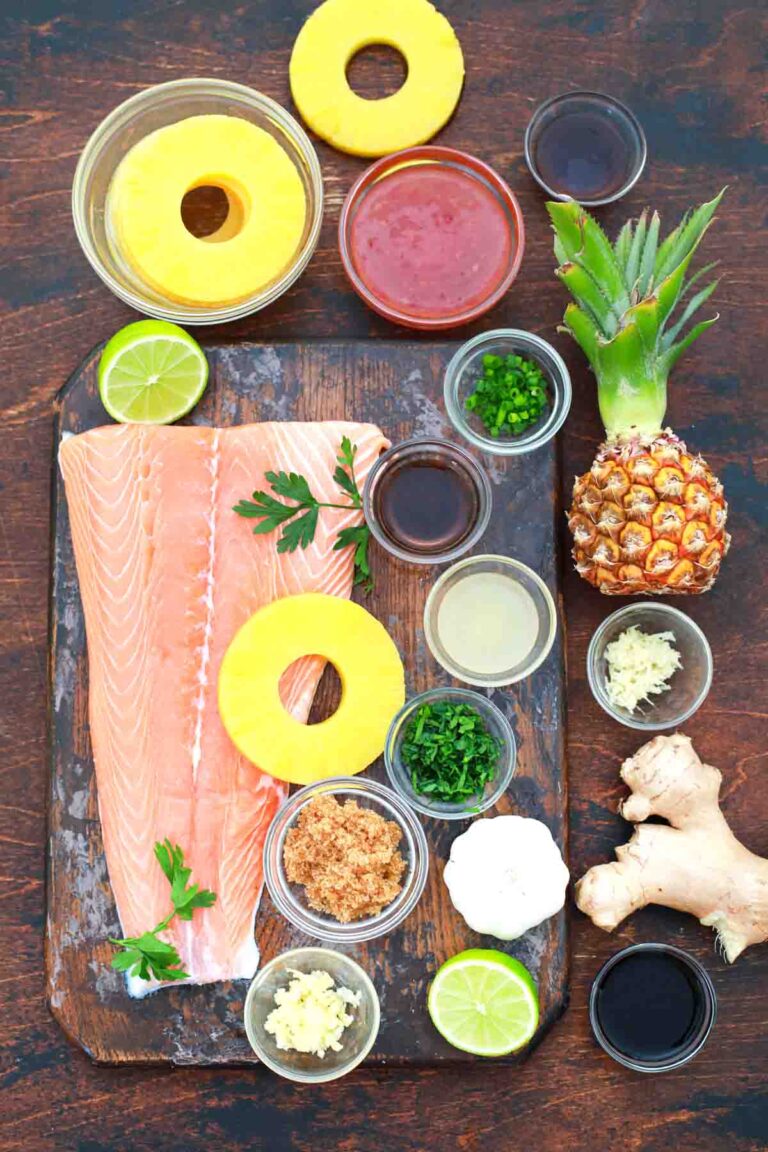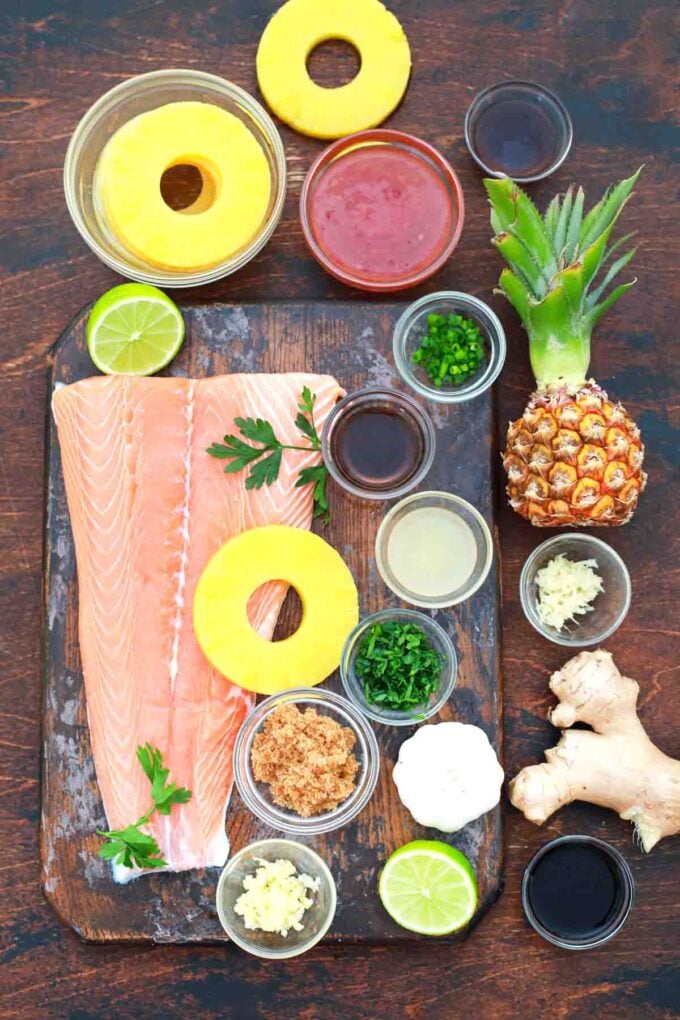 Ingredients needed:
To make this salmon recipe, you will need these basic ingredients. When you are ready to begin, scroll down to our handy recipe card where you can find the measurements and instructions.
Fresh pineapple: Sliced into quarter-inch thick slices or one-inch pineapple chunks.
Salmon fillet: Make sure there are no bones.
Sweet chili sauce
Minced garlic cloves
Fresh ginger: Minced or grated.
Lime juice: Fresh or bottled.
Brown sugar: Light or dark brown sugar will both work here.
Peanuts: Roasted and chopped.
Fresh cilantro: Roughly chopped.
Green onions: Or chives.
Soy sauce
Fish sauce
Oyster sauce
Salt and pepper: To taste.
How to make sweet chili pineapple salmon from scratch?
Preheat oven: First, preheat the oven to 400 degrees F and line a baking sheet with foil or parchment paper. Or you can spray it with oil.
Mix the sauce: While you wait for the oven to heat, whisk together the lime, ginger, garlic, and brown sugar with the soy, fish, oyster, and sweet chili sauce in a small bowl.
Season: Then, put the pineapple slices on the prepared baking sheet in a single layer and lay the salmon on top. Brush the sauce onto each piece of salmon before cooking.
Bake: Last, bake the salmon for 10 to 15 minutes, depending on the thickness of the salmon fillets. Squeeze some lime on top.
Garnish and serve: Finally, garnish with peanuts, cilantro, and green onions and serve with lime wedges.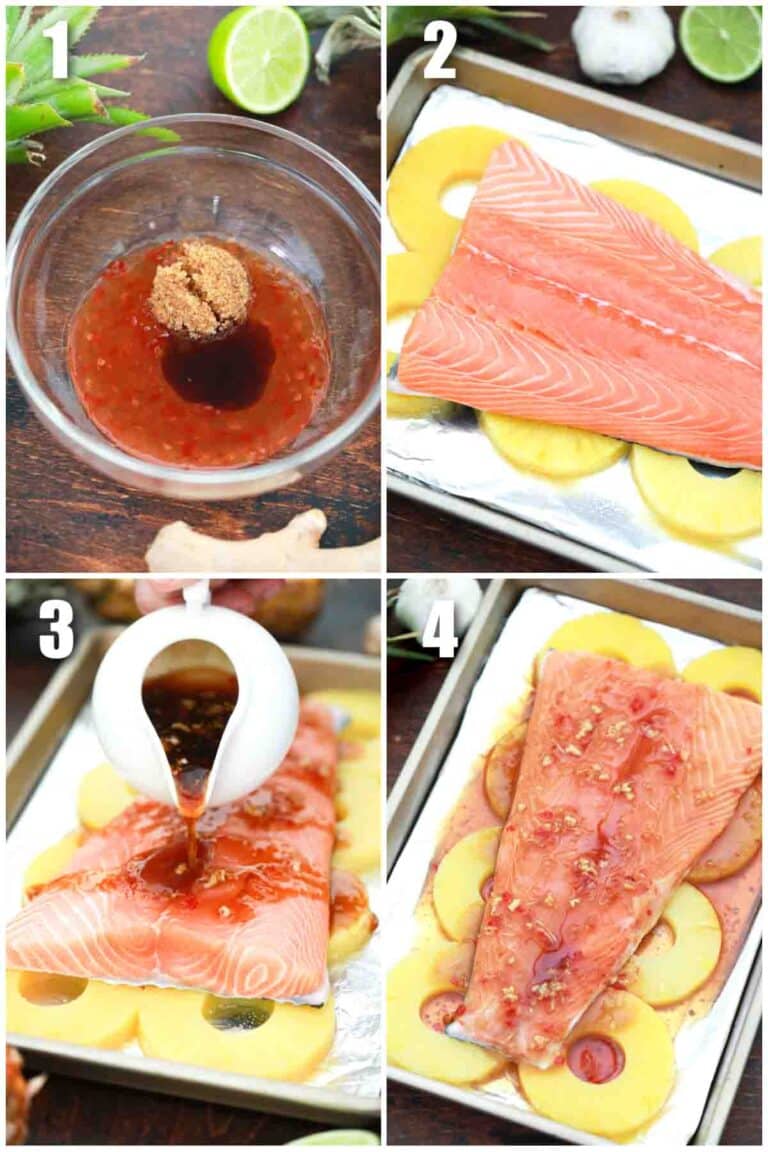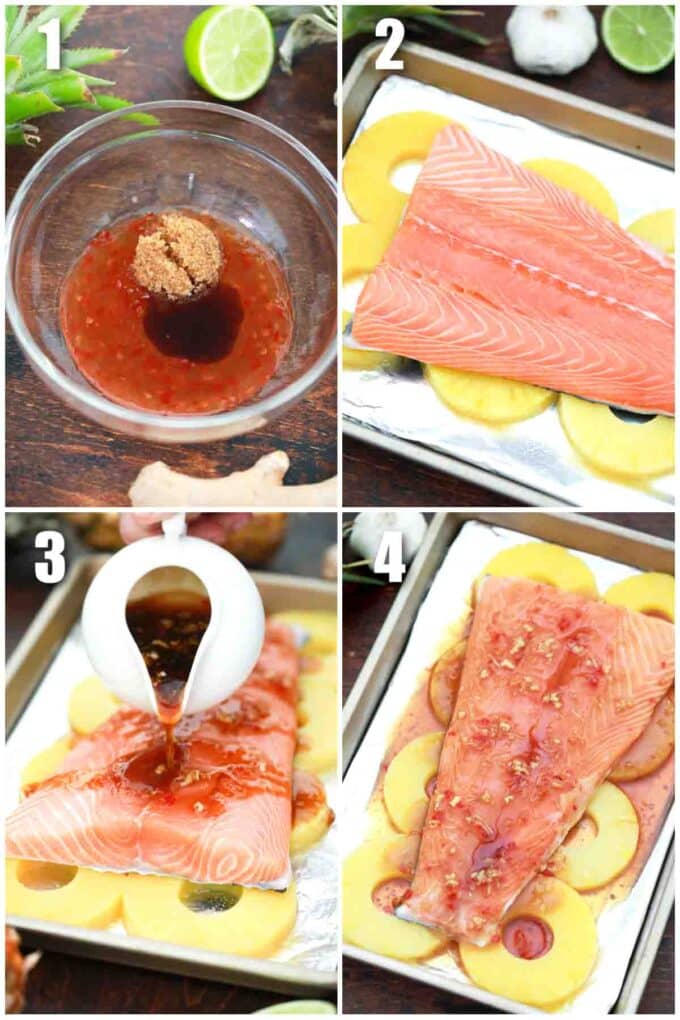 How to make air fryer pineapple chili salmon from scratch?
Preheat: To begin, set your air fryer to 400 degrees F.
Make the sauce: Meanwhile, mix all the ingredients except for the cilantro, green onion, and peanuts in a small bowl.
Air fry the salmon: Then, place the pineapples into the air fryer basket in an even layer and place the salmon fillets on top. Brush with the juice and air fry for seven to nine minutes or just until the salmon is flaky.
Ready to eat: After, garnish with green onion, cilantro, peanuts, and lime before serving the salmon.
Recipe variations:
No fresh pineapple: If pineapples are not in season, you can also use canned pineapple slices or frozen pineapple instead of fresh pineapple.
Use other fish: You can also use trout or some other kind of fish that your family enjoys.
Pineapple juice: If you use canned pineapple, add the juice. If not, add a quarter-cup of pineapple juice for extra pineapple flavor.
Lemon juice: Instead of lime, you could also use lemon juice.
Rice vinegar: Add two tablespoons of rice vinegar for a bit of tanginess.
Make it fruity: Try other fruits for this like cherry, orange, or raspberry juice.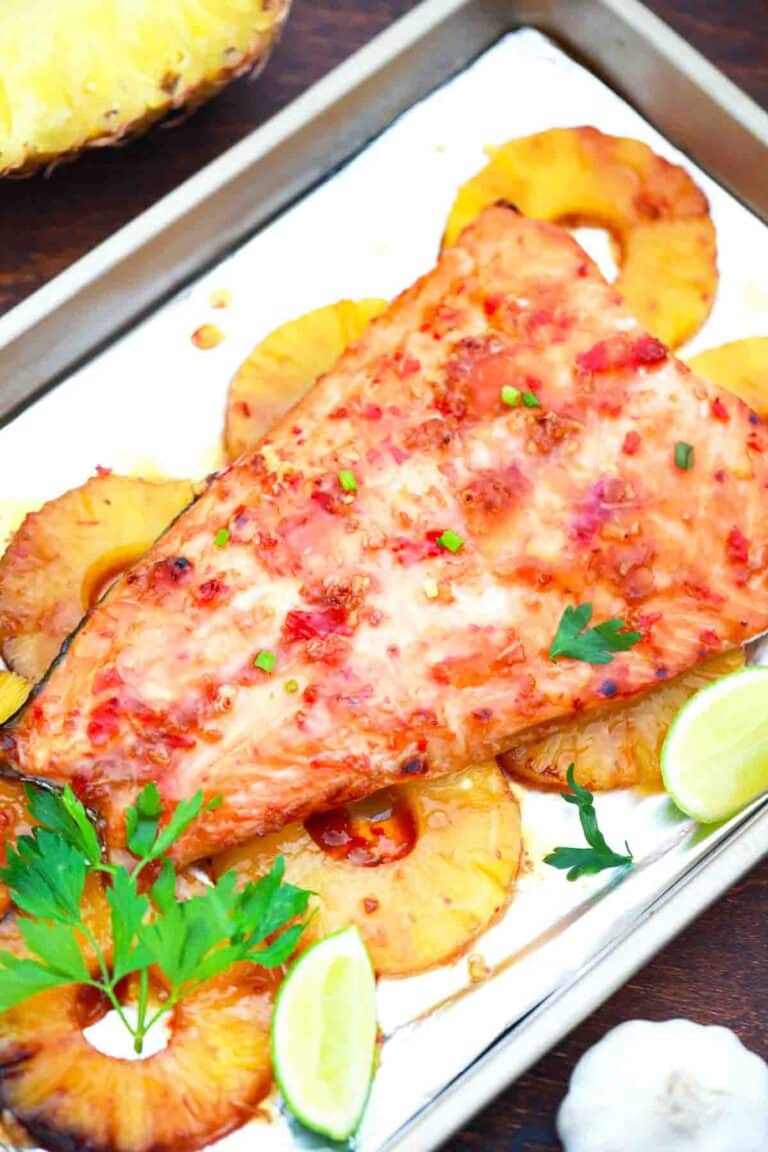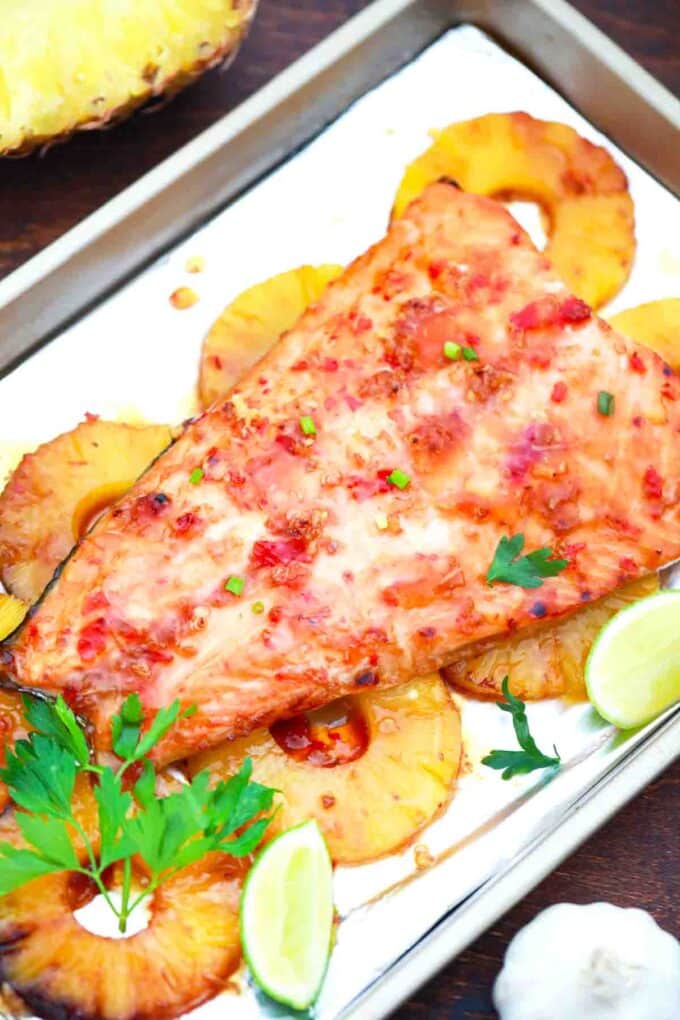 How to serve:
Make this pineapple salmon for dinner tonight with your favorite side dishes or on its own for a light lunch. With the pineapple, the salmon is sweet as well as a little spicy and is sure to be a family favorite in your home like it is here. Try one of our tasty serving suggestions or share your own ideas in the comments below.
This spicy pineapple salmon recipe pairs well with green beans or some other type of veggie. Try our cheesy baked green beans recipe instead of the plain old original green beans.
Another way to serve this is on top of a bed of rice or pasta.
Our salmon also goes great with a fresh salad like this sweet and delicious pear salad.
Top with any of your favorite sauces like salsa, horseradish, tartar, or your favorite barbecue sauce.
You can also make our sweet and tangy teriyaki salmon with our homemade teriyaki sauce.
Add some extra pineapple juice and pineapple slices to the top of each serving for a sweeter taste.
A full-bodied white wine is perfect for this but you can also try our pineapple mango daiquiri. For a non-alcoholic drink, make this pineapple lemonade.
Use leftovers for sandwiches or a salad topping.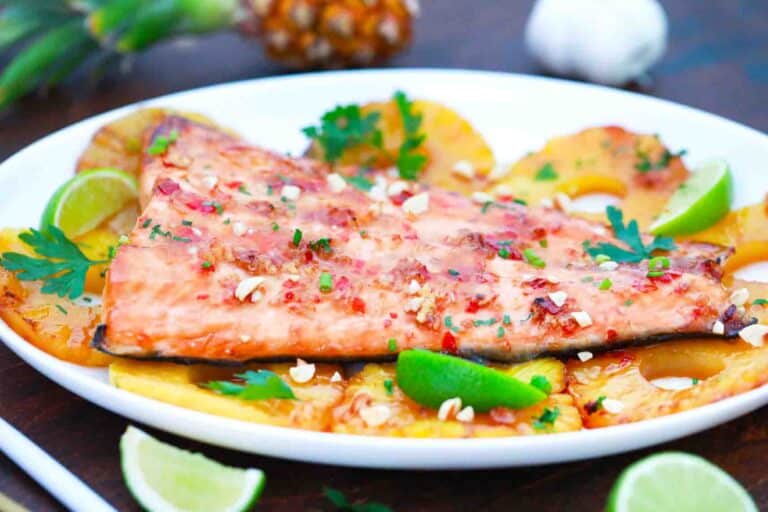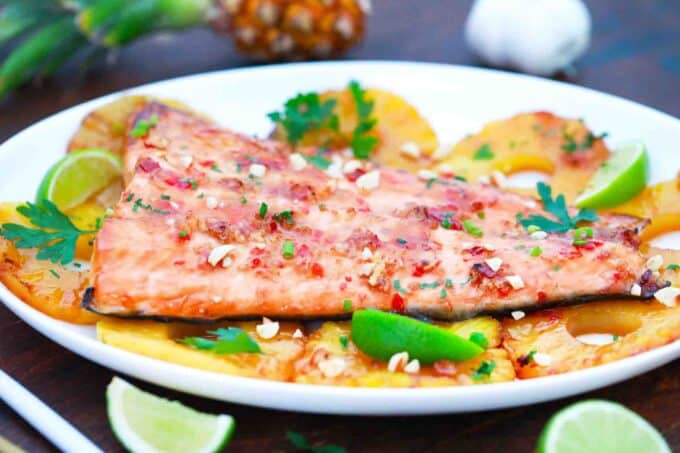 Frequently asked questions
What is the difference between fish and oyster sauce?
While both of these sauces are used in Asian cooking and commonly used in salmon recipes, they are two very different sauces. Obviously, oyster sauce is made from oysters, but it is also mixed with sugar and salt, making it the sweeter of the two.
Fish sauce is made from fermented fish like anchovies and salt, giving it a fishy and salty flavor.
Can I make this dish on the stovetop?
To make this salmon recipe in a frying pan, combine the sauce ingredients in a large zipper bag and add the pineapple and salmon. Marinate for 30 minutes. Then, drizzle a bit of the juice in a pan and place the pineapple with the salmon on top. Cook on medium heat for 10 to 12 minutes or until it is flaky.
What can I use instead of cilantro?
This well-debated herb is made from the leaves of a coriander plant so the first choice for a substitute should be coriander. However, it is also a close relative of the parsley family so that is a great choice too.
Another choice is dill, which is part of the herb family as well. Other substitutes include cumin, basil, curry, caraway, and garam masala.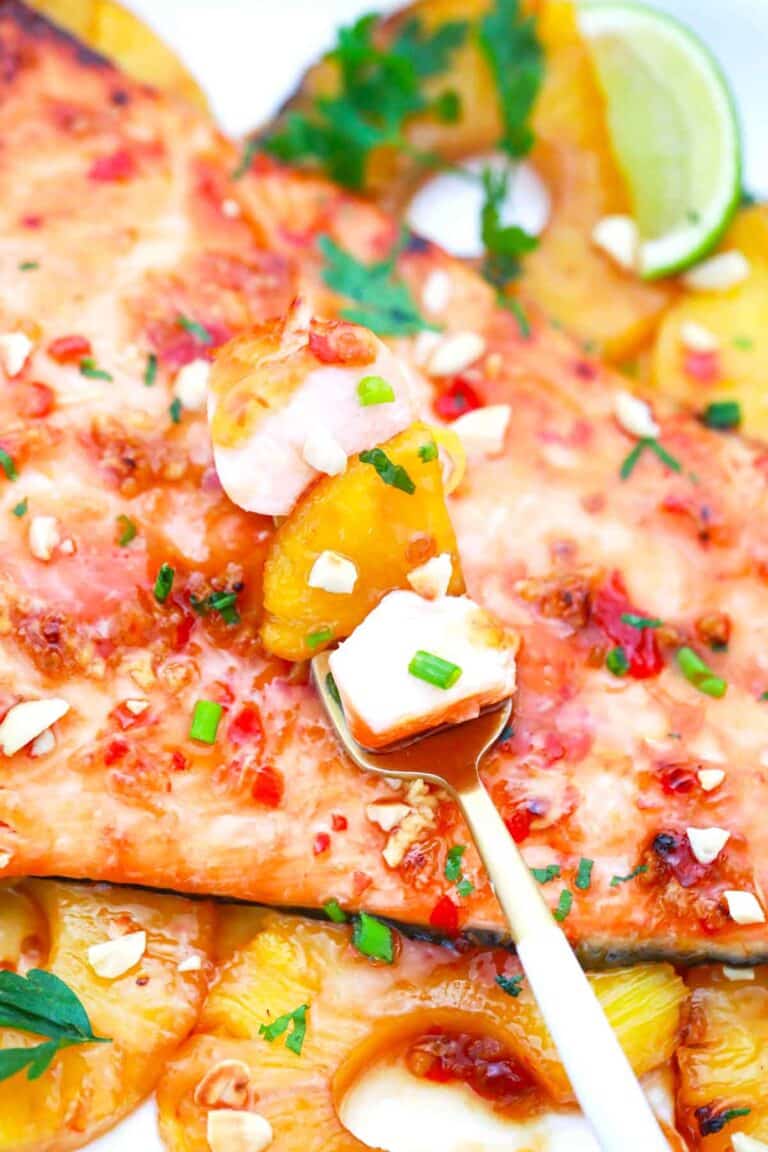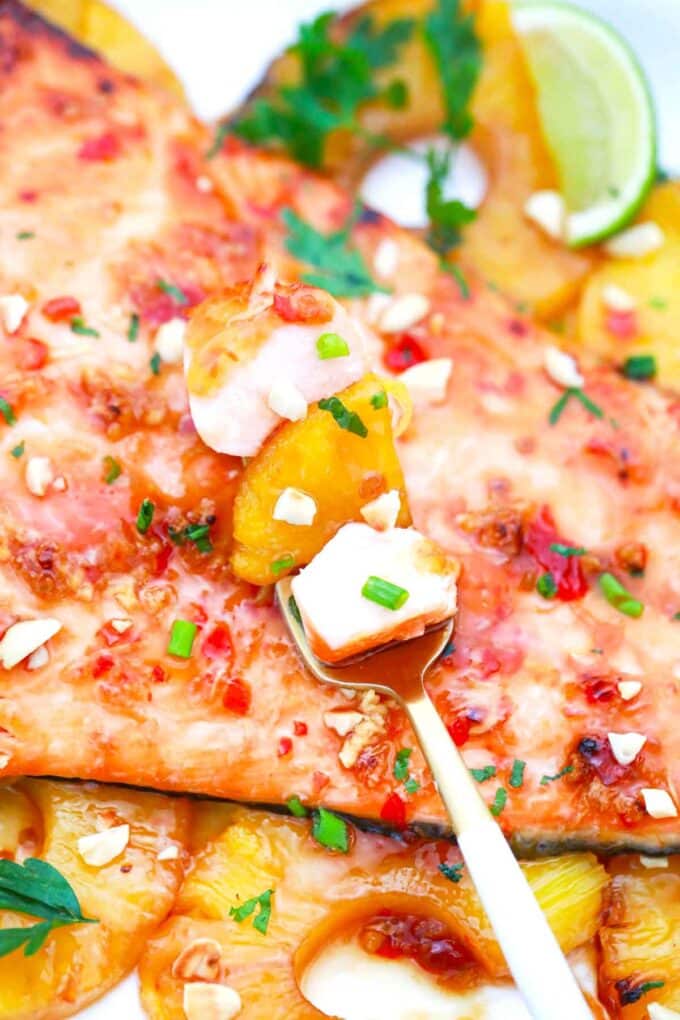 What are the nutrition facts in this recipe?
Each serving has 368 calories, 500 milligrams of sodium, 35 carbs, 25 grams of sugars, 60 milligrams of cholesterol, and 17 grams of fat with 3 grams of saturated fat. But you also get 25 grams of protein, 5 grams of protein, 10 milligrams of vitamin C, 45 milligrams of calcium, and 700 units of vitamin A.
How to store leftovers:
Store: Store baked pineapple salmon fillets in an airtight container in the refrigerator. They will keep for three to five days.
Freeze: You can also freeze your leftovers for up to six months. However, the longer you leave them, the less flavor they will have.
Thaw: Be sure to thaw overnight in the fridge for the best flavor.
Reheat: To reheat your pineapple salmon fillets, put them in the microwave for one to two minutes, depending on how many you are cooking. Add a few extra pineapple slices and some pineapple juice to keep it from drying out.
More salmon recipes:
Cooking tips:
To check for doneness, press the top gently with your finger or a fork. If it flakes or separates easily, it is done. If not, let it cook for another couple of minutes.
However, make sure you do not overcook your salmon! It will get dry and rubbery.
Measure the thickness of your salmon. The best way to know how long to cook it is to cook it for 10 minutes per inch of thickness.
To be absolutely certain your salmon is done, use an internal thermometer. It should read 145 degrees F according to the USDA. But since it continues to cook after you take it out of the oven, so we recommend removing it when it is at 135 to 140 degrees F.
Pineapple slices work best here because you can easily keep them on top of the salmon fillet with a toothpick if needed. Chunks and tidbits tend to slide off when cooking so you do not get the best flavor. Crushed pineapple can make it too soggy and messy to serve.
Spray your foil or parchment paper with non-stick cooking spray to keep it from sticking.
Another idea is to use kosher salt on the skin, so it does not stick when cooked.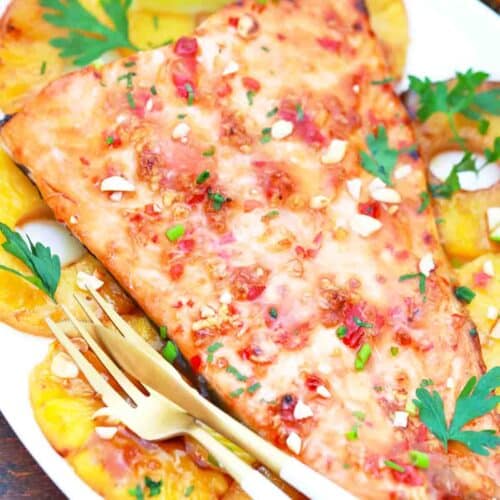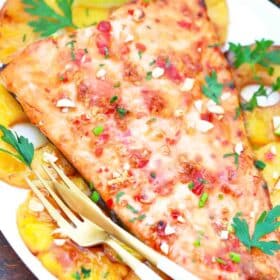 Sweet Chili Pineapple Salmon
Sweet Chili Pineapple Salmon is a yummy mixture of sweet and spicy chili sauce, fresh juicy pineapple, and tender flaky salmon fillets.
Save
Share
Print
Pin
Rate
Ingredients
1

pineapple

(sliced in about 10 slices that are ¼ inch thick or use canned pineapple rounds)

1 1/2-2

pounds

salmon fillet

(deboned)

1/4

cup

peanuts

(roasted and roughly chopped)

1

tablespoon

cilantro

(chopped)

Green onions

(chopped)
Sauce:
1/2

cup

sweet chili sauce

4

cloves

garlic

(minced)

1

tablespoon

ginger

(grated)

1

tablespoon

lime juice

2

tablespoons

brown sugar

1

teaspoon

oyster sauce

2

tablespoons

fish sauce

2

tablespoons

soy sauce
Instructions
Preheat the oven to 400 degrees F.

Line a baking sheet with foil and lightly grease it with cooking spray or olive oil.

In a small bowl mix the Sauce ingredients.

Arrange the pineapple slices or rounds on in a single layer on the prepared baking sheet.

Place the salmon on top and brush with the sauce mixture.

Bake for about 15 minutes or until just cooked

Squeeze some lime juice on top, and garnish with chopped peanuts, cilantro, and green onions.
Nutrition
Calories:
516
kcal
|
Carbohydrates:
54
g
|
Protein:
39
g
|
Fat:
17
g
|
Saturated Fat:
3
g
|
Polyunsaturated Fat:
6
g
|
Monounsaturated Fat:
6
g
|
Cholesterol:
94
mg
|
Sodium:
1650
mg
|
Potassium:
1214
mg
|
Fiber:
4
g
|
Sugar:
44
g
|
Vitamin A:
209
IU
|
Vitamin C:
109
mg
|
Calcium:
72
mg
|
Iron:
3
mg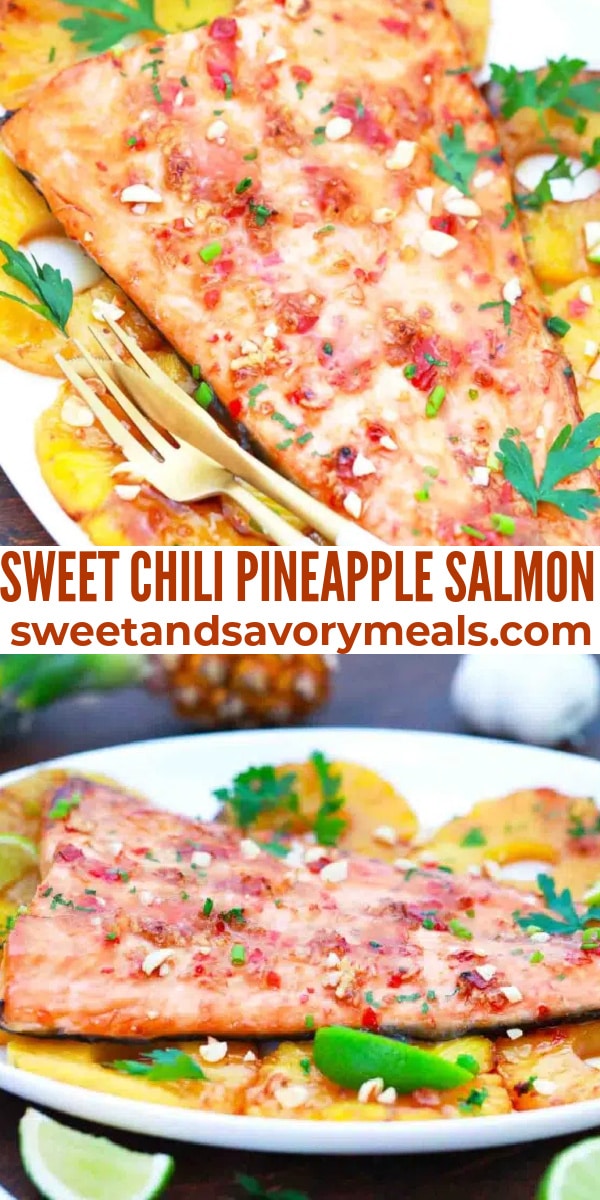 More recipes you might love