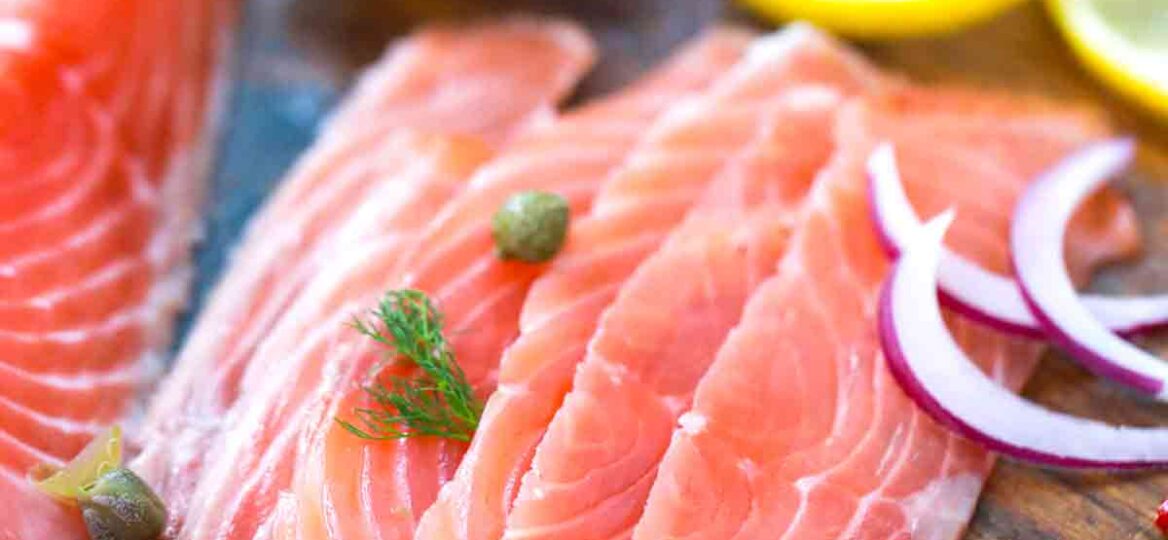 Homemade Lox Recipe [Video]
Homemade Lox is easy to fix with fresh salmon fillets, sugar, salt, liquid smoke, fresh dill, chili pepper, and peppercorns. This classic New York brunch food is a favorite all over the world and only takes a few minutes to prepare.
Many people think of bagels when they think of lox and that is because that is how it is typically served. The Jewish staple can be served as a meal or with these Mediterranean Salmon Foil Packets. You may also enjoy it as part of a Keto Arugula Salmon Roll or with Smoked Salmon Dip for bagel chips or rolls. This is a great recipe that can be used as an appetizer, part of other recipes, and obviously include in a brunch spread.
Homemade Lox Recipe
Bagels and lox are a traditional dish known served by Jewish immigrants in the 1950s, but lox originally came from Scandinavia where fishermen discovered how to preserve their fish by soaking it in saltwater. They were next seen in China in the 1200s and then refined in Italy in the 1300s. But the two did not go together until New Yorkers discovered the taste.
No matter where it came from, what we do know is that it is delicious and tastes fantastic on bagels with cream cheese or however you want to eat it. In fact, it would also be great with this everything bagel breakfast casserole. And all you need to make it are salmon fillets and a few seasonings.
Ingredients needed:
For the exact measurements, check the recipe card below. Here is what you will need for this tasty recipe.
Salmon fillets: Thick belly fresh is best but frozen will do in a pinch.
Sugar: Granulated sugar is what we used.
Kosher salt: This is an essential ingredient, also you can use sea salt.
Peppercorns: Multicolored peppercorns ground coarsely.
Liquid smoke: Alternatively, you can skip this if you want unsmoked lox.
Fresh dill: Fresh and finely chopped.
Chili pepper flakes: Chili powder will do in a pinch.
How to make homemade lox?
Rinse and dry: First, rinse the fish with cold water and pat it dry with paper towels or napkins.

Cut salmon: Afterward, slice the four pounds fillet in half across the fish lengthwise or horizontally.
Mix: Next, combine the seasonings in a medium bowl: chili pepper flakes, dill, liquid smoke, peppercorns, salt, and sugar.

Spread: After that, layout one sheet of plastic wrap for each fillet.

Season: Next, put the fish skin side down on the plastic and coat it with the seasoning mix. Then, place the other half of the fillet on top of that to make a salmon sandwich.

Wrap: Also, now make sure to wrap the fish tightly in the plastic wrap.

Place: Then, put each salmon sandwich in a shallow baking pan.
Top: Afterward, put a smaller baking dish inside the first and on top of the salmon, weighing it down with something heavy like a bag of rice or beans. This keeps the smell of the fish from spreading in the fridge.

Refrigerate: Next, keep it in the fridge for three or four days, turning each once or twice a day. Also, pour out any liquid that escapes and rewrap if needed.

Serve: After a few days, unwrap it and wipe off most of the seasoning leaving just a bit on the edges. Next, peel the skin away and slice as desired.

Save: Actually, you can keep it for two to three days in the fridge in an airtight container.
Recipe variations:
Brown sugar: Try using brown sugar instead of white sugar for a milder caramel-like taste.

Lose the smoke: Alternatively, you can skip the liquid smoke completely or use it after the salmon has set in the fridge.

Real smoke: Another way to smoke the fish is to actually use smoke by hanging it in a small cupboard filled with smoke or by using a smoker.
Other seasonings: In addition, try putting garlic powder, onion powder, or another seasoning into the mix to change the flavor as you like.

Spicy: Also, try to make it spicier by using Cajun or Creole seasoning and some cayenne pepper.
Ranch: Alternatively, use dry Ranch mix, America's favorite flavor!
How to serve:
Serve homemade lox by slicing it as needed, preferably across the grain. If you are serving it with bagels, slice it thinly. But if you are using it as a main dish, cut it thick. Here are a few of our other favorite serving ideas:
Don't forget the cream cheese.

Add tomato, red onion, and cucumber slices to the table for toppings.

Serve as a meal with this rich sauce for salmon.

Alternatively, try it as an appetizer before any main entrée whether it is chicken, beef, pork, or whatever else you like.
Similarly, mix this tasty fish in any kind of salad like this classic Caesar salad.

Also, for something different, add some to these easy air fryer baked potatoes with a dollop of sour cream.

In addition, slice some and add on top of this creamy crab salad recipe, it would be fantastic!
Alternatively, make some crepes and serve them with homemade mascarpone and fish slices.
Another option is to use tortillas and to make some roll-ups. Actually, they are great for breakfast and to include in lunch boxes.
Frequently asked questions
What is lox?
According to the Yiddish, lox is a fillet of brined (salted) salmon that may or may not be smoked. It is typically served with cream cheese and other toppings on a bagel. There are several types: Scotch lox is similar to this recipe but smoked afterward. However, Nova lox is cured with mild salt brine and then cold smoked. Gravlax uses different additional seasonings.
What is the difference between lox and gravlax?
Gravlax has some other herbs and seasonings such as paprika added to the mix as well as gin or vodka to cure the salmon. The liquid smoke is not used until after the lox is removed from the fridge.
What type of salmon is used for lox?
Actually, use any type to make it. However, Nova lox is strictly salmon from Nova Scotia but is now used to describe cured salmon in general. Also, you can use Atlantic or Alaskan salmon. Also, farm-raised or wild-caught both work great.
Is lox the same as smoked salmon?
To summarize, to make smoked salmon you need to salt-cure it or brine it, and after that smoke it. While making lox, you need to just salt-cure the raw fish, and there is no need to smoke it afterward.
Recipe tips:
If you do not have fresh salmon, you can use frozen but thaw it completely first.
Before curing the raw fish, make sure you smell it. And if it doesn't smell fresh, do NOT use it.
Equally important is to use high-quality fish, and preferably wild-caught.
Also, if you choose farm-raised, make sure it is from a reputable retailer.
Be sure to turn the fillets at least once a day but preferably twice a day.

If the salt and sugar mixture is dissolved when you check it, add more, and after that rewrap it and place it back in the fridge.

Another way to wrap your fish is to place it in freezer bags and push out all the air before sealing it up.

Make sure you weigh the salmon down with something heavy. If you do not have bags of rice or beans, use books or cans.

Also, unfortunately, many retailers add coloring to the fish to make it look redder. Therefore, make sure to check the labels and avoid them.
Similarly, pay close attention to what type of salt you use to cure it. Actually, you need kosher salt or sea salt.
More Fish Recipes: