Air Fryer Baked Potato [Video]
Air Fryer Baked Potato is seasoned with salt and spices, then air-fried until crispy on the outside with the fluffiest interior. Easy and delicious, these are the perfect canvas for your favorite toppings!
For more tasty potato sides, make sure to try our Crispy Potato Wedges, Loaded Mashed Potato Pancakes, and Cheesy Mashed Potato Casserole!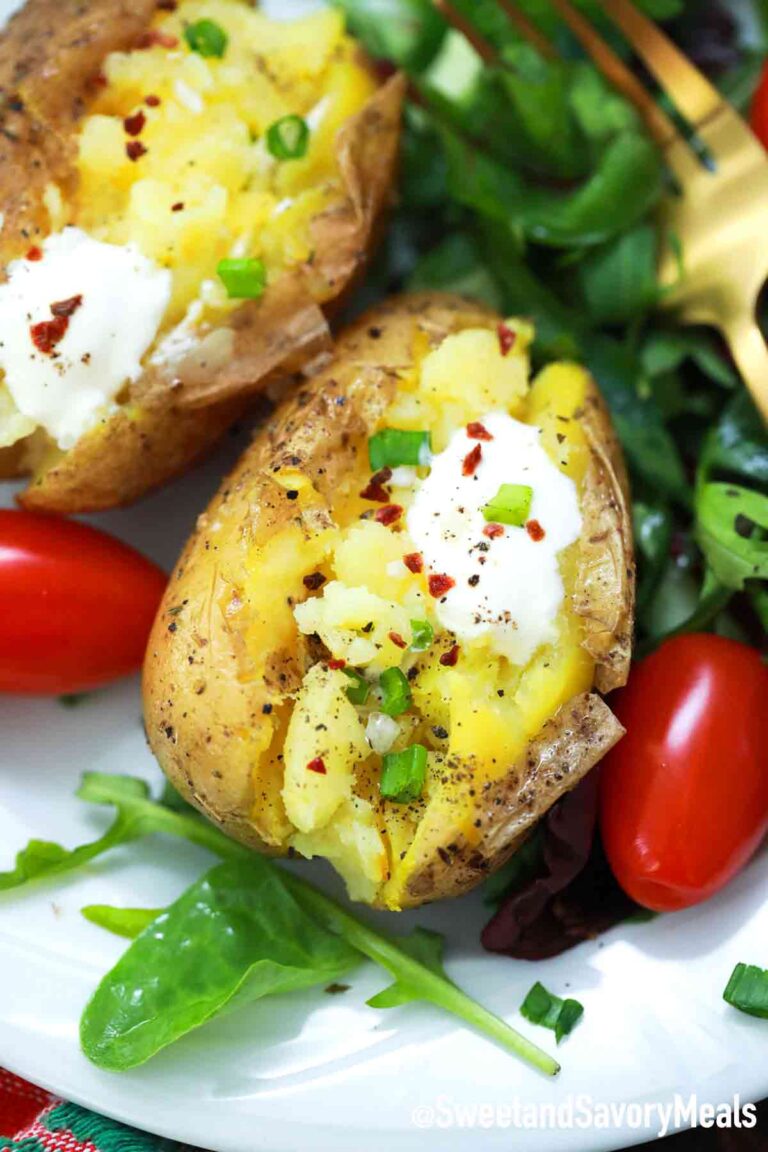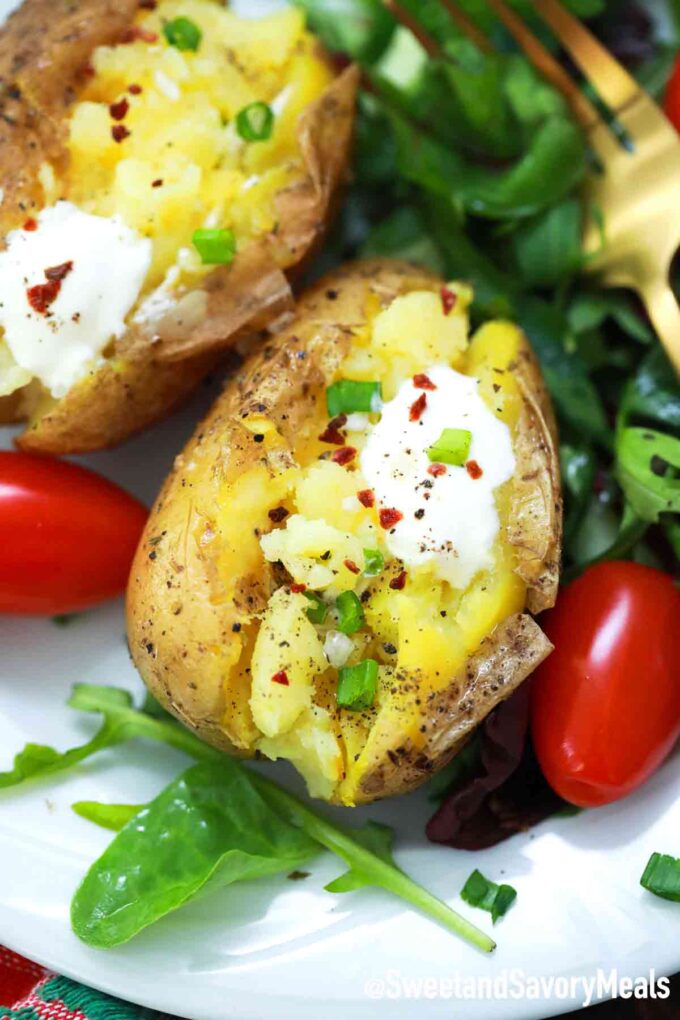 Air Fryer Baked Potato
Air Fryer Baked Potato is an excellent base recipe for the classic side dish. We've already shared ways to bake spuds in the oven, Instant Pot, and the slow cooker, and we've found that air-frying them works equally well!
They turn out crispy outside and incredibly tender and fluffy inside – just the way they should be! Top them with anything you want (we share some of our favorite flavor combos below), or pair them with entrees for a hearty meal.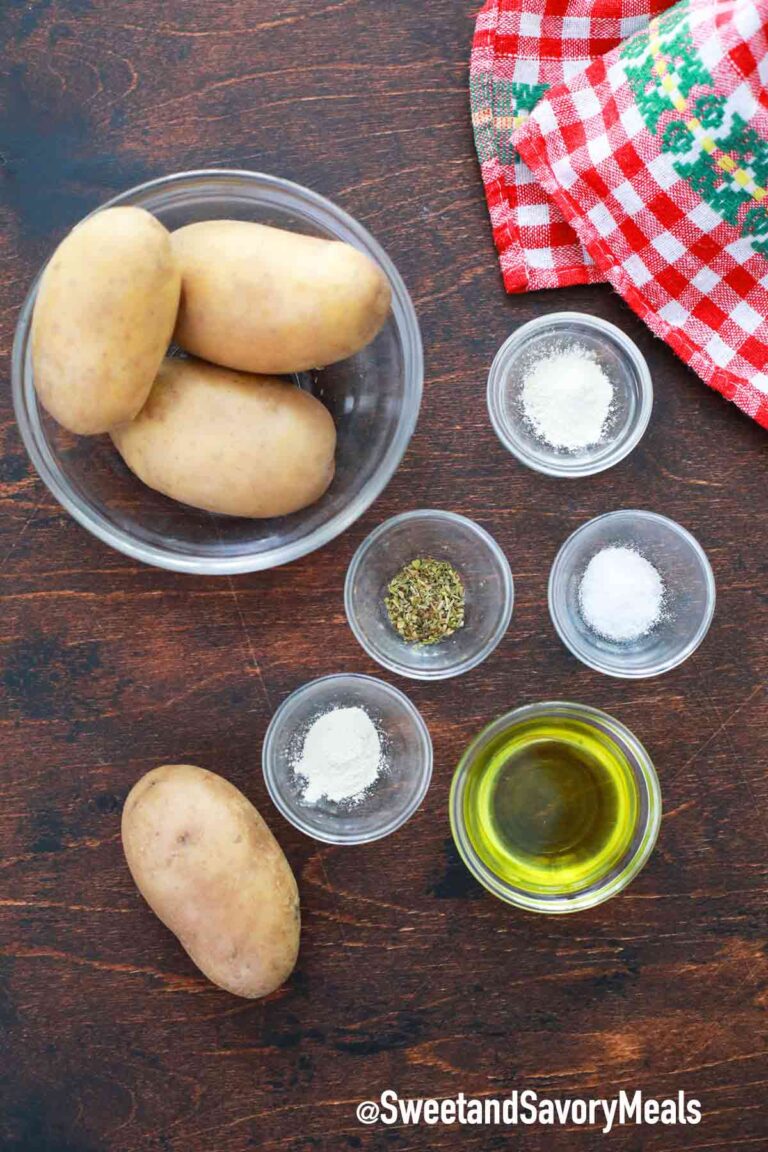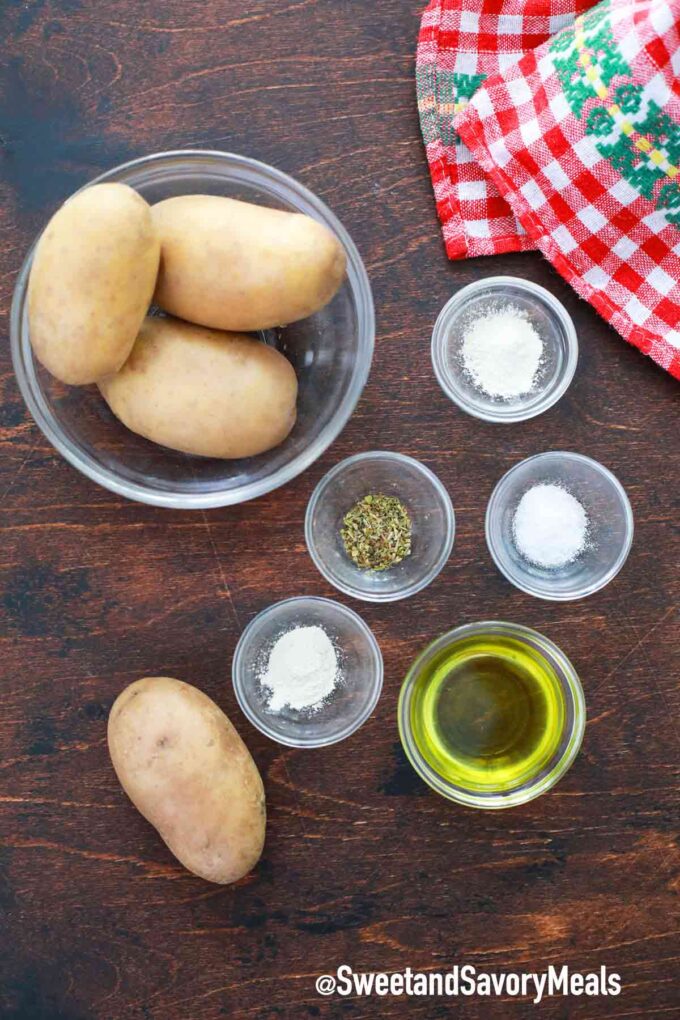 Finally, another thing we like to do with baked potatoes is served them with a topping buffet. For instance, layout small bowls of crispy bacon, cheese, seasonings and sauces, veggies, and anything else you like. Then, let everyone build their own perfect baked potatoes!
What ingredients do you need
Potatoes: Use starchy types like Russet, scrubbed very well, and rinsed.
Oil: You may use either cooking spray or any neutral oil like olive, avocado, or vegetable.
Seasonings: We're keeping it simple – a combo of garlic and onion powder, Italian herbs, and sea salt is all we need to bring out that delicious baked potato flavor.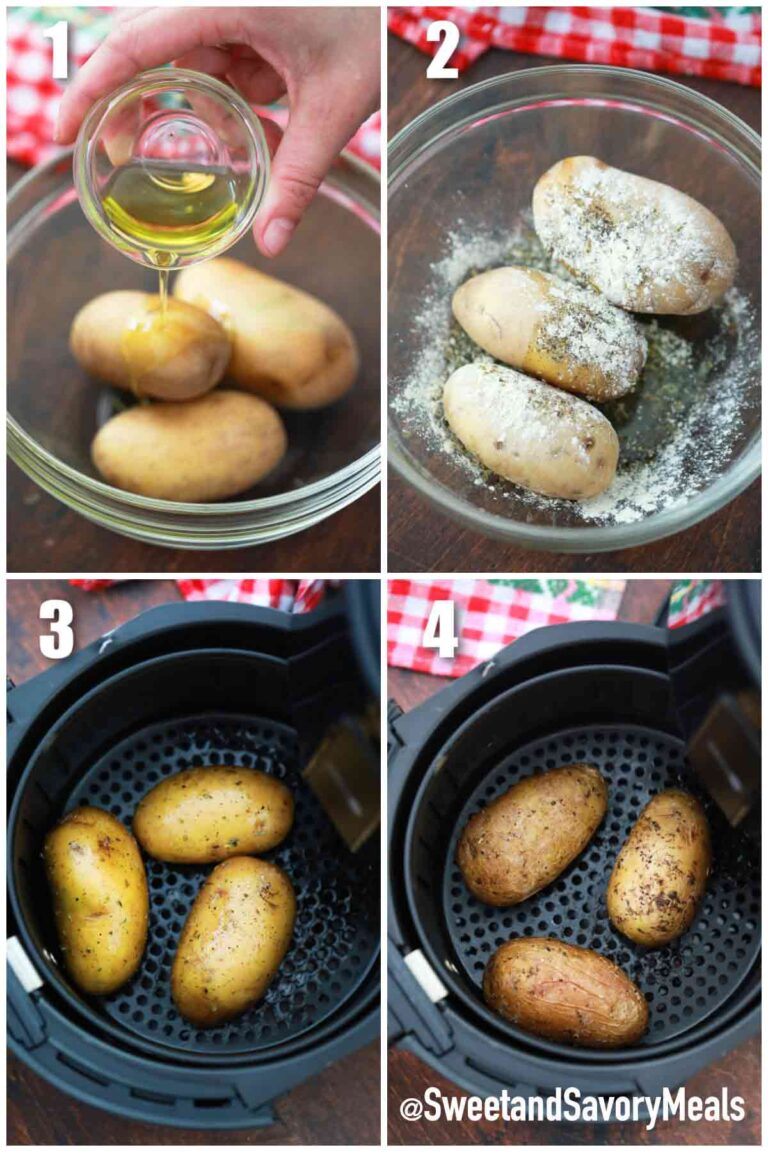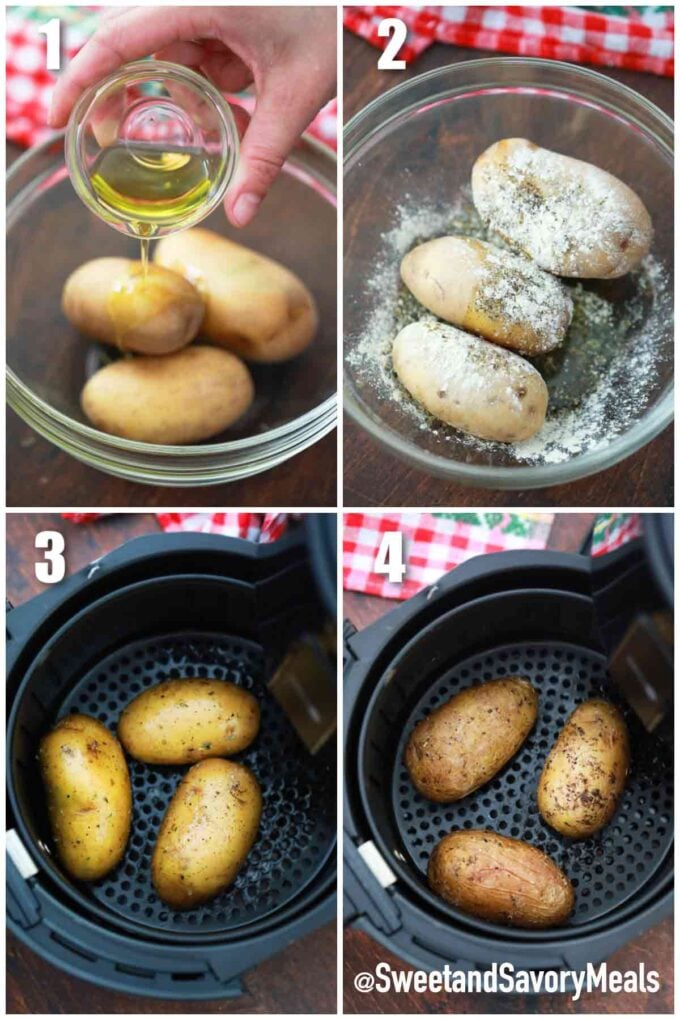 How to make Air-fryer Baked Potatoes
Season. Rub the potatoes with oil, then the seasonings.
Air fry. At 400F, air-fry your spuds for about 40 to 50 mins. Check on them at the halfway mark, and flip them if they're getting too brown on one side.
Serve. Enjoy hot with your desired toppings.
Topping Ideas:
This is our favorite part! You can top them with virtually anything, but these flavor combos always hit the mark:
Classic: Salt and pepper, butter, cheese, and sour cream plus green onions
Mexican: Pile on the Taco seasoning, salsa, Pico de Gallo, black beans, lots of cheese, and your favorite protein (try this with Carne Asada, chicken taco meat, or barbacoa beef)
Greek: Top with feta, chopped chicken souvlaki, tzatziki sauce, and feta
Italian: Sprinkle with Italian seasoning, plus mozzarella, ricotta, or parmesan. You can also give it a pizza spin by topping with tomato sauce, chopped tomatoes, bacon, basil, olives, and diced pepperoni. Pesto works, too!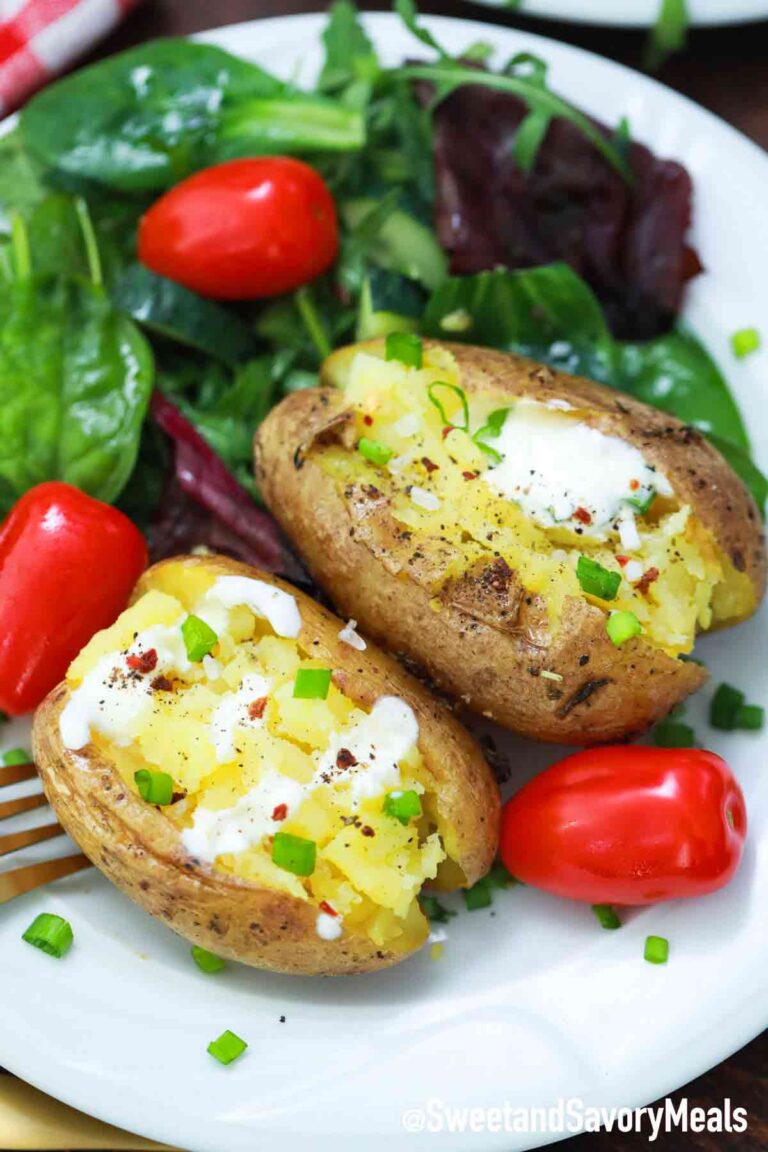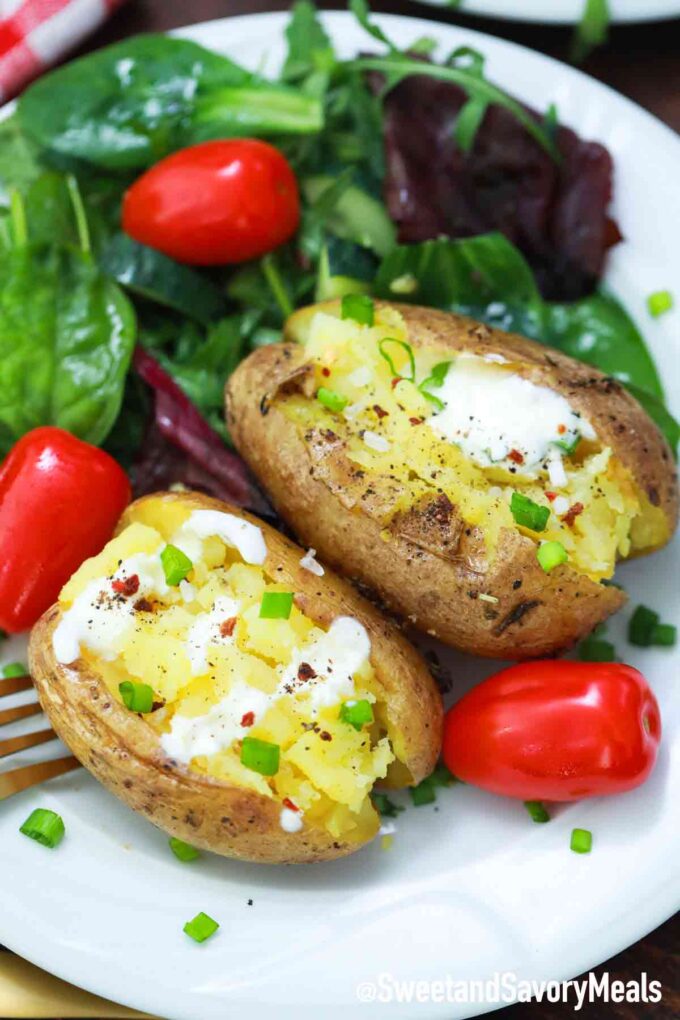 Frequently Asked Questions
What are the best baking potatoes?
Starchy potatoes like Russets, Desiree, Yukon, King Edward, and Idaho are excellent for baking.
Because they have so much starch, they become fluffy and soft after getting baked. In addition, there's not a lot of moisture in their skin. As a result, this creates a crispy exterior, especially during high-heat cooking.
What to serve with Air Fryer Baked potatoes?
Just about anything! It's particularly delicious with Bacon Cheeseburger Meatloaf, Slow Cooker Red Wine Pot Roast, Rosemary Chicken, and Perfect BBQ Pork Chops, and Pan-Seared Steak.
It's amazing with seafood, too! For example, try it with our Garlic Butter Swai Fish or Maple Soy Grilled Salmon.
Can you air fry potatoes to reheat them?
Definitely! You'll want a gentler heat, so you don't dry it out. So, air-fry at 350F for about 20 mins. or until it's hot.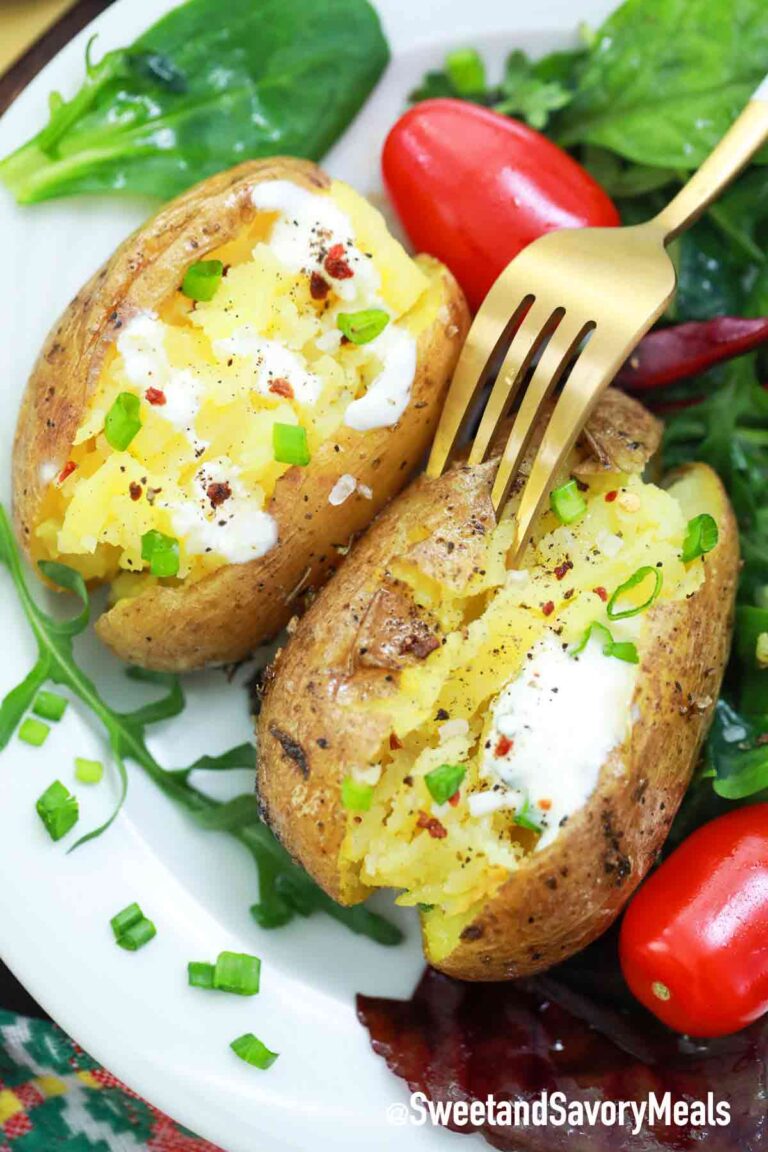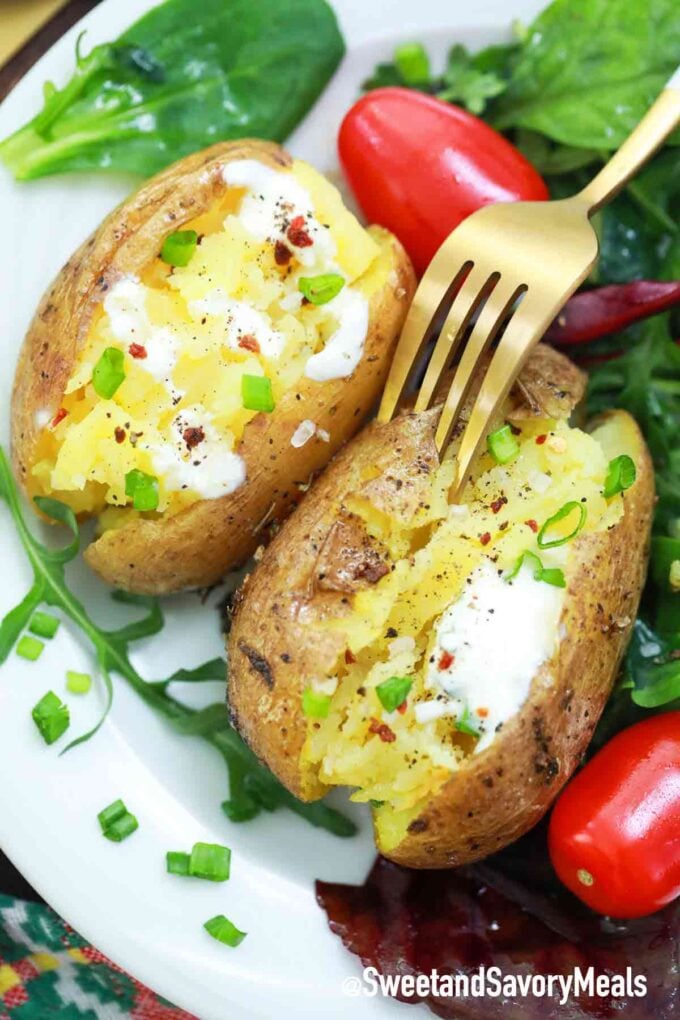 More easy air fryer recipes to try:
Storing instructions:
Make sure they're cool first before storing. Keep in an air-tight container and store in the fridge for up to 3 days.
You can also freeze these, so if you're craving baked spuds, you can simply pull one out and warm them up! Again, cool them down completely first. Then, wrap in cling and foil. After that, freeze for up to 3 months.
To reheat, defrost first if doing so from frozen. Then, air-fry or bake at 350F until hot. You can also microwave these to heat them up faster.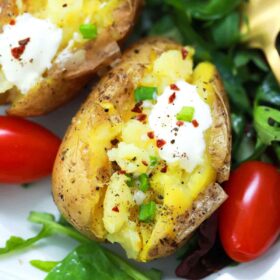 Air Fryer Baked Potato
Air Fryer Baked Potato is seasoned with salt and spices, then air-fried until crispy on the outside with the fluffiest interior.
Save
Share
Print
Pin
Rate
Ingredients
3

russet potatoes

(medium sized)

2

tablespoons

olive oil or cooking spray

1/2

teaspoon

sea salt

1

teaspoon

garlic powder

1/2

teaspoon

Italian dried herbs

1/2

teaspoon

onion powder
Instructions
Preheat the Air Fryer to 400 degrees F.

Clean, wash and scrub the potatoes.

Place potatoes in a bowl, add olive oil, salt, pepper, and seasonings. Rub well with your hands into the potatoes.

Spray with cooking spray on both sides.

Arrange the potatoes in the Air Fryer basket in one layer, 1 inch apart from each other.

Cook for about 40 to 50 minutes, until fork tender.Rotate after about 25 minutes of cooking.

Serve with your favorite toppings.
Notes
You can also use this recipe to make air-fried sweet potatoes.
Prick the spuds all over with a fork to help them release steam and prevent them from bursting in the air fryer.

Check them halfway through. If they're browning too quickly, flip.
Nutrition
Calories:
255
kcal
|
Carbohydrates:
39
g
|
Protein:
5
g
|
Fat:
10
g
|
Saturated Fat:
1
g
|
Sodium:
399
mg
|
Potassium:
904
mg
|
Fiber:
3
g
|
Sugar:
1
g
|
Vitamin A:
2
IU
|
Vitamin C:
12
mg
|
Calcium:
30
mg
|
Iron:
2
mg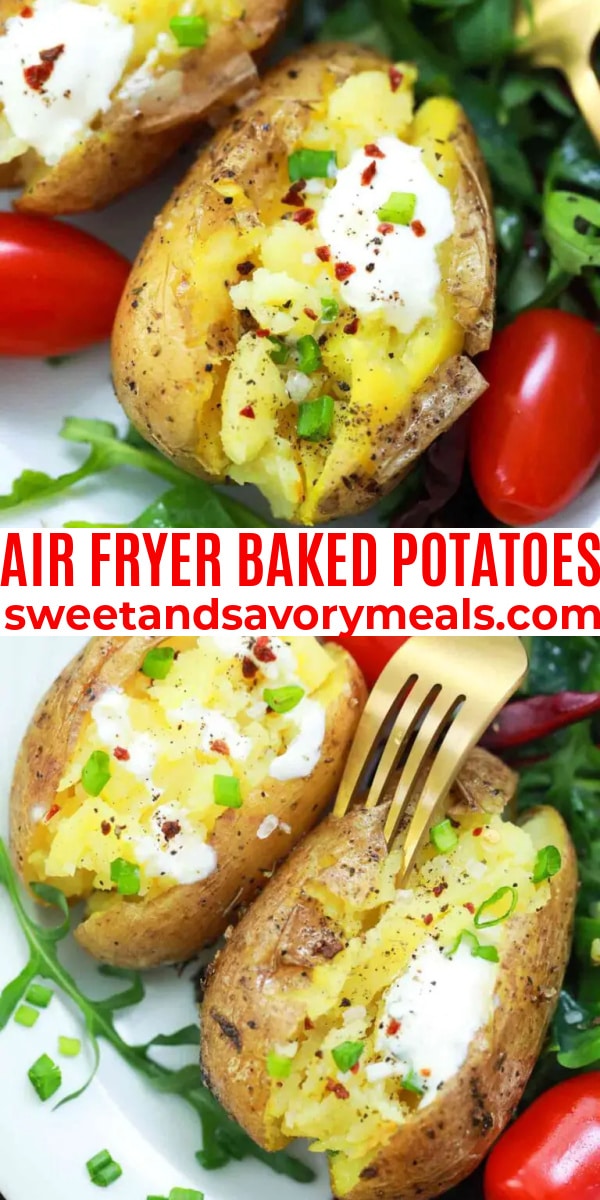 More recipes you might love