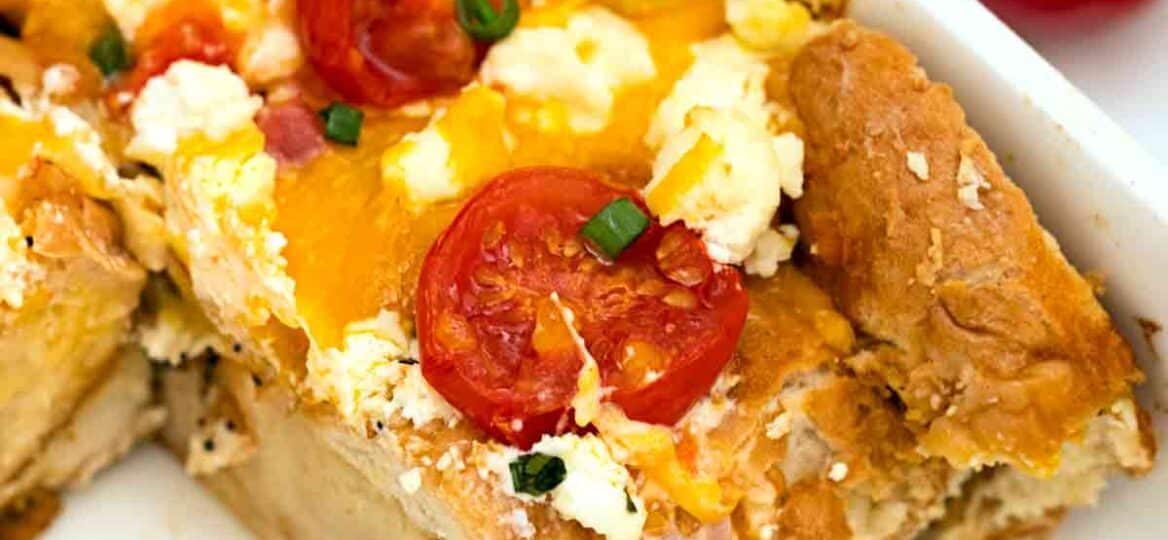 Everything Bagel Casserole Recipe [Video]
Everything Bagel Casserole is an easy breakfast recipe that is made with leftover bagels, cooked bacon, ham, eggs, and cream cheese. Pop it in the oven and have a fragrant dish to energize your mornings.
Casseroles are great and delicious one-pan dishes to feed a larger family. You simply dump the ingredients together and end up with a full and delicious meal. Our most popular ones are French Toast Bake Casserole, Cheesy Broccoli Casserole, and the Classic Mac and Cheese Casserole.
Everything Bagel Breakfast Casserole
This Everything Bagel Casserole is a great kickstart to pump up your family's mornings. As they say, breakfast is the most important meal of the day which is why you should start it with a hearty and tasty dish such as this one.
Moreover, this recipe is a great way to take a break from the usual fried breakfast food or cereals. Not only does it look appetizing, but it can also provide your body with nourishment and proteins to start your day right.
It is also very light on the pocket as you can make this if you have leftover bagels. Even popular celebrities like Chrissy Teigen can't resist baking such a lovely dish.
Just like its name, this dish has everything you would want for breakfast: bread, egg, cheese, and bacon! Now, you won't have to bother preparing them separately since this recipe combines all these delicious ingredients.
How to make Everything Bagel Casserole?
Cut the bagels. Slice leftover bagels into cubes, just like croutons. Or, you can also choose to shred them by using your hands. Place them into a duly prepared casserole and top it off with ham, bacon, and cheddar cheese.
Make the egg mixture. To make your bread moist and tender, combine eggs, milk, and mustard in another bowl. Afterward, toss in the seasoning such as paprika, salt, and pepper. Then, pour it over the pan and allow the bread to absorb the mixture.
Refrigerate. For more flavor, add cream cheese, mozzarella pearls, tomatoes, and chives. Refrigerate overnight or if this is not possible, for just a minimum of 2 hours.
Bake. When the morning comes or after 2 hours, remove it in the fridge and preheat oven to 350F. Make sure to cover with aluminum foil before baking for 40 minutes. For a toasted top, remove the foil after the first bake is done. And then toss it in the oven again for another 15 minutes.
Serve. Let it cool for 10 minutes. For a complete meal, prepare a side of coffee, milk, juice, or smoothies. Serve.
Everything Bagel Breakfast Casserole Add-ins:
This recipe is easily adjustable, and you can add or swap the ingredients. Feel free to add or replace the following ingredients:
Shredded Chicken: This is another great option to add to it. If you have leftover chicken breasts, it would be a great way to add it here. Also, you can make a quick shredded chicken in the Instant Pot from scratch and simply add it to the dish.
Add Tomatoes & Peppers: For some extra veggies, add some bell peppers and tomatoes. Not only will they give this dish a nice color, but also a great boost of flavors.
Use other bagels: Replace the everything bagels with sesame, sourdough, raisins, or a combination of them.
How to dry out your bagels?
You may prefer to use dry bagels for this recipe so that it will not be excessively moist when the egg mixture is poured. To do so, leave it out at room temperature, but also make sure that it is covered so that flies will not land on it.
On the other hand, if you want softer bagels, you can revive them by wrapping it in a damp paper towel then toss in the microwave for 30 seconds.
Storing instructions:
For leftovers, keep them in the fridge. Particularly, in the upper rack to avoid dripping. Store it after 5 days and then reheat. You can also place them in the freezer for a longer shelf life of 2 months.
More breakfast recipes:
Nothing can beat starting the day right by having a great breakfast. Skip the sugary cereal and bland oats combination and twist things up with these following recipes:
Recipe Tips:
Avoid letting the bread go stale by freezing it. Slice before placing it in a freezer bag to keep it good for a few months.
Substitute ham and bacon with vegan patties to make it vegetarian friendly.
Also, feel free to use other veggies and ingredients on hand. If you love veggies, add some frozen spinach, peas, or mushrooms.