Slow Cooker Roasted Butternut Squash Soup
Slow Cooker Roasted Butternut Squash Soup is perfect for the busy home cook! Make this rich soup using the crockpot for a hassle-free dinner!
This healthy dish is one of those kinds that are easy to make but packs in a lot of flavors. Make this along with other autumn favorites like the Pumpkin Cheesecake, Oven-roasted Turkey, and Blueberry French Toast Casserole.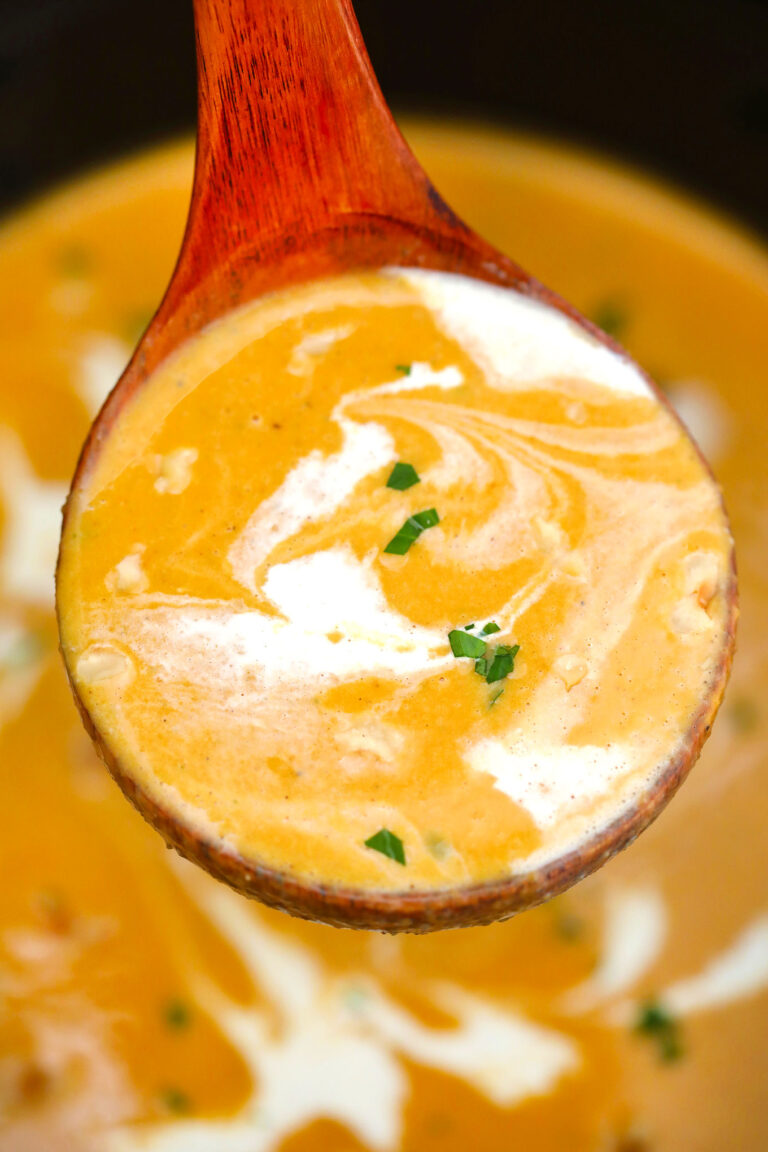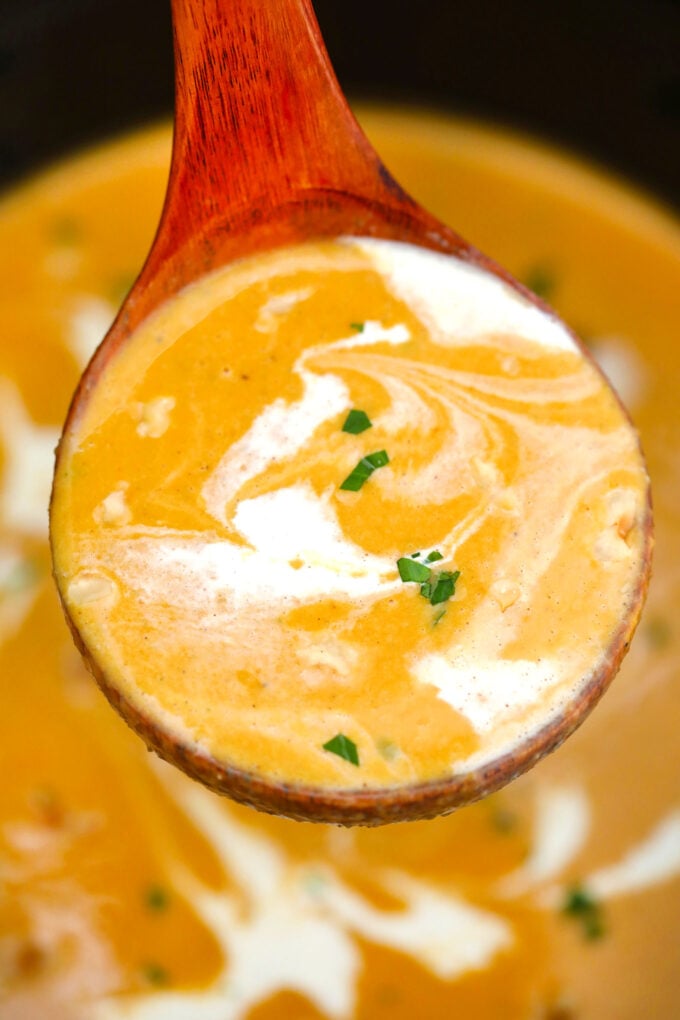 Crockpot Roasted Butternut Squash Soup
Slow Cooker Roasted Butternut Squash Soup makes for a nice dinner entree that is healthy and light but still satisfyingly delicious. Made with few ingredients, this recipe is already easy but using the crockpot makes it even easier.
The butternut squash is creamy as it is and that comes handy when making it into a soup. I love how the earthy and somewhat nutty flavors of this fruit come together into a smooth dish.
And yes, it is a fruit. It contains the seeds of the plant and therefore, it is scientifically categorized as a fruit. However, we have been cooking it as if were a vegetable which is also totally fine by the way.
And preparing this dish in the crockpot for hours on end makes it even more appetizing with the aroma it produces in the kitchen.
So, what are you waiting for? Read on for a great recipe that I suggest you prepare the night before your event!
Is butternut squash healthy?
Absolutely! It is rich in minerals and vitamins most especially vitamin A. The fruit has high levels of this vitamin which is even more than the recommended daily allowance for both men and women.
It is rich in fiber, high in potassium, beta-carotene, and other antioxidants. These all aid in improving and maintaining one's overall health and well-being. You can read more of this amazing fruit's health benefits here.
How do you make Slow Cooker Roasted Butternut Squash Soup:
Roast: Roast the butternut squash at 400 degrees F for 30 minutes to caramelize it.
Add in: Add all the ingredients to the crockpot. If you cook it on high, then, allow 4 to 5 hours. Otherwise, if you use the low setting, then, allow 6 to 8 hours.
Blend: Use a blender, to make this dish smooth at the end
Serve: Season, drizzle with cream and garnish before serving.
How do you make it on the stovetop?
Here is my recipe for the stovetop version. Feel free to customize it using your own ingredients.
What can I garnish Crockpot Roasted Butternut Squash Soup with?
What you can use to garnish this kind of dish are those that will add a contrast to the overall texture. Hence, the topping suggestions below show crispy topics.
Cheese
Croutons
Toasted pumpkin seeds
Red chili
Shallot crisps
Chips
Can I make it in advance?
Yes! This keeps well and sometimes the flavors become more intense after a while. Just follow the storage details below.
How to Store Slow Cooker Roasted Butternut Squash Soup:
Refrigerate: As in any kind of dish that you will refrigerate, allow it to cool at ambient temperature first. Then, transfer into airtight containers and consume within 5 days.
Freeze: If you plan on freezing this to serve for later, simply allow it to cool, then, scoop it into freezer bags. Make sure that each bag is not packed full to allow the expansion of the liquid. Then, lay each bag flat on top of each other in the freezer for 3 months.
To reheat: Simply thaw overnight. Then, heat it up on the stove.
Recipe Tips:
Feel free to substitute coconut milk or half and half for the heavy cream.
Sautéing the ingredients firsts makes the flavors deeper. But since this is a crockpot recipe, you can simply add in the ingredients and wait for several hours.
Check out this post on how to prepare the squash.
Roasting the squash is optional, but it will add extra flavor.
Save Recipe
Slow Cooker Roasted Butternut Squash Soup
Author: Catalina Castravet
Serves: 6 servings
Prep time:

30

minutes
Cook time:

8

hours
Total time:

8

hrs

30

mins
Ingredients
Soup:
2 tablespoons olive oil
1 yellow onion (diced)
4 cloves garlic (minced)
1 tablespoon fresh ginger (minced)
4 cups low-sodium vegetable broth (plus more if needed)
1 cup heavy cream
6 cups diced butternut squash (roasted or raw)
1/2 teaspoon sea salt (plus more to taste)
2 tablespoons brown sugar
1/4 teaspoon ground nutmeg
1/3 teaspoon ground cinnamon
1/8 teaspoon ground cloves
Freshly ground black pepper
Toppings:
Chopped fresh cilantro
Pepita seeds
Drizzle of cream
Instructions
Roast the Squash - optional:
For more flavor, mix the cubed squash with 2 tablespoons of olive oil, arrange on a baking sheet and roast for 30 minutes at 400 degrees F.
Make the Soup:
Add all the ingredients from the SOUP section, except the heavy cream, to the slow cooker.
Cook on low for 7-8 hours or on high for 4-5 hours.
During the last 30 minutes of cooking, add the cream and use a potato masher to puree the squash.
Taste and adjust for salt, pepper, and other seasonings. If the soup is too thick add more warm cream or warm broth.
Use a blender or an immersion blender to cream the soup as much as you like.
Serve garnished with cream, cilantro, and pepita seeds.
Calories: 167 Carbohydrates: 26 Protein: 3 Fat: 7 Saturated Fat: 2 Cholesterol: 4 Sodium: 846 Potassium: 573 Fiber: 3 Sugar: 11 Vitamin A: 15282 Vitamin C: 31 Calcium: 121 Iron: 1
Save Recipe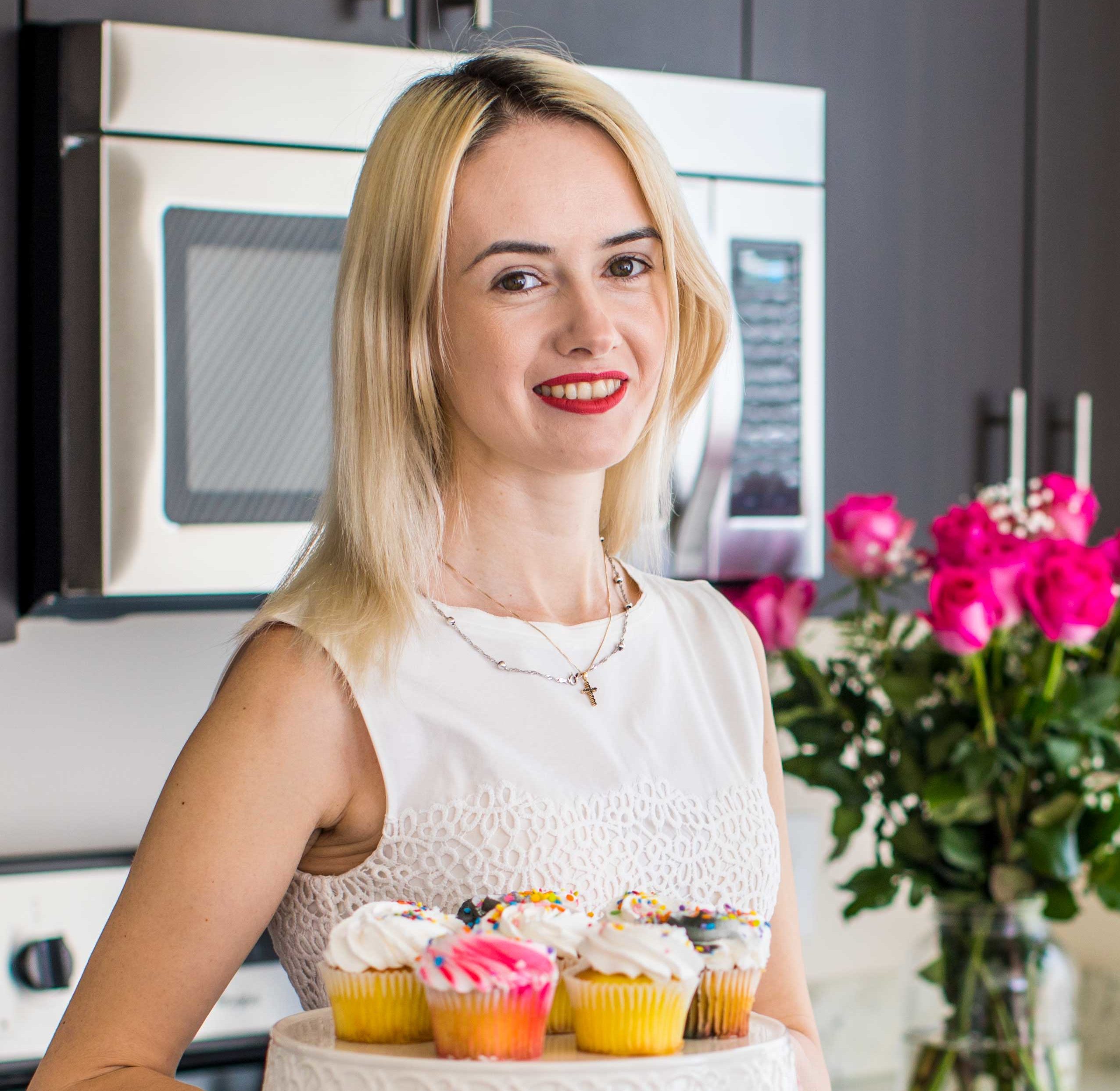 Follow us on Pinterest for more delicious recipes!
More recipes you might love