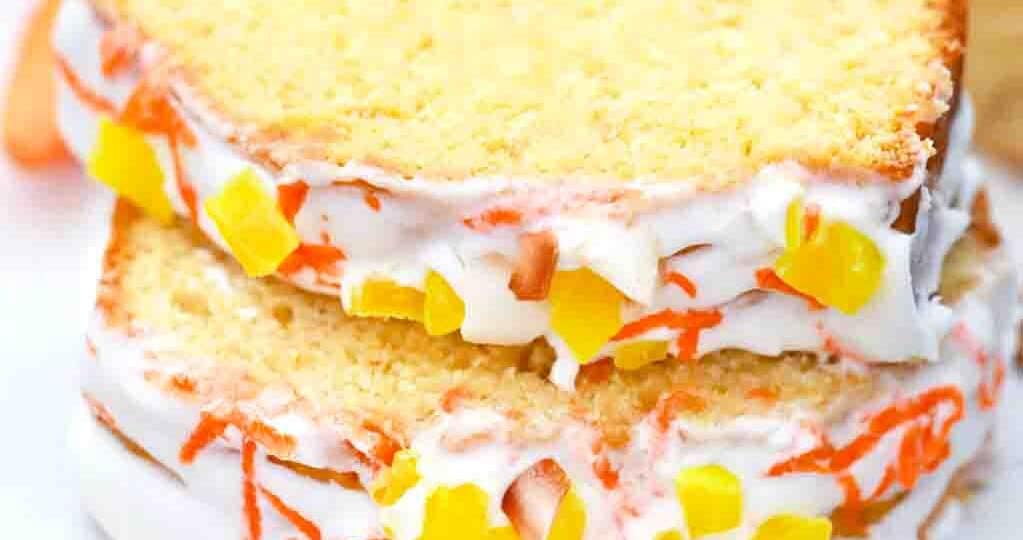 Pineapple Carrot Cake Bread [Video]
Pineapple Carrot Bread is a glorious combination of flavors, made with pineapple, carrots, little chunks of toasted walnuts, and coconut. Chewy raisins, and a sweet glaze, make this carrot cake bread simply amazing. Your family will love this new recipe and so will you.
If you like carrot cake, you will love our Carrot Cake Bars with cream cheese frosting and crushed pineapple in every bite. Our Carrot Cake Cheese Ball is also great, perfect for a holiday party to dip your veggies, fruits, or bread. And Pineapple Bread is another quick bread with pineapple syrup, crushed pineapple, and a sweet glaze.
Quick breads were not invented until the late 1700s. Before that, you had to beat air into your batter or use yeast to make bread. The first quick bread recipes were found in American Cookery in 1796, which was the first American cookbook. However, the Arm & Hammer company claims they invented the quick bread in 1856.
Quick breads are easy to make and always tasty. This pineapple carrot bread is moist and delicious with crunchy walnuts, crushed pineapple, and sweet raisins. There is no need for yeast or waiting for your bread to rise. Just mix and bake for a tasty treat of carrot pineapple loaf in less than an hour.
Looking for more quick bread recipes? Our instant pot banana bread is rich and sweet seasoned with cinnamon and nutmeg. And this lemon poppy seed bread is sensational with sour cream and topped with lemon glaze. Peanut butter bread is also easy to make with fresh peanut butter, brown sugar, and brown sugar.
Ingredients needed:
These are the simple ingredients for this pineapple carrot bread recipe. Scroll down to our recipe card for complete instructions and exact measurements.
Canned pineapple tidbits: Drained.
Grated carrots
Sour cream
Melted butter
Dark brown sugar: Packed.
Granulated sugar
Large eggs: At room temperature.
Vanilla extract
Coconut extract
All-purpose flour
Baking powder
Baking soda
Kosher salt
How to make pineapple carrot bread from scratch?
Preheat: To begin, preheat oven to 350 degrees F, and then prepare a loaf pan with parchment paper and non-stick cooking spray.
Combine the butter and sugars: In the meantime, beat butter, granulated sugar, and brown sugar in a large bowl until it is light in color.
Add the wet ingredients: Then, add eggs, one at a time, beating after each egg before adding sour cream, coconut, and add vanilla extract.

Add dry ingredients: Next, add the salt, baking soda, baking powder, and flour just until it is combined. Be sure not to over mix.

Bake the carrot cake: After, fold in the walnuts, raisins, and carrots. Spoon the cake batter into the prepared loaf pan and use an offset spatula to level it out. Place it on the middle rack in the preheated oven and bake for 45 to 55 minutes.

Cool completely: Last, move the bread to a cooling wire rack and let it cool.

Serve: Finally, spread the top of the cake with glaze, shredded carrot, toasted pecans, coconut, and chopped pineapples before serving.
How to make instant pot pineapple loaf cake from scratch?
Prep the pan: First, add parchment paper and cooking spray to a loaf pan and set it aside.

Mix the wet ingredients: Next, in a medium bowl, add butter and both sugars and beat until the batter is light in color. Add the eggs, sour cream, vanilla extract, and coconut extract, beating well after each egg.

Add the dry ingredients: Then, add the dry ingredients and stir lightly before folding in the nuts, raisins, and grated carrots.

Place the bread: Finally, use a spoon to transfer the cake batter into the loaf pan. Cover with aluminum foil, add one cup of water to the bottom of the pot, and place the bread on the trivet.

Cook the bread: Now, lock the lid and set it to seal, and cook for 55 minutes on high pressure. After, let it naturally release for 15 minutes. Then, do a quick release and remove the pan. Let it cool on a wire cooling rack for an hour.

Serve your bread: After, top your cooled bread with shredded carrots, coconut flakes, crushed pineapple, and glaze before serving.
Recipe variations:
Toast the nuts: Use toasted walnuts for a better flavor.

Other nuts: You can also use chopped pecans instead of walnuts.
Cream cheese: Instead of sour cream, try cream cheese for a creamier moist loaf.
Other oil: Also, you could switch the melted butter for vegetable oil, canola oil, or whatever cooking oil you like.

Add spices: Feel free to add your own favorite spices like ground cloves, cinnamon, or whatever else you like.

More fruit: Try other add-ins like dates, cranberries, orange slices, or whatever you like.

Chocolate chips: For chocolate lovers, add a cup of chocolate chips.
How to serve:
This tasty carrot pineapple loaf tastes great for a snack, dessert cuisine, or breakfast bread. Breakfast breads are easy to make, taste delicious, and can be changed to make it your own. Here are some of our great serving suggestions.
Top your quick bread with rainbow sprinkles for a festive look.

You could also use homemade whipped cream on top for a creamier dessert.

Pineapple carrot bread goes great with a slather of butter or cream cheese.

Add some of your favorite fruit preserves or sauce like blueberry, strawberry, or peach jam.
This bread is perfect for french toast with a bit of maple syrup on top.

Add a scoop of pineapple ice cream on the side for a decadent dessert.

Try this delicious bread with a slather of peanut butter or jelly.
Frequently asked questions
How do quick breads rise without yeast?
Instead of yeast, quick bread recipes use baking powder, baking soda, or both. Without having to worry about yeast, you do not have to proof them or knead them and they do not have to sit for hours to rise. They go from the bowl to the pan like a cake and are simply delicious.
Can I use a different frosting?
Absolutely. Any kind of frosting would be good on this instead of the glaze in this recipe. Cream cheese frosting is one of my favorites. All you need is cream cheese, powdered sugar, vanilla, and butter. You could also try any of the store-bought frostings for your tasty cake.
How do you toast walnuts?
Toasting walnuts is simple and you can do it in several different ways. You can just toss them in olive oil and bake them on a baking sheet in the oven for 10 minutes at 350 degrees F. Or you can toss the nuts in a bowl of butter mixed with brown sugar and cinnamon before baking them for extra sweet walnuts.
What are the nutrition facts in this recipe?
Each serving of this delicious bread has 350 calories, 50 carbohydrates, 18 grams of fat with 5 grams of saturated fat, 45 milligrams of cholesterol, and 35 grams of sugar. You also get 4 grams of protein, 2 grams of fiber, 3,500 units of vitamin A, 69 milligrams of calcium, and 5 milligrams of vitamin C.
How to store leftovers:
Store: One of our expert tips is to wrap your bread in plastic wrap before you refrigerate it in an airtight container. This will keep it moist and fresh for up to five days.

Freeze: To freeze your leftovers, put them in plastic wrap and into a freezer bag. It will be fresh for three to four months.

Thaw: Be sure to thaw it out in the fridge to overnight before serving.
Reheat: To reheat, put a slice in the microwave for 30 seconds. Or you can eat it chilled or at room temperature.
More quick bread recipes:
Baking tips:
A toothpick inserted into the center of the bread should come out clean or with a few crumbs when it is done.

Double the recipe and make two prepared loaf pans so you have an extra loaf to freeze for later. Just make sure the prepared pans are lined with parchment paper and sprayed with oil.
You should always use fresh ingredients for the best results.

Baking time can differ depending on the oven.
Do not put the icing on your bread before you freeze it. Save the glaze for whenever you want to eat it.

Make sure you do not over-mix your batter or it will be too heavy and dense.