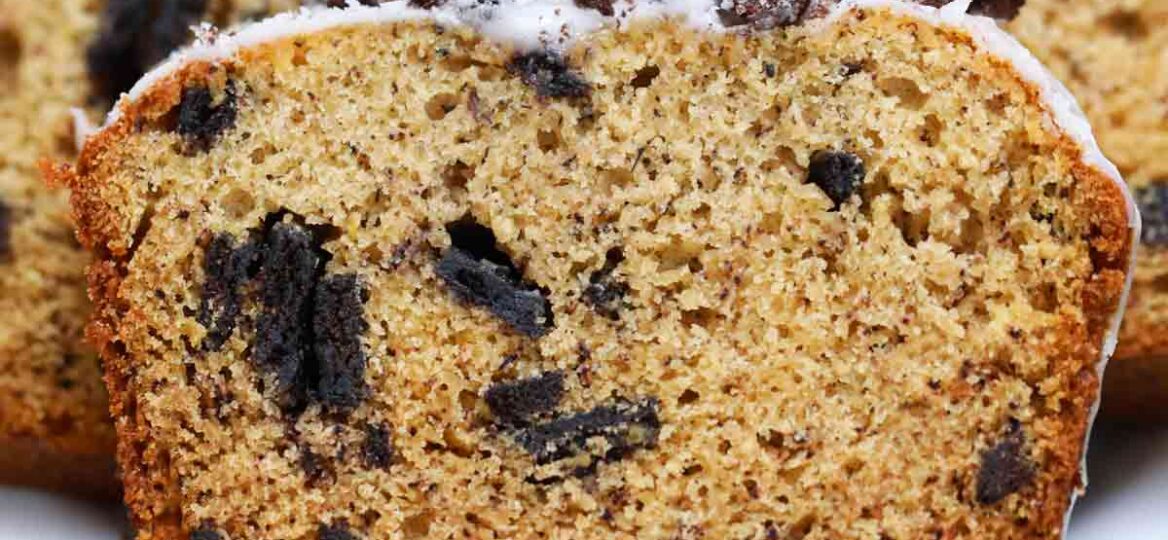 Oreo Banana Bread Recipe [Video]
Oreo Banana Bread is a delicious take on the classic dessert! Moist and fluffy banana bread is loaded with Oreo chunks and topped with an Oreo vanilla glaze. This treat is out of this world, and it definitely should be part of your must-try list!
We are huge fans here of Banana bread we have it in so many versions, classic, bursting with decadent chocolate flavor, with zucchini, juicy blueberries, sweet strawberries, gluten-free, chocolate chips, and even muffins!
Banana Bread with Oreos
Oreo Banana Bread is incredibly easy to make and the end results are always outstanding. This is a very easy, fool-proof recipe and you most like to have all the ingredients in your pantry.
I always have some Oreos on hand, and same with bananas, I like to grab a few more on sale and freeze them for smoothies or let them brown to use in desserts.
What do you need to make Oreo Banana Bread:
Ripe banana – two or three are enough
Butter
Oil
Vanilla extract
White sugar
Brown Sugar – it adds another layer of flavor!
Eggs
Baking powder
Baking Soda
Salt
Flour
Buttermilk
Oreos
How do you make Oreo Banana Bread from scratch?
Prep: First, I start by preparing all the ingredients. I mash the banana, measure everything and make sure I have them handy. In this step, also make sure the oven is pre-heated and grease the pan.
Combine butter and sugars: Using a hand mixer, beat butter and sugar until combined and light in color.
Add the wet ingredients: Next, add the oil, egg, egg white, and vanilla and whisk until fully combined.
Add the dry ingredients: After that, add the baking powder, baking soda, salt, and half of the flour.
Alternate with buttermilk: Once the flour has been combined into the batter, add half of the buttermilk and beat, followed by the remaining flour and finishing with the rest of the buttermilk.
Oreos: Finally, stir in the most exciting ingredient, the chopped Oreos.
Bake: Bake it for 50-60 minutes. Completely cool before topping with the glaze.
Glaze: Combine all the glaze ingredients except the Oreos, once the mixture is smooth pour it on top of the dessert and sprinkle chopped Oreos on top.
More Banana Recipes:
Recipe Variations:
Oreo flavors: play with different Oreo flavors, the seasonal ones are especially nice to use in this recipe. If you go for the mint Oreos, make sure you use some peppermint extract in the cake. Adding Red Velvet Cake Oreos? In that case, I highly suggest some good-quality chocolate chunks mixed into the batter.
Add-ins: Since this recipe is so versatile, you can combine the Oreos with many other mix-ins, we prefer: chocolate chips, chocolate chunks, sprinkles, Reese's, chopped Kit-Kat, etc.
Add peanut butter: No doubt the Oreos are delicious but add in a few dollops of peanut butter and some peanut butter chocolate chips and you will take this bread to a whole different level.
Chocolate: Make it more decadent by adding 1 cup of chocolate chips and 1/3 cup of high-quality cocoa powder! Top it with a chocolate ganache and more chopped Oreos! Yum!
How to store:
The Oreo Banana Bread can be stored wrapped in plastic in the fridge for up to one well. Also, you can freeze it.
To freeze: Let the bread cool completely and after that wrap it in plastic, then in foil and freeze the loaf. The same way you can freeze individual slices.
What to serve with:
Recipe Tips:
Make sure you use ripe bananas, NOT completely brown, but a dark yellow with brown spots on the skin that can be easily mashed are perfect! They have the most amazing flavor!
Always measure the banana puree, as the fruit may differ in size, so it's best to mash and measure.
Do NOT overbake it, keep an eye on it and check with a toothpick if it's ready. Cover the foil if it starts to brown too quickly.