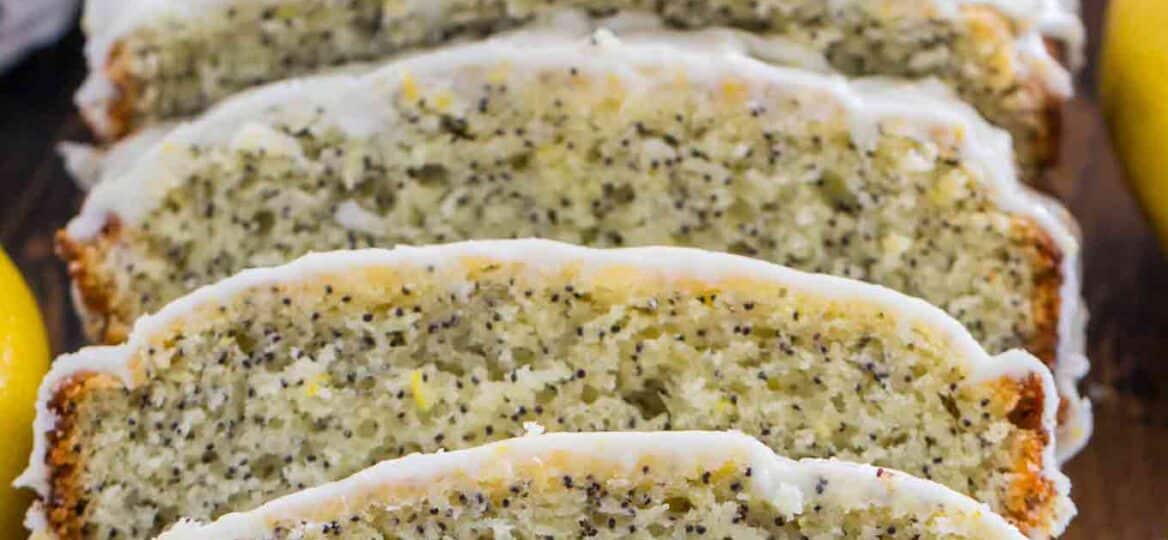 Lemon Poppy Seed Bread [Video]
Lemon Poppy Seed Bread is packed with citrusy freshness from using lots of lemon zest and juice, with crunchy poppy seeds and lemon glaze. Watch the quick tutorial attached below and see how easy and delicious this recipe is!
Making easy, puffy and delicious bread is our specialty. We enjoy making them rich and tender like our popular Chocolate Banana Bread, Skinny Blueberry Banana Bread, and Pumpkin Bread.
Lemon Poppy Seed Bread
I love a quick and easy dessert, and with my current lemon obsession, making a Lemon Poppy Seed Bread was no brainier. You see, I grew up eating Poppy Seed desserts, they are very popular in Eastern Europe, and the craving hit hard a few days go. Not one to let a craving go away, I quickly whipped this delicious and refreshing bread, and it's so good, I can go as far and say that it's perfect!
The bread turned out fantastic, many people shy away or get annoyed when the bread is described as moist. I am always perplexed by this because I hate dry desserts, so when I hear the word "moist", I know I will be all over that dessert.
Yes, so these lemon brownies are moist, incredibly tender, with a delicate and light crumb. Also, you get lots of lemon flavor from the fresh lemon juice and lemon zest. A perfect balance of sweetness and tartness, with a light crunch from the tiny poppy seeds.
Lemon Poppy Seed Bread Recipe Tips:
Lemon is one of the main ingredients here, make sure you use the fresh lemon zest for the best lemon flavor.
You can use store-bought lemon juice if you have some on hand.
This bread can be easily made without the poppy seeds, just skip them, you will end up with a delicious Lemon Bread. No need to alter the recipe if you skip the poppy seeds.
If you decide to skip the poppy seeds, may I suggest adding 1/2 cup to 1 cup of white chocolate chips? They will pair so well with the lemon flavor!
You can also add chopped walnuts to this bread, about 1 cup.
You can use canola oil, vegetable oil or melted coconut oil.
The sugar can be reduced from 1 cup to 3/4 cups.
The glaze is optional but delicious. You can also make the glaze with milk and vanilla extract instead of lemon.
In addition, watch the bread closely after 30 minutes of baking, to make sure not to over bake it. I like to check on it at the 30-minute mark and if it still needs more baking, check on it every 5-7 minutes until done. A toothpick inserted in the center of the bread should come out clean or just with some crumbs, but not raw batter.
You can use this recipe to male Lemon Poppy Seed Muffins, bake for 20-25 minutes.
Serve the bread warm or room temperature, you can also warm up slices in the microwave and it tastes delicious with some butter.
What do you need to make Lemon Poppy Seed Bread :
Regular dry ingredients like flour, sugar, salt, baking powder.
Wet ingredients: oil, sour cream, milk, eggs.
For the lemon flavor: lemon zest, lemon juice (freshly squeezed or store bought).
Loaf Pan and baking spray or butter to grease the pan.
How to make lemon zest?
Follow the easy steps below:
Rinse the lemon.
Set your tool over a cutting board. A microplane produces a very fine zest, perfect for baking and cooking. If you don't have a microplane, use the smallest holes on an ordinary grater.
Grate the yellow skin of the lemon only. Grate just enough to get through the yellow skin, this way you can avoid the bitter white pith underneath.
Rotate the lemon and repeat. Once the white pith is exposed, rotate the lemon and zest the next strip of peel. Repeat until most of the peel is removed, or until you have enough zest for your recipe.
How should I store the Lemon Poppy Seed Bread?
The bread can be stored wrapped in plastic wrap at room temperature for 4 days.
Can you freeze the Lemon Poppy Seed Bread?
This bread also freezes well. Cool the bread completely and do not glaze it, if you intend to freeze it. Fully wrap it in plastic wrap, tightly. After that wrap in aluminum foil or place it in freezer bags. Freeze for up to 3 months. Defrost before slicing.
Have you tried Lemon Brownies? If no, you are so missing out!
Deliciousness to your inbox
Enjoy weekly hand picked recipes and recommendations