Easy Candied Bacon Recipe [Video]
Last updated on June 19th, 2021 at 06:02 pm
Candied Bacon is crispy, sweet, and savory! It is so delicious and easy to make that you will want to double this recipe so you will not run out of it!
This is a basic recipe that you can follow and use in other recipes. Or you can even eat it as is, it is a nice beer match. If you want to add some crunch in your dish, this is perfect. Add it on your Slow Cooker Corn Chowder, BLT Potato Salad, and Crack Chicken Pasta Salad!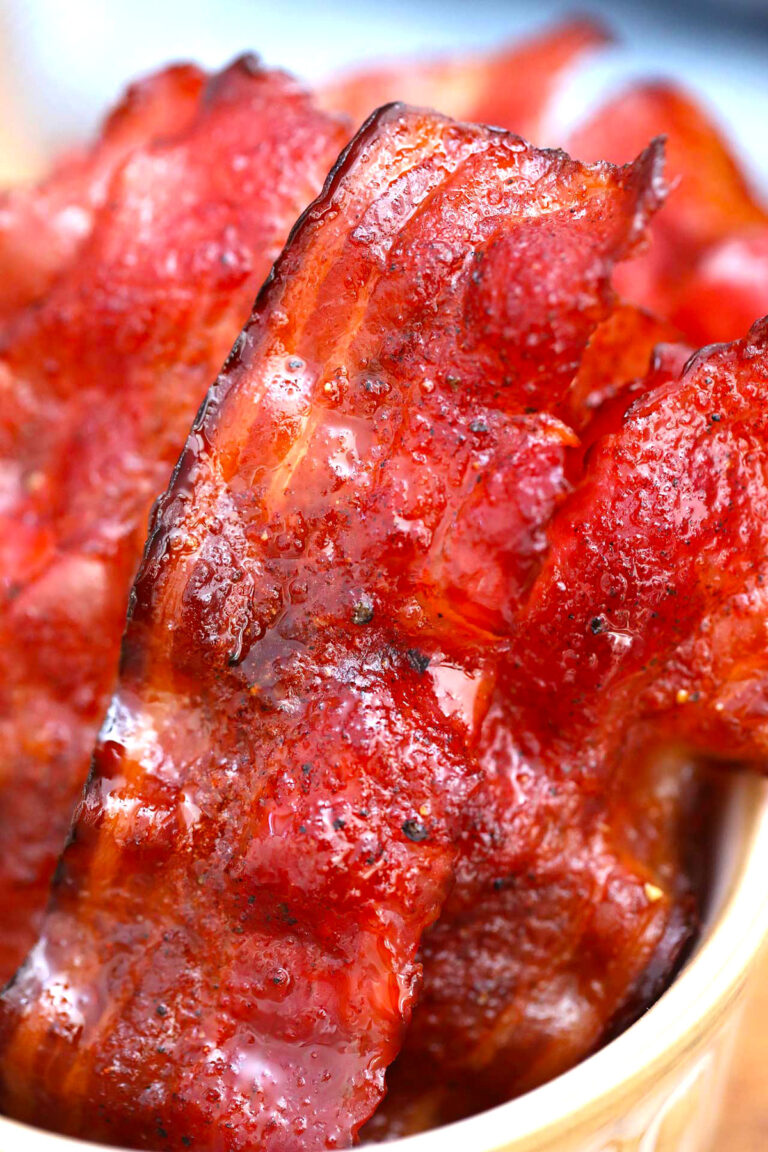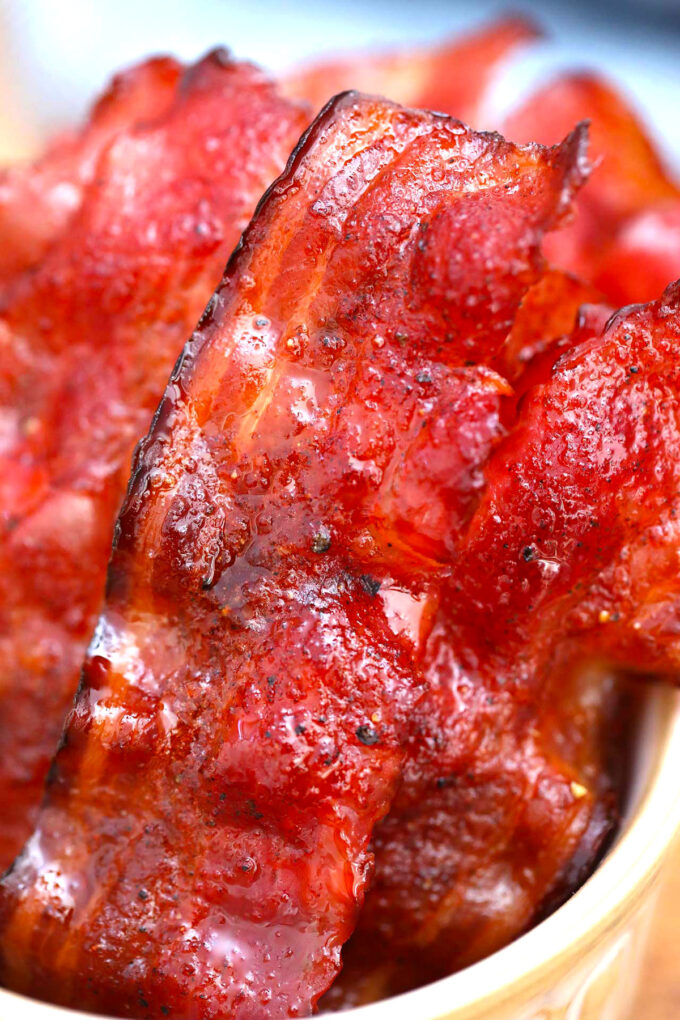 Easy Candied Bacon Recipe
Candied Bacon is a household favorite! We all love how it is seasoned and it crisps up well without the additional fat. This is because you bake it and not fry it.
It is sweet, salty, and savory exactly like how I want it. The balance of those flavors is lovely especially with the addition of paprika and cinnamon.
But the best part is that this recipe only requires a few basic elements. You only need the strips, sugar, and flavorings.
As it cooks in the oven, the whole house would smell amazing. The hardest part really is suppressing your cravings.
You can make a huge batch of this and it is what I recommend. Everyone would want more than one piece, so it pays to make a bunch!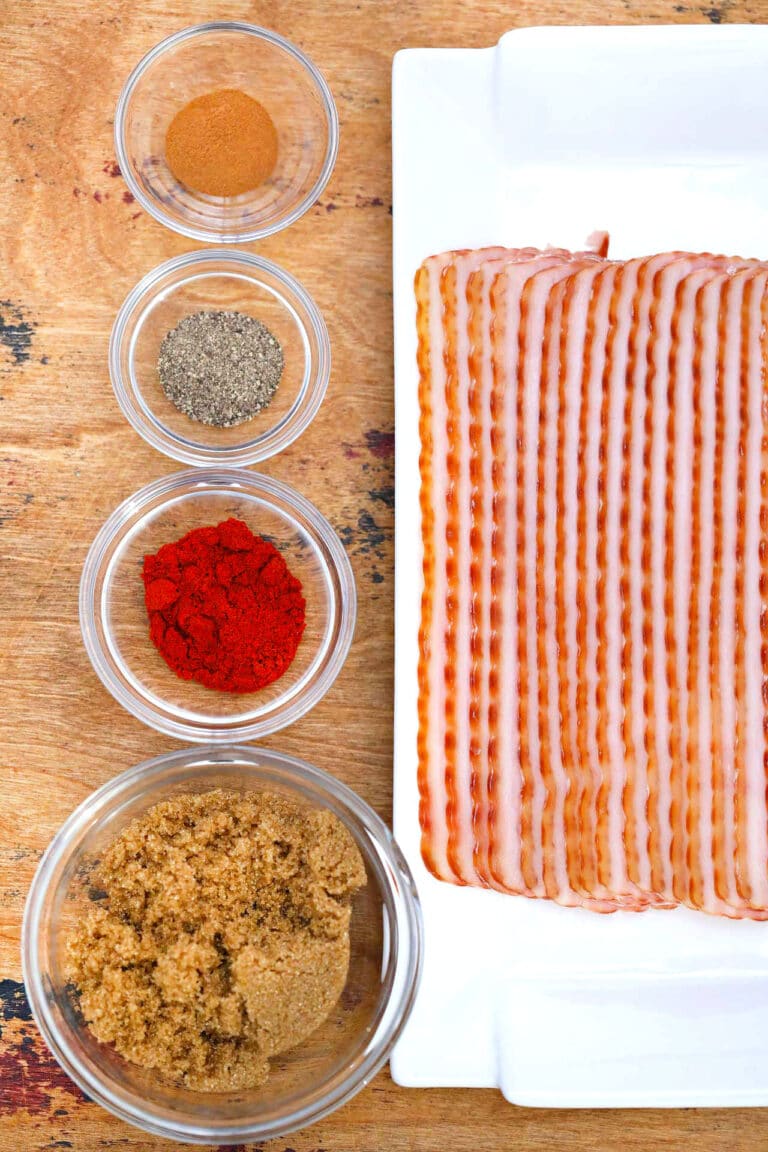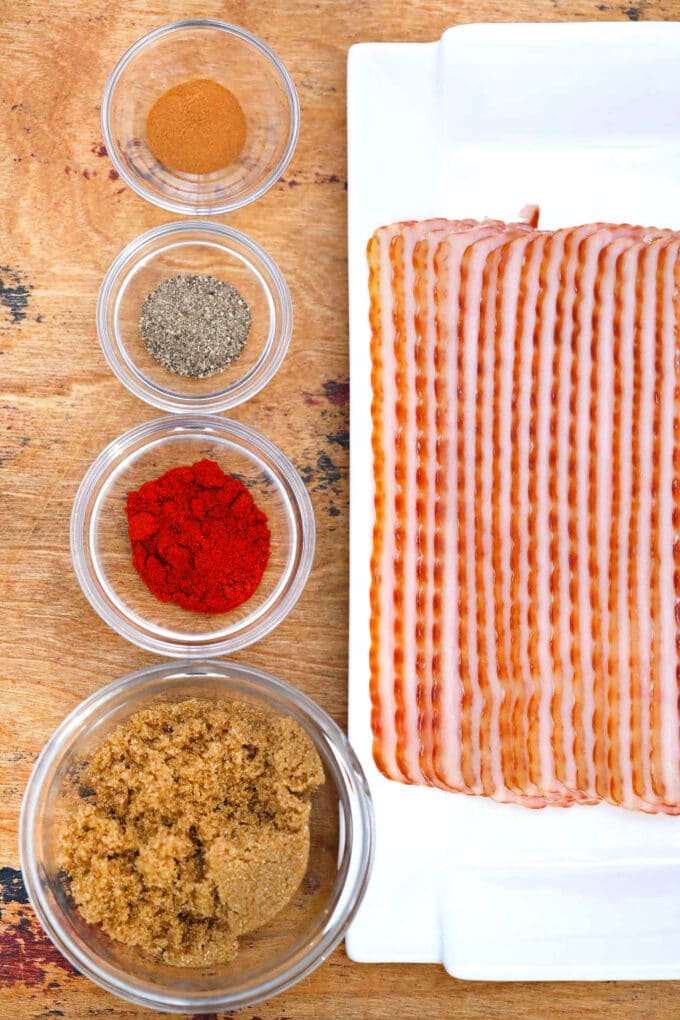 What is candied bacon?
It is also called pig candy. It is made with strips of pork belly or back that have been made crispy with a layer of caramelized sugar.
What goes into candied bacon?
Here are the ingredients that you will need. These are all common ones and you probably have them in your spice rack.
bacon strips – classic ones, not thick cuts
light brown sugar – caramelizes as it cooks in the oven
ground black pepper – seasons the pork
paprika – enhances the bacon flavors
cinnamon – adds an earthy flavor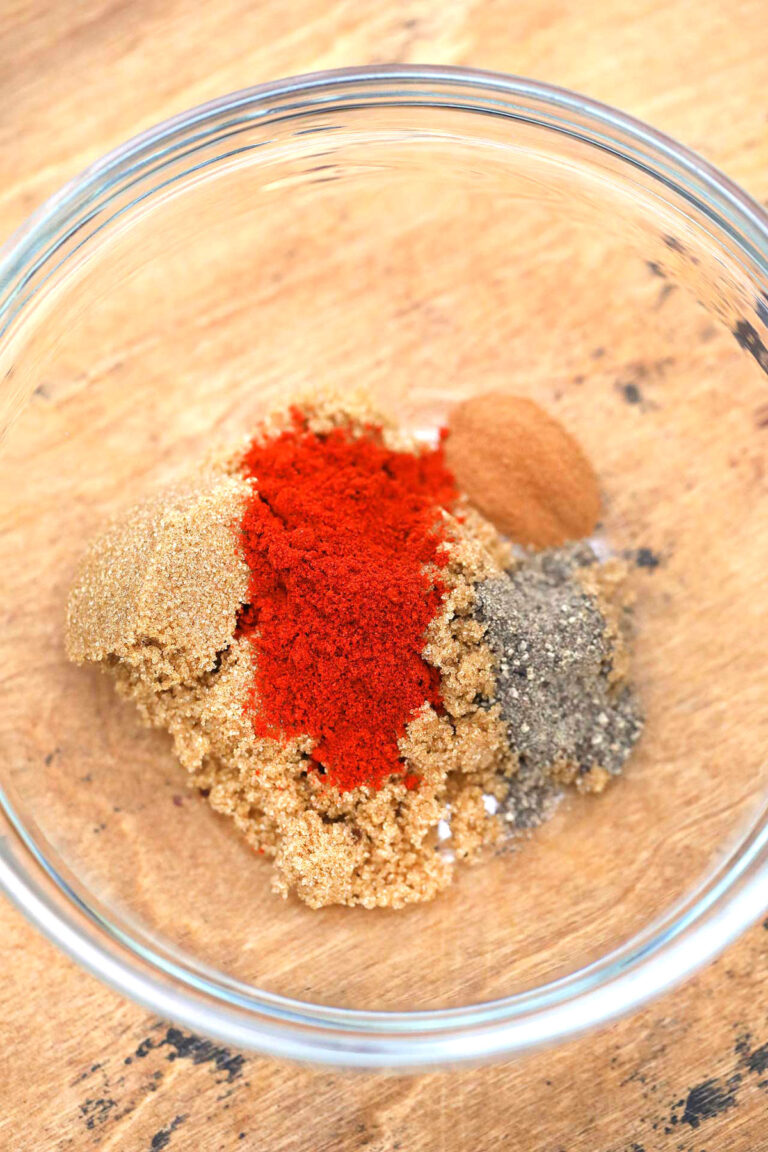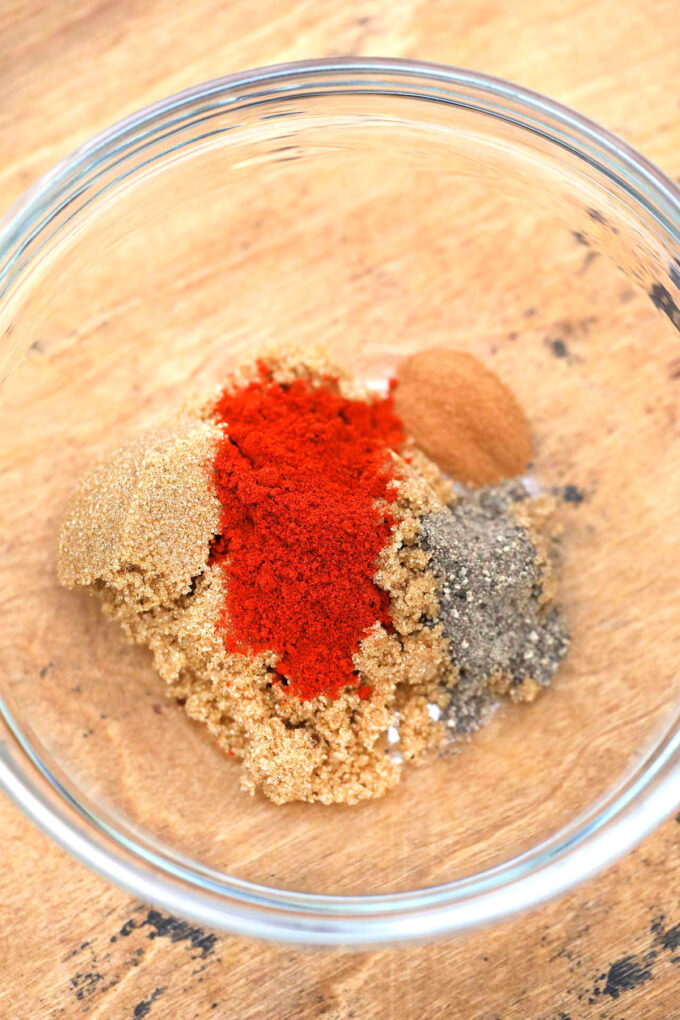 How to make candied bacon
Prepare: Preheat the oven to 375 degrees Fahrenheit. Then, arrange the strips on a wire rack placed on top of the lined baking pans. Make sure that the strips do not overlap.
Season: In a small bowl, combine the rest of the ingredients. Sprinkle each strip with this spice mixture.
Bake: Put the baking pans in the oven and cook for about 20 to 25 minutes, rotating once. Check for doneness at the 18th-minute mark to ensure that nothing becomes overcooked.
Cool: Set them aside and allow them to cool. They will crisp up some more as the sugar solidifies.
Serve: You can then serve the strips once they have cooled to a manageable temperature.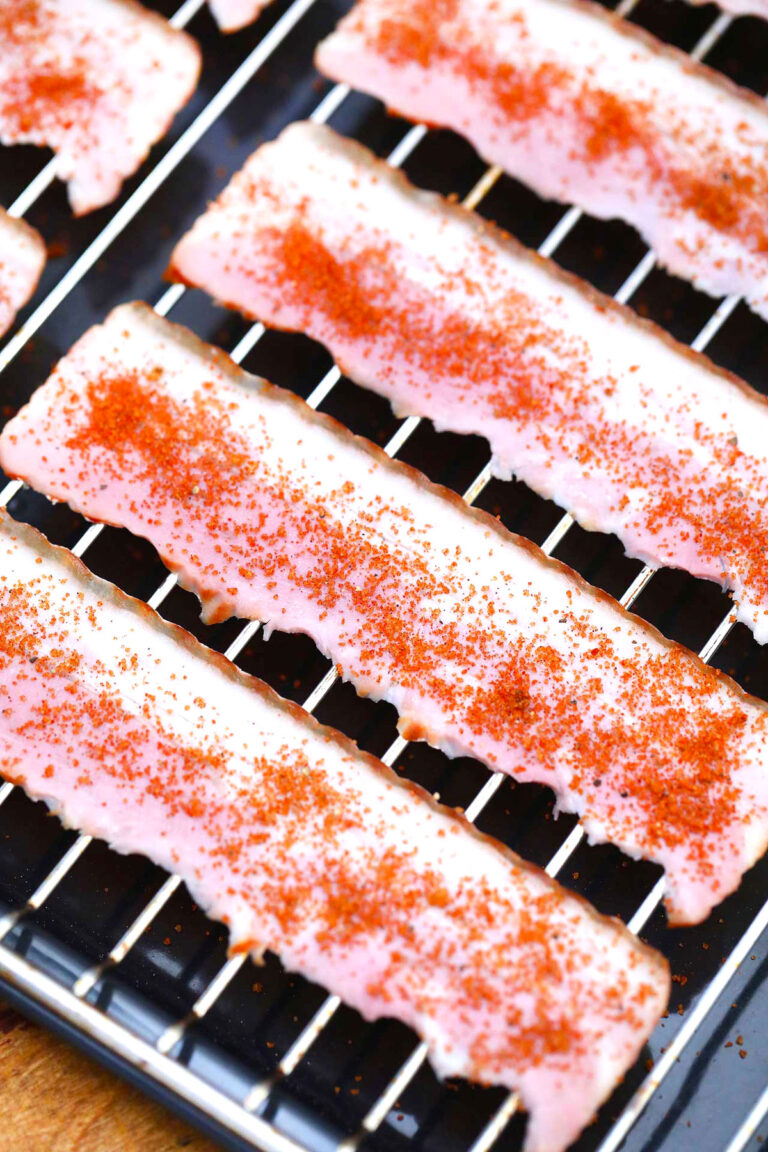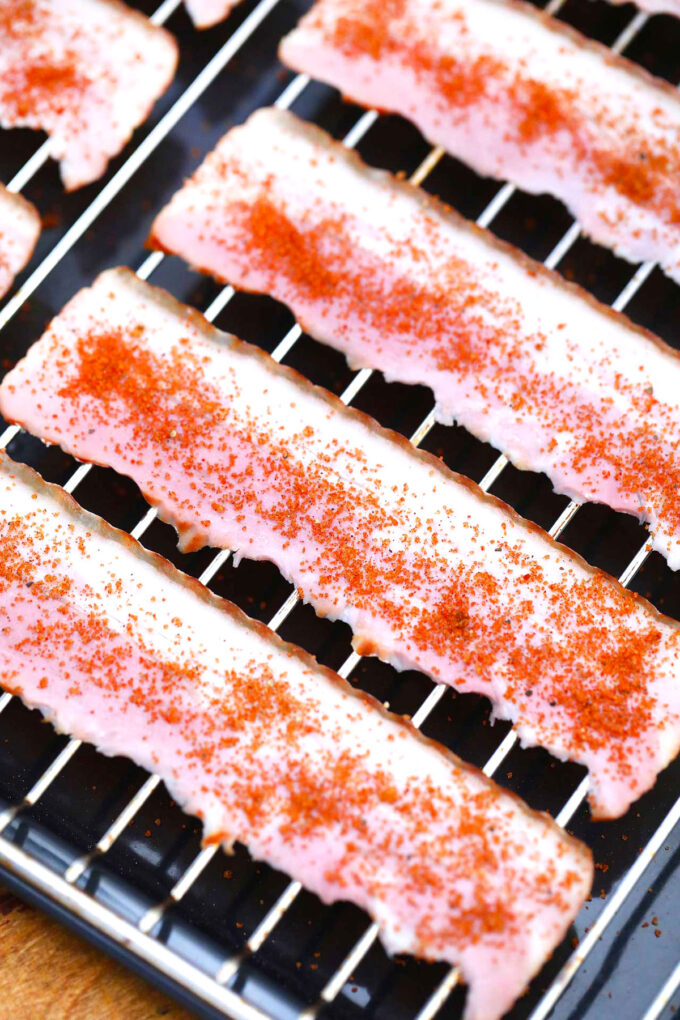 How do you make homemade brown sugar?
If you run out of brown sugar and all you have is white, simply replicate what sugar producers do. And that is, add molasses to white sugar.
White sugar has been stripped off the molasses during production. So, by doing it yourself, you can turn one cup of white sugar to light brown by adding one tablespoon of molasses.
Want it darker? Add another tablespoon of molasses.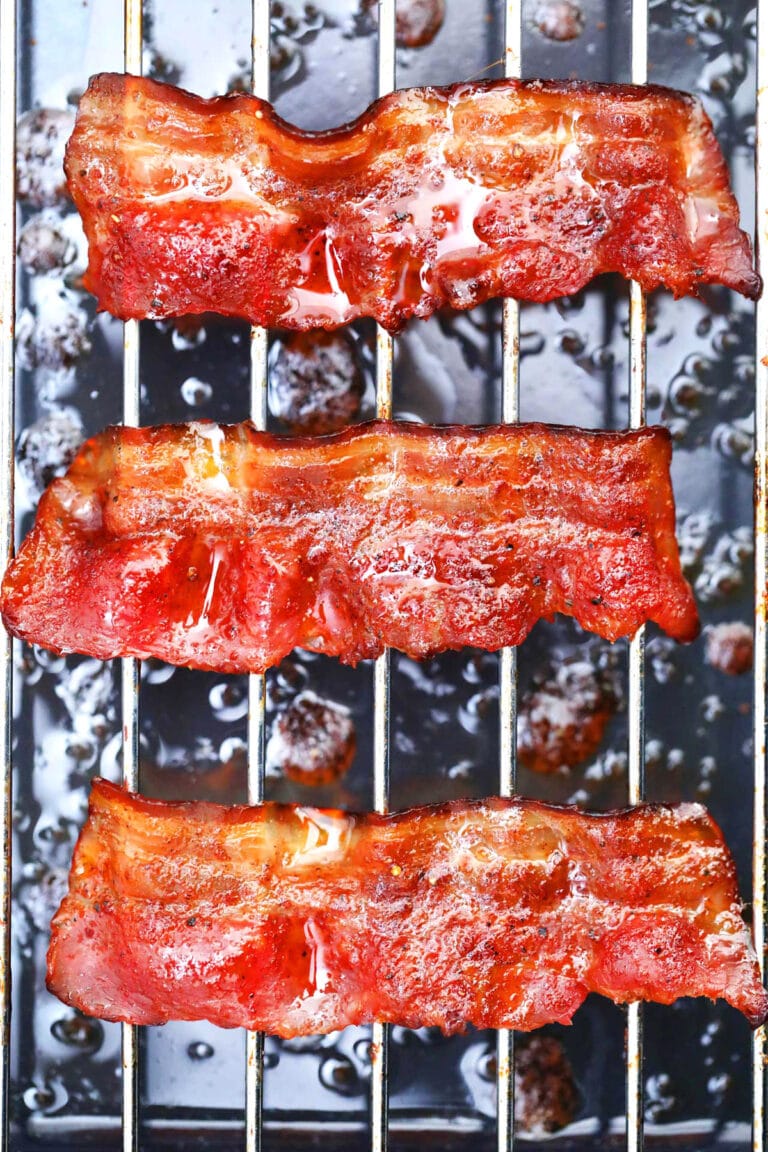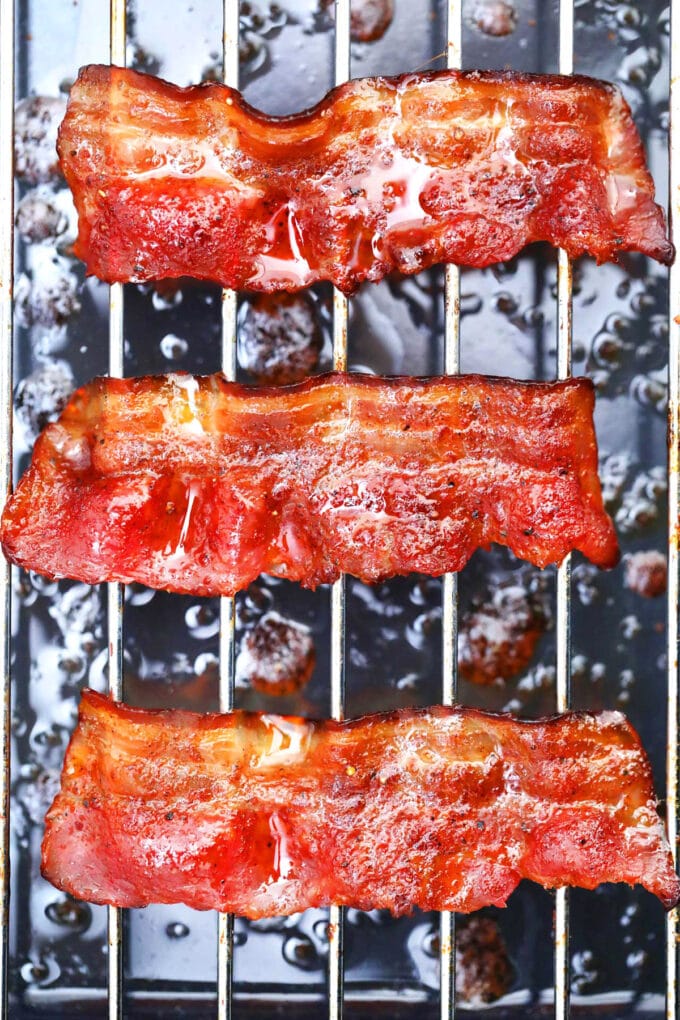 How do you keep cooked bacon crispy?
To keep it the bacon crispy, let it sit inside the oven with the door slightly open. The heat will keep it warm and crispy.
Refrigerating and freezing it will retain the crispness. When ready to eat, just reheat it in the microwave to remove any moisture to restore the crispness.
How long does candied bacon last?
Room temperature: Keep it for a week.
Refrigerator: Wrap individual pieces in wax paper and this will last in the fridge for up to three weeks.
Freezer: It may stay good for 4 to 6 weeks.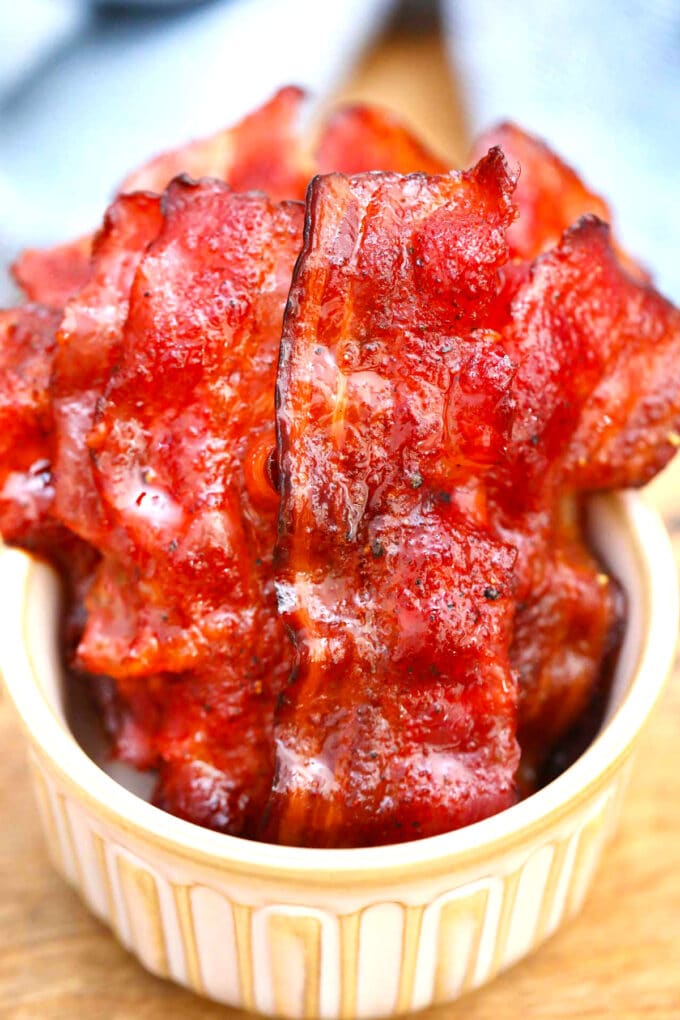 Recipe Tips:
The main thing that you need to avoid is moisture. If you put the strips on a paper towel, the heat may create steam underneath that will soften them. Hence, do not do that and just put them on the wire rack.
You can push down a bit on the strips on the rack to make them wavy when they come out.
Another way to do this recipe is to baste maple syrup instead of sprinkling sugar.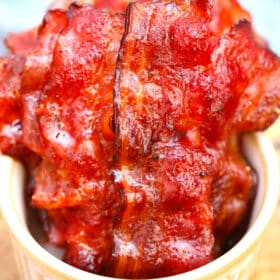 Candied Bacon Recipe
Candied Bacon is crispy, sweet, and savory! It is so delicious and easy to make that you will want to double this recipe so you will not run out of it!
Save
Share
Print
Pin
Rate
Ingredients
12

slices

bacon

(not thick-cut)

1/3

cup

light brown sugar

1/2

teaspoon

freshly ground black pepper

1

teaspoon

paprika

(smoked is great)

1/2

teaspoon

cinnamon
Instructions
Preheat oven to 375 degrees F.

Place one rack in the top third and another rack in the bottom third of the oven.

Line two medium baking sheets with foil, and place an oven-safe wire rack onto each.

Arrange the bacon slices onto the wire racks, perpendicular to the lines and making sure they don't overlap.

In a small bowl combine sugar, paprika, pepper, and cinnamon.

Sprinkle the bacon strips with the brown sugar mixture, about 1 teaspoon per bacon strip, spreading it so the whole strip is covered.

Bake for 20 to 25 minutes, rotating the pans once mid baking.

Start checking on the bacon about after 17-18 minutes, as some slices may cook faster.

The bacon is done when it has a deep brown color and the brown sugar mixture is melted. It will continue to crisp up as it cools.

Once done, let the bacon cool on the wire rack for as the melted sugar hardens.

Transfer to a plate and serve.
Nutrition
Calories:
232
kcal
|
Carbohydrates:
13
g
|
Protein:
6
g
|
Fat:
18
g
|
Saturated Fat:
6
g
|
Cholesterol:
29
mg
|
Sodium:
295
mg
|
Potassium:
111
mg
|
Fiber:
1
g
|
Sugar:
12
g
|
Vitamin A:
180
IU
|
Calcium:
12
mg
|
Iron:
1
mg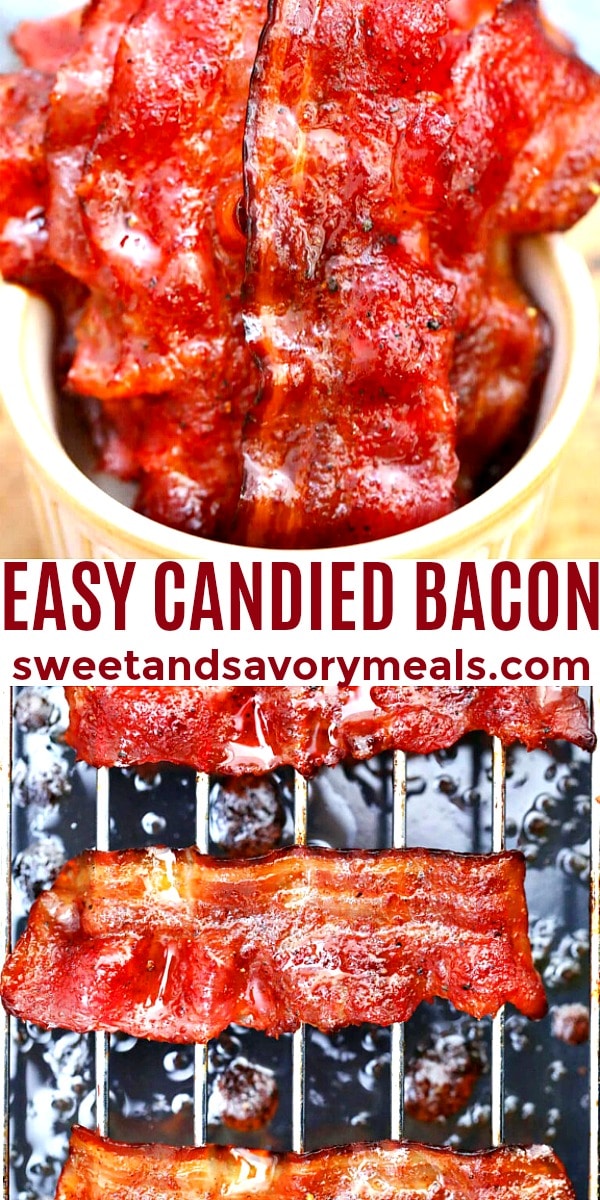 More recipes you might love