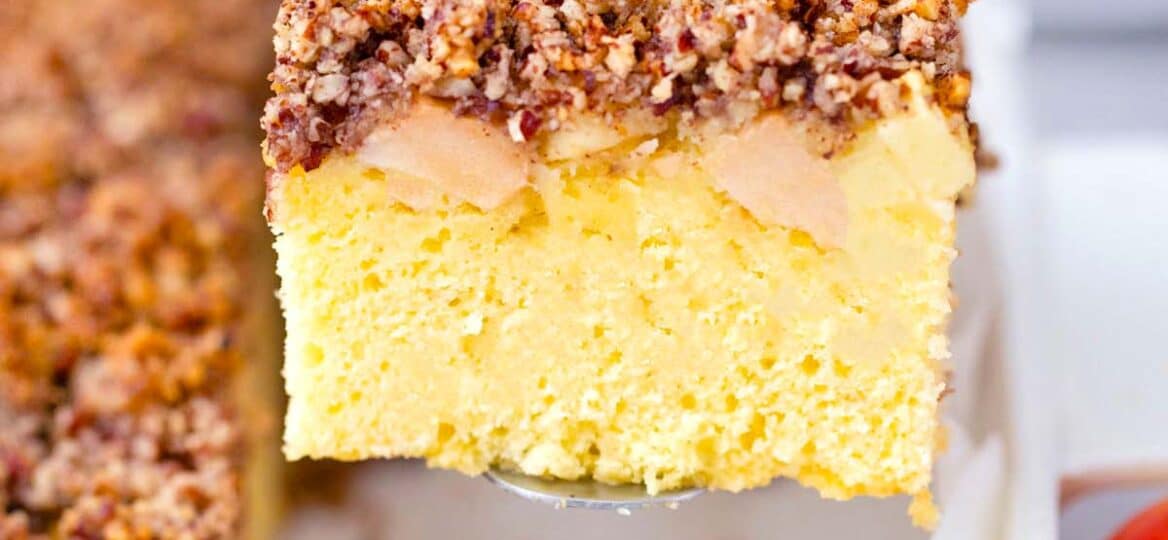 Apple Sheet Cake with Pecan Streusel Topping
Apple Sheet Cake is a soft and buttery cake, that is made with fresh apples and topped with a hefty amount of sweet pecan streusel. Sheet cakes are perfect for when you are planning a party or family get-together because they are easy to make and serve so many people. This is one of my favorite cake recipes for fall baking right after we go apple picking.
Many people refer to this cake as a Texas sheet cake. However, we are not quite sure why that is. Some say it is because of its size and the saying, "Everything is bigger in Texas." However, food experts are not sure where it originated. Some say it was made by Lady Bird Johnson, others say it first showed up in a 1917 cookbook by Walter Baker and Company.
If you want to make this apple sheet cake recipe, all you need are a few ingredients including apples, flour, milk, sugar, vanilla, butter, and almond meal. But you can add other things like chopped nuts on top or in the batter for a crunchy cake or add some other fruit for a different flavor.
Ingredients needed:
All you need to make this delicious apple sheet cake recipe are the ingredients listed here. After you gather these, scroll down to our printable recipe card for the complete instructions and measurements.
For the cake:
Chopped apples
Cake flour
Milk
Large eggs
Melted unsalted butter
Granulated sugar
Vanilla bean

Baking powder: Not baking soda.
For the streusel:
Powdered sugar: Confectioners' sugar.
Pecan meal
Butter: At room temperature.
How to make apple sheet cake from scratch?
Preheat oven: First, preheat the oven to 350 degrees F and line a 9×13-inch cake pan with parchment paper.
Make the streusel topping: Now, mix the streusel by kneading the butter with the sugar and pecan meal. Once it is thoroughly mixed, set it aside.

Mix the wet ingredients: After, melt the butter in the microwave and beat the sugar and eggs in a stand mixer for one to two minutes or until light and frothy. Add the milk and cooled melted butter and keep whisking on low speed stirring constantly until combined.
Add the dry ingredients: Next, gradually stir the dry ingredients into the wet ingredients using a wooden spoon until just combined. Do not overmix.

Put it all together: Then, pour the batter into the prepared pan, spread the diced apples on the batter, and crumble the pecan streusel on top of the apples.
Bake your apple sheet cake: Immediately, bake until lightly browned for about 40 to 50 minutes. A toothpick should come out dry or with a few moist crumbs on it.

Cool and serve: Finally, cool on a wire rack for 15 minutes and serve slightly warm.
Recipe variations:
Different flour: Instead of cake flour, you can use all-purpose flour.
Vanilla extract: Similarly, you can substitute vanilla bean for one teaspoon of vanilla extract.

Brown sugar: Add 1/2 cup of brown sugar to your cake batter for a richer cake. Dark or light brown sugar will both work for this.
Lemon juice: Add a teaspoon of fresh lemon juice to your chopped apples for a fresher flavor.
Warm spices: Feel free to use your favorite spices like cinnamon, nutmeg, cloves, and ground cardamom.

Heavy cream: To make your cake thicker and creamier, add a 1/2 cup of heavy cream or cream cheese to the batter.
Layer cake: Instead of a sheet cake, make it a layer cake by using two smaller cake pans. But change the cooking time to 38 to 40 minutes.

Other fruits: Another way to make this cake your own is to use other fruits in addition to or instead of apples. Some that I would recommend include peaches, pears, or plums.
How to serve:
This delicious apple cake recipe is a fast and easy dessert for any celebration, family meal, or snack for the kids. You can serve it alone or try one of these awesome serving ideas here.
Use leftovers for family dinners or after-school snacks. Just wrap them individually and put them in the freezer so you can quickly pop one in the microwave.

Make a caramel apple sheet cake by adding some of our ooey-gooey caramel sauce. This caramel sauce recipe is so easy to make and you do not even need a candy thermometer.

Instead of sauce, try using caramel icing. Just mix unsalted butter with light brown sugar, milk, confectioners' sugar, and vanilla.

Or you could use our cream cheese frosting on this easy apple sheet cake with our homemade frosting recipe. Add ground cinnamon for cinnamon cream cheese frosting.

For extra crunch, add some chopped pecans to the top of your moist cake before serving.

Another way to top our delicious apple cake is with apple butter. We have a delicious instant pot apple butter recipe with tons of flavor.

For a lightly chocolatey flavor, add a handful of white chocolate chips on top.

This cake is also perfect for breakfast or brunch served with coffee or tea.
Frequently asked questions
What is the difference between cake and all-purpose flour?
There are three basic types of flour. Cake flour is low in protein, has less gluten, and has the softest texture. All-purpose flour has a moderate amount of gluten and protein, and it is typically used in cookies and dough. Bread flour is high in protein and has more gluten to make bread or bagels.
What is a pecan meal?
Pecan meal, also known as pecan flour, is made by grinding up pecans into a fine texture. It is often used in baked goods to get that sweet and nutty flavor without the nuts. You can make it yourself by grinding up chopped pecans until it is almost powder. Some pecan flours have added fat and other ingredients, but pecan meal is always just 100% pecans.
Can I use baking soda instead of baking powder?
If you do not have baking powder but have baking soda, you can use it but only one-third of what the recipe calls for because baking soda is three times stronger than the powder. Since this recipe calls for one teaspoon of powder and 1/3 teaspoons are rare, you could use a heaping 1/4 teaspoon of soda instead.
What are the best apples for this cake?
Granny Smith apples are great because they are sweet and tart. Pink Lady are also sweet apples that you can use in this recipe. I used Golden Delicious apples because they are a little sweeter than Granny Smith but not as sweet as Pink Lady.
What are the nutrition facts in this recipe?
Here are the approximate nutrition, calories, and fat contents for this recipe. Each serving has 554 calories, 84 grams of carbs, 25 grams of fat, 16 grams of saturated fat, and 1 gram of trans fat as well as 89 mg cholesterol, 290 mg sodium, and 62 grams of sugar. You also get 8 mg of unsaturated fats, 4 grams of protein, 121 mg of potassium, 2 mg of iron, 851 units of vitamin A, 2 mg of vitamin C, and 45 mg of calcium.
More recipes with apples:
How to store leftovers:
Store: You can store your leftover cake in an airtight container in the fridge for up to three days.
Freeze: First, flash-freeze it by placing the cooled pan in the freezer for a few hours. Then, after it is frozen, wrap it in several layers of plastic wrap and then in foil before placing it in a freezer bag.
Thaw: For best results, put your frozen leftovers in the fridge to thaw overnight before serving.
Reheat: There is no need to reheat this dessert but if you want it slightly warm, put it in the microwave on medium heat for 15 to 30 seconds.
Baking tips:
If you do not have a stand mixer, you can use a large bowl and a hand mixer.
This is not a whole sheet cake. The recipe here makes a half-sheet cake. If you want to use a sheet pan, double the recipe but shorten the baking time because it will be a little bit thinner. To clarify, a sheet cake is 18×24 inches and a half-sheet is 9×13 inches.
To shorten prep time, use a boxed cake mix. You could use white, vanilla, or butter, whichever you prefer.

If you are using unsalted butter, you can use a pinch of kosher salt to the cake batter to enhance the sweet apple flavor.

You can lightly spray your pan with nonstick cooking spray instead of using parchment paper if that is all you have.

Wait until the cake cools a little bit before slicing for the best results.

Feel free to serve with some of your applesauce. If you do not have a recipe, try ours on our food blog.
Apple Sheet Cake
Ingredients
Cake:
3

cups

cake flour

all-purpose also works, but the cake will be fluffier using cake flour

1 3/4

cups

granulated sugar

1

teaspoon

baking powder

1

teaspoon

ground cinnamon

1/4

teaspoon

nutmeg

4

large eggs

room temperature

3/4

cup

unsalted butter

melted

1

cup

milk

1 1/2

teaspoons

vanilla extract

3-4

apples

peeled and diced
Streusel topping:
1

cup

unsalted butter

softened at room temperature

2

cups

very finely chopped pecans

using a food processor - or walnuts

3/4

cup

sugar

or you can use brown sugar as well

1

teaspoon

ground cinnamon
Instructions
Preheat the oven to 350 degrees F. Line a 9×13 inch pan with parchment paper and set it aside.

Chop the apples and set aside.

First, in a large bowl, combine all the streusel ingredients, and stir with a fork until well blended, and set aside.

Next, using an electric mixer, whisk the sugar and eggs for 1-2 minutes until slightly frothy. Add the melted butter and milk and whisk on low speed until combined.

After that, add the flour, baking powder, cinnamon, nutmeg, and vanilla, and mix on the lowest speed until just combined, do not overmix.

Pour the batter into the prepared pan.

Spread the diced apples over the cake, then crumble the pecan streusel mixture on top.

Bake until lightly browned for about 45 to 50 minutes.

Cool on a wire rack before slicing and serving.
Deliciousness to your inbox
Enjoy weekly hand picked recipes and recommendations