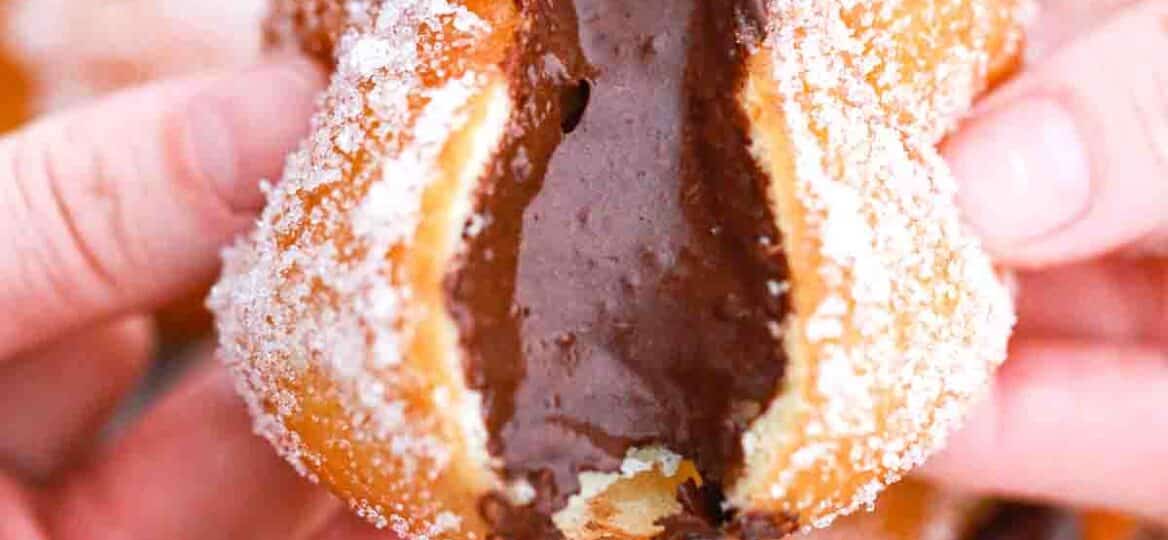 Chocolate Custard Filled Donuts [Video]
Chocolate Custard Filled Donuts are soft pillows of dough with homemade creamy chocolate custard filling and coated in a slightly crunchy sugar topping. For breakfast, dessert, or a snack, these yummy treats are perfect anytime you want something sweet and chocolatey. And all you need are basic ingredients you probably already have.
If you liked this donut recipe, try our recipe for Custard Donuts made with the same dough but filled with a silky and creamy vanilla custard filling. They are easier than you think and only use basic ingredients. For something fruitier, this Heavenly Strawberry Custard Filled Donuts recipe is perfect! They are made with homemade custard from fresh strawberries and cream.
Custard was invented by Alfred Bird in 1837, just 10 years before the donut was invented by teenage galley worker, Hanson Gregory. Bird was a pharmacist as well as a food manufacturer who had his own chemist shop in Birmingham, England. However, evidence has shown that the delicious dessert was made in Ancient Rome so maybe it was the Romans who invented it.
For this yummy chocolate custard filled donuts recipe, all you need are a few ingredients including milk, eggs, egg yolks, sugar, cornstarch, flour, and butter with some cocoa powder and bittersweet chocolate for the custard. It does not take long and there are not many steps even though it seems like it would be difficult.
Looking for other delicious sweets to make? For serious chocolate lovers who also like banana bread, you have to try this Chocolate Banana Bread recipe with fresh bananas, chocolate chips, and walnuts. It is moist and delicious with a crunchy nut texture. If you want something easier, this creamy chocolate fudge is made with just four ingredients including chocolate chips, sweetened condensed milk, vanilla, and butter.
Ingredients needed:
To make this chocolate cream donuts recipe, gather the ingredients we have listed here. After, scroll down to our recipe card for step-by-step instructions and precise measurements.
Chocolate custard ingredients:
Whole milk
Vanilla extract
Cocoa powder
Egg yolks
Egg
White granulated sugar
Cornstarch
Fine sea salt
Bittersweet chocolate
Softened butter
Donut dough ingredients:
Bread flour
Large egg: At room temperature.
Warm milk: We used whole milk.
Unsalted butter: Softened.
White granulated sugar
Kosher salt
Instant yeast
How to make chocolate custard filled donuts from scratch?
To make the chocolate custard:
Boil the milk: First, heat the milk and vanilla in a medium saucepan over medium-high heat until it comes to a boil.
Mix in other ingredients: While you wait, stir the salt, cocoa powder, cornstarch, egg yolk, eggs, and sugar in a medium bowl. Whisk until it is thick and smooth and set aside.
Temper the eggs: When the milk mixture reaches its boiling point, remove it from the heat and pour about half of it into the egg mixture, whisking constantly. Continue to do this until all the milk is mixed in. Then pour it back into the pot.
Keep cooking: Then, keeping the stove at medium heat, bring the cream back to a boil. Continue cooking the hot milk mixture on medium-low heat until it is the right consistency. Be sure to keep whisking continuously. This will take about three to five minutes, depending on the heat level.
Stir in the chocolate: Once the first bubbles break the surface, lower the temperature to low heat and add the chocolate. Stir until it is melted.
Add the butter: Now, remove from the heat and add the butter to the melted chocolate. Stir until it is melted.
Cover the bowl: Then, pour the custard into a clean bowl and cover it with plastic wrap. Make sure the plastic is touching the surface, so it does not develop a custard skin.
Let it cool: Lastly, let the custard cool to room temperature before putting it in the fridge until it is completely cooled. Let it chill for at least three hours, but it is better to refrigerate overnight.
To make the donut dough:
Prep the pans: Before you begin, prep a large baking sheet with baking paper or parchment.
Mix the wet ingredients: Then, pour the milk and egg into a large bowl and stir before adding the yeast. Mix again until the yeast is dissolved.
Add in the dry ingredients: Now, mix sugar, flour, and salt into the yeast mixture and stir until it comes together into a ball. Add butter and fold it into the dough until you cannot see it anymore. Then, knead the dough again on a floured surface for two or three minutes.
Cover and let rise: Next, roll the dough into a smooth ball and put it into a lightly oiled large bowl. Cover with plastic wrap and put it in a warm place to rise until it has doubled in size. This typically takes two hours.
Rest the dough: After it is done rising, divide the dough into six equal pieces and roll them each into a ball. Put them on your prepared baking sheet and cover them with plastic to rest for 30 to 40 minutes.
Heat oil: Then, heat canola oil in a deep fryer or large pot until it is 350 degrees F. Put three donuts into the oil and let them cook until they are golden brown on the bottom. Then flip them over and do the same to the other side.
Let them cool: Once they are done, remove them with a slotted spoon and put them on a cooling rack with a paper towel underneath and repeat with the remaining doughnuts. After they cool enough, roll them in a bowl with sugar and put them back on the rack to cool completely.
Fill and serve: Finally, fill a pastry bag or piping bag fitted with a small tip with chocolate custard. Poke a hole in one donut and fill it with pastry cream.
Recipe variations:
Chocolate chips: You can use chocolate chips instead of chopped chocolate if you like.
Dark chocolate: Similarly, try using dark chocolate instead of bittersweet.
Different milk: Instead of regular milk, feel free to use plant-based milk like coconut or almond.
Other oil: Instead of canola, you can use vegetable, coconut, or whatever oil you like to fry with.
Powdered sugar: For a softer donut, use powdered sugar to coat them instead of granulated sugar.
Creamier filling: Use heavy cream instead of milk in your chocolate custard filling for a creamier and thicker texture.
Other flavors: Instead of chocolate, use vanilla, strawberry, or lemon flavoring.
How to serve:
Donuts are traditionally served for breakfast but when they are this delicious, you can have them anytime you want. Try one of these great serving ideas or share one of your own in the comments section at the bottom of the page.
For extra chocolate flavor, make a chocolate glaze to put on top. Just mix milk, cocoa powder, and powdered sugar together until you get the consistency you like.
These donuts are wonderful with a cup of hot cocoa. Try our recipe for red velvet hot chocolate.
Top these yummy donuts with a dollop of whipped cream for extra yumminess.
Instead of chocolate custard filling, why not fill these with your favorite fruit preserves?
Make these even more fancy, top with a handful of candy sprinkles.
Donuts go great with coffee too. Try our London fog latte recipe for something unique.
Frequently asked questions
Are they called donuts or doughnuts?
While both of these spellings are correct, the original spelling was doughnut. This makes more sense because they are made out of dough. However, somewhere along the way, Americans decided to call them donuts instead. It may have had something to do with the chain store, Dunkin' Donuts.
What are Boston cream donuts?
The Boston cream doughnut is a round yeast donut like this recipe with a custard filling and chocolate glaze or frosting on top. Similar to a Boston cream pie. There is also a version with Bavarian cream tossed with powdered sugar instead of the chocolate coating.
Why are my donuts soggy?
The main reason donuts get soggy is that they were not cooked at a high enough temperature. It must be at least 350 degrees F but not over 360 degrees F. Check it with a candy thermometer and continue to monitor the temperature as you cook. You have to have the right temp during the whole cooking process.
What are the nutrition facts in this recipe?
Each donut has 520 calories, 188 mg cholesterol, and 19 grams fat with 11 grams saturated fat and 1 gram trans fat. It also has 69 grams carbohydrates, 180 mg sodium, and 39 mg sugar. But you will also get 2 mg iron, 109 mg calcium, 3 mg vitamin C, 197 mg potassium, 2 mg fiber, and 8 mg protein.
How to store leftovers:
Store: Put any leftover chocolate filled custard donuts in an airtight container or baggie and refrigerate for four days.
Freeze: Freezing is not recommended.
More chocolate desserts:
Baking tips:
Replace the whole egg with three egg yolks for a total of six egg yolks for a richer chocolate cream.
If you want your chocolate custard to be thicker, only use two cups of milk.
For easier and faster kneading, use a stand mixer bowl with a dough hook attachment at medium speed.
You can make the custard up to two days ahead of time.
To shorten prep time, use store-bought chocolate custard or pudding.
If you do not have a piping bag, fill a sandwich baggie with custard and cut one of the corners off.
Instead of rolling your donuts by hand, you can roll out the dough on a floured surface and cut the rounds with a three-inch cookie or biscuit cutter.
If you are trying to keep out the finger marks, cut the parchment paper under each donut and slide it into the oil that way.
Chocolate Custard Filled Donuts
Ingredients
Donut dough:
2 1/4

cups

bread flour

1

large egg

room temperature

1/2

cup

+ 2 tablespoons milk

warm

3

tablespoons

unsalted butter

room temperature

5

tablespoons

granulated sugar

1

teaspoon

salt

1

envelope Instant Yeast

7 grams
Chocolate custard:
2 1/4

cups

whole milk

2

teaspoons

vanilla extract

2

tablespoons

unsweetened cocoa powder

3

egg yolks

room temperature

1

egg

room temperature

1/2

cup

granulated sugar

2 1/2

tablespoons

cornstarch

1/4

teaspoon

salt

8

oz

chocolate

bittersweet or semisweet - chopped

2

tablespoons

unsalted butter

softened
Instructions
Yeast mixture:
In a large bowl, whisk the warm milk with the room-temperature egg, once combined add the instant yeast. Whisk fully until dissolved.
Donut dough:
Then, add sugar, flour, and salt to the yeast mixture. Use a spatula to mix until combined and after that knead with your hands until all flour has been incorporated.

Next, add the softened butter and work it in with your hands until the dough is smooth.

After that, transfer the sticky dough ball into a large lightly oiled bowl and cover it with plastic wrap. Place it in a warm place and let it rise for a few hours until it is about two to three times its starting size. Transfer the dough onto a flat, lightly floured surface and knead for two to three minutes.
Chocolate custard:
First, add the sugar, egg and yolks, cornstarch, cocoa powder, and salt in a bowl and whisk until thick and smooth. Set it aside.

Add the milk and vanilla to a medium saucepan and heat over medium-high heat until it just starts to boil. Remove it from heat. Remove it from heat.

Slowly and WHILE WHISKING CONSTANTLY pour the hot milk, into the egg mix, and whisk to temper the egg mixture.

Once fully combined, transfer the mixture back to the saucepan over medium heat, and whisk vigorously until it starts to thicken, in about 2 - 5 minutes.

Lower the heat to low and immediately add the chopped chocolate. Whisk until the chocolate is completely melted.

Remove from heat and stir in the butter until melted and combined.

Transfer the chocolate custard to a bowl and immediately cover the surface with plastic wrap, ensuring the plastic wrap touches the whole surface. This is to prevent custard skin from forming on top.

Let the custard cool to room temperature and after that refrigerate it for 2-4 hours, should be completely chilled.
Shape the donuts:
In the meantime, punch the dough and then transfer it to a lightly floured surface. Fold it a few times and divide it into eight equal pieces.

Shape each piece into a ball and place it on a baking sheet covered in parchment paper. Repeat with the remaining pieces. Make sure they are not too close to each other on the baking sheet. Cover them with plastic wrap and let them rest for 30 to 40 minutes.
Deep frying the donuts:
Place a large, deep pan with about 1 1/2 - 2 inches of oil over low-medium heat. Bring the oil to 350 degrees F. Add a few donuts at a time and fry them for 1-2 minutes on one side, or until golden brown. Flip and repeat.
Fill:
After the donuts have cooled completely, poke a hole, using a long rounded object, like a chopstick. Place a bowl with about one cup of sugar next to you. Then roll them in sugar until covered on both sides.

Transfer the chocolate custard into a pipping bag, cut a small hole at the end, and fill the donuts with custard until you have just a little ball of custard on the surface.
Deliciousness to your inbox
Enjoy weekly hand picked recipes and recommendations