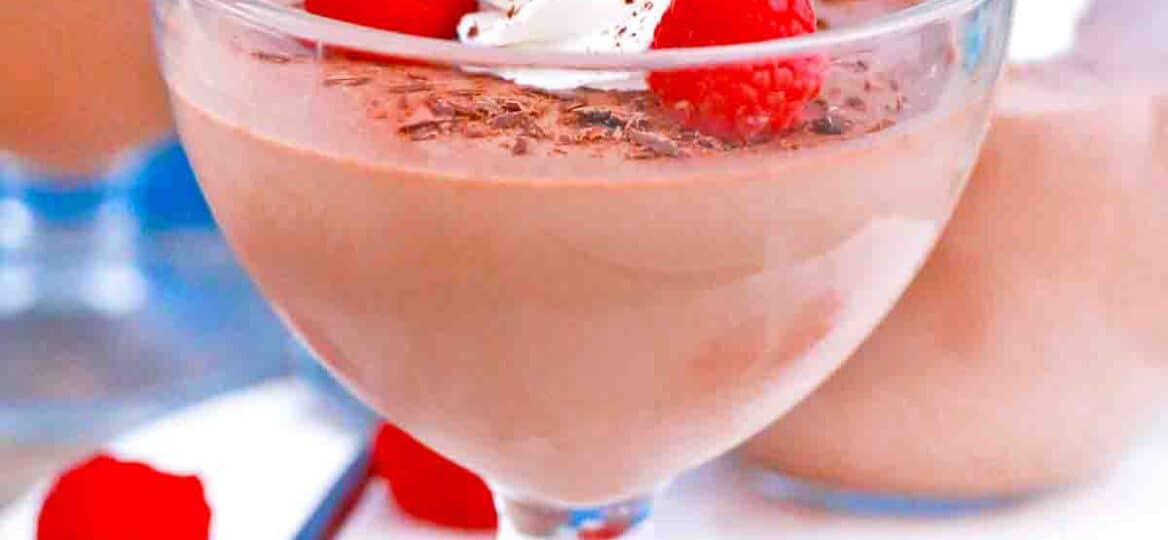 The CREAMIEST Chocolate Panna Cotta [Video]
Chocolate Panna Cotta is rich, chocolatey cream with a heavenly smooth texture, very easy to make and you only need a few ingredients. While it sounds fancy is actually a very easy dessert to make and it only takes a few minutes. It goes great with fruit, any kind of sauce, or even a scoop of whipped cream.
If you enjoyed this delicious recipe, try our super easy Vanilla Panna Cotta with a homemade berry sauce on top. All you need are a handful of ingredients including milk, gelatin, heavy cream, and Greet yogurt. Chocolate lovers will really like this deliciously creamy Chocolate Flan recipe. It is so easy to make with a chocolate cake mix, cream cheese, and milk topped with a layer of yummy caramel.
Where did panna cotta originate? This creamy dessert was a product of the Piedmont area of Italy. The name actually means cooked cream in Italian, which is basically what it is!
The recipe first popped up in recipe books in the 1960s although a dictionary written in 1879 speaks of a dessert called Latte Inglese, which means English milk. It is made of cream and molded like panna cotta. There was no recipe for chocolate panna cotta published until much later.
Chocolate panna cotta is made with just a few basic ingredients like chopped chocolate, heavy cream, powdered gelatin, and whipped cream. Then it is mixed with milk, sugar, vanilla extract, and a pinch of salt for a chocolate lover's dream.
Whipped until it has a silky texture and served with your favorite toppings, this is a dessert cuisine your family will love. The hardest part is waiting a few hours for it to set in the fridge.
Looking for some other Italian recipes to wow your family and friends? Try one of our other Italian desserts like Italian butter cookies made with apricot jam, dark chocolate, and maraschino cherries, or this other recipe for Maggiano's meatballs copycat. It is just like the restaurant makes them only better with grated parmesan cheese, basil, and parsley.
Ingredients needed:
To make this delicious chocolate panna cotta recipe, all you need are the ingredients listed below. To begin making your dessert, scroll down to our recipe card for complete instructions and measurements.
Milk: We used regular whole milk.
Extra fine granulated sugar
Table salt
Gelatin: We used the Knox brand.
Cold water
Dark chocolate with about 55% cocoa mass: Chopped into small pieces.
Vanilla extract
Whipping cream: Not whipped cream.
Toppings:
Creme Chantilly
Chocolate shavings
Fresh fruit or berries of choice
How to make chocolate panna cotta from scratch?
Heat the cream mixture: First, dissolve the sugar and salt in the milk on low heat in a medium saucepan. After it boils, remove it from the heat and whisk.
Hydrate and combine: Then, mix the water and gelatin in a small bowl and let it soak for four minutes. After the time is up, add it to the milk mixture and whisk until the gelatin dissolves.
Add chocolate: After, add chocolate and whisk it until it is completely melted. Then, use an immersion blender and mix for two minutes.
Add whipping cream and vanilla: When the temperature drops to lukewarm (100 degrees F), add vanilla extract and whipping cream.
Set panna cotta mixture: Lastly, pour it into glasses or small bowls and place them in the refrigerator covered in plastic wrap. Like pudding, it will take several hours for it to set correctly.
Serve immediately: Finally, once the panna cotta is set, top it with whatever you like such as fruit, berries, chocolate shavings, or creme chantilly. Serve chilled.
Recipe variations:
No dairy: Make this dairy-free by using your favorite nut milk like almond or cashew milk.
Milk chocolate: If you are not a bittersweet chocolate fan, use milk chocolate instead.
Coconut cream: This recipe could use coconut cream instead of heavy cream.
Rich vanilla flavor: For an even richer vanilla flavor, use vanilla bean paste or scrape the seeds from a vanilla pod.
Vanilla panna cotta: If you do not like this chocolate version, use vanilla instead. Just omit the chocolate from the recipe.
Cocoa powder: Instead of chopped chocolate, you could use cocoa powder.
Gelatine leaves: Similarly, you could try using three gelatine leaves instead of powdered gelatine.
How to serve:
Whether you are looking for something new for special occasions or just want to surprise your family with a cool dessert cuisine, this chocolate panna cotta is perfect. Try one of these serving ideas or share one of your own ideas in the comments sections. We enjoy reader interactions.
These can be served straight from the ramekins or glasses or turned out onto a serving plate.
Try this easy recipe for glazed pecans to top your chocolate panna cotta. Just boil some sugar in water over medium heat and pour it over a parchment-lined baking sheet filled with pecans. Bake at 350 degrees F for 10 minutes. Be sure to let it cool completely before adding it to your dessert.

Another great topping for this Italian dessert is our tangy homemade strawberry sauce.

For even more chocolate flavor, drizzle a little chocolate syrup onto each panna cotta.

Make it festive by adding some rainbow sprinkles.

You can also top this delicious chocolate panna cotta with homemade whipped cream.

All kinds of fruit are great with chocolate panna cotta such as cherries, sliced strawberries, and raspberries.
Frequently asked questions
What is the difference between panna cotta and flan?
Panna cotta is an Italian custard dessert made from gelatin, cream, and milk and is typically served molded with a fruit sauce. Flan is also a custard dessert, but it is Spanish and includes eggs in the recipe. Flan is commonly served with caramel sauce. The taste is similar, but the texture is a little bit different.
Why is my panna cotta runny?
It is very possible that you did not cook the cream mixture long enough. If it is not hot enough, it will not melt the gelatin all the way and then it will not set. This can also happen if you add the gelatin while the mixture is still on the stove and boiling. When gelatin boils, it loses its thickening power.
What is the best mold to use for panna cotta?
Although they did not have these wonderful items when grandma used to make this recipe, silicone molds are best. Because panna cotta is delicate, you have to be very careful when removing it. First, dip the bottom of the mold in a bowl of hot water and it should just slide right out. Using a metal or hard plastic mold is not as easy to do.
What are the nutrition facts in this recipe?
If you are worried about nutrition, calories, or sugar, you can adjust this recipe to your needs. One thing to note is that Italian servings are smaller than most American servings. They use what our recommended servings are supposed to be, which is about four ounces each.
Following the recipe exactly and eating an Italian serving, you will get 201 calories, 38 grams carbohydrates, and 1 gram fat with 1 gram saturated fat. It also has 9 mg cholesterol, 133 mg sodium, and 33 grams sugar. On the other hand, you also get 10 grams protein, 4 grams fiber, 277 mg potassium, 245 units vitamin A, 13 mg vitamin C, 160 mg calcium, and 2 mg iron.
How to store leftovers:
Store: Any leftover chocolate panna cotta should be refrigerated in an airtight container. It will stay fresh in the fridge for three days.

Freeze: The best way to freeze your leftovers is to wrap them in plastic wrap and then place them in freezer bags or a freezer-safe container. Eat them within three months.

Thaw: For the best results, thaw your chocolate panna cotta in the fridge overnight before serving chilled.
More chocolate desserts your should try:
Cooking tips:
Not all gelatin is created equal because they differ in strength. Knox is what we consider to be the best.
Although the mixture may look smooth, it is best to use an immersion blender (or regular mixer) to mix for a couple of minutes. It is a good idea to pour it through a fine mesh sieve as well to make sure there are no lumps.
It is best not to use chocolate chips for this recipe. They are made to hold their shape so they will not melt properly. This could leave you with gritty panna cotta.
Because panna cotta is often served molded, it can sometimes lose its shape. We used glasses instead of praying that the mold would work.
If you are making molds, lightly grease each one with flavorless oil before pouring in the chocolate to help the panna cotta slip out easily.
To remove the molded panna cotta, dip the molds in a bowl of hot water for a few seconds.
If you are adding anything on top of your panna cottas, make sure you let it cool completely first.
Instead of heating your cream mixture in a saucepan, you can use a medium bowl in the microwave. Just heat for 60 to 90 minutes, stirring even 20 to 30 seconds until the sugar is dissolved.
Chocolate Panna Cotta
Ingredients
Chocolate panna cotta:
2

cups

milk

1

cup

extra fine granulated sugar

Pinch

of salt

1

envelope

gelatin

I used Knox - 7 grams per envelope

3

tablespoons

water

8

ounces

dark chocolate

chopped into small pieces

2

teaspoons

vanilla extract

2

cups

whipping cream
Toppings:
Whipped cream

Shaved chocolate

Berries

Fruit sauce
Instructions
Add milk, sugar, and salt to a saucepan, over medium heat, stir, and bring to a boil. Remove from heat.

In a small bowl combine the gelatin and water and allow to hydrate for 4-5 minutes. The gelatin should "bloom" if the gelatin does not hydrate well, repeat this step.

Add the gelatin mixture to the heated milk mixture and whisk until fully dissolved.

Add the chocolate and whisk until fully combined. For a completely smooth mixture, use an immersion blender to blend it for 1-2 minutes.

Once the mixture is just a bit lukewarm, stir in the vanilla and whipping cream until smooth and fully combined.

Pour the mixture into glasses and place in the refrigerator for several hours to properly set.

Decorate with whipped cream, fruits, and chocolate shavings, and serve chilled.
Deliciousness to your inbox
Enjoy weekly hand picked recipes and recommendations