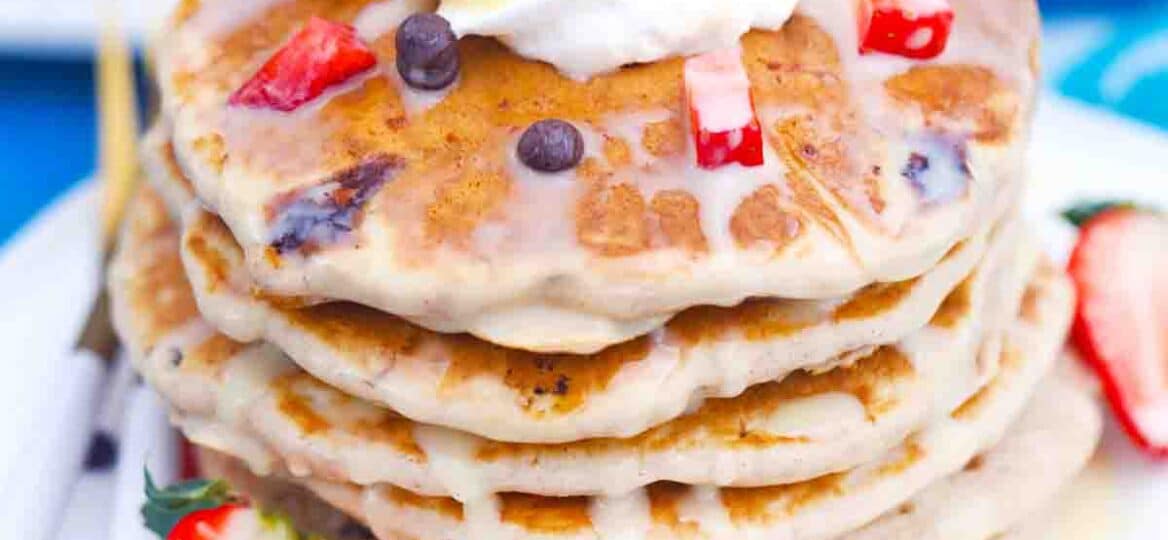 Tres Leches Pancakes Recipe
Tres Leches Pancakes are light and fluffy, infused with chocolate, and with our creamy tres leches sauce, your family will love this delicious pancake recipe. If you like IHop Mexican tres leches pancakes or Denny's tres leches pancakes, you will love these. No need to ask for their top-secret recipes. We have it here!
If you like this recipe, you will love our recipe for Chocolate Flan. All you need is a chocolate cake mix, cream cheese, sweetened condensed milk, evaporated milk, heavy cream, eggs, and vanilla. With one layer of caramel, one of flan, and one of cake, this is a triple treat. For a different breakfast dish, try this Ultimate Instant Pot Coffee Cake recipe loaded with chocolate chips and cinnamon sugar.
Also known as a flapjack or hotcake, the pancake has been around for a long time. In fact, they date back to the Ancient Greeks. They were first mentioned as tagenias (or tagenites) in a writing by Magnes and Cratinus in the 5th century BC. Made with flour, oil, curdled milk, and honey, the first pancakes were not much different than the ones we make today.
Why use traditional recipes for homemade pancakes when you can have these? For this yummy tres leches pancake recipe, all you need are a few ingredients including milk, cream, cinnamon, vanilla, sugar, flour, and some other basic items. No need to go out. You can have these delicious fluffy pancakes on the table in minutes.
Check out some of our other great breakfast recipes like this simple but delicious cornflake-coated French toast just like they have at Disneyland. It is easier than you think. For something more savory, try our sausage breakfast casserole made with bell peppers, bacon, cheddar cheese, eggs, and sausage.
Ingredients needed:
Craving some IHop tres leches pancakes? You can make them yourself with these ingredients. Then, when you are ready to begin, scroll down to the recipe card for the instructions and measurements.
Tres leches pancakes:
Whole milk: At room temperature.
All-purpose flour
Vegetable oil: Or melted butter.
White granulated sugar
Large egg: At room temperature.
Baking powder: Not baking soda.
Cinnamon

Vanilla extract
Kosher salt
Chocolate chips
Tres leches syrup:
Sweetened condensed milk
Evaporated milk
Heavy whipping cream
Toppings:
Dulce de leche or caramel drizzle
Cinnamon
Whipped cream
How to make tres leches pancakes from scratch?
Combine the wet ingredients: First, mix vanilla, sugar, oil, egg, and milk in a large bowl with an electric mixer.

Sift the dry ingredients: Then, in a separate bowl, sift the flour, cinnamon, baking powder, and salt.
Mix all the ingredients together: Now, add the flour mixture to the milk mixture a little at a time. Stir well after each addition to prevent clumps. Then, stir in the chocolate chips.
Heat the pan: Next, coat a skillet or frying pan with nonstick cooking spray and place it on medium heat.

Cook your pancakes: Lastly, turn the pan down to medium-low heat, and using a measuring cup or ladle, pour one-half cup of pancake batter into the pan. When you see air bubbles on top, flip the cake and continue to cook until it is golden brown.
To make the syrup:
Make the tres leches mixture: To make the milk syrup, pour heavy cream, and condensed and evaporated milk into a medium saucepan and bring it to a boil over medium-high heat.

Let it thicken: Then, let it boil for two or three minutes until it is thick, stirring continuously.

Let it cool: Next, remove the pot from the heat, pour the tres leches syrup into a heat-safe bowl, and let it cool.

Top your pancakes and serve: When it is the desired consistency, drizzle the dulce de leche sauce over the top of your tres leches pancakes and serve with your favorite toppings.
Recipe variations:
Banana pancakes: Add some mashed bananas or banana extract to your pancake batter for tres leches banana pancakes.

Different sugar: Substitute brown sugar for white granulated sugar for a richer taste.

Lactose-free: Feel free to use almond milk, coconut milk, or some other plant-based milk for lactose-free Mexican pancakes.

Chocolate pancakes: Add cocoa powder to your tres leches pancakes to make chocolate pancakes.

Make vanilla sauce: You can use a vanilla bean or vanilla extract to make the tres leches sauce into vanilla sauce.

Different chocolate: Instead of regular chocolate chips, you can use white chocolate or even dark chocolate.
Other chips: In fact, substitute the chocolate chips for peanut butter or butterscotch chips for a different flavor.
How to serve:
This recipe works for brunch with the girls, an afterschool snack for the kids, or a unique dessert after dinner. Try one of these great serving ideas or share some of your own ideas in the comments section at the bottom of the page.
Sprinkle some powdered sugar on top of your Mexican tres leches pancake for extra sweetness.
You could also top your homemade pancakes with maple syrup. Try our easy recipe for homemade golden syrup.

These are absolutely delicious with a handful of fresh berries on top.

Add a dollop of whipped topping with some chopped nuts for extra crunch. You can use our homemade whipped cream recipe.

Pour your pancake batter into a cake pan and bake for 20 to 25 minutes for a tres leches cake.

A spoonful of fruit topping would also be yummy. We have a great recipe for strawberry sauce.

For more fruit, fill a medium bowl with fresh fruits for guests to enjoy with their tres leches pancakes.
You can also top these fluffy cakes with Nutella or peanut butter.
Frequently asked questions
Can you make these vegan Mexican pancakes?
Use the same recipe as above but just switch out some ingredients. Replace regular milk with almond milk and sweetened condensed milk with condensed coconut milk. Instead of eggs, use flax seed or vegan eggs and use coconut oil in place of dairy butter. And finally, substitute heavy cream with coconut cream.
What is the difference between caramel sauce and dulce de leche?
Although they may look alike and even taste similar, they are made with different ingredients. Believe it or not, dulce de leche is thicker than caramel sauce and they are made differently as well. Caramel is made by heating white granulated sugar until it is brown. Dulce de leche is made by heating up sweetened condensed milk.
Can I make these with less fat and fewer calories?
Are you worried about nutrition, calories, and fat? You can use lighter ingredients to lower the fat, calories, and carbs. Use skim milk instead of regular milk, low-fat sweetened condensed milk, and try using Greek yogurt instead of heavy whipping cream. And of course, if you eat fewer pancakes, calories and fat will be a lot lower too. For healthier cakes, use whole wheat flour.
What are the nutrition facts in this recipe?
Each delicious serving has 266 calories, 17 grams fat, and 10 grams saturated fat. It also contains 70 mg cholesterol, 26 grams carbs, 160 mg sodium, and 16 grams sugar. On the other hand, you also get 7 grams protein, 2 mg iron, 200 mg calcium, 2 mg vitamin C, 600 units vitamin A, 2 grams fiber, and 205 mg potassium.
How to store leftovers:
Store: Keep leftover tres leches pancakes in the fridge in an airtight container. They will stay fresh for up to five days.

Freeze: You could also freeze your tres leches pancakes if you have too many left over. Wrap them in plastic wrap and put them into a freezer bag or another freezer-safe container and they can be frozen for up to three months.

Thaw: Be sure to thaw your pancakes in the fridge overnight for the best texture and flavor.
Reheat: To reheat, place one or two pancakes in the microwave for about 30 seconds.
More Cinco de Mayo recipes:
Cooking tips:
For shorter prep time, use boxed pancake mix and just add the tres leches ingredients. This boxed pancake mix option can save you a lot of time.

If you like really thick syrup, make it first so it has time to cool.

You could also use gluten-free flour for gluten allergies.

Although some recipes call for egg yolks, there is no need to separate the yolks from the whites for these delicious pancakes.

If you are making a large batch, keep your finished tres leches pancakes in a warm oven so they do not get cold.

For thinner pancakes, add more milk. For thicker cakes, add less milk.

If you do not want to use oil, replace it with melted unsalted butter.
Tres Leches Pancakes
Ingredients
Pancakes:
1

cup

whole milk

1

cup

all-purpose flour

3

tablespoons

vegetable oil

3

tablespoons

sugar

1

egg

1

teaspoon

baking powder

1/2

teaspoon

cinnamon powder

1

teaspoon

vanilla extract

Pinch

of salt

1/4

cup

mini chocolate chips
Tres Leches Syrup:
14

oz

can sweetened condensed milk

12

oz

can evaporated milk

1

cup

heavy whipping cream
Toppings:
Dulce de leche or caramel drizzle

Ground cinnamon

Whipped cream

Fresh berries
Instructions
In one bowl, using a hand or electric mixer, mix milk, egg, oil, sugar, and vanilla extract.

In another bowl stir together flour, baking powder, cinnamon, and salt.

Little by little add the flour mixture to the milk mixture. Stirring well after each addition not to make clumps.

Stir in the chocolate chips.

Place a nonstick skillet or griddle over medium heat.

Use a ladle or a measuring cup to pour about 1/4 cup of batter onto the hot skillet or griddle. When air bubbles start to form on the pancake, flip it to the other side and cook until golden.

Repeat with the remaining batter, and stir well to avoid the chocolate chips sinking to the bottom of the bowl.
Tres Leches Syrup:
Add all the syrup ingredients to a medium saucepan and bring the mixture to a boil while stirring constantly.

Boil for 2-3 minutes to thicken, continuously stirring.

Remove from heat and let it cool, it will continue to thicken while it cools.

Drizzle on pancakes and top them with your desired toppings.
Deliciousness to your inbox
Enjoy weekly hand picked recipes and recommendations