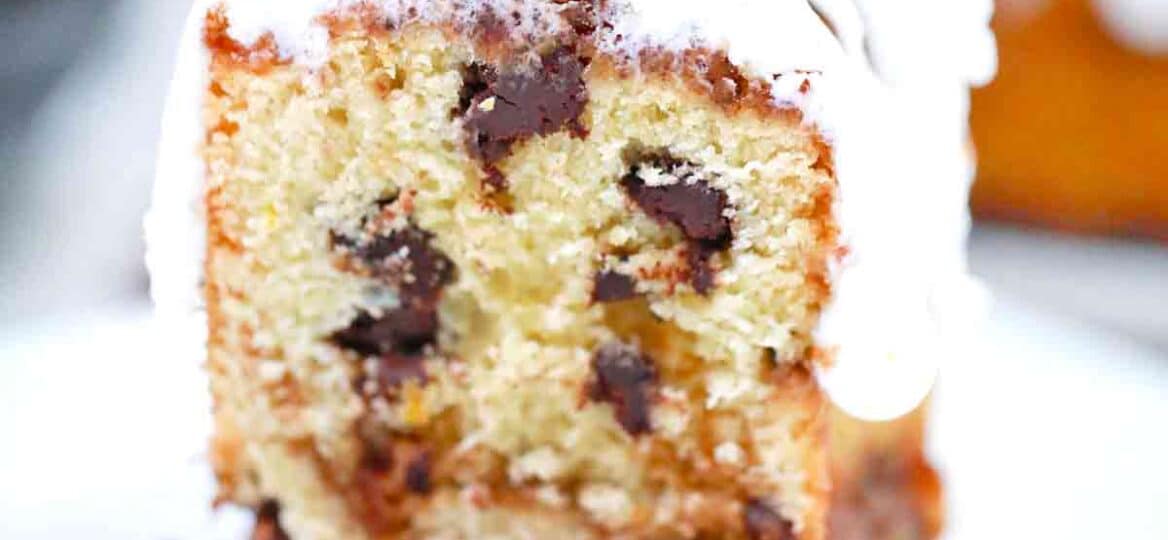 The Ultimate Instant Pot Coffee Cake [Video]
Instant Pot Coffee Cake is moist, tender, loaded with chocolate chips and a cinnamon sugar filling that is just scrumptious. Whether you are making breakfast, a snack, or a decadent dessert, this dish is perfect. In fact, it tastes quite similar (better) to Starbucks coffee cake.
If your pot is on the fritz, try this Best Ever Coffee Cake Recipe made with cream cheese, buttermilk, and brown sugar. Fruit lovers will love our sweet and tangy Cherry Cream Cheese Coffee Cake.
This is the best cake to have for breakfast, lunch, or as a snack. You could even serve it as the perfect dessert with your favorite meal.
The best part is that you can add your favorite things to the original recipe to make it uniquely your own.
Or you can make this Instant Pot Apple Cake with fresh apples, cinnamon, and brown sugar. It is also yummy and absolutely delightful.
Ingredients needed:
These are the simple ingredients to make this easy recipe. To see the exact measurements and instructions, scroll down to our handy recipe card.
All purpose flour: You could also use almond or coconut flour.
Baking powder
Baking soda
Butter: Softened.
Sugar: White granulated.
Vanilla: Pure vanilla extract.
Almond: Pure almond extract.
Large eggs: Room temperature.
Sour cream: Or plain Greek yogurt.
Chocolate chips: Semisweet.
Pecans or almonds: Chopped.
Orange zest: Store-bought or homemade.
Brown sugar: Light or dark.
Spices: Cinnamon, nutmeg, salt.
How to make instant pot coffee cake recipe?
Prepare: First, mix flour, salt, baking soda, and baking powder together in a small bowl.
Mix: Then, in a medium bowl, using an electric mixer, combine wet ingredients including butter, sugar, orange zest, vanilla, almond extract, eggs, and sour cream on low speed until smooth.
Add: After, add dry ingredients and mix on low until it is smooth. Fold in the chocolate chips.
Prepare pan: Next, prepare the inside of a 6-cup Bundt pan with nonstick cooking spray or olive oil.
Combine: Then, in a separate bowl, combine brown sugar, chopped nuts, cinnamon, and nutmeg.
Divide: Immediately, divide the batter and sugar mixture in half.
Add: Afterward, spoon about half the sugar mixture into the prepared pan and then half the bundt cake batter.

Scoop: Then, scoop the rest of the coffee cake batter on top of the sugar mix until it is half full. Then add the rest of the sugar mix on top.

Cover: Next, place a paper towel across the pan followed by a piece of aluminum foil. This will absorb excess moisture.
Trivet: After, place your trivet in the inner pot and pour in two cups of water.
Lower: Using a sling, lower the pan into the pot on top of the trivet.

Cook: Close the lid and steam valve. Cook on high pressure for 35 minutes.

Steam: After, let the steam come out on natural release before lifting the pan out with the sling handles.
Cool: Remove the foil and paper towel and set the breakfast cake on a cooling rack until it is completely cool.

Flip out: After it is cool, flip it out onto a plate carefully.

Serve: Finally, slice and serve when it is completely cooled off.
Recipe variations:
Oven bake: Make batter as instructed and pour the batter into a regular sized pan, layering in the same way. Bake it at 350 degrees F for about 45 minutes and use the toothpick test to make sure it is done.

Spice it up: Add pumpkin pie spice for a fall flavor.

Muffins: Use a small muffin pan to make coffee cake muffins.
Apples: For instant pot apple cake, just add chopped apples to the cake mix or put apple pie filling on top before serving.

Lemony: Add lemon zest and poppy seeds for a lemon poppy breakfast cake.
Cayenne: Add one teaspoon of cayenne pepper to make a Spanish coffee cake recipe.
How to serve:
This is the perfect recipe for a tender cake whether you want it for breakfast, dessert, or a snack. Serve this delicious chocolate chip coffee cake with a hot cup of coffee. Here are some other serving ideas:
This goes great with a large bowl of fresh fruit for breakfast.
Add a drizzle of melted frosting on top before serving.
Alternatively, you can use maple syrup instead of frosting.
Another idea is to add a spoonful of our keto caramel sauce on top.
Our coffee cake also goes great with a glass of ice-cold milk.
Add a dollop of whipped cream or ice cream for a creamier dessert.
Frequently asked questions
What is the difference between a pressure cooker and an instant pot?
The main difference between the two is the amount of pressure used. The pressure cooker uses a little more pressure than your instant pot can reach, which causes the food to cook faster.
However, the pot is able to cook things at different temperatures and special settings. The pressure cooker only has one setting.
What are the nutrition facts for this recipe?
One serving of this instant pot breakfast recipe has about 400 calories and 84 grams of carbs. The cholesterol is 47 milligrams and sodium is 164 milligrams.
It also has 10 grams of protein, 152 milligrams of vitamin A, four milligrams of iron, and 167 milligrams of calcium.
Why use an instant pot for cake?
One benefit of the instant pot is that you can bake without heating up the house using the oven. Instant pot recipes are also done in a shorter time.
In addition, because of the steam, it is denser and incredibly moist. It is also just an easy way to bake.
How to store leftovers:
Store: You can store leftovers in an airtight container at room temperature for three days or in the fridge for up to a week.
Freeze: If you have a lot left over, wrap it in plastic wrap before putting it in a freezer bag. You can freeze it for up to six months.

Thaw: Put the Instant Pot Coffee Cake leftovers in the fridge to thaw overnight before serving.
Reheat: Serve cool or reheat in the microwave for one minute.
More pressure cooker recipes:
Cooking tips:
If you do not have a silicone sling, you can make a tinfoil sling. Fold up a piece of foil like a bandana and put it under the pan, leaving the ends out for handles.

You can use the "cake" button if you have one on your pot.
This recipe makes two Bundt cakes in your pressure cooker. Cut the ingredients in half if you just want to make one.
You can also use a springform pan or another instant pot cake pan instead of Bundt pans.

Make sure you let it cool all the way to harden afterward.
Cooking time may vary depending on your instant pot.
Always make sure to put at least one cup of water in the bottom of the pot before using.
Be sure to let the steam out with a natural pressure release for the cake to set properly.
Instant Pot Coffee Cake
Ingredients
3

cups

all-purpose flour

1/2

teaspoon

salt

1 1/2

teaspoon

baking powder

1 1/2

teaspoon

baking soda

3/4

cup

unsalted butter

softened to room temperature

1 1/2

cup

granulated sugar sugar

1

teaspoon

vanilla extract

1/2

teaspoon

almond extract

3

eggs

1 1/2

cup

sour cream

or greek yogurt

1/2

cup

chocolate chips

1

cup

pecans chopped

or slivered almonds

1

teaspoon

orange zest

1

cup

brown sugar

2

teaspoons

cinnamon

1

teaspoon

nutmeg
Instructions
Keep in mind: This recipe makes 2 mini bundt cakes in your IP.

Spray the inside of a 6 cup bundt pan with non-stick spray, also you can use a 7inch cake pan. Set aside.

In a medium bowl mix flour, salt, baking soda, and baking powder.

In a large bowl, beat together butter, sugar, orange zest, vanilla, almond extract, eggs, and sour cream until smooth.

Slowly add the dry ingredients mixture, mix at low speed until smooth.

Using a spatula, fold in the chocolate chips until well combined.

In another medium bowl, mix together the brown sugar, chopped nuts, cinnamon, and nutmeg.

Divide the cake batter and brown sugar mixture in half now, so you have enough for 2 cakes.

Spoon in 1/3 of half of your brown sugar mixture into a bundt pan, then spoon in 1/2 of the divided coffee cake batter.

Spoon in another 1/3 of your brown sugar mixture on top of the batter inside your bundt pan.

Put the remaining 1/2 of your coffee cake batter on top and sprinkle the remaining brown sugar mix on top. Make sure the pan is not more than 3/4 full.

Put a trivet inside your Instant Pot. Pour 2 cups of water inside the pot

Lower your bundt pan into your Instant Pot and on top of your trivet.

Close the lid and steam valve.

Press the cake button and adjust to 35 min or press manual, input 35 minutes on high pressure.

Allow after that for pressure to naturally release completely.

Carefully lift the bundt pan, remove foil, and set on a cooling rack until completely cool.

Carefully flip over onto a plate.

Optionally mix 1/2 cup of powdered sugar with 1 tablespoon of milk and drizzle on top of the cool cake.
Deliciousness to your inbox
Enjoy weekly hand picked recipes and recommendations