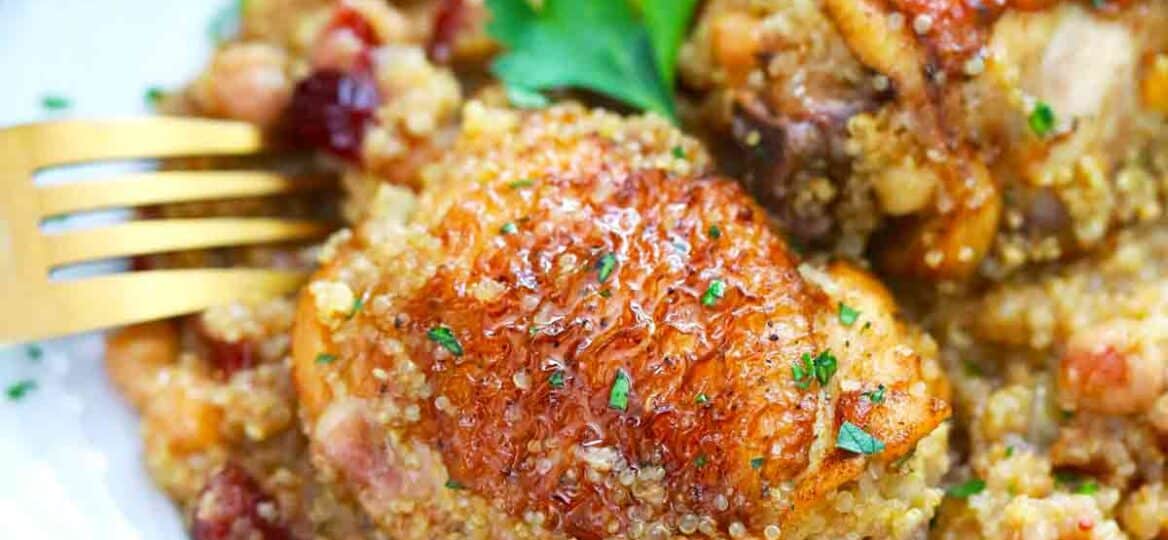 Easy Instant Pot Moroccan Chicken
Instant Pot Moroccan Chicken is a great way to feed the whole family a healthy and delicious comfort food dinner. Whether you use boneless thighs or breasts, pressure cooking makes them so flavorful. With just a few minutes of prep time, you have an easy meal ready in minutes.
For more instant pot recipes, try our IP Mongolian Beef made with flank steak and soy sauce or IP Mongolian Drumsticks with sesame oil and brown sugar.
Moroccan cuisine is typically healthy, with most of the emphasis put on the spices involved in the dish.
This healthy recipe blends ginger, cumin, turmeric, and paprika with garlic and onion to make the perfect blend of flavors for your meat.
Next time you want a new chicken snack, use our Keto Italian Chicken Skewers made with buttermilk and Italian seasoning.
Ingredients needed:
For this tender chicken recipe, these are the main ingredients you need. For more detailed instructions and measurements, scroll down to our recipe card.
Chicken thighs: You can use chicken breasts too.
Seasonings: Paprika, turmeric, ground cumin, kosher salt, black pepper, and ginger.
Olive oil: Or your favorite oil.
Large cloves garlic: Minced.
Large onion: Yellow, finely diced.

Quinoa: Uncooked.
Chickpeas: Rinsed and drained.

Dried cherries: Or your preferred dried fruit.
Chicken broth: Chicken stock will also work.
Finely chopped cilantro leaves or fresh parsley: For garnish.
How to make instant pot Moroccan chicken recipe?
Mix: First, mix the cumin, turmeric, paprika, salt, and pepper in a small bowl.

Rub: Next, coat each piece of meat with the spices and make sure you rub it in on all sides.

Sauté: Pour two tablespoons olive oil into the bottom of the pot and set it for sauté.
Cook: Immediately, cook the chicken until all sides are slightly brown before setting it aside in a large bowl.

Aromatics: After adding the rest of the oil to the pot, stir in the ginger, onions, and garlic, letting it sauté for two minutes, stirring occasionally.

Seal: Then, add the chicken, broth, chickpeas, cherries, and quinoa to the pressure cooker and set the steam valve to sealing.

Cook: Next, set it to high pressure, setting the timer for 10 minutes.
Release: When the timer goes off, use your tongs to turn the knob on the steam valve to venting for a quick release to release the remaining pressure.
Open: When the float pin is down, press cancel and open the lid carefully. Check the temperature. It should read 165 degrees F to be consumed safely.

Serve: Finally, place the chicken on a plate and add garnishes before serving.
Recipe variations:
Tagine: You could easily change this to Moroccan chicken tagine by adding green olives, lemon juice, carrots, and honey.
Sweeten: Add a cinnamon stick to the pot before cooking for a sweeter flavor.
Tomato flavor: For a whole different flavor, pour a can of tomato paste into the pot before cooking.
Other cooking methods: Optionally, cook on high for four hours in the slow cooker or in a large skillet on the stove top for 45 to 50 minutes.

Other fruits: Feel free to substitute golden raisins or dried apricots instead of or in addition to the dried cherries.
Powder: If you do not have cloves, you can use garlic powder, but it will not be as flavorful.
How to serve:
This Moroccan chicken recipe is easy to make in the instant pot with just a bit of meal prep before cooking. Serve as a main entrée or side dish any time of the year. You can also try one of these great ideas:
Serve with a small bowl of your family's favorite dipping sauces like our tangy and refreshing tzatziki, smooth and creamy yum yum sauce, or this sweet and spicy General Tso sauce.
This chicken goes great on a bed of rice.

For a carb-smart diet, use our delicious cauliflower rice instead.

Sprinkle a bit of chili powder or our homemade taco seasoning on top before serving for a spicy kick.
For even spicier chicken, add some red pepper flakes.

You could also add a handful of roasted pumpkin seeds for a crunchy topping.
Frequently asked questions
Do you need liquid to cook in an instant pot?
No matter what you are cooking, you will need at least one cup water or some other liquid.
You can use chicken broth or stock, some kind of juice, or even a cup of wine. Some people even use olive brine for this dish.
Why is my chicken rubbery?
The most common reason for rubbery meat is that it is not cooked all the way. Check the temperature. It should be at least 165 degrees F.
You may also need to let the steam release faster with a quick release or cook them on a trivet.
What is quinoa?
Often called a superfood or the world's most healthy food, quinoa is actually a grain from South America.
It has been grown as food for more than 7,000 years and the Incas called it the "mother grain" because it was used for everything.
It is actually classed as a pseudo grain and is gluten-free.
How to store leftovers:
Store: Let the chicken reach room temperature before storing it in an airtight container. It can be stored in the fridge for approximately three days.
Freeze: Put leftovers in a freezer bag and keep them in the freezer for up to three months if you cannot eat them within the next few days.

Thaw: For best results, allow the chicken to thaw in the refrigerator overnight before serving.

Reheat: Reheat in the microwave for one or two minutes, depending on how many pieces you are reheating.
More chicken recipes:
Cooking tips:
Cook time may vary depending on your instant pot.
Your pot will take about 10 minutes to build up pressure and although it says ON, the cooking time does not start until it is pressurized.

Make sure it is in the venting position after the timer goes off to release the pressure.
If you are using a six-quart pressure cooker, sauté the chicken in batches so they do not overlap.
Instant Pot Moroccan Chicken
Ingredients
1 1/2

lbs

chicken thighs skin-on & bone-in

or boneless & skinless

1

teaspoon

smoked paprika

1

teaspoon

turmeric

1/2

teaspoon

ground cumin

1/2

teaspoon

kosher salt

1/4

teaspoon

black pepper

4

tablespoons

olive oil

divided

3

cloves

garlic

minced

1

yellow onion

finely diced

1

teaspoon

fresh ginger

minced

1

cup

uncooked quinoa

or use couscous

1

can

(14.5 ounce) chickpeas

rinsed and drained

1/2

cup

dried cherries

raisins or apricots

1 1/2

cups

chicken broth
Instructions
In a small bowl, mix the spices: smoked paprika, turmeric, cumin, salt, and pepper.

Pat dry the meat and coat with the spice rub evenly on all sides. Set aside.

Press SAUTE mode on the Instant Pot.

Add 2 tablespoons of olive oil to the bottom of the Instant Pot inner pot.

Sauté the chicken skin side down until golden and a bit browned. Flip over and continue cooking until again slightly browned. Remove from Instant Pot and set aside on a plate.

Add remaining olive oil to the bottom of the pot.

Next, add the garlic, diced onion, and ginger. Sauté for 2 minutes, stirring.

Mix in the quinoa, dried fruits, chickpeas, chicken broth, and after that add the browned chicken on top.

Close the Instant Pot lid and on older models make sure the pressure release valve is in the SEALING position.

Press Manual and set the timer to 10 minutes on High Pressure.

When the 10 minutes are up, carefully turn the knob to VENTING in order to Quick Release the pressure.

Once the steam stops being released press CANCEL and carefully open the lid.

Chicken is done when a thermometer inserted into the meat registers 165° F.

Serve the chicken with the quinoa mix and garnish with fresh cilantro.
Deliciousness to your inbox
Enjoy weekly hand picked recipes and recommendations