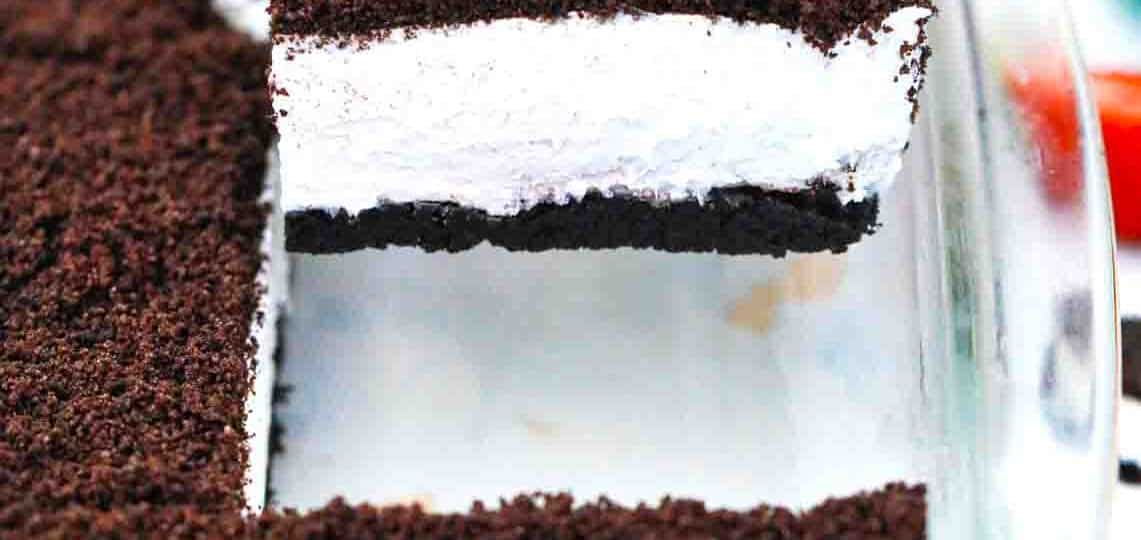 5 Minute Oreo Dessert – 3 ingredients!
5 Minute Oreo Dessert is a creamy dessert you can make in just minutes with just 3 ingredients including Oreo cookies, butter, and heavy cream. A delicious and fun dessert does not get any easier than that! You do not even have to turn on the oven or use the stove for this recipe. Let the kids help. They will love scraping out the filling and smashing cookies!
Really love the no-bake idea? Try this No-Bake Oreo Pie made with a cookie crust, cream cheese filling, and whipped topping with chocolate sauce. Besides Oreos, you will only need a handful of ingredients like butter, chocolate syrup, vanilla extract, Cool Whip, and cream cheese.
If you would rather have a cake, this No-Bake 5 Ingredients Chocolate Cake is yummy. It is also made with Oreos but includes espresso powder, cocoa powder, milk, and baking powder. Then it is topped with homemade chocolate ganache for a double-chocolate dessert.
The Oreo cookie began its climb to fame on March 6th of 1912. It was first introduced by the National Biscuit Company, which is now Nabisco. It was the factory in Chelsea New York that made the first batch of the world's favorite cookie. At the time, you could buy them for just a quarter per pound.
Our 5 minute Oreo dessert recipe only requires a few things. The cookies, some cream, and butter. Then, all you will need is a baking dish to put it all in, a bowl for the cream, and a baggie for the cookie crust and topping. This is the sort of delicious dish that you can just sit back and watch the kids do and enjoy helping them eat too.
Sticking with the Oreos theme, why not try some easy Oreo fudge? You only need three ingredients for this one including cookies, sweetened condensed milk, and white chocolate. It takes just a few minutes to make and then it only has to chill for one hour.
Another kind of no-bake Oreo treat is these simple and delicious Oreo balls. For this, you need about 40 Oreos, cream cheese, chocolate wafers, and white chocolate wafers. They're done in just 30 minutes!
Ingredients needed:
With only three ingredients, you will not have to go on a big shopping spree for this Oreo dessert recipe. Just gather up some Oreos, butter, and cream and you are ready! For all the important details, scroll down to our handy recipe card.
For the crust and topping:
Oreo cookies: With cream removed.
Melted butter
For the filling:
Oreo cookie cream
Heavy cream: With 33 to 36% milk fat.
How to make 5 minute Oreo dessert from scratch?
Separate the cookies: First, scrape out the middles of the cookies. Put the creamy middles in a large bowl and the cookies in a medium bowl or a baggie.

Crush the biscuits: Then, crush the biscuits (just the hard cookie parts) with your hands and a rolling pin until they are completely crumbled. You can just put them in a Ziploc baggie and squeeze until they are all broken up. Then roll them out with a rolling pin to make sure they are all crumbled.

Make the crust/topping: After, add the melted butter to the Oreo cookie crumbs and mix until it is all combined. You want the crumbs to be saturated in butter.

Spread the crust: Next, spoon about ¼ cup of the crumbs into the bottom of a 9×13-inch baking dish to make a crust.

Whisk the cream filling: Now, mix the heavy cream with the Oreo cream using an electric mixer with a whisk attachment until it is soft and fluffy. It should have soft peaks. Spoon it onto the cookie crust and gently even it out with an offset spatula.
Top your dessert: Lastly, sprinkle the remaining cookie crumbs on top to cover it completely.

Chill and serve: Finally, chill for three to four hours before serving.
Recipe variations:
Different Oreo flavors: This dessert can be made in so many different ways. Even though it has only three ingredients, just changing the flavor of the cookies can make a big difference. For example, use vanilla Oreos for a vanilla dessert, lemon Oreos for a lemon dessert, or try chocolate cream Oreos for a chocolate dessert with chocolate filling.

Peanut butter and jelly: You can take this idea even further by using peanut butter Oreos and adding some strawberry jelly to the filling for a PB&J dessert.

For something different, use extracts to add flavor. Try almond or banana extract with vanilla cookies, cake batter flavor with birthday cake Oreos, and coconut extract with caramel coconut Oreos would be sinfully scrumptious.

Graham crackers: If the Oreo cookie crust is too rich for you, try using a graham cracker crust. You can make it yourself with graham cracker crumbs and butter or buy one already made from the grocery store.

Add pudding: Another way to mix things up is to use pudding in the mix. This can give your dessert a whole other flavor by using a unique flavor of pudding-like key lime or pistachio. They even have Oreo cookies and cream-flavored pudding. Or just stick with chocolate if you like.

Cream cheese: Make it even thicker and creamier by adding a cheesecake layer. Mix one brick of softened cream cheese with one cup of powdered sugar and a tub of Cool Whip. Put that layer on the bottom between the crust and the filling.
How to serve:
It is best to chill this delicious dessert in the fridge for at least a few hours to let it set completely. Like any no-bake dish, it requires a little bit of patience in order to have a perfect balance. If you cannot wait, take a spoonful from the corner, and then chill the rest. We won't tell anyone! Try one of these fun ideas for serving your Oreo no-bake cake or share some of your favorite ideas with us in the comments section.
Sprinkles are the perfect topping for anything, and they can make this yummy dessert look festive. You can use rainbow sprinkles or whatever color you prefer. If it is close to St. Patrick's Day, use green. If you will be celebrating Valentine's Day soon, go ahead and use red. For Christmas, use both!
This goes great with a scoop of vanilla ice cream. Or any flavor you like. Try our no-churn cherry ice cream you can make in minutes.

Another festive topping is chocolate curls. You can make these by using a vegetable peeler and a chocolate bar. For little swirls, peel the narrow edge. For twirls, shave the sharp edge of the bar. And for fat curls, shave the flat side of the candy bar. You could even use a grater to make little shavings.

For the whipped cream topping, try our recipe for homemade whipped cream.

Add some fruit on top like sliced strawberries, bananas, or raspberries.

You could also add a few dollops of fruit topping. Our strawberry sauce is amazing and would be perfect for this.

To personalize your Oreo dessert, use whipped cream to write out a message on top.
Frequently asked questions
How many flavors of Oreo cookies are there?
Since the first Oreos came out, there have been more than 85 different flavors. Of course, some of them did not last long and others became overnight sensations. According to Delish.com, the number one Oreo flavor right now is the birthday cake.
Others include churro, peanut butter, Oreo thins, and fudge dipped. Then, there is the red velvet cookie with cream cheese flavored cream. There have also been some weird flavors like buffalo wing and wasabi flavors that are popular in other countries.
Can Oreo cookies be frozen?
You can absolutely freeze your Oreos if you have too many and want to save them. After all, you cannot eat them all in one sitting. They will stay fresh in the package at room temperature for weeks but once you open them, they can get stale pretty fast even when using that new resealable packaging.
One way to save them is to freeze them. Just flash-freeze them on a cookie sheet and then layer them in a freezer-safe container with parchment or wax paper between them.
What is in the middle of Oreo cookies?
Creamy deliciousness is what you will find in between those two chocolatey biscuits. It used to be made from lard when they were first made but now it is made from hydrogenated vegetable oil.
Of course, it also has sugar, palm oil, high fructose corn syrup, artificial flavoring, and soy lecithin. Different flavors have different ingredients, but they are all made with the same base of sugar, corn syrup, palm oil, and artificial flavoring.
What are the nutrition facts in this recipe?
Each serving contains 400 calories, 56 grams carbohydrates, 24 mg cholesterol, and 350 mg sodium. It also has 20 grams fat, 9 grams saturated fat, and 33 grams sugar. On the plus side, you will also get 5 grams protein, 5 mg iron, 2 grams fiber, and 188 mg potassium as well as 78 mg calcium, 275 units vitamin A, and 1 mg vitamin C.
How to store leftovers:
Store: If you cannot finish your 5 minute Oreo dessert, keep it in the fridge in an airtight container for up to three days.
Freeze: To freeze, simply put it in a freezer-safe container and it will stay good for about three months.
Thaw: You can thaw your frozen Oreo dessert overnight in the refrigerator or serve it frozen.
More no bake dessert recipes:
Recipe tips:
Save time. Use a prepared Oreo pie crust from the store. You can still prepare the topping the same way but you will have extra so you can make another layer if you like.

Before covering, stick a few toothpicks on the top to keep the plastic wrap from sticking to the topping.

Slicing is easy if you use a sharp knife dipped in hot water. Then, use a cake server or spatula to remove the pieces carefully so they stay together.

If you mess up the topping, that's okay. Just mix it with the filling and you will have Oreo cookies and cream pie.

You could also make this in a round or square pan, but it will be thicker. That means you will have to chill it longer.

The colder it is, the easier it is to cut and serve. In fact, freezing it for about an hour before slicing is a great way to get perfect slices.

If you use double-stuff Oreos, remember you will have more filling. You may have to adjust the amount of cream you use to make the filling.
5 Minute Oreo Dessert
Ingredients
25

Oreo cookies

regular not double cream

3

tablespoons

unsalted butter

melted

1

cup

whipping cream

very cold
Instructions
First, separate the cookies, place the creamy white middles into a large bowl, and put the top and bottom cookies in a food processor or Ziploc bag.

Pulse until the cookies become crumbs, or if using a Ziploc bag, use your hands or rolling pin to crush them.

Miz 2/3 of the cookie crumbs with melted butter and press the mixture into the bottom of an 8x8 square pan.

Add the heavy whipping cream to the bowl with the creamy middles, and beat with an electric hand mixer, until fully combined and stiff peaks form.

Add the creamy mixture into an even layer on top of the crust and top with the remaining cookie crumbs.

Refrigerate for 3-4 hours before slicing and serving.
Deliciousness to your inbox
Enjoy weekly hand picked recipes and recommendations