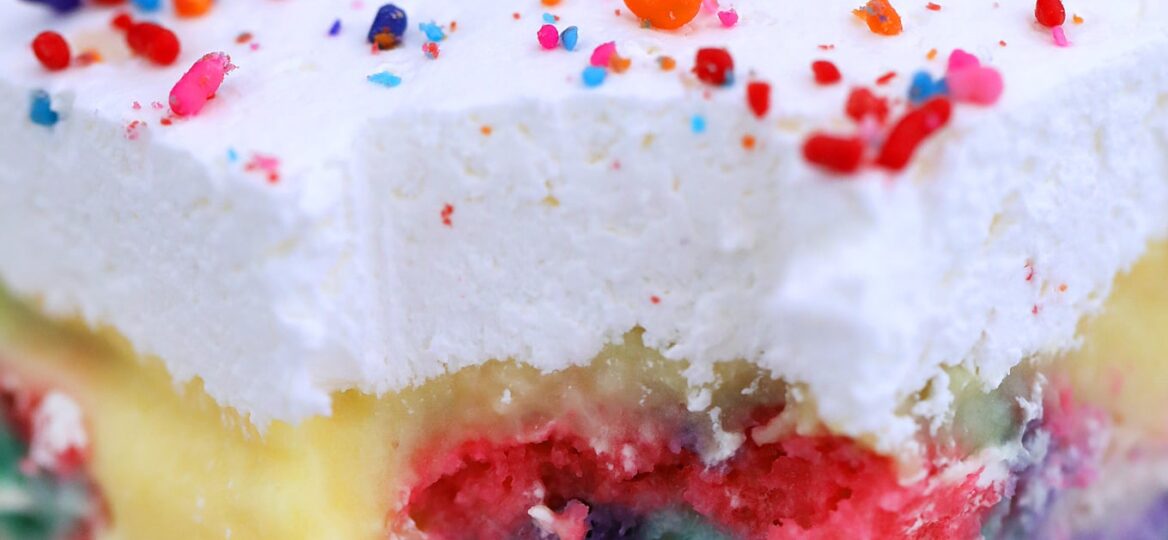 Unicorn Cake Recipe [video]
Unicorn Cake is a moist, colorful, and fun dessert to serve on any occasion and themed party! It has grown popular recently and here's how to make it! Watch the recipe video below and see how it's made!
It is as heavenly as the other desserts that we have done in the past like the Galaxy Cupcakes, as colorful as the Mini Rainbow Cheesecakes with Whipped Cream, and as sweet as our exciting Mint Chocolate Chip Truffles!
Unicorn Poke Cake
Unicorn Cake is every kid's dream! This recipe yields moist, decadent, and creamy poke cake that is best served at any party! Inspired by the mythical creature, this dessert is also light and pretty!
It has pastel colors that this particular dessert is famous for. Also, you can mix and match according to your party's theme. With this easy recipe, you can make your party an unforgettable one!
For this version, you do not need any fondant or extreme decorating skills. In fact, you will only need ten main ingredients and less than 2 hours of prep time. That is how easy this version is, so try it now!
What is a unicorn?
It is a magical and mythical creature that is visualized as a white horse with one horn on its forehead and a pair of angel wings. It is associated with femininity and it symbolizes purity!
What colors to use in a unicorn cake
As it is usually associated with girls, any pastel colors will be great to use especially with white as its general color. For this version, we used blue, purple, and pink but you can add or omit any color that you want. You can even use all the colors of the rainbow.
And though it is usually in pastel, you can also use brighter and deeper hues. As long as it is colorful and fits your style, it is your call.
How to make a unicorn poke cake
Prepare to bake: Follow the instructions on the packaging of the mix to prepare the batter and add some vanilla. Distribute evenly the resulting batter into three bowls and add food coloring. Stir well. Fill a 13×9 baking dish by randomly transferring spoonfuls of the batter of alternating colors.
Bake: Pop it in the oven for about 30 minutes and bake at 350°F. Once done, let it cool for 10 minutes.
Poke: In a bowl, mix together condensed milk and white chocolate and then, put in the microwave. Poke holes on the sheet of cake and pour the milk-chocolate mixture on top. Distribute evenly.
Prepare the pudding: Follow the instructions on the packaging of the pudding mix and once it starts to thicken, pour over the cake, and fill the holes.
Decorate: Add the whipped topping as frosting, and refrigerate for an hour. Garnish with sprinkles.
How to decorate a unicorn cake?
The most common decorations are the fondant horn, two fondant ears, two fondant eyes, and buttercream rosettes formed like a mane. But this could be tricky, and making fondant could be difficult. So, your next best option is to use sprinkles!
Most baking supply stores sell decorative sprinkles of various shapes, sizes, and colors. Pick out the flowers or stars ones and sprinkle on top of the mane.
There is no hard rule in decorating it, just be creative!
Can you make unicorn poke cake in advance?
Yes! You can bake the cake first, and then, frost it the next day. Unfrosted, it can keep for a week at room temperature. You can also keep the frosting separately in the refrigerator contained in an airtight container. This can keep for up to a week.
Hence, you can partially make everything then, assemble it when needed.
How long is unicorn cake good for?
Since this has whipped cream, it can stay good for up to two days only, well-packed in the refrigerator.
How to freeze it?
Tightly wrap the unfrosted cake with plastic, and then put it in the freezer. This can keep for up to two months.
Recipe Tips
You can also use marshmallow frosting to make a fluffy version using the same colorful batter. On a skillet, melt marshmallows in water, butter, and powdered sugar. Pour on top and refrigerate for two hours.
Make use of printable unicorn designs for easy decoration.
Don't skimp on the sprinkles!
Deliciousness to your inbox
Enjoy weekly hand picked recipes and recommendations