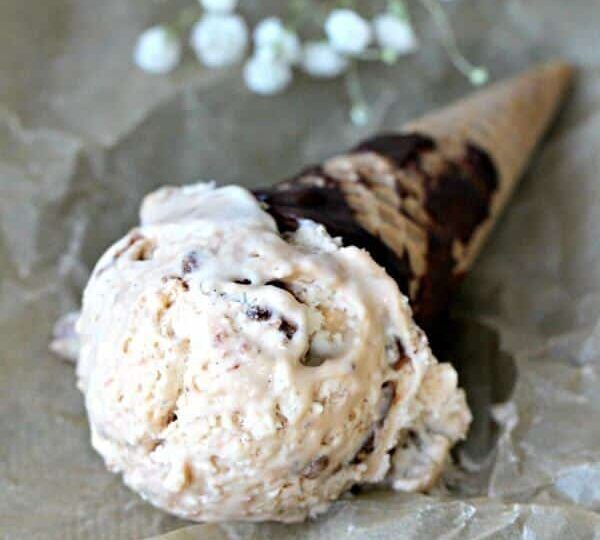 Haagen Daz Caramel Cone Ice Cream Copycat
Haagen Daz Caramel Cone Ice Cream is no fuss, no churn and loaded with chocolate sugar cone pieces and homemade caramel.
I love making easy and delicious Ice Cream, like my Mint Chocolate Chip Avocado Ice Cream and Chocolate Chip Blackberry Ice Cream.
Haagen Daz Caramel Cone Ice Cream
Finally, the day has come when I am sharing my most beloved food in this world: ICE CREAM! For me, Ice Cream is a separate food group, and the Haagen Daz Caramel Cone Ice Cream is on top of the pyramid. I just love it, I can eat an endless amount of pints. I bought some sugar cones, dipped them in dark chocolate, crushed them, made my 10 minute Caramel Sauce. After, I whipped some heavy cream with vanilla beans, added it to the condensed milk. Then, I gently folded the caramel and crushed cones, and voila you have homemade Haagen Daz Caramel Cone Ice Cream! Easy as that!
And let me tell you that its good, its on the sweet side since its made with condensed milk and caramel sauce. So if you want to tame the sweetness, reduce the caramel sauce in half, you can always drizzle some on the ice cream when serving it.
This Haagen Daz Caramel Cone Ice Cream texture is a soft and creamy, with chewy pieces of chocolate sugar cones and sweet caramel.Note that the first day the ice cream will be a little softer than the original. However, as longer as you keep it in the fridge it will harden. Also, its best to consume it in 2 weeks for best taste.
WHY YOU WILL ENJOY THIS STRAWBERRY ICE CREAM:
Firstly, it's creamy and rich in chocolate and caramel, which makes it a show stopper dessert.
Also, it's very easy to make with few ingredients.
Making it at home is cheaper than buying at the store.
It can be made days or weeks in advance and store in the freezer for days to come.
In addition, you can use variation of fruits as the combination is endless.
Can I store Ice Cream in the fridge?
To serve ice cream more easily, transfer the container from the freezer to the fridge 10 to 20 minutes before serving. For the best taste, home made ice cream should be eaten within a day or two.
How do you keep ice cream from getting freezer burn?
To prevent the ice cream from taking on the odor of that fish or other products from your freezer, use a container with a tight-fitting lid. For extra security, place a layer of plastic wrap between your ice cream and the lid. Air is also responsible for freezer burn, which desiccates and crystallizes the surface of ice cream.
How do you freeze melted ice cream?
To refreeze thawed ice cream, is recommended only it is slightly melted, and has been kept under proper refrigeration. It is also important that it was not exposed to the outside environment. However, if it was almost melted outside the freezer, then you probably risk your health by eating it.
Deliciousness to your inbox
Enjoy weekly hand picked recipes and recommendations