Haagen Daz Caramel Cone Ice Cream Copycat
This post may contain affiliate links. Please read my disclosure policy.
No fuss, no churn this Haagen Daz Caramel Cone Ice Cream Recipe Copycat is loaded with chocolate sugar cone pieces and homemade caramel.
Finally the day has come when  I am sharing my most beloved food in this world and that is my friends: ICE CREAM! For me ice cream is a separate food group, and the Haagen Daz Caramel Cone Ice Cream is on top of the pyramid. I just love it, I can eat an endless amount of pints, I spy when my local supermarket puts it on sale and I am that annoying person who looks for the storage manager in case there is no more Haagen Daz Caramel Cone Ice Cream in the fridge, I ALWAYS ask them kindly to check the back, you never know when they have some left.

Remember when on Monday I shared that delicious, liquid gold of 10 minute homemade Caramel Sauce? Well, yes and I mentioned that it was used to make ice cream, and here we go, I made my all time favorite flavor: Haagen Daz Caramel Cone Ice Cream!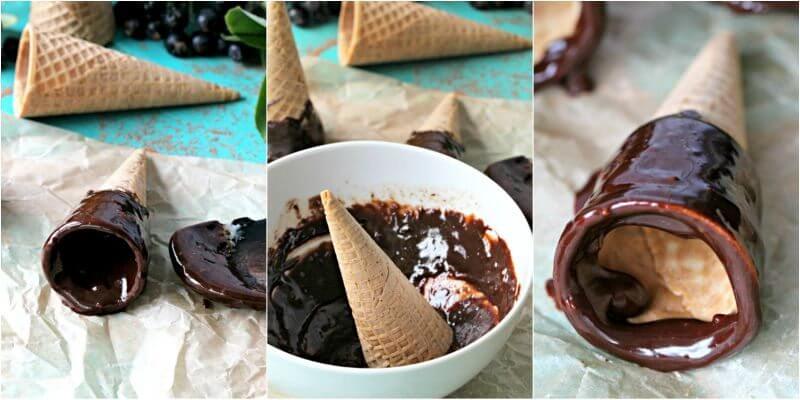 Its safe to say that my husband would probably divorce me if I try to convince him that we need an ice cream machine in our two bedroom apartment that already is packed with a Kitchen Aid, Vitamix, toaster and juicer. I made some counter space for a much needed Nespresso Machine that I want to order soon, but there is no room for another gadget.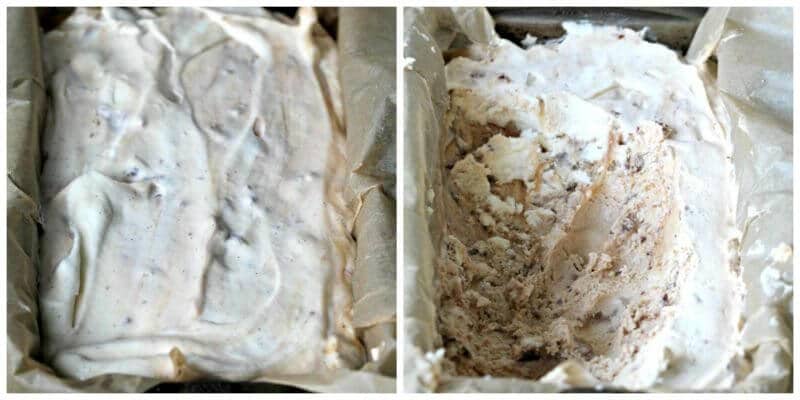 Thankfully there are thousands of No Churn Ice Cream recipes floating online, and based on that I decided that the method was tested and its foolproof, also, me and my husband are big fans of condensed milk, we just eat it by spoon – read "we actually drink the stuff" (Mom, thanks for the fast metabolism, I really appreciate it), so I knew that the recipe will be a success.

MY LATEST VIDEOS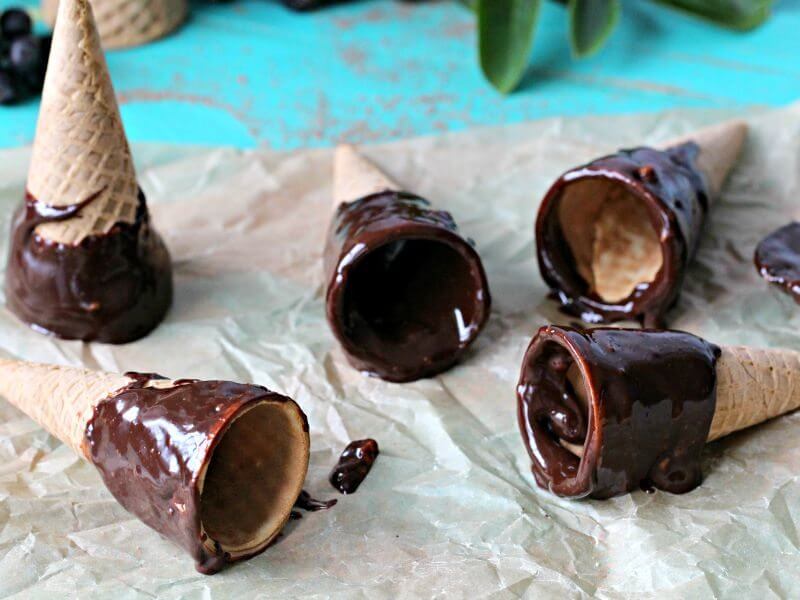 It happened that other people also seem to love Haagen Daz Caramel Cone Ice Cream and our local grocery store run out of it this weekend, but no worries, now I can make my own, that's equally as delicious, and I can make as much as I want, also its easy peasy, no churn, no crazy gadgets, just a few ingredients, some whipping, some mixing, some finger dipping in the caramel sauce and the ice cream is waiting for you in the freezer. The most I like about this ice cream is how you know exactly what goes in, no crazy chemistry, just old fashioned available ingredients.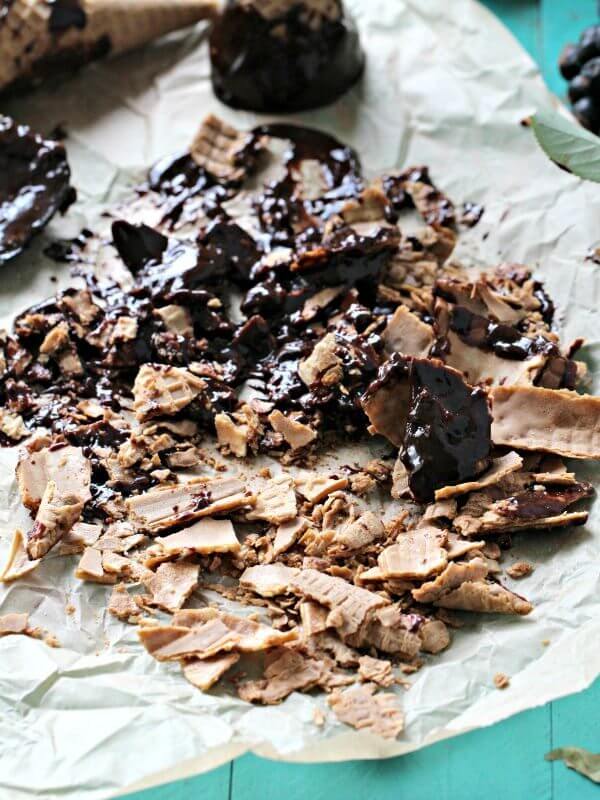 I bought some sugar cones, dipped them in dark chocolate, crushed them, made my 10 minute Caramel Sauce, whipped some heavy cream with vanilla beans, added it to the condensed milk, gently folded the caramel and crushed cones, and voila you have homemade Haagen Daz Caramel Cone Ice Cream! Easy as that!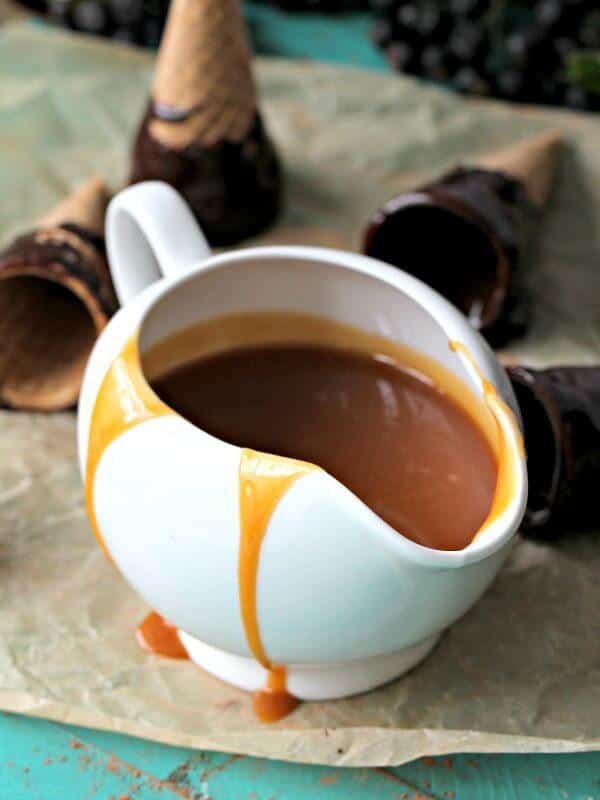 And let me tell you that its good, its on the sweet side since its made with condensed milk and caramel sauce, so if you want to tame the sweetness, reduce the caramel sauce in half, you can always drizzle some on the ice cream when serving it.
This ice cream was such a huge success that my family had big bowls for breakfast on Sunday morning. Yes, we really do eat ice cream for breakfast. No, I am NOT kidding.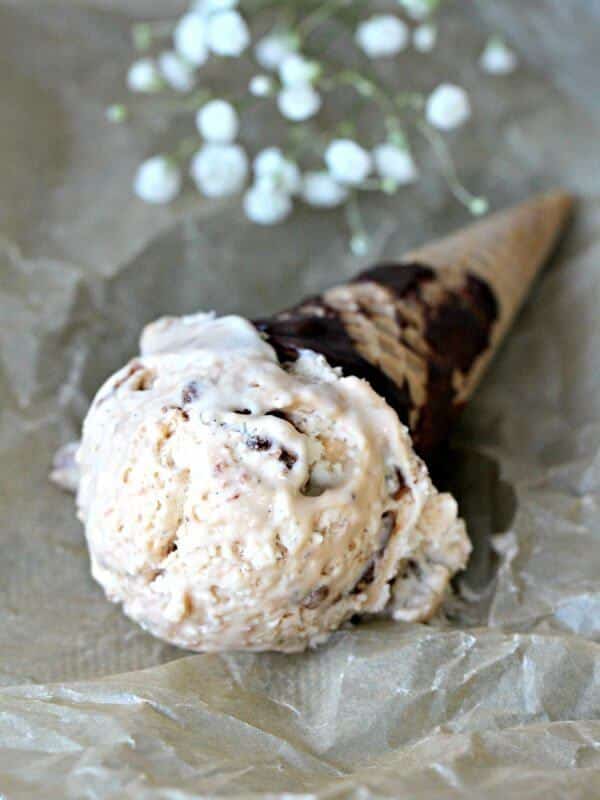 The texture is a soft and creamy, with chewy pieces of chocolate sugar cones and sweet caramel, now all I can wish for is for this ice cream to be calorie free so I can enjoy it endlessly.
Seriously, if I would have to go on a deserted island, and I would have to choose one thing to eat for the rest of my life this would be it. Its a bold statement, but this Haagen Daz Caramel Cone Ice Cream copycat recipe is to die for!
Note that the first day the ice cream will be a little softer than the original, but as longer as you keep it in the fridge it will harden, its best to consume it in 2 weeks, if it lasts that long, we took care of it in 2 days.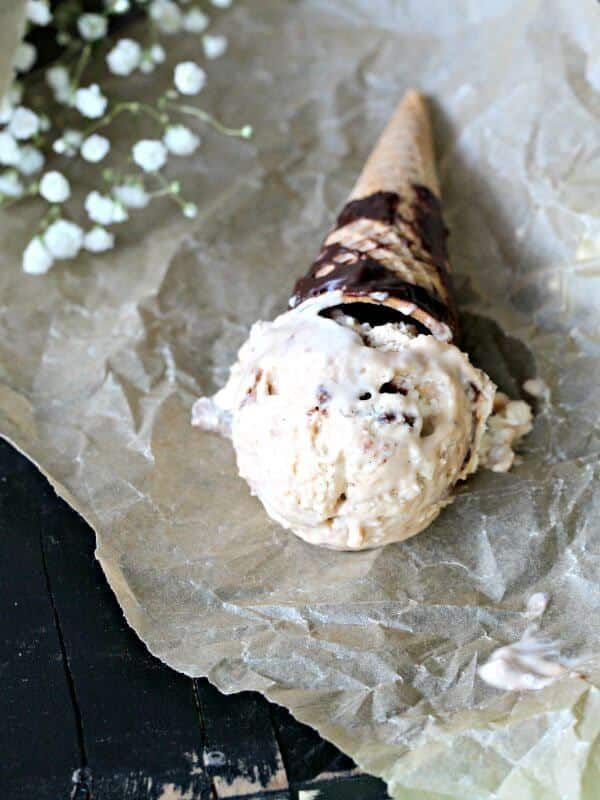 Haagen Daz Caramel Cone Ice Cream Copycat
No fuss, no churn this Haagen Daz Caramel Cone Ice Cream Recipe Copycat is loaded with chocolate sugar cone pieces and homemade caramel.
Author:
Katalina Kastravet
Ingredients
Chocolate Covered Sugar Cones:
4 store bought sugar cones
5 ounces dark chocolate, chopped
5 tablespoons heavy cream
Homemade Caramel Sauce:
1 cup granulated sugar
6 tbsps. unsalted butter, at room temperature and cut up into pieces
½ cup heavy cream
1 tsp. salt
For the Ice Cream:
1 14-ounce can sweetened condensed milk
3 vanilla beans
2 cups heavy cream, cold
Instructions
Chocolate Covered Sugar Cones:
Place chocolate and heavy cream in a microwave safe bowl, microwave for 30-40 seconds, stir until all chocolate pieces are melted.
Dip the sugar cones one by one into the melted chocolate and place on parchment paper. Once the chocolate has hardened, crush the cones into small pieces.
Homemade Caramel Sauce:
In a medium sauce pan over medium heat melt sugar until a brownish liquid forms, make sure to stir constantly during this process.
When sugar has completely melted, add the butter and stir until well combined.
Carefully while still stirring add the heavy cream, once all the cream has been added let the mixture boil without stirring for one minute.
Remove from heat, stir in salt, transfer to a mason jar (or any other container) and let it completely cool before adding to the ice cream.
For the Ice Cream:
Pour the condensed milk into a large bowl, cut the vanilla pods into halves and with the tip of a short knife remove the seeds. Add the seeds to the condensed milk and stir with a spatula until combined.
Pour the heavy cream into the mixing bowl an electric mixer (or regular large bowl if using hand mixer). If using an electric mixer, fit it with the whisk attachment and whip the cream until it holds stiff, billowy peaks, about 3 minutes.
Gently mix a scoop of the whipped cream into the condensed milk. Using a spatula, gently fold in the rest of the whipped cream into the bowl with the condensed milk. It will look very lumpy, but as you continue to fold, the mixture will smooth out and become soft and silky. Stop when you see just a few small lumps here and there, making sure not to over-mix.
Fold in the crushed chocolate cones and caramel sauce, don't over mix the caramel sauce, just give it a gentle stir to create some swirls.
Line a 8 inch loaf pan (or freezer container) with parchment paper and transfer the ice cream into it. Smooth the top, then press a piece of wax paper against the surface to prevent ice crystals from forming.
Freeze for at least six hours, better overnight.
The ice cream can be stored for up to 2 weeks, but will become more firm the longer you let it in the freezer.

Just go for it!

Peas and Peonies, LLC. owns the copyright on all images and text and does not allow for its original recipes and pictures to be reproduced anywhere other than at this site unless authorization is given. If you enjoyed the recipe and would like to publish it on your own site, please re-write it in your own words, and link back to my site and recipe page. Copying and/or pasting full recipes to social media or personal blogs is strictly prohibited. Sharing this recipe is very much appreciated and encouraged. Read my disclosure and privacy policy. This post may contain affiliate links.