Haagen Daz Caramel Cone Ice Cream Copycat
Last updated on June 18th, 2021 at 04:06 pm
Haagen Daz Caramel Cone Ice Cream is no fuss, no churn and loaded with chocolate sugar cone pieces and homemade caramel.
I love making easy and delicious Ice Cream, like my Mint Chocolate Chip Avocado Ice Cream and Chocolate Chip Blackberry Ice Cream.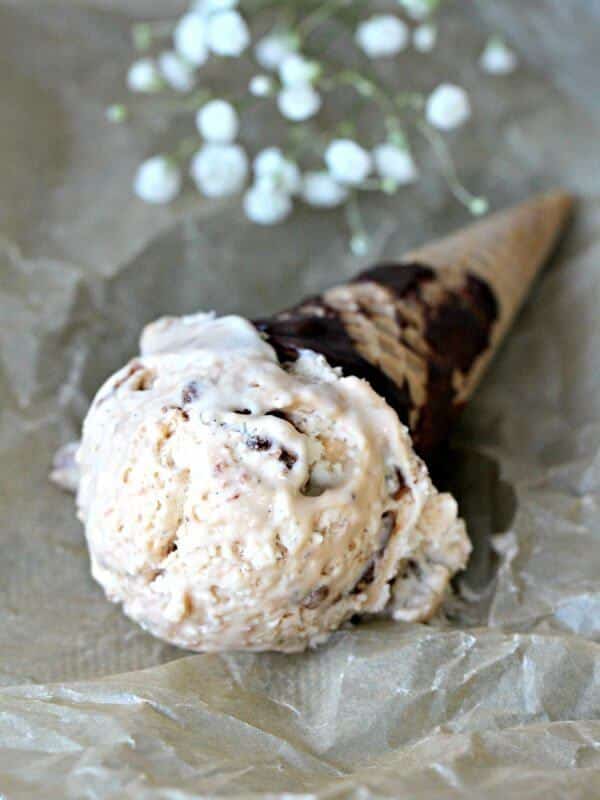 Haagen Daz Caramel Cone Ice Cream
Finally, the day has come when I am sharing my most beloved food in this world: ICE CREAM! For me, Ice Cream is a separate food group, and the Haagen Daz Caramel Cone Ice Cream is on top of the pyramid. I just love it, I can eat an endless amount of pints. I bought some sugar cones, dipped them in dark chocolate, crushed them, made my 10 minute Caramel Sauce. After, I whipped some heavy cream with vanilla beans, added it to the condensed milk. Then, I gently folded the caramel and crushed cones, and voila you have homemade Haagen Daz Caramel Cone Ice Cream! Easy as that!
And let me tell you that its good, its on the sweet side since its made with condensed milk and caramel sauce. So if you want to tame the sweetness, reduce the caramel sauce in half, you can always drizzle some on the ice cream when serving it.
This Haagen Daz Caramel Cone Ice Cream texture is a soft and creamy, with chewy pieces of chocolate sugar cones and sweet caramel.Note that the first day the ice cream will be a little softer than the original. However, as longer as you keep it in the fridge it will harden. Also, its best to consume it in 2 weeks for best taste.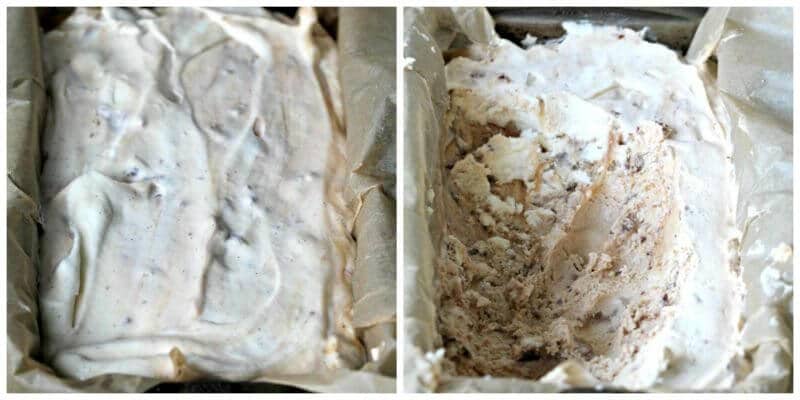 WHY YOU WILL ENJOY THIS STRAWBERRY ICE CREAM:
Firstly, it's creamy and rich in chocolate and caramel, which makes it a show stopper dessert.
Also, it's very easy to make with few ingredients.
Making it at home is cheaper than buying at the store.
It can be made days or weeks in advance and store in the freezer for days to come.
In addition, you can use variation of fruits as the combination is endless.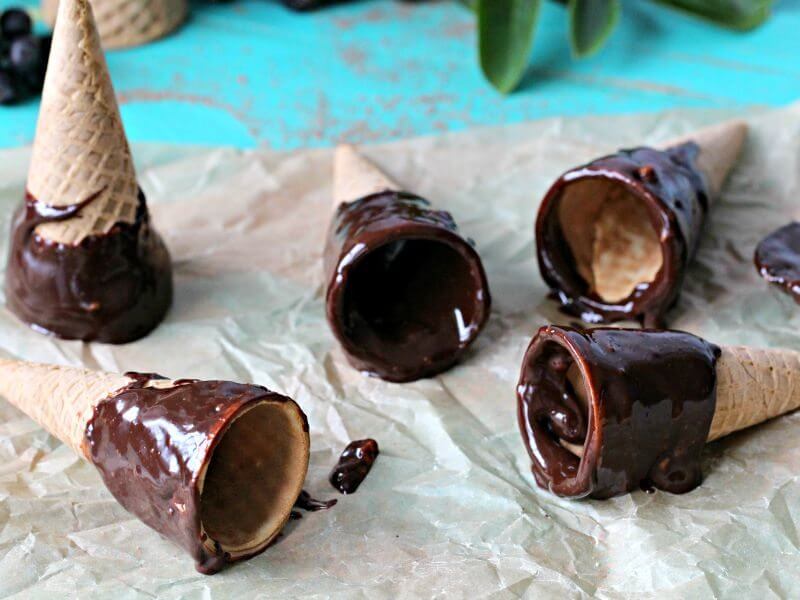 Can I store Ice Cream in the fridge?
To serve ice cream more easily, transfer the container from the freezer to the fridge 10 to 20 minutes before serving. For the best taste, home made ice cream should be eaten within a day or two.
How do you keep ice cream from getting freezer burn?
To prevent the ice cream from taking on the odor of that fish or other products from your freezer, use a container with a tight-fitting lid. For extra security, place a layer of plastic wrap between your ice cream and the lid. Air is also responsible for freezer burn, which desiccates and crystallizes the surface of ice cream.
How do you freeze melted ice cream?
To refreeze thawed ice cream, is recommended only it is slightly melted, and has been kept under proper refrigeration. It is also important that it was not exposed to the outside environment. However, if it was almost melted outside the freezer, then you probably risk your health by eating it.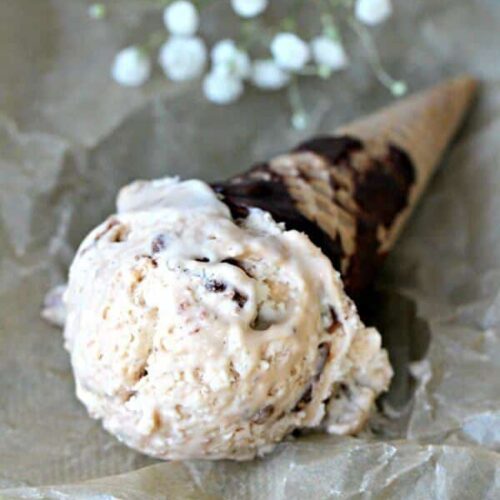 Haagen Daz Caramel Cone Ice Cream
Haagen Daz Caramel Cone Ice Cream is no fuss, no churn and loaded with chocolate sugar cone pieces and homemade caramel.
Save
Share
Print
Pin
Rate
Ingredients
Chocolate Covered Sugar Cones:
4

store bought sugar cones

5

ounces

dark chocolate

(chopped)

5

tablespoons

heavy cream
Homemade Caramel Sauce:
1

cup

granulated sugar

6

tbsps.

unsalted butter

(at room temperature and cut up into pieces)

1/2

cup

heavy cream

1

tsp.

salt
For the Ice Cream:
1

14-ounce

can sweetened condensed milk

3

vanilla beans

2

cups

heavy cream

(cold)
Instructions
Chocolate Covered Sugar Cones:
Place chocolate and heavy cream in a microwave safe bowl, microwave for 30-40 seconds, and stir until all chocolate pieces are melted.

Dip the sugar cones one by one into the melted chocolate and place on parchment paper. Once the chocolate has hardened, crush the cones into small pieces.
Homemade Caramel Sauce:
In a medium sauce pan over medium heat melt sugar until a brownish liquid forms, make sure to stir constantly during this process.

When sugar has completely melted, add the butter and stir until well combined.

Carefully while still stirring add the heavy cream, once all the cream has been added let the mixture boil without stirring for one minute.

Remove from heat, stir in salt, transfer to a mason jar (or any other container) and let it completely cool before adding to the ice cream.
For the Ice Cream:
Pour the condensed milk into a large bowl, cut the vanilla pods into halves and with the tip of a short knife remove the seeds. Add the seeds to the condensed milk and stir with a spatula until combined.

Pour the heavy cream into the mixing bowl an electric mixer (or regular large bowl if using hand mixer). If using an electric mixer, fit it with the whisk attachment and whip the cream until it holds stiff, billowy peaks, about 3 minutes.

Gently mix a scoop of the whipped cream into the condensed milk. Using a spatula, gently fold in the rest of the whipped cream into the bowl with the condensed milk. It will look very lumpy, but as you continue to fold, the mixture will smooth out and become soft and silky. Stop when you see just a few small lumps here and there, making sure not to over-mix.

Fold in the crushed chocolate cones and caramel sauce, don't over mix the caramel sauce, just give it a gentle stir to create some swirls.

Line an 8 inch loaf pan (or freezer container) with parchment paper and transfer the ice cream into it. Smooth the top, and then press a piece of wax paper against the surface to prevent ice crystals from forming.

Freeze for at least six hours, better overnight.

The ice cream can be stored for up to 2 weeks, but will become more firm the longer you let it in the
Nutrition
Calories:
205
kcal
|
Carbohydrates:
23
g
|
Protein:
2
g
|
Fat:
11
g
|
Saturated Fat:
6
g
|
Cholesterol:
18
mg
|
Sodium:
213
mg
|
Potassium:
141
mg
|
Fiber:
1
g
|
Sugar:
19
g
|
Vitamin A:
240
IU
|
Calcium:
65
mg
|
Iron:
1.3
mg
More recipes you might love