Easy Cranberry Stuffing Recipe [Video]
Last updated on June 18th, 2021 at 10:37 pm
Easy Cranberry Stuffing is a festive take on a classic holiday dish. It's loaded with chewy and tart cranberries, wild rice, and crunchy apple bits. Savory with fruity notes, even meat lovers go crazy for this stuffing!
Make your Thanksgiving table extra special this year. This Cheesy Baked Green Beans is the perfect appetizer before the start of the show: the most tender and flavorful Perfect Oven Roasted Turkey. Also, for dessert, don't forget the Sweet Potato Pie!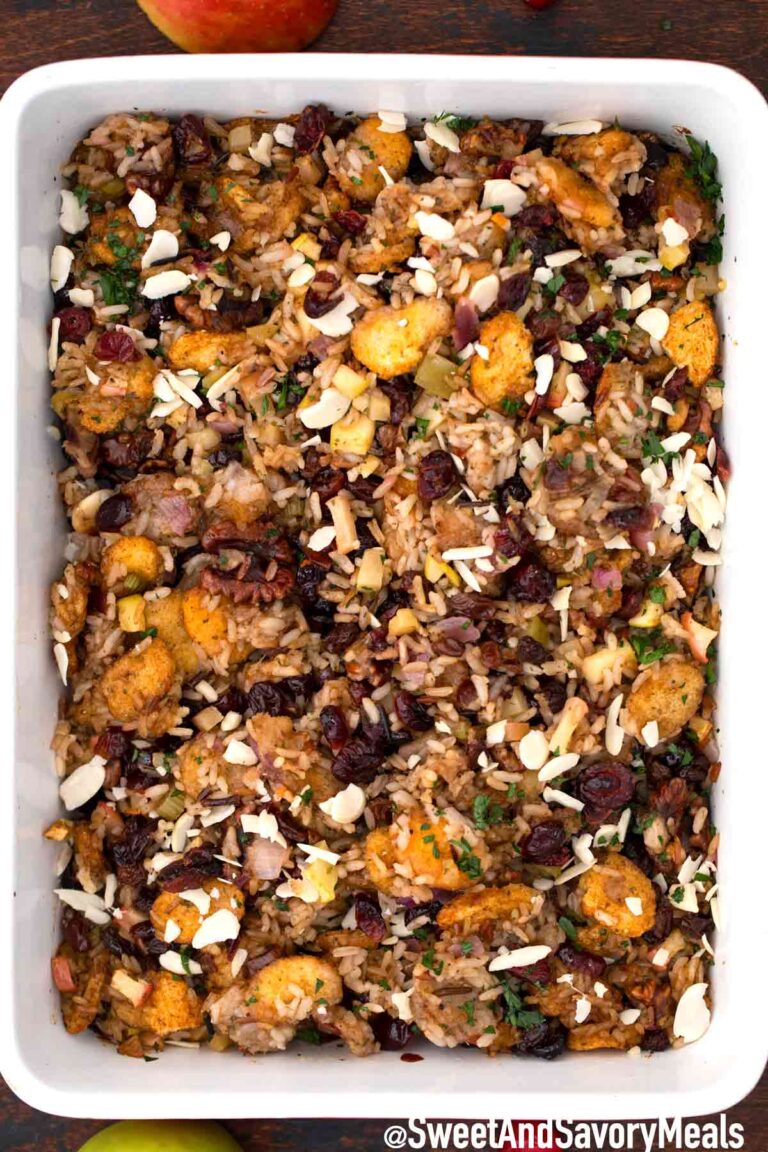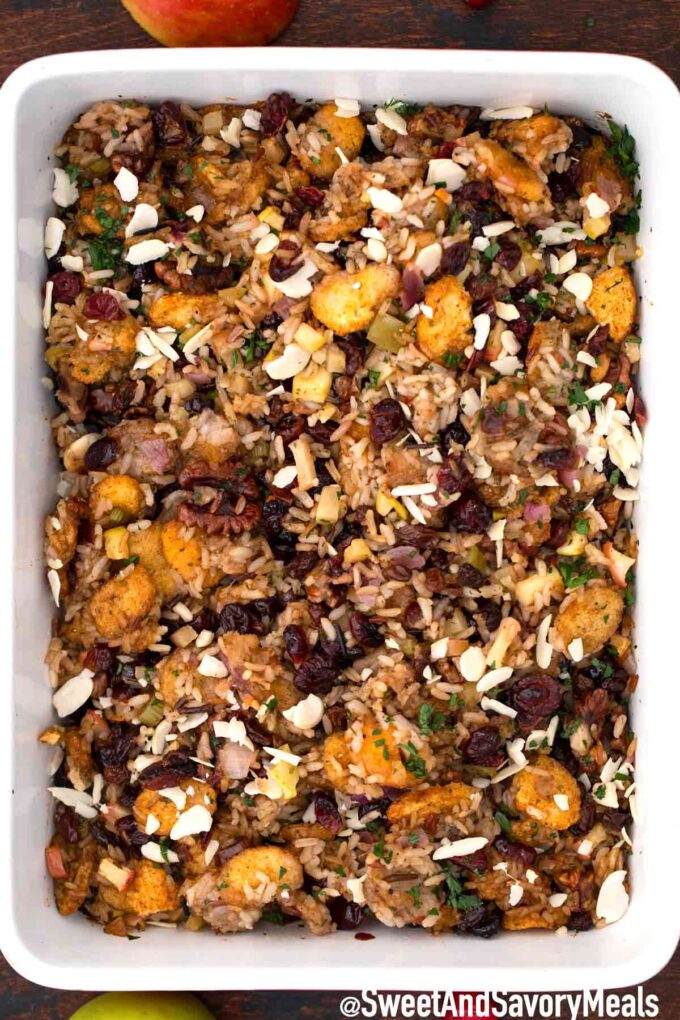 Best Homemade Cranberry Stuffing
Easy Cranberry Stuffing was such a surprise hit the first time I made it. Meats like sausage have always been a staple in this dish, so making a no-meat version was a kind of risk. And boy, did that risk pay off!
Everyone loved the combination of buttery bread cubes dotted with cranberries, apple bits, and bumped up with wild rice and seasonings. The texture is chewy with a sweet-tart flavor, thanks to the dried cranberries.
So this Thanksgiving, why not make cranberry stuffing for a lovely fruity variation on what's otherwise a completely classic recipe.
Aside from tasting amazing, this recipe is also a godsend during the holiday cooking rush. There's no complicated step, just sauté and bake. It also freezes and reheats well so you can make it ahead of time.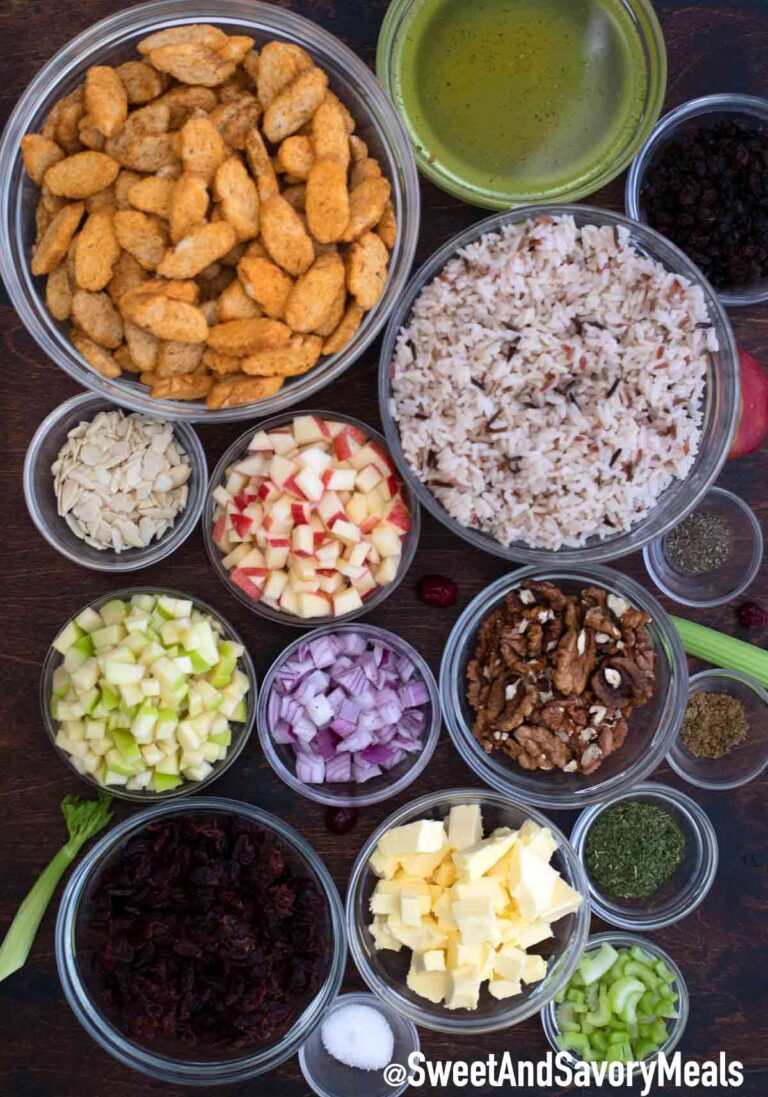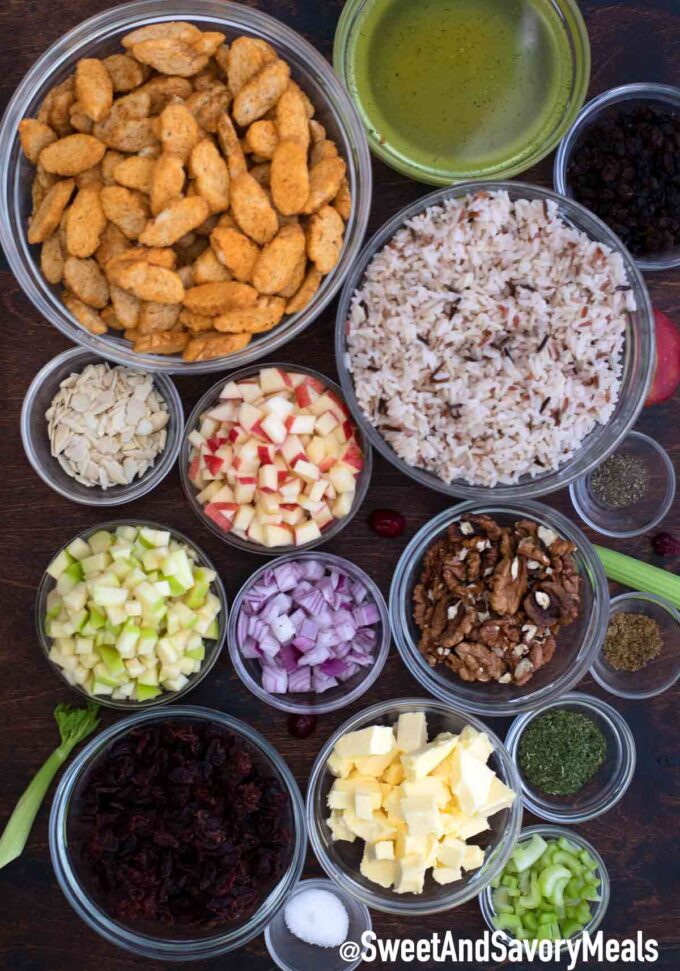 Cranberry stuffing ingredients:
Prepare around 12 cups of bread cubes, seasoned. For the fruits, you'll need dried cranberries and chopped apples.
Cooked wild rice bulks up the dish further. Or, you could use regular white or brown rice.
As for the seasonings, you need the usual salt and pepper plus poultry seasoning and parsley flakes. Celery and onion are the main aromatics that will be sauteed in butter. Get some chicken broth ready as well.
How to make Cranberry Stuffing?
Get the oven ready for baking. Preheat it to 350F.
Sauté. Melt butter in a 6-qt. stockpot and sauté the celery and onion. Then, add the rest of your ingredient including the seasonings, and toss together. Pour just enough broth to reach your preferred moistness
Bake. Next, transfer the mixture to a baking dish coated with non-stick spray. Bake for 30 minutes covered,. Then, uncover, and bake until lightly browned for another 10 to 15 minutes.
Serve. Garnish with more dried parsley flakes, and serve warm.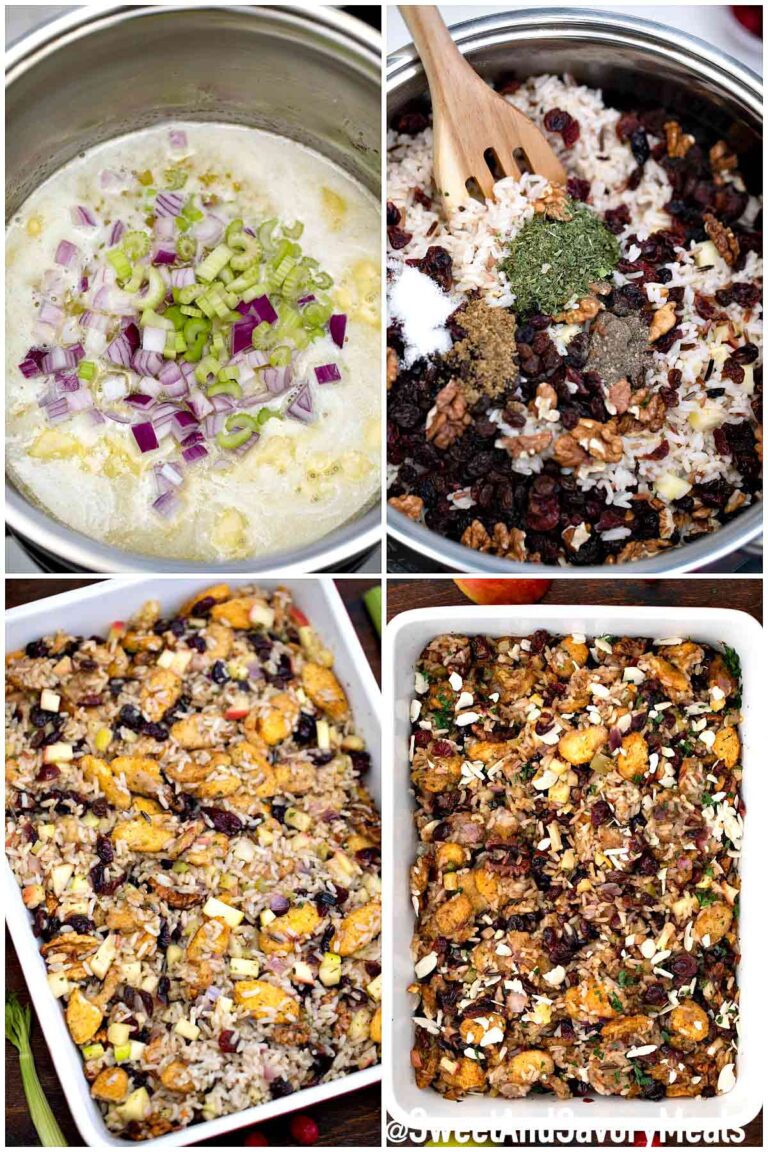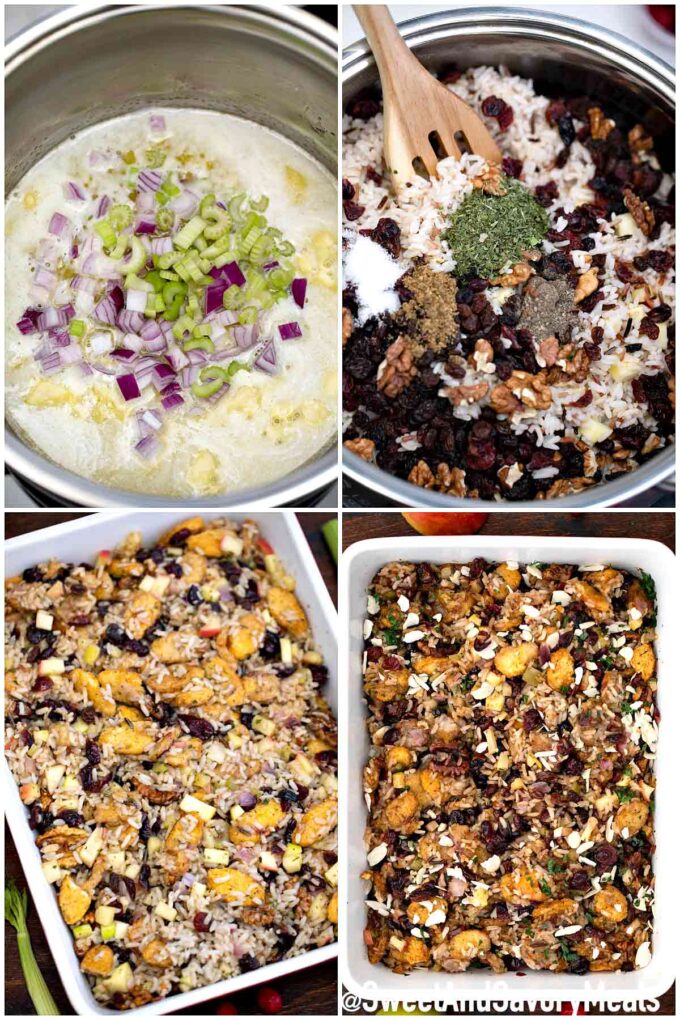 Cranberry stuffing variations and substitutions:
The basic savory-sweet profile of this dish is incredibly versatile! Feel free to swap out ingredients according to your taste. Here are a few delicious variations:
Add meat: Great with crumbled up Italian sausage, bacon, seasoned ground beef, chicken, turkey, or ham cubes.
Substitute with other bread: Feel free to use other bread variety. Sourdough boule, beer bread, Irish soda bread, and whole wheat bread is a great alternative.
Use other fruits: Also, try using pineapple chunks, raisins, grapes, or any of your favorite fruits.
Try other herbs and spices: Use ginger, rosemary, sage, red pepper flakes, and other flavorings to taste.
Make it vegan: Swap out the butter with a vegan alternative and use vegetable broth and veggie seasoning.
Can I use fresh cranberries for stuffing?
I love the chewiness that dried cranberries add to this dish, but yes, you can absolutely use fresh. Just make sure to drain well before using to eliminate excess moisture.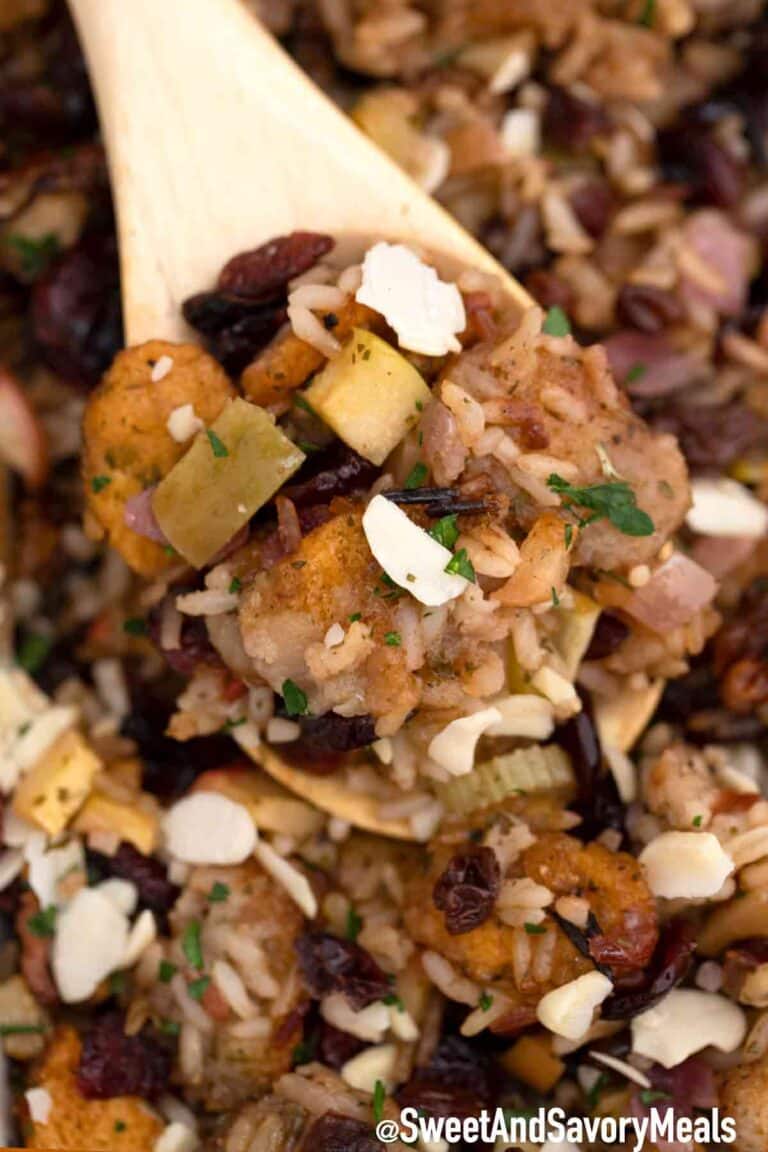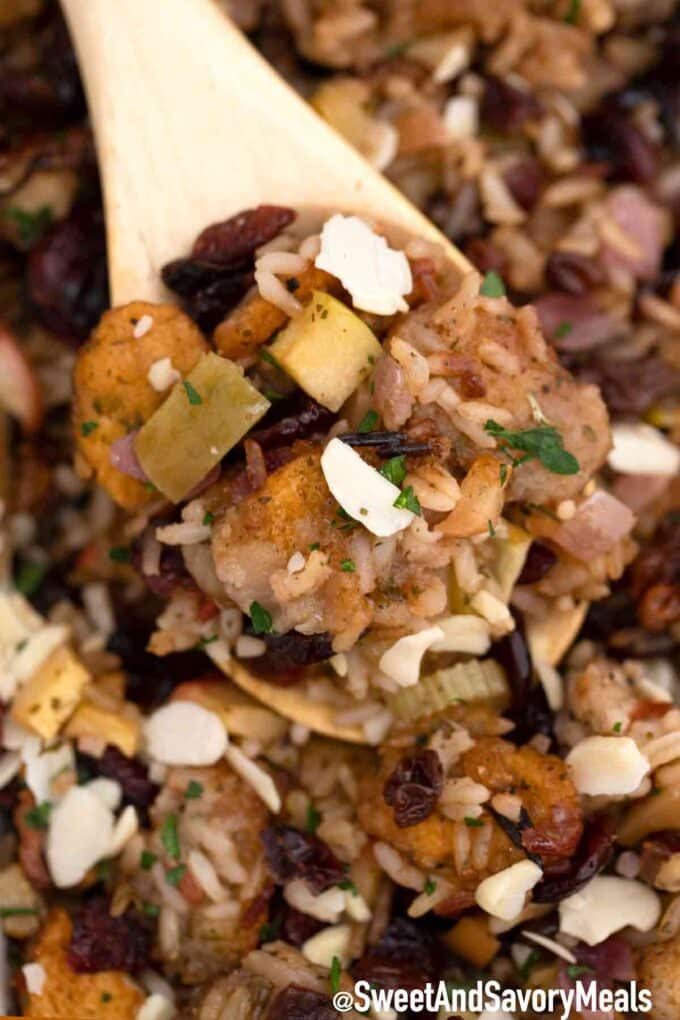 What to serve with homemade cranberry stuffing?
Anything you'd serve during the holidays, really! For mains, it goes well with Slow Cooker Pineapple Ham, the Perfect Dry Brined Turkey, and this easy Instant Pot Red Wine Beef Roast.
If you're looking for other side dishes, try it with Instant Pot Mashed Sweet Potatoes and Cheesy Broccoli Casserole.
Storing instructions:
Cooked stuffing can be kept in the fridge for up to 4 days and up to 1 month frozen. Ensure to cool it down first, then store in air-tight containers.
To heat, moisten with some broth and melted butter. Follow the steps for different reheating methods:
On the stovetop: heat oil or butter in a pan, then add the stuffing. Flatten like a pancake and cook each side until golden brown.
In the microwave: use a microwave-safe dish. Then, microwave for up to 3 minutes, stirring every minute for even heating.
In a baking dish: heat oven up to 350F. Place the stuffing in an aluminum-covered dish. Bake for 30 minutes uncovered, then uncovered for 10 to 15 minutes.
In a muffin tin: this method is great for individual servings! Scoop stuffing into a greased muffin tin. Bake at 350F until hot.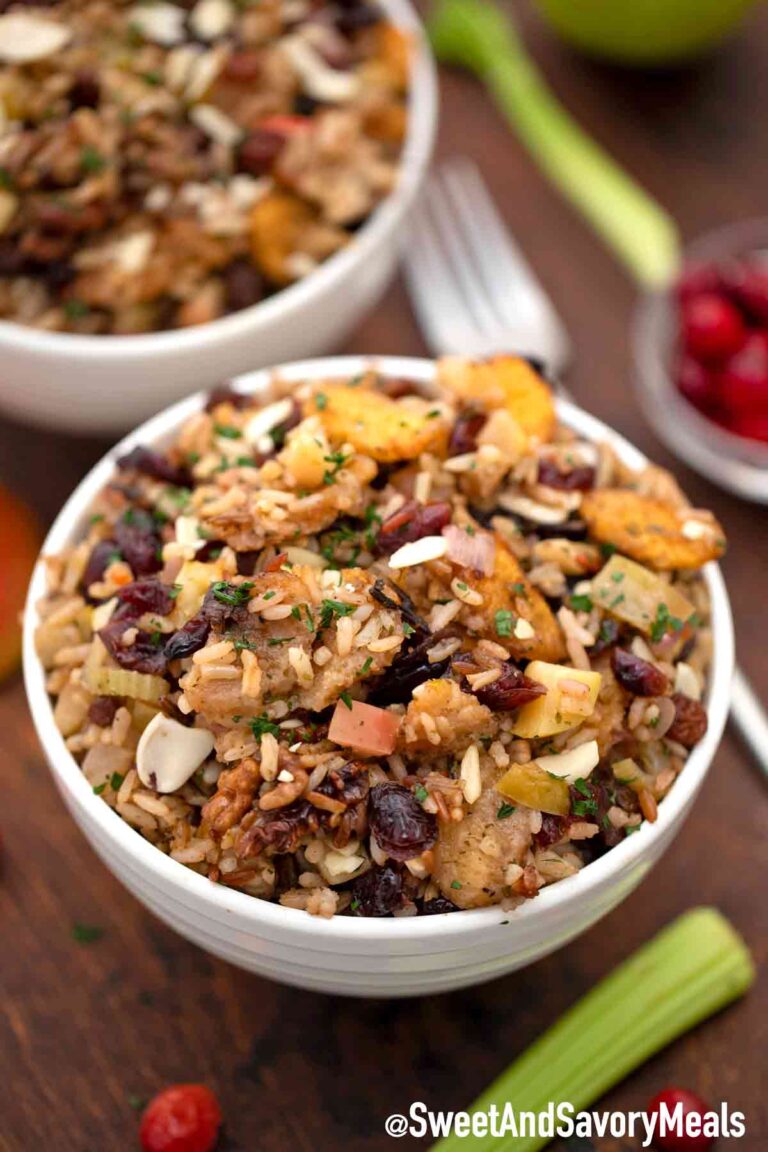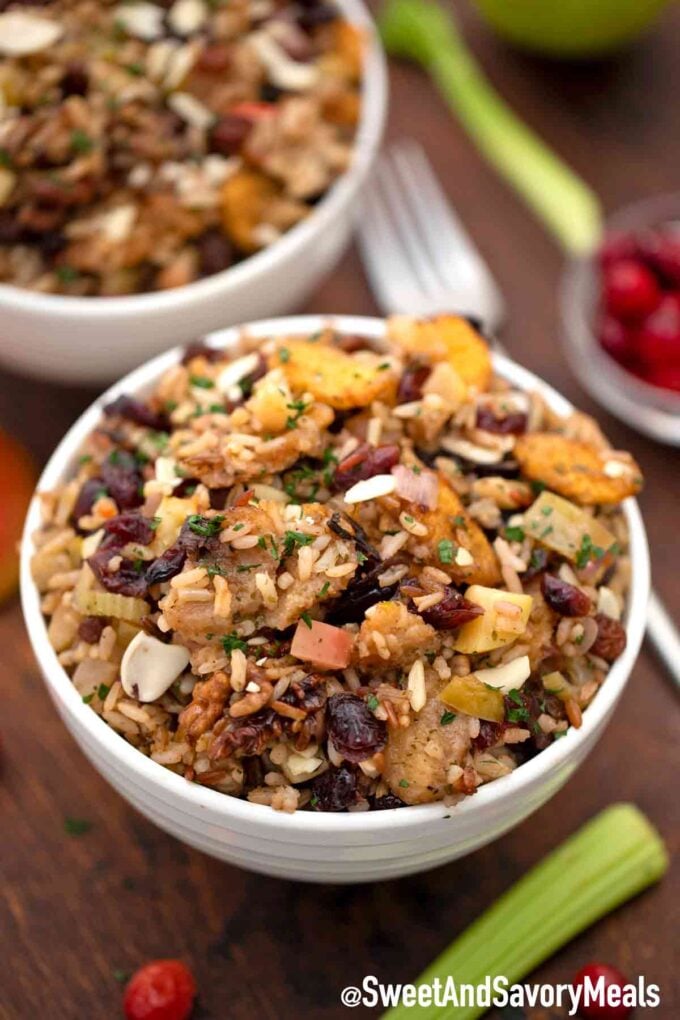 More cranberry recipes:
Recipe tips:
Pay attention to how much broth you're pouring in. You can less or more than the amount in the recipe. Use only until the texture is moist enough for your taste.
Also, feel free to use your favorite apples. Any kind will work, but go with what you like the most.
If using other types of bread, tear into pieces and keep them out for a day or two for better structure.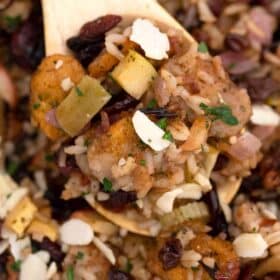 Easy Cranberry Stuffing
Easy Cranberry Stuffing is a festive take on a classic holiday dish. It's loaded with chewy and tart cranberries, wild rice, and crunchy apple bits.
Save
Share
Print
Pin
Rate
Ingredients
1/2

cup

butter

(cubed)

1

small red onion

(diced)

1

celery rib

(chopped)

12

cups

seasoned stuffing cubes

1

green apple

(finely chopped)

1

red apple

(finely chopped)

2

cups

cooked wild rice

(or wild rice mix)

1 1/2

cups

dried cranberries

1/2

cup

dried raisins

1

cup

pecans

(roughly chopped)

2

teaspoons

dried parsley

1

teaspoon

poultry seasoning

1

teaspoon

salt

1/2

teaspoon

pepper

1 1/2 to 2

cups

chicken broth or veggie broth

1/4

cup

slivered almonds
Instructions
Preheat oven to 350 degrees F.

In a large stockpot or Dutch oven, melt butter over medium heat.

Add onion and celery and cook and stiring for 4-5 minutes or until tender.

Add stuffing cubes, green and red apple, dry rice, cranberries, raisins, pecans and seasonings, toss to combine. Stir in enough broth to reach desired moistness.

Transfer to a greased 9x13 inch baking dish, cover with aluminum foil. Bake for 30 minutes. Uncover and bake for 10-15 minutes longer or until lightly browned.

Garnish with slivered almonds and serve.
Nutrition
Calories:
612
kcal
|
Carbohydrates:
98
g
|
Protein:
13
g
|
Fat:
43
g
|
Saturated Fat:
8
g
|
Sodium:
1672
mg
|
Potassium:
475
mg
|
Fiber:
13
g
|
Sugar:
24
g
|
Vitamin A:
1320
IU
|
Vitamin C:
3
mg
|
Calcium:
118
mg
|
Iron:
4
mg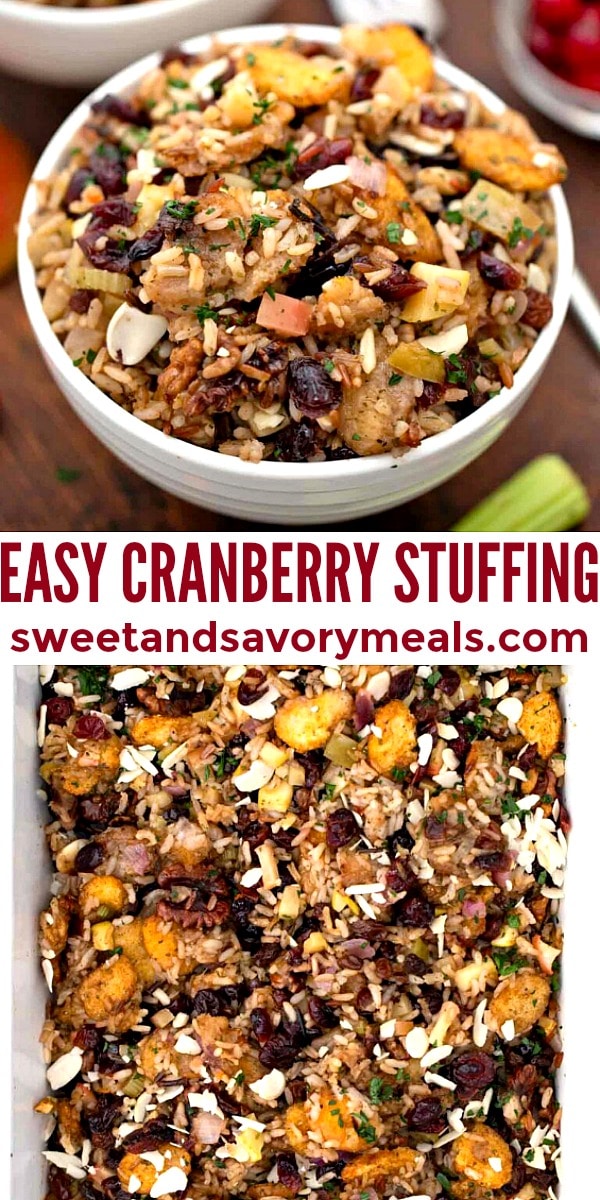 More recipes you might love