Millionaire Cranberry Salad [Video]
Millionaire Cranberry Salad is a sweet and tart combination of vanilla, juicy pineapple, mini marshmallows, coconut flakes, and homemade cranberry sauce. This salad is the perfect side dish or dessert salad for the holiday season, celebrations, or any dinner. You can also have this creamy cranberry salad as an afterschool snack or treat anytime.
Looking for more delicious recipes? Our sweet Apple Snickers Salad has the creaminess of vanilla pudding and cream cheese with snickers candy and caramel sauce. Or you may like this Creamy Grape Salad made from black, green, and red grapes mixed with brown sugar, cream cheese, and sour cream.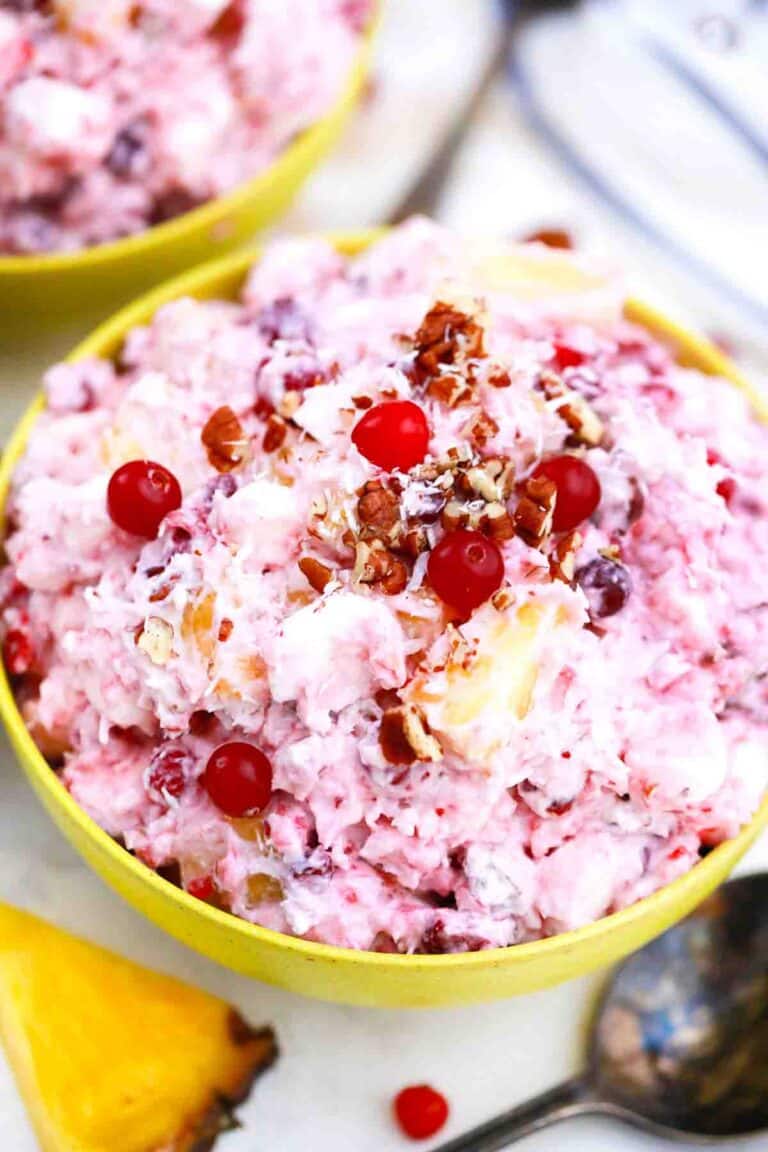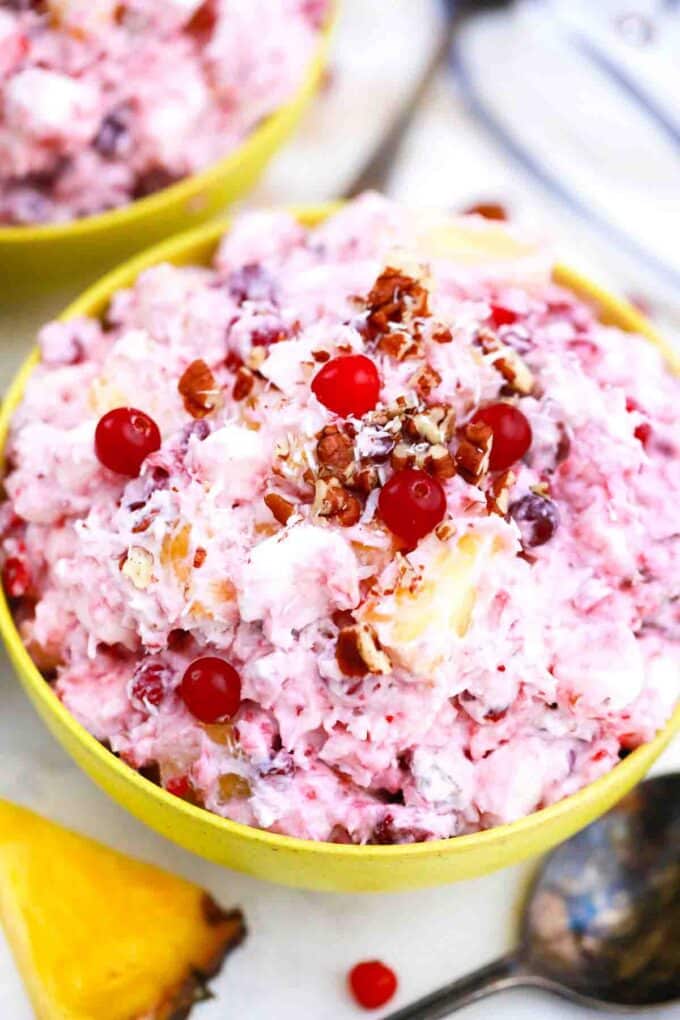 Cranberries became a part of the Thanksgiving holiday meals way before the first dinner in 1621. In fact, Native Americans used cranberries for food as well as other things for centuries.
They often used them to dye their clothing, blankets, and rugs. Some experts say they started enjoying cranberries with deer meat and mashed berries to make what they called pemmican, a trusted health food.
If you are a fan of Ambrosia salad, you are going to love this cranberry millionaire salad. The fruity flavors and creamy yogurt sauce are the perfect combinations of sweet and tangy. Your entire family will be asking for seconds with the mixture of pineapples, cranberries, orange juice, and coconut topped with crunchy pecans.
The flavors of this salad scream autumn. The cinnamon enhances the tartness of the berries and the citrus is the perfect complement. My favorite part is the play of different textures in this dish. I like the combination of the softness of the marshmallows and the crunchiness of the nuts.
With all the things that you need to prepare for a celebration, it is nice to know that easy side dishes like this one are possible. The hardest part is to wait for it to chill, but it is necessary to let the flavors distribute so be sure to have enough room in your fridge.
If you want other side dish cuisine, we have plenty. This easy cranberry stuffing is incredible, made from green apples, wild rice, and dried cranberries. And our creamy instant pot mac and cheese is filled with ooey gooey cheesiness just like grandma used to make, but better!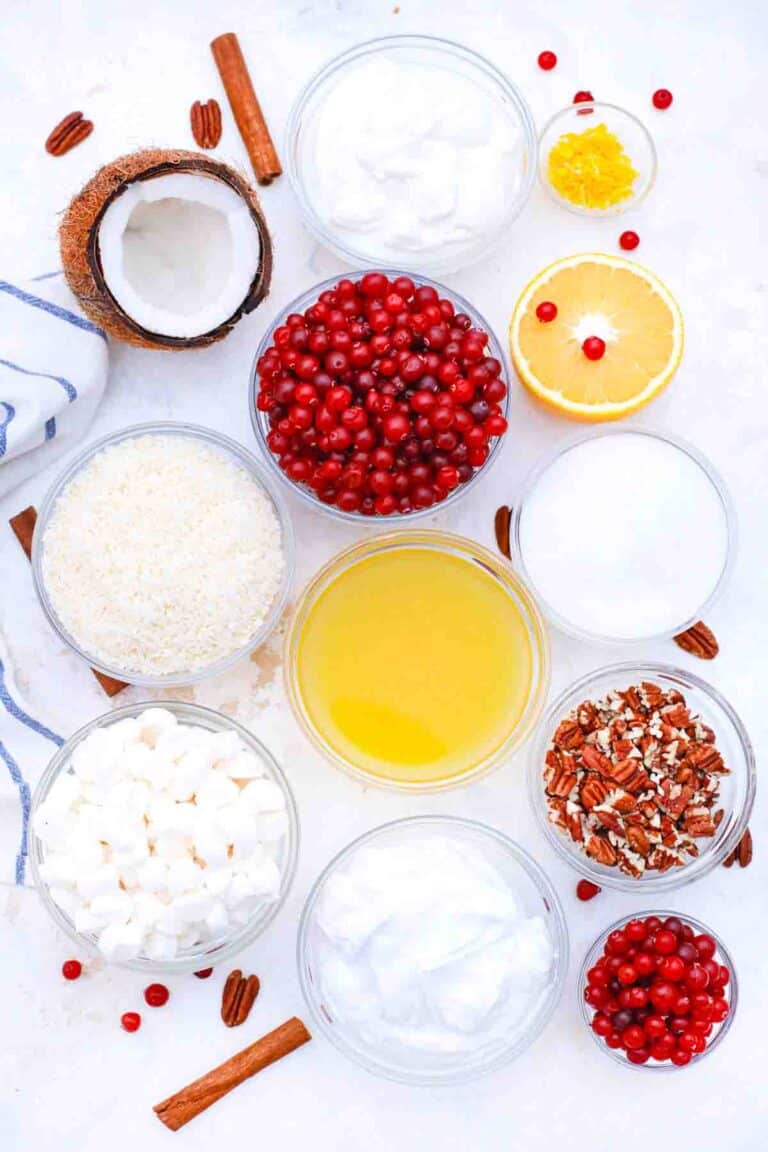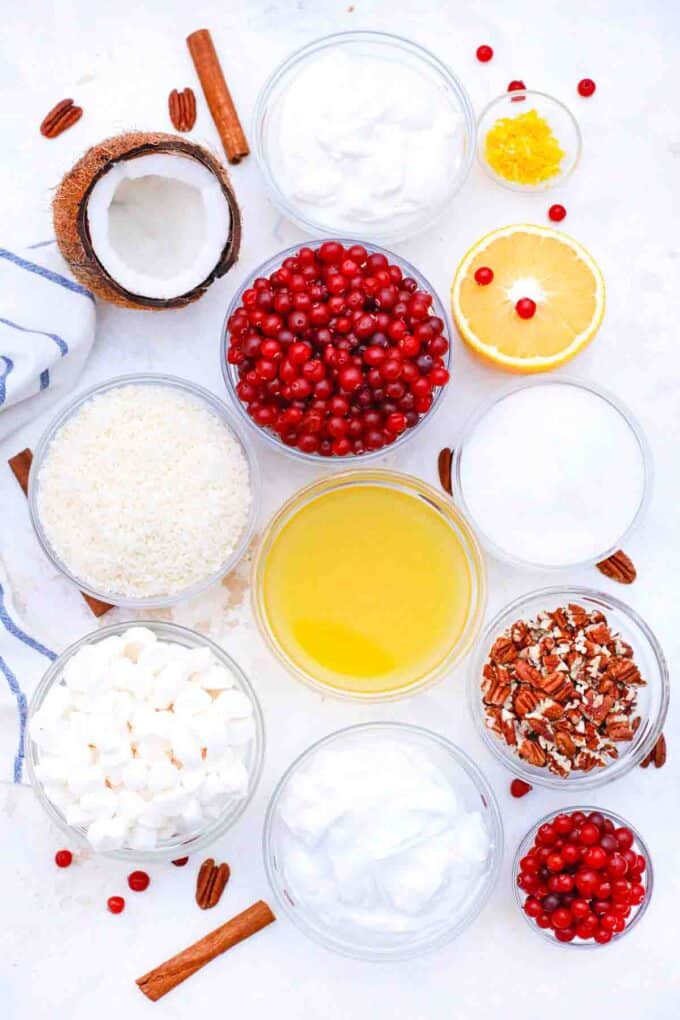 Ingredients needed:
All you need for this millionaire cranberry salad recipe are these simple ingredients. When you are ready to begin making it, scroll down to our recipe card at the bottom of the page where you will find the measurements and instructions:
Salad ingredients:
Vanilla greek yogurt
Whipped cream
Pineapple tidbits: Drained well.

Mini marshmallows
Chopped pecans
Sweetened flaked coconut
Cranberry sauce ingredients:
Fresh cranberries
White granulated sugar
Orange zest
Orange juice
Cinnamon sticks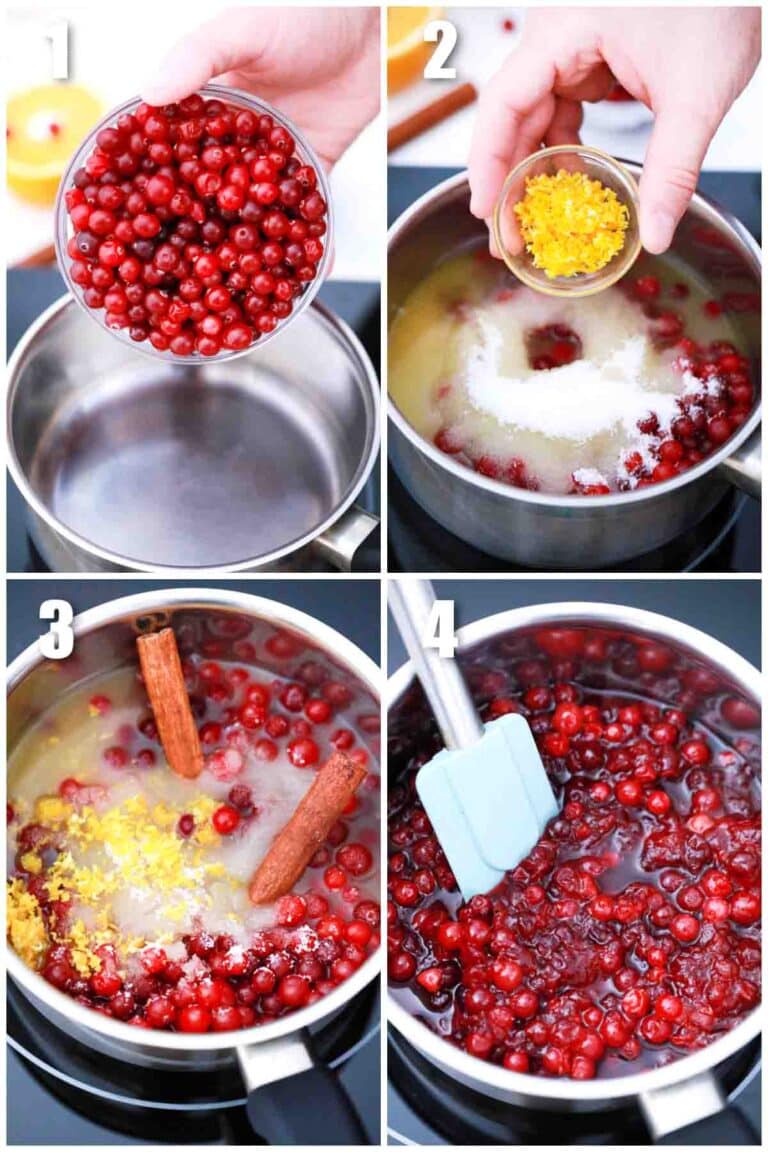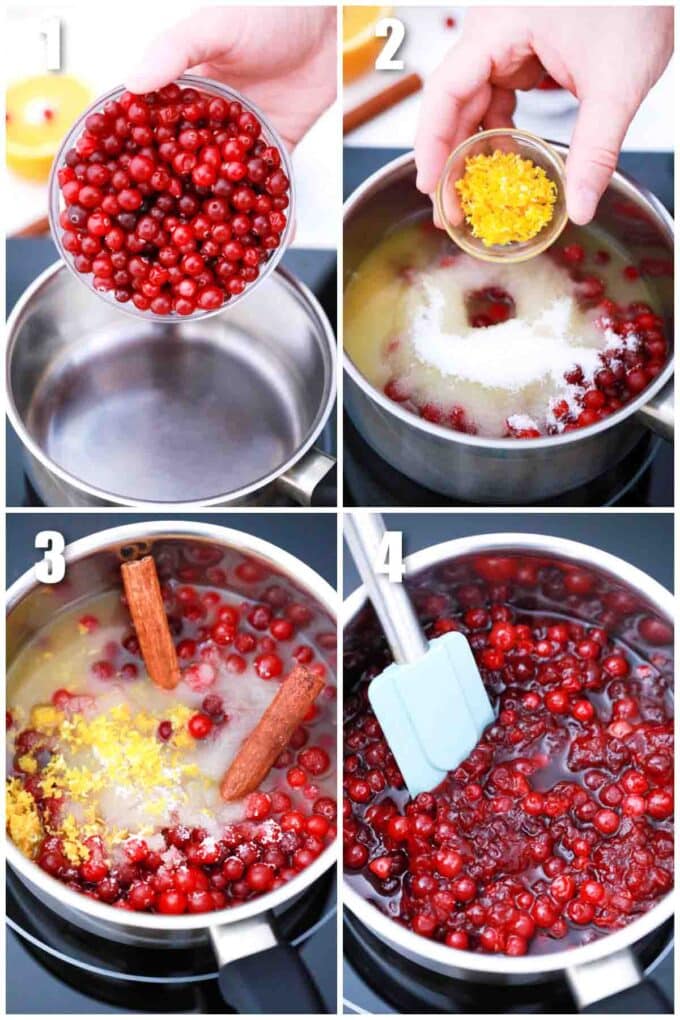 How to make millionaire cranberry salad from scratch?
Bring to a boil: To begin, combine cranberries, sugar, orange juice, orange zest, and cinnamon sticks in a medium saucepan over medium heat until it comes to a boil. Reduce heat and let it simmer for 10 minutes.

Cool the cranberry mixture: Next, remove the cranberry mixture from the stove and let it cool completely. It will thicken upon cooling.
Mix other ingredients: Now, add all the ingredients for the salad in a large bowl.

Add the cranberries: After, add one and a half cups of cooled cranberry mixture to the bowl of salad ingredients and stir. Add more sauce as needed.

Chill the salad: Lastly, refrigerate your cranberry millionaire salad for at least four hours.

Top and serve: Finally, top with chopped pecans before serving after it is properly chilled.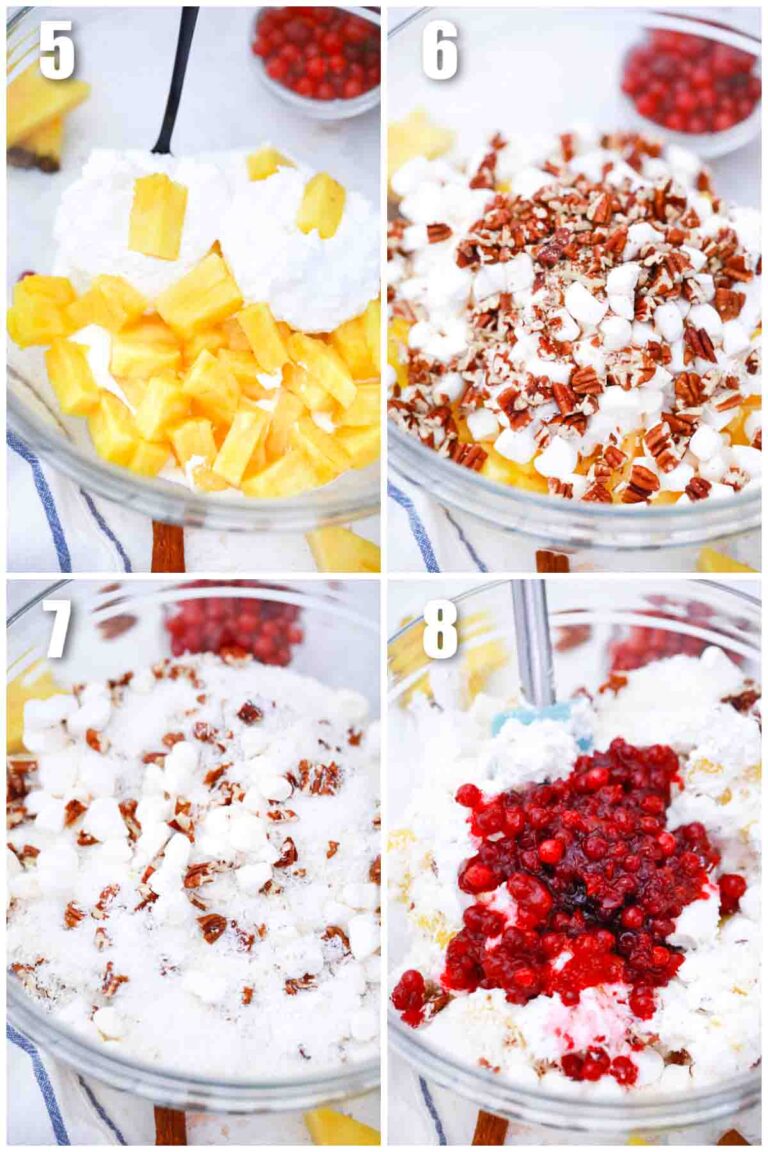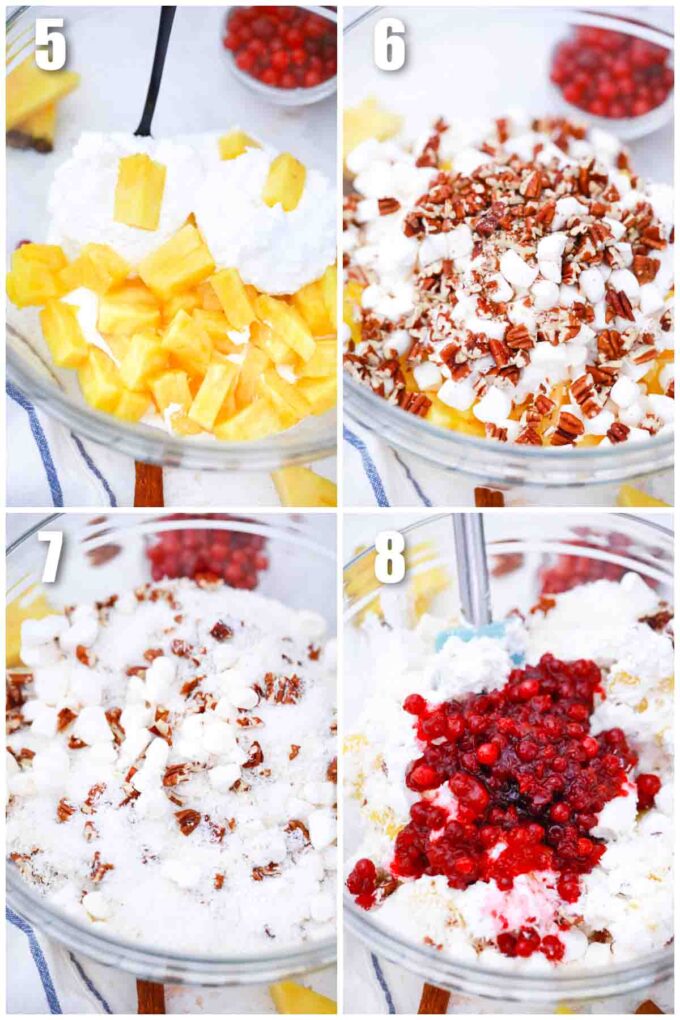 Recipe variations:
Other nuts: You can use chopped walnuts or peanuts instead of pecans.
Frozen cranberries: Frozen or canned cranberries are fine instead of fresh cranberries.
Leftovers: In fact, you can use leftover cranberry sauce from your turkey dinner for this recipe.

More fruit: Add other fruit like strawberries, blueberries, pears, grapes, or mandarin oranges.

Add veggies: Toss in some of your favorite vegetables like broccoli, bell pepper, and chopped carrots.

More creaminess: If you want a thicker creaminess, use cream cheese instead of yogurt.

Spicy sweet: Even sweetness needs some spice. Give this salad a sprinkle of red pepper flakes for some spiciness.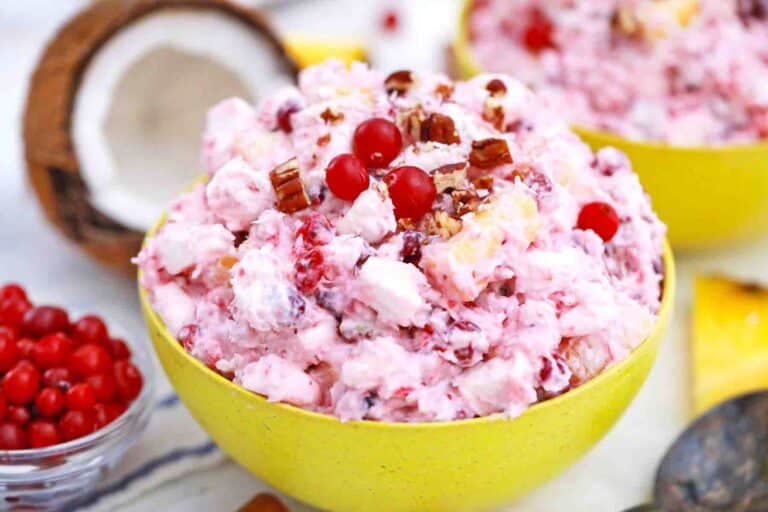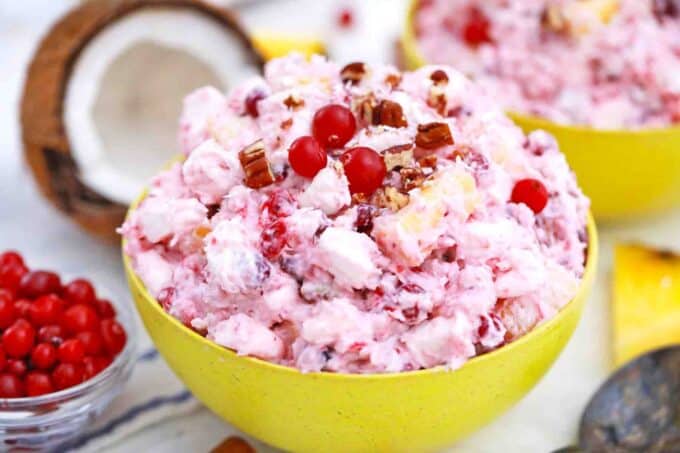 How to serve:
Serve this with your holiday dinner, family celebration, or just any night of the week. Try one of these awesome serving ideas or share some of your own suggestions in the comments section at the bottom of the page.
Top this delicious salad with a scoop of vanilla ice cream for a better dessert dish.

You can use our recipe for homemade whipped cream in this yummy salad for extra freshness.
Add powdered sugar on top just before serving for a blast of sweet flavor.

To make this salad a meal, add some kind of meat like chicken, turkey, or ham.
Use leftovers to make a new kind of fruit salad. Just add in whatever fruit and veggies you like.

Chocolate lovers would appreciate a dollop of our easy chocolate mousse on top.

Sprinkle some dried cranberries or raisins on top to give your salad extra flavor.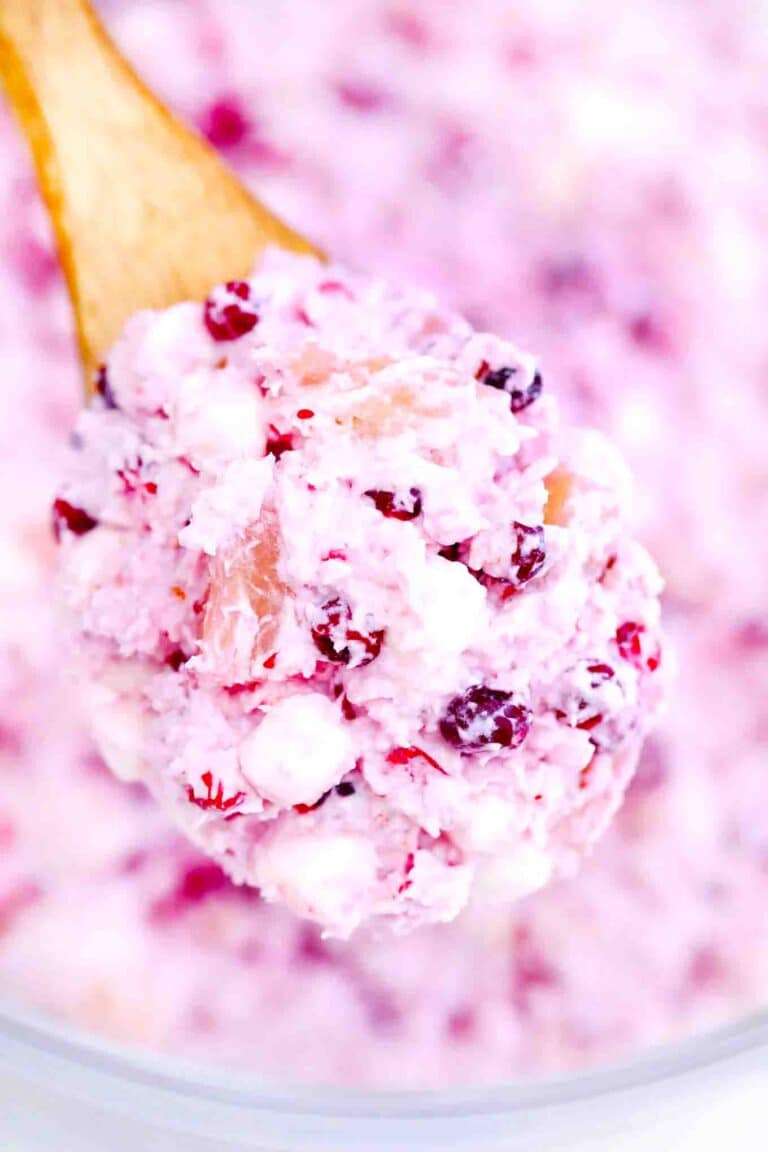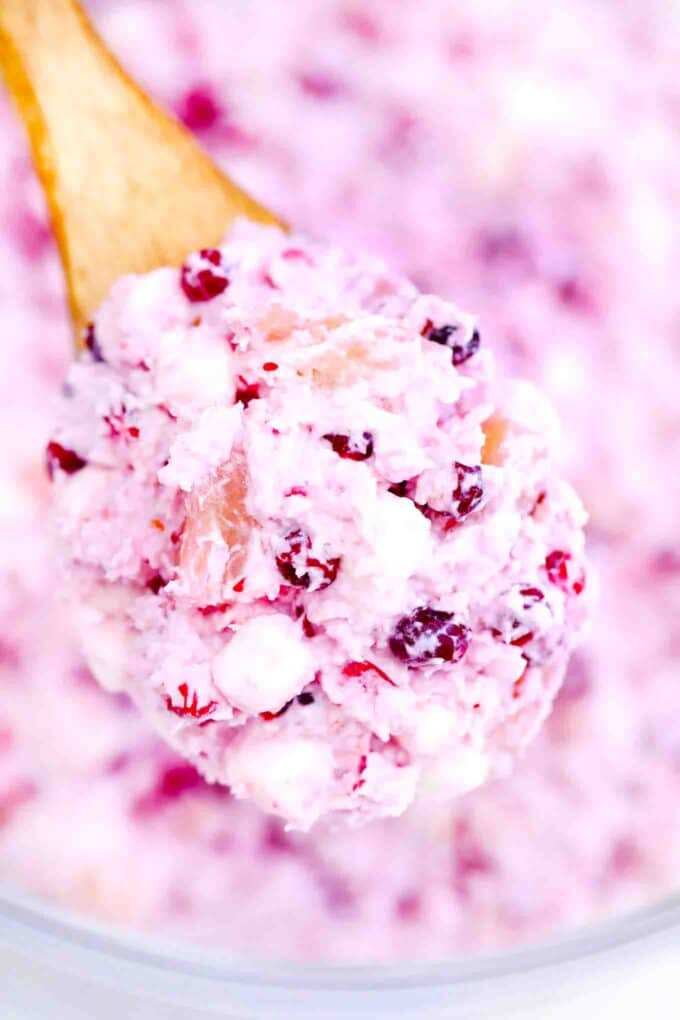 Frequently asked questions
Is this a dessert, a salad, or a side dish?
Actually, you can serve this millionaire cranberry salad for any of these. It is sweet enough to be a dessert salad anytime. But it is also healthy enough with all the fruits to be an actual salad. And it makes the perfect side dish for any meal. It can be altered to be more savory by adding vegetables or made even sweeter with more fruit or sauce.
Why do they soak cranberries in water in the winter?
Cranberry growers keep cranberries in water to keep them from freezing during the winter or overheating during the summer. They call this flooding the cranberry bog. It is important to let the cranberries continue to ripen outside but protect them from the frost and cold winds of winter. It also protects the vines from what they call winterkill, which is when the vines die from cold weather.
What is the harvest flood?
Also, during cranberry cultivation and harvest, 90% of the crop is flooded. This process includes covering the bogs with up to 12 inches of water after the cranberries are nicely colored and the hot summer weather is over. The water is recycled through the bogs to save water and can even be shared with other growers.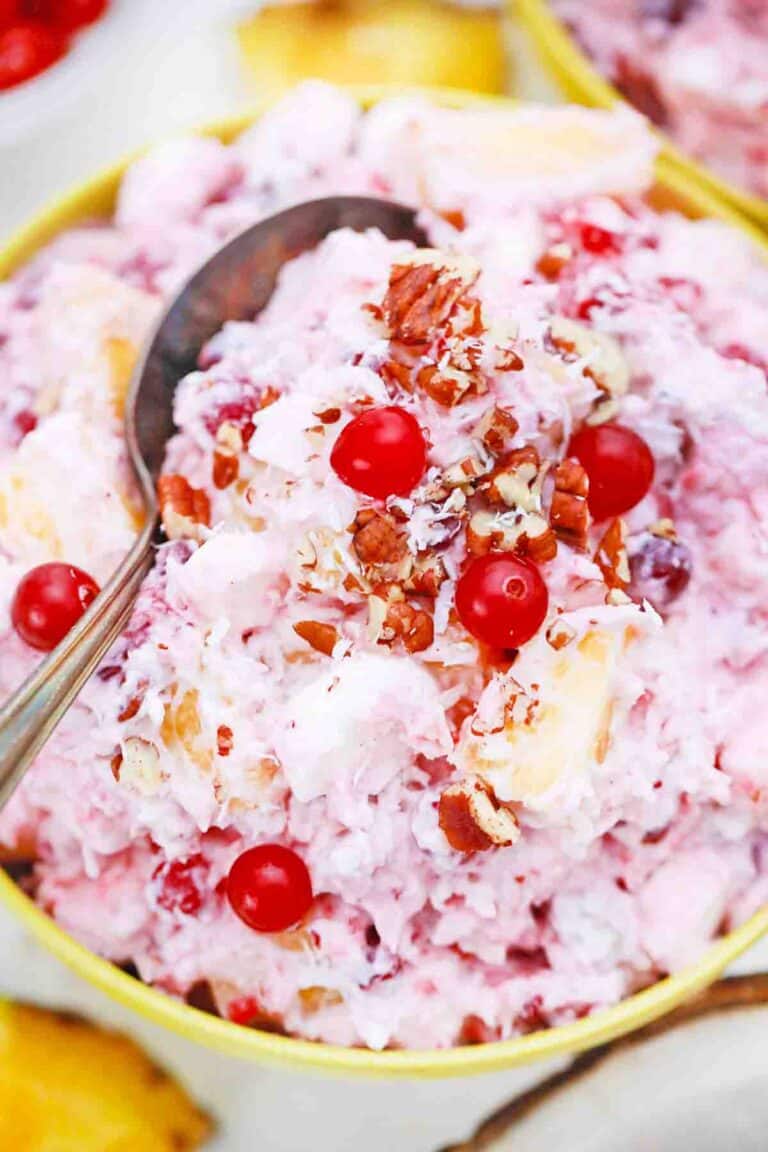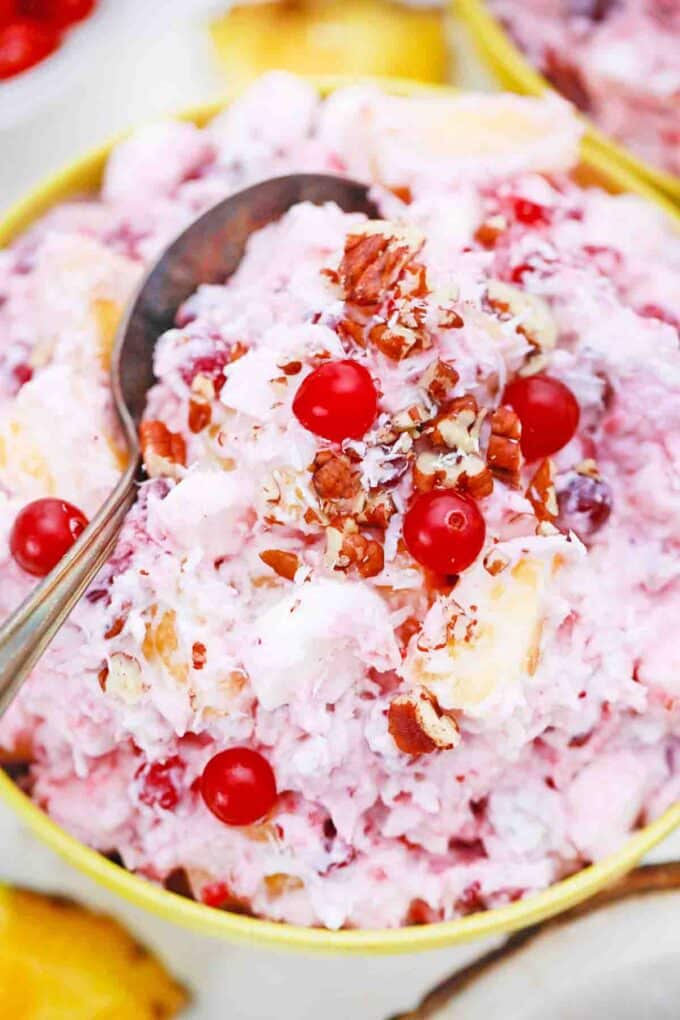 What are the nutrition facts in this recipe?
Each serving of this salad has 447 calories, 89 grams of carbs, and 21 grams of fat with 10 grams of saturated fat. It also has 24 milligrams of cholesterol, 120 milligrams of sodium, and 75 grams of sugar. But you also get 7 grams of protein, 542 milligrams of potassium, 8 grams of fiber, and 414 units of vitamin A as well as 36 milligrams of vitamin C, 165 milligrams of calcium, and 1 milligram of iron.
How to store leftovers:
Store: Your leftover millionaire cranberry salad can be kept in the fridge in an airtight container for up to a week.

Freeze: Freezing is not a great idea unless you freeze the sauce separately. Put the fruit in a freezer bag and the sauce in a freezer-safe container for up to a month.

Thaw: For the best flavor and texture, thaw your leftovers in the fridge overnight before using.
More sweet salads:
Recipe tips:
Shorten prep time by using leftovers instead of making your own cranberry sauce.

You can also save time by using a food processor to chop your cranberries and pecans.

Feel free to use Cool Whip instead of whipped cream.
You do not have to use vanilla. You can use plain greek yogurt.

The nuts can be left out completely if you do not like nuts. If you want something crunchy, use granola.

Enhance the flavor of pecans or walnuts by roasting them first.

Keep your salad delicious by using the highest quality fruit and other ingredients. Organic fruits are the best choice.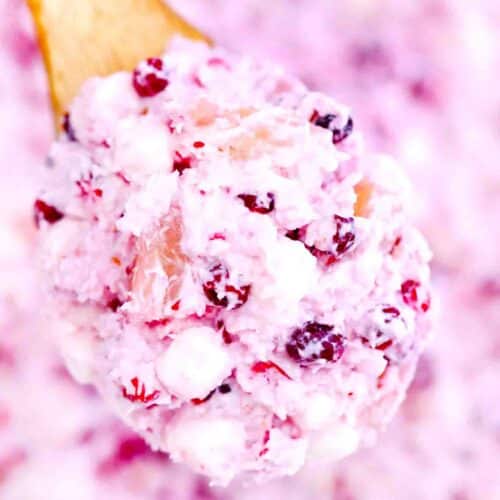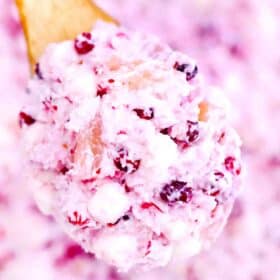 Millionaire Cranberry Salad
Millionaire Cranberry Salad is a sweet and tart combination of juicy pineapple, mini marshmallows, coconut flakes, and cranberry sauce.
Save
Share
Print
Pin
Rate
Servings:
8
side servings
Ingredients
Salad:
2

cups

vanilla yogurt

1

cup

whipped cream

2

cups

pineapple tidbits

(well-drained)

2

cups

mini marshmallows

1

cup

pecans

(chopped - or walnuts)

2

cups

sweetened flaked coconut
Cranberry Sauce - or use leftover sauce:
4

cups

cranberries

(fresh or frozen)

1

cup

white sugar

1

cup

orange juice

Zest 1 orange

2

cinnamon sticks
Instructions
In a medium saucepan over medium heat, combine cranberries, sugar, orange juice, orange zest, and cinnamon sticks. Bring to a boil, reduce heat and let it simmer for 10 minutes.

Remove from the stove and cool the sauce completely, it will thicken upon cooling.

Add all the SALAD ingredients to a large bowl.

Add 1 1/2 cups of the cooled cranberry sauce to the bowl with the salad ingredients and stir well. If needed add more sauce.

Refrigerate for 4 hours or overnight before serving.

Garnish with chopped nuts and serve.
Nutrition
Calories:
447
kcal
|
Carbohydrates:
89
g
|
Protein:
7
g
|
Fat:
21
g
|
Saturated Fat:
10
g
|
Cholesterol:
24
mg
|
Sodium:
120
mg
|
Potassium:
542
mg
|
Fiber:
8
g
|
Sugar:
75
g
|
Vitamin A:
414
IU
|
Vitamin C:
36
mg
|
Calcium:
165
mg
|
Iron:
1
mg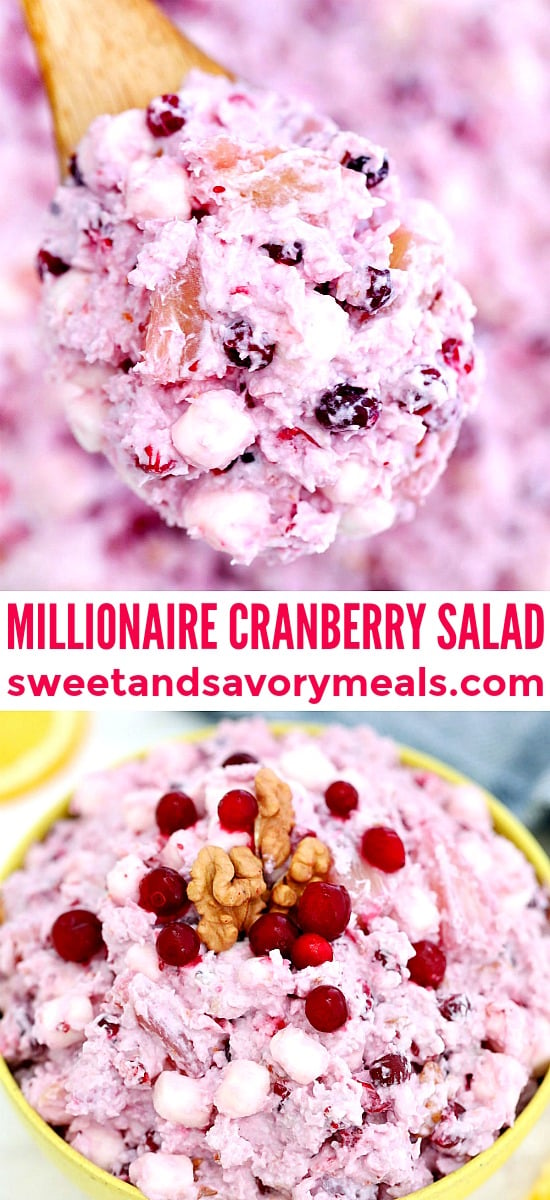 More recipes you might love