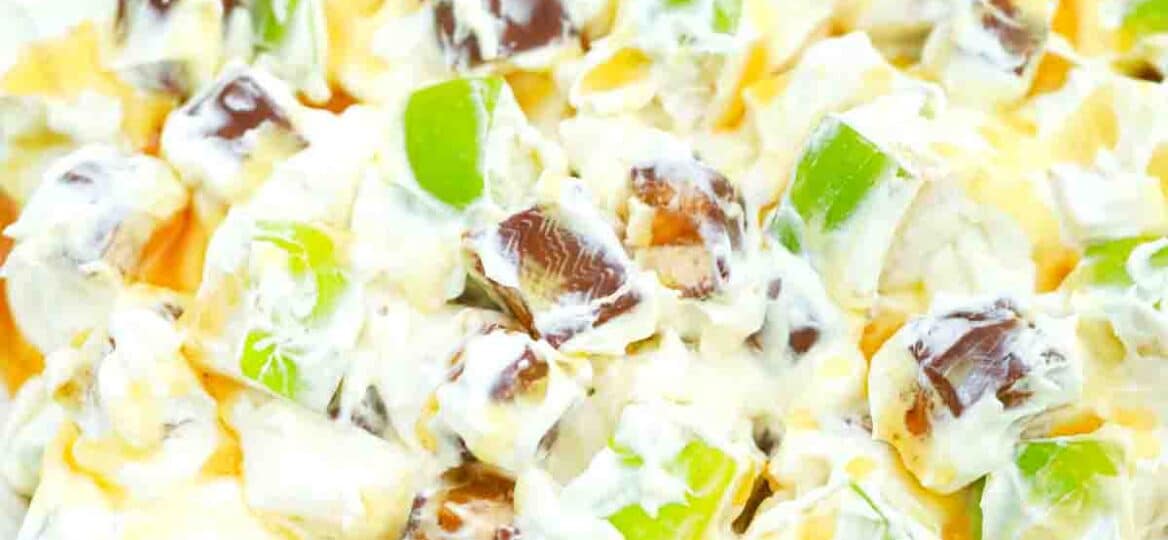 Apple Snickers Salad Recipe [Video]
Apple Snickers Salad is made of fresh apples, chewy and sweet Snickers candy bars, coated in cool whipped cream, and caramel sauce. We call it absolutely delicious! It is a dessert salad that will have everyone begging for seconds.
For something even sweeter, our Oreo Brownies made with chocolate cookies and cocoa powder are delicious. How about a recipe with only one ingredient? If you have a can of sweetened condensed milk, you can make this amazing Instant Pot Dulce de Leche.
Have you ever wondered who started the caramel apple idea? Well, it actually began with red candy apples in 1908. William Kolb, a candy maker from Newark, New Jersey dipped some apples in melted cinnamon candy and people loved them.
But the caramel apple began sometime in the 1950s when Dan Walker, who worked for Kraft Foods, was trying to figure out what to do with leftover caramels and apples. He melted the caramels and dropped an apple in the pot, and the rest is history.
Snickers caramel apple salad is a wonderful dessert salad for fall, especially around Halloween. Serve this at your next Halloween party or Thanksgiving dinner. Apple picking season is right around that time so you can even get fresh apples if you have an apple orchard nearby.
If you love this Snickers apple salad made with tart granny smith apples, try it with other types of apples like fuji or golden delicious. If you have any leftover apples and you are looking for other apple recipes, try making this slow cooker apple butter recipe flavored with apple cider, brown sugar, and cinnamon.
Another fruity delight is this chocolate-dipped candied lemon recipe. All you need is a couple of lemons, sugar, vanilla, and dark chocolate.
Ingredients needed:
Who would think to put apples and snickers in a salad? Well, this snicker salad blends chocolate, caramel, apples, and pudding to make the best salad you ever had. All you need are a few basic ingredients, and you can have it ready to serve in minutes. Scroll down to our recipe card to see the full ingredients and instructions.
Large Granny Smith apples: Chopped into bite-sized pieces.
Snickers bars: Also chopped into small bite-size pieces.
Cream cheese: Softened.
Powdered sugar
Vanilla extract
Cool whip: Or another whipped topping.
Instant vanilla pudding mix
Milk
Caramel sauce: Try our easy homemade caramel sauce recipe. You do not even need a candy thermometer for this.
How to make apple snickers salad recipe?
Make the creamy pudding mix: First, whisk milk and pudding mix in a large bowl. Then, add the Cool Whip, gently folding it in until it is just combined.
Combine the two mixtures: Next, beat the cream cheese and sugar. Once it is smooth, add it to the pudding mixture.
Add the candy and apples: Then, add chopped apples and chopped snickers. Toss it gently until it is all mixed up.
Caramel sauce: Finally, drizzle caramel sauce on top. Serve cold for the best texture.
Recipe variations:
Different flavor instant pudding: Try this awesome recipe with chocolate, banana, strawberry, or butterscotch pudding mix.
Other candy bars: Similarly, you can also try using a different candy bar like 3 Musketeers, Milky Way, or Twix.
More fruit: Add more fruit for extra flavors like mandarin oranges, bananas, strawberries, or grapes.
Different sauce: Instead of caramel, try a different sauce like chocolate or butterscotch.
Other ingredients: Try some other ingredients like chopped walnuts or pecans, cherries, grapes, or chocolate chips.
Cut the calories: For fewer calories and less fat, use vanilla Greek yogurt or even cottage cheese instead of cream cheese.
How to serve:
This is one of those easy recipes that you can make quickly. It may taste like a dessert, but it is real food that you can serve at your next birthday party, baby shower, graduation party, or just any day of the week. Try one of these awesome serving ideas or share one of your own in the comments section below.
This dessert salad goes perfectly with a plate of cheese and crackers.
Apple salad is a great idea to serve with some type of fish dinner like our tasty garlic butter swai recipe.
Another way you can serve this delicious dish is on top of a bed of lettuce.
Caramel apple salad can also be served on top of other desserts like a bowl of ice cream or some yogurt. Try our recipe for how to make yogurt in the crockpot.
Add a spoonful of this delicious snicker apple salad to a piece of apple pie.
It also makes a scrumptious topping for pancakes. Try it on top of our apple butter pancakes for double apple goodness in every bite.
For something to drink, a glass of apple cider would be delicious.
A dollop of apple salad on top of a piece of this Irish apple cake would be a nice twist.
Frequently asked questions
What kind of apples are best apples for this recipe?
You can use any kind of apples you like. We like a tarter apple to even out the sweetness of the candy bars, which is why we use granny smiths. Some other tart apples include Winesap, Melrose, and Cortland.
Or you can try Jonagold, pink lady, golden delicious, or Honeycrisp. Fuji, gala, and jazz are also some great choices.
Which apple is healthiest?
Since this dish includes pudding, candy bars, and whipped cream, at least the apples are healthy, right? All apples have a lot of vitamins, minerals, and fiber, but granny smith apples are number one.
They are low in sugar, high in fiber, and have a great balance of vitamins C, A, and several minerals. They can even improve the bacteria in your gut to reduce obesity.
Do I have to peel my apples?
Not at all. It is a matter of preference. If you like the skin on your apples when you eat them whole or sliced, there is no reason to peel these before making this snicker apple salad recipe. The peel has most of the vitamins in the apple, offering over 300% more vitamin K, 20% more calcium, and 110% more vitamin C.
What are the nutrition facts in this recipe?
This is an easy dessert but remember that it is a dessert, so eat it as such. It is very filling, so a small portion is best. Each serving of this apple salad recipe has 215 calories, 7 grams of fat, 10 milligrams of cholesterol, 131 milligrams of sodium, 30 grams of sugars, and 25 grams of carbs.
But this dessert salad also has some vitamins and minerals. For example, you will get 3 grams of fiber, 75 milligrams of calcium, 9 milligrams of magnesium, and 3 micrograms of folate as well as 5 milligrams of vitamin C, 160 units of vitamin A, and 3 grams of protein.
How to store leftovers:
Store: To store, put leftover apple snickers salad into an airtight container and it will stay fresh for up to three days. However, the apples may still turn brown even if you use lemon juice or club soda.
Freeze: Freezing your leftovers is fine too but put them in a freezer bag and add the date because you have to eat them within 90 days.
Thaw: For the best flavor and texture, remember to put leftovers in the fridge overnight to thaw before serving.
More dessert salads:
Recipe tips:
Don't let your apples turn brown. Toss the apple slices in lemon juice or ginger ale before using.
After washing apples or tossing them in lemon juice, be sure to pat them dry so the salad will not be watery.
Make sure you get instant vanilla pudding mix, not the kind you have to cook.
Also, when you mix the pudding, it will be pasty and not creamy like pudding usually is.
Instead of Cool Whip, you can use any type of whipped cream. To make your own homemade whipped cream, try our easy creamy whipped cream recipe.
You really want your pieces of candy and apple to be small enough to be bite-sized pieces for everyone.
Apple Snickers Salad
Ingredients
6

large Granny Smith apples

5

Snickers bars

8

oz

package cream cheese

softened

1/4

cup

powdered sugar

1

teaspoon

vanilla extract

8

oz

cool whip

3.4

oz

box vanilla instant pudding

1/2

cup

milk

Caramel sauce
Instructions
In a large bowl, mix milk and pudding until fully combined and thick.

After that, fold in the cool whip.

In another bowl beat the cream cheese and sugar and once smooth combine with the pudding mixture.

Cut up apples and snickers and stir them in.

Drizzle caramel sauce on top before serving. Serve cold.
Deliciousness to your inbox
Enjoy weekly hand picked recipes and recommendations