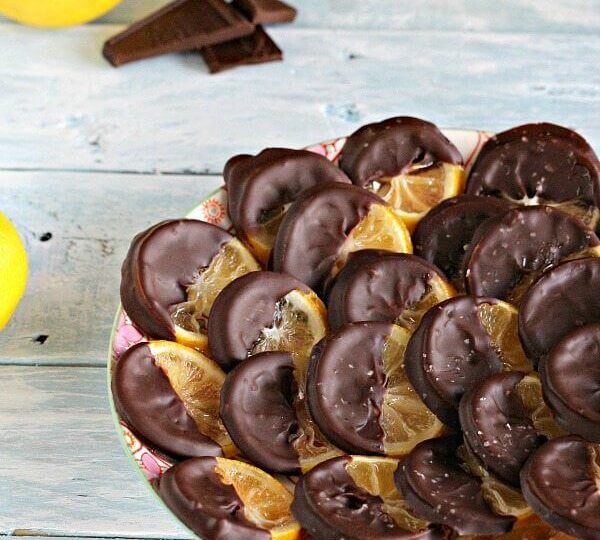 Chocolate Dipped Candied Lemon
Chocolate Dipped Candied Lemon is vegan, gluten free, chewy and refreshing, finished with a dash of sea salt they are the perfect snack.
I like using lemon in desserts, like I did with Blueberry Lemon Muffins.
Chocolate Dipped Candied Lemon
These Chocolate Dipped Candied Lemon rounds are the perfect pick me up snack. They are super easy to make, and if you are a citrus lover like me, you have to try them. Also, my little guy loves lemons, he eats them like apples, I am not even kidding here. I decided to surprise him with a sweater version, that we all can actually enjoy. Since there is no way I am eating raw lemons, like he does!
The chocolate dipped candied lemon rounds turned out delicious. Firstly, they are firm, chewy, covered in antioxidant rich dark chocolate and a sprinkle of sea salt. Also, the chocolate enhances the citrusy flavor. I loved having these on hand for a cup of coffee, and they were perfect to tame my sweet tooth. Citrus and chocolate make such a nice flavor paring. Also, the tart and fragrant lemons combine so well with the dark chocolate and sea salt. This vegan and gluten free treat is so bright, sweet and delicious!
Why You'll Love These Chocolate Dipped Candied Lemon
Firstly, they are simple to make, and healthy.
Also, they are rich, citrusy and chocolaty.
Can be enjoyed with variety of drippings.
Perfect for brunch parties and for bigger crowds.
What chocolate is best to use for Dipped Lemon
You can use any chocolate you prefer. However, I would recommend milk or dark chocolate.