Pistachio Caramel Apple Butter Pancakes
This post may contain affiliate links. Please read my disclosure policy.
Dense and filling Apple Butter Pancakes with a beautiful cinnamon flavor are topped with apple butter, caramel sauce and salty pistachios.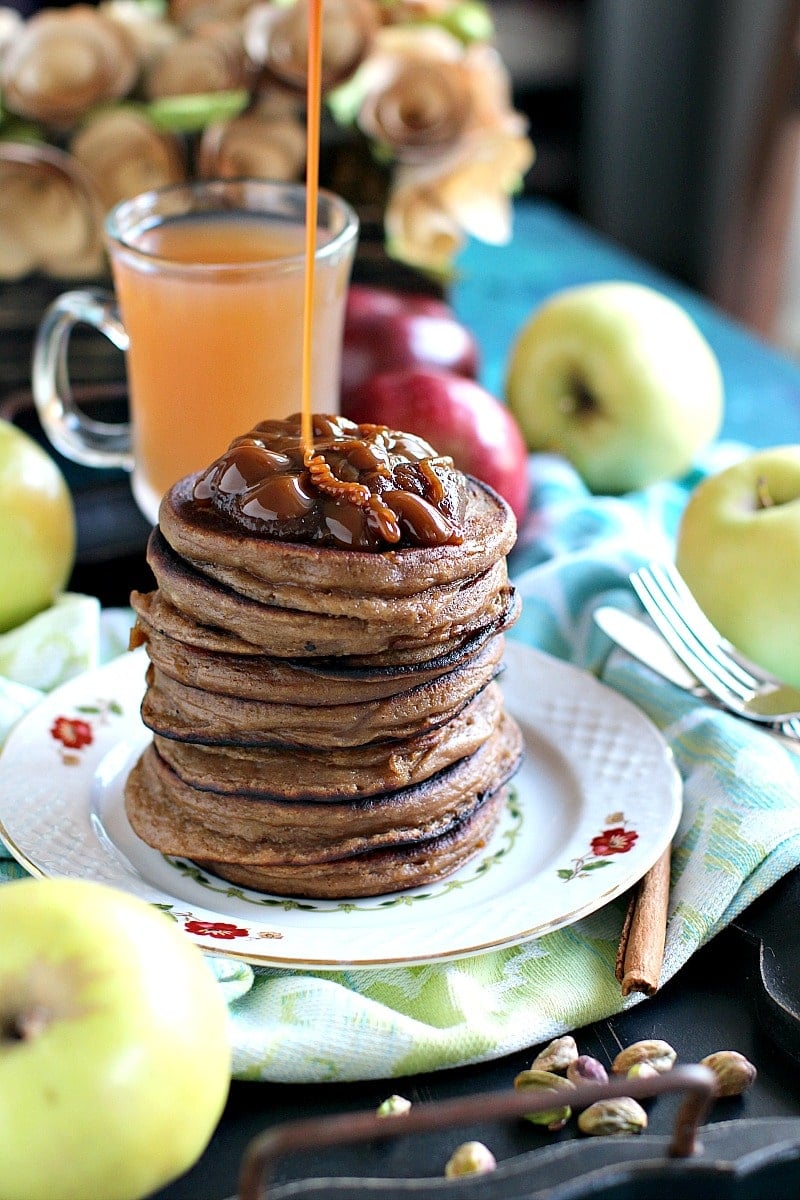 Happy Friday my friends! Who is ready for breakfast in bed? I made Apple Butter Pancakes and you better try them as they are divine! Nothing like a good stack of pancakes to get you going on the weekend. I have opened my new set of sheets from #bedface and had a cozy breakfast in bed with Apple Butter Pancakes and warm apple cider.

What can be more comforting than fluffy, warm pajamas, crisp bed sheets, warm apple cider and flavorful pancakes topped with warm caramel sauce and crunchy, salty pistachios?!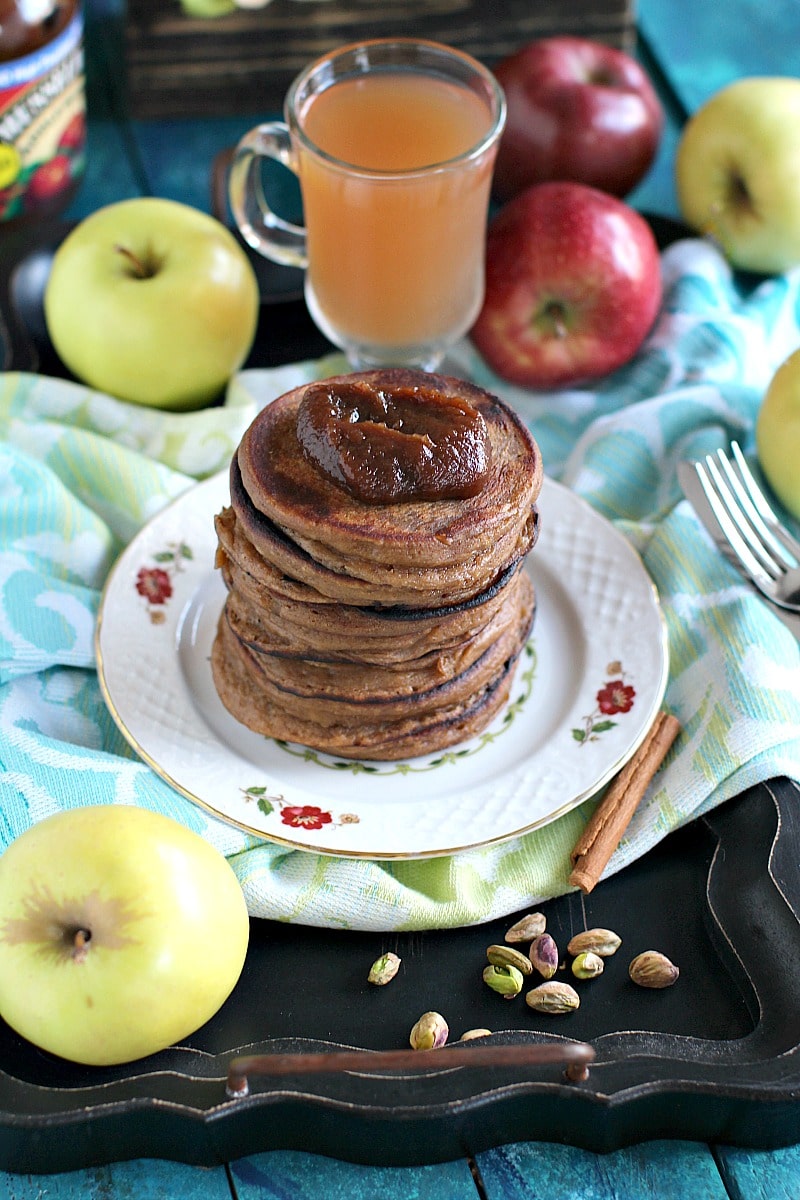 I adore apple butter this time of the year, making Apple Butter Pancakes to feed my obsession was a no brainer. These are not your regular fluffy, cake like pancakes, these are super dense, stick to your ribs pancakes, that will keep you full for hours. The pancakes smell of cinnamon, and are topped with extra apple butter that is covered in a layer of warm, sticky caramel sauce.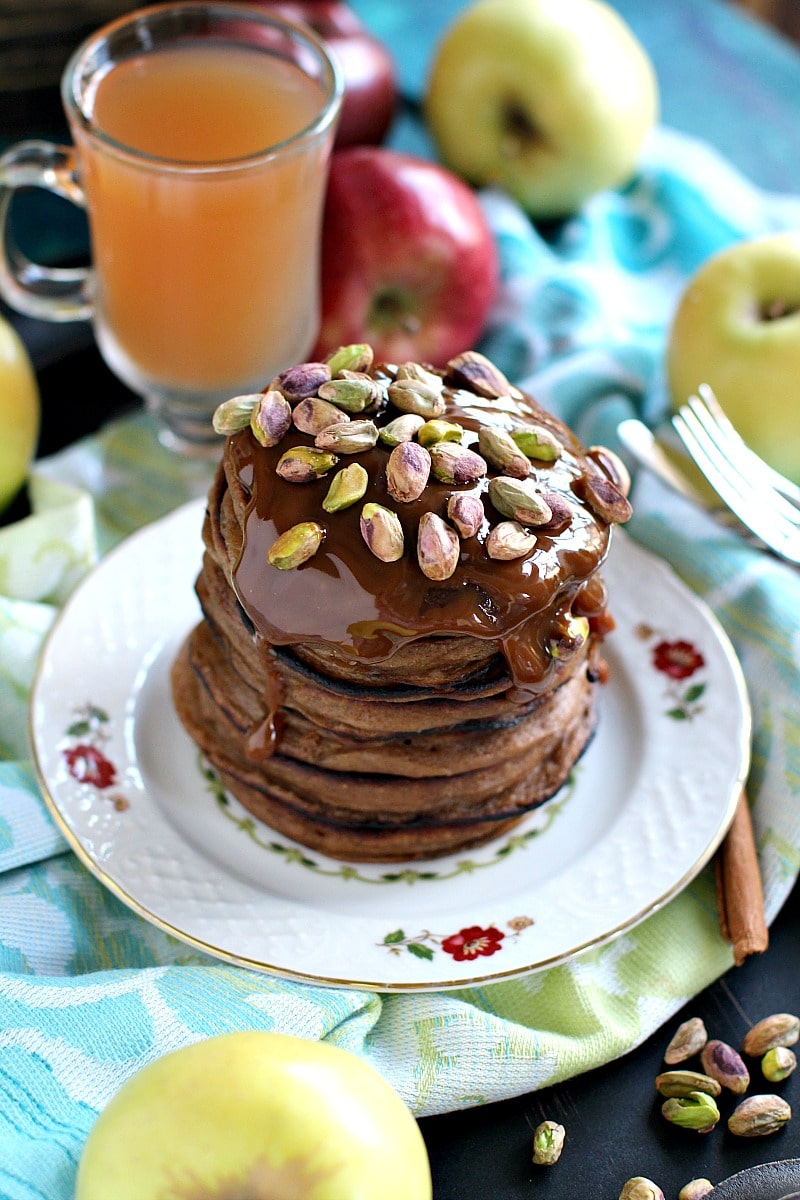 Topped with salty, crunchy pistachios that add a nice pop of color and what can be better than a little saltiness paired with the sweet caramel sauce!?

MY LATEST VIDEOS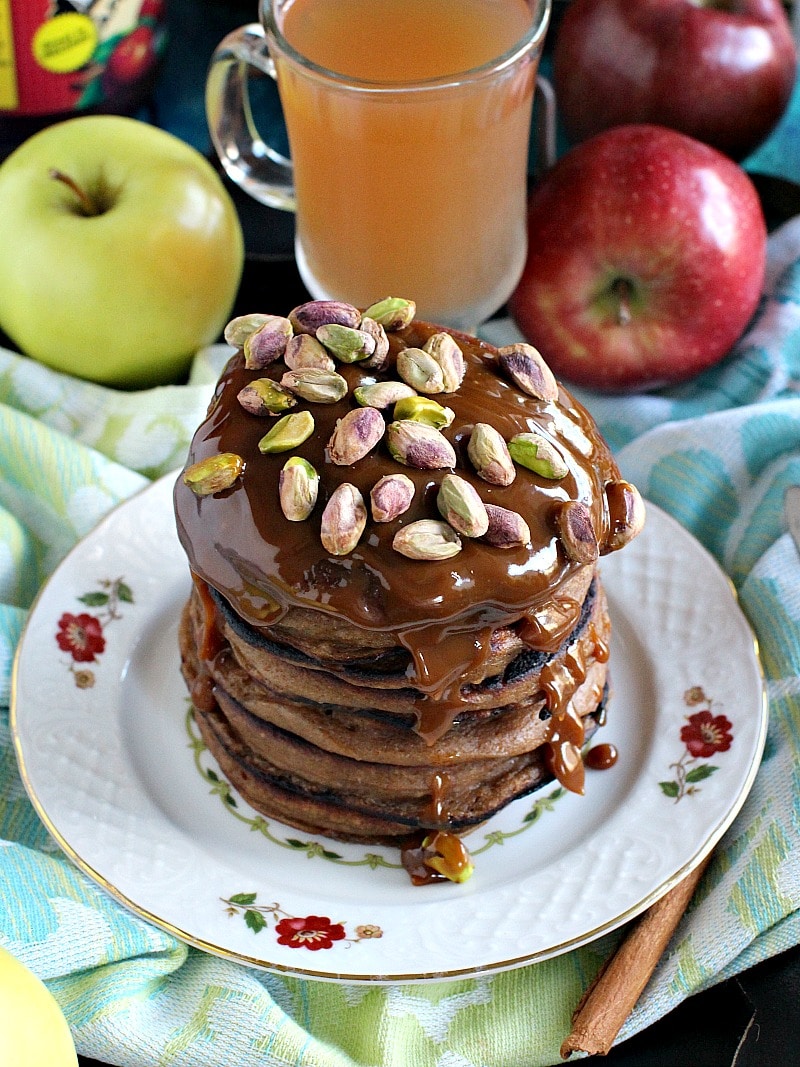 I am obsessed, I am a huge fan, of dense, filling pancakes!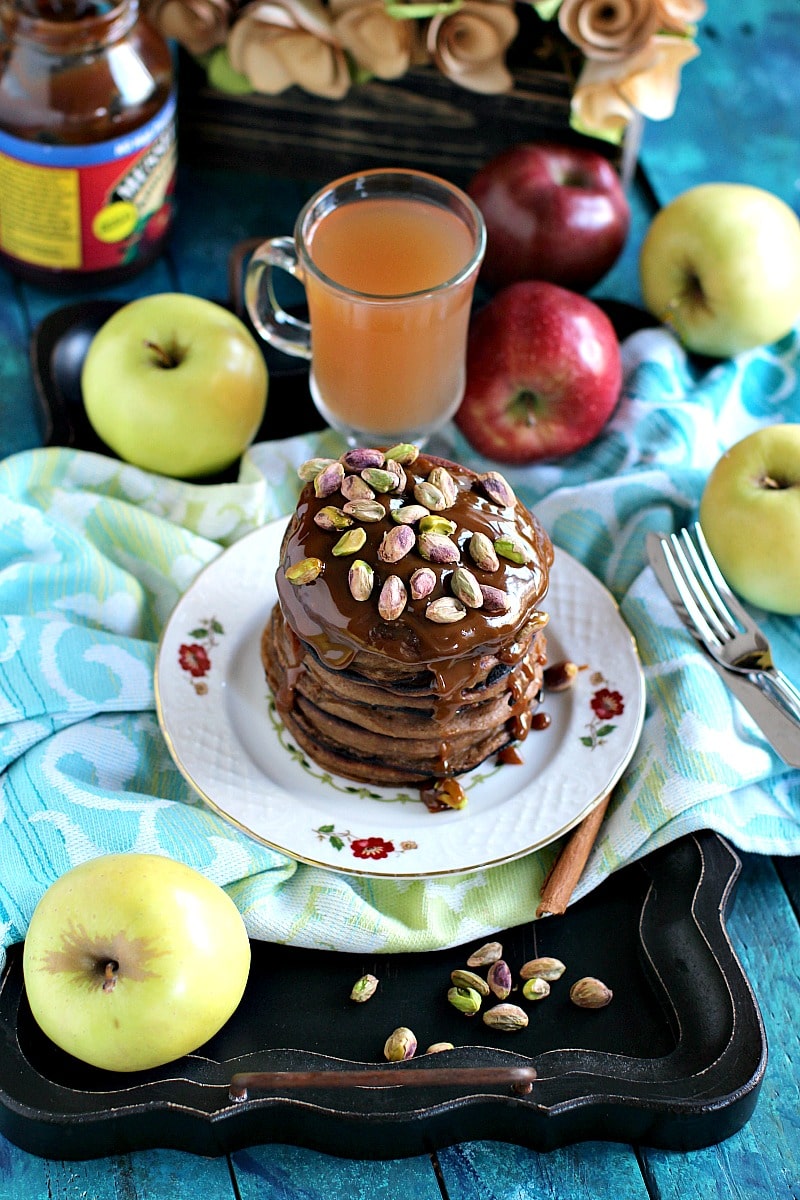 Apples and caramel, such a fabulous combo!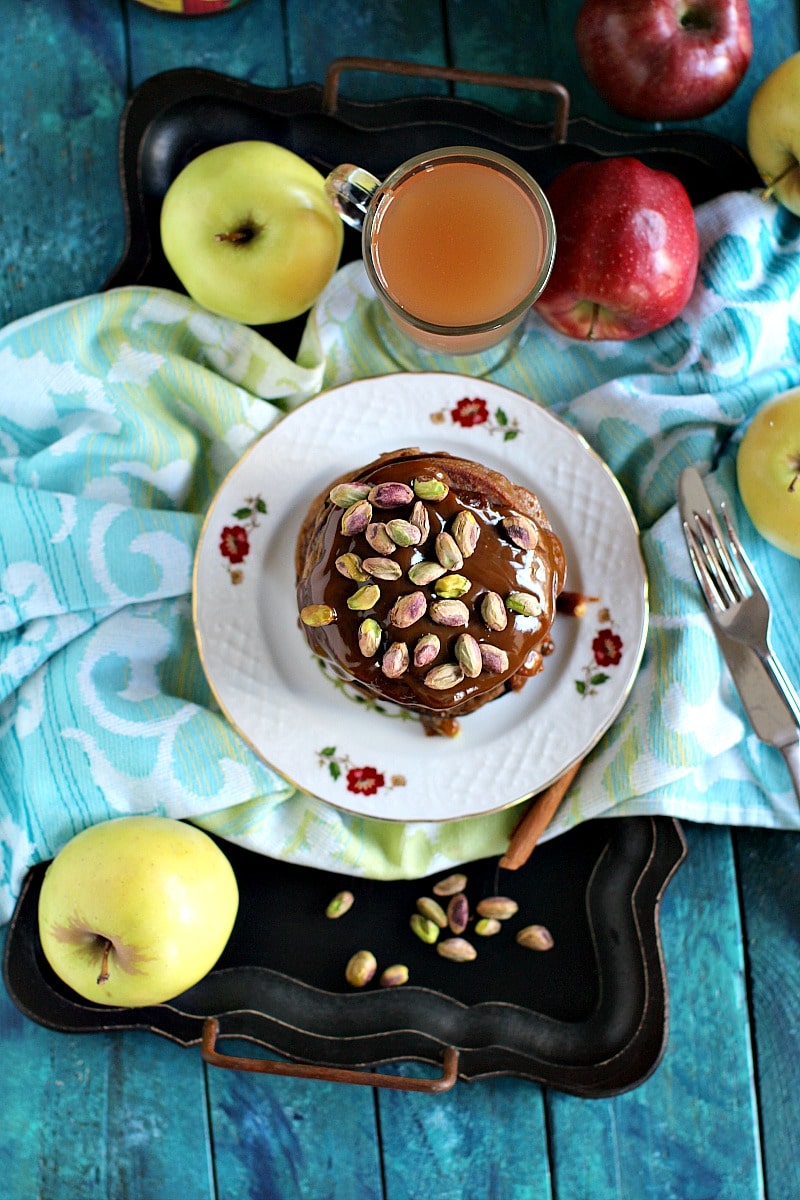 Now lets cut into that stack of Pistachio Caramel Apple Butter Pancakes and take a huge bite!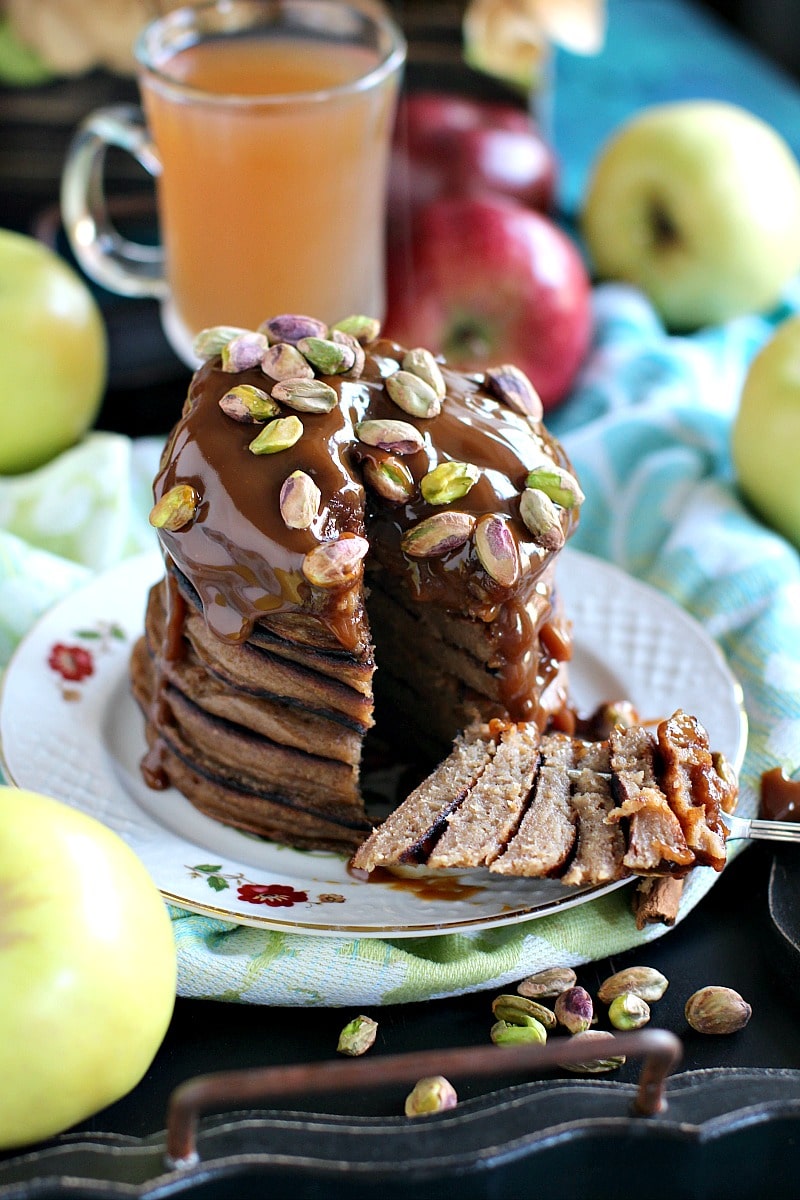 You see that soft, dense interior?! Well, I told you that you need these in your life!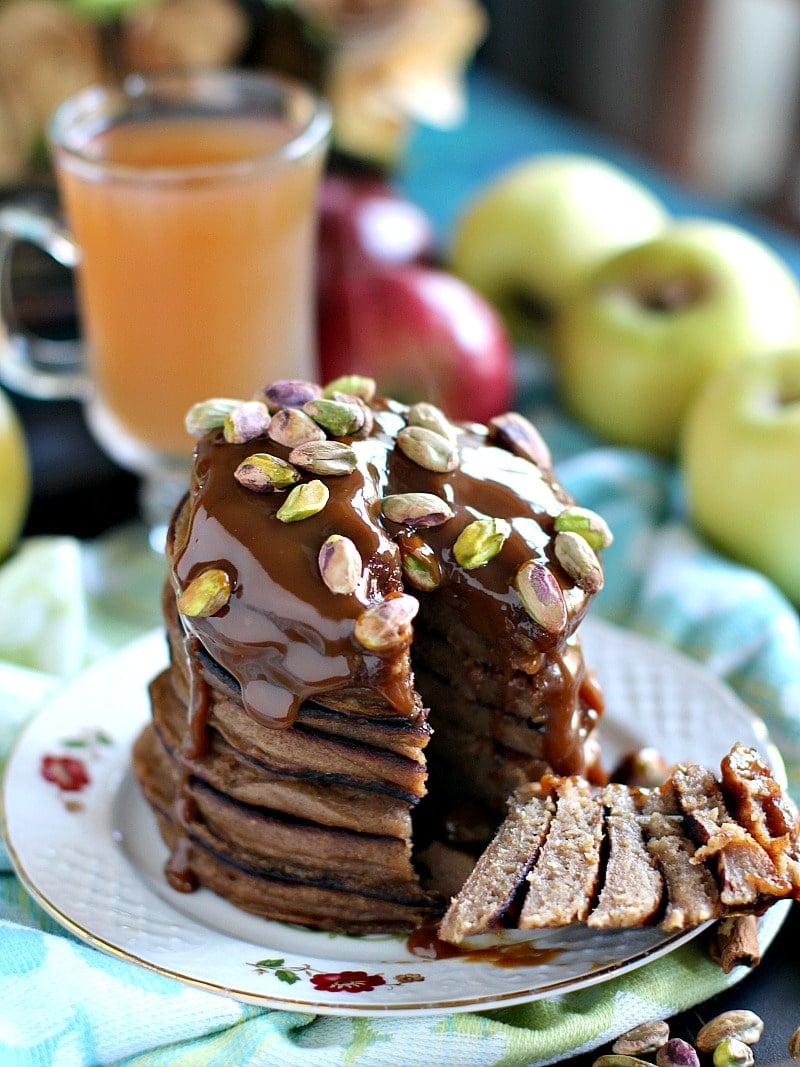 Don't forget the apple cider and to serve these in the comfort of your warm bed!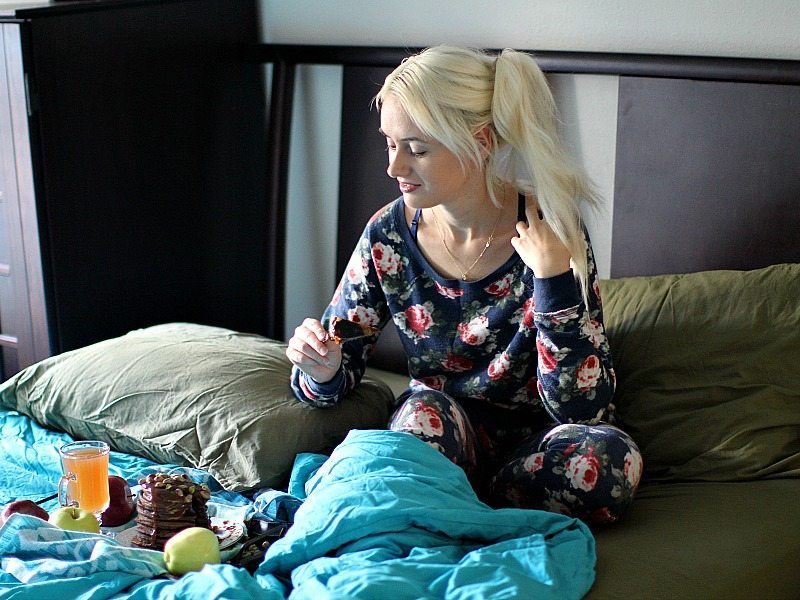 Pistachio Caramel Apple Butter Pancakes
Dense and filling Apple Butter Pancakes with a beautiful cinnamon flavor are topped with apple butter, caramel sauce and salty pistachios.
Author:
Katalina Kastravet
Ingredients
2 cups all purpose flour
1 tablespoon baking powder
4 tablespoons light brown sugar
1 teaspoon cinnamon powder
Pinch of salt
1 egg
1 tablespoon vanilla extract
¾ cup apple butter
½ cup milk
1¼ cups plain kefir
1 tablespoon butter - for the skillet
Garnish:
¼ cups salted pistachio
Apple butter
Warm caramel sauce
Instructions
In a large bowl, whisk flour, baking powder, sugar, salt and cinnamon, set aside.
Make a well into the dry mixture and add the wet ingredients: vanilla extract, egg, apple butter, kefir and milk. Use a whisk to mix until combined.
Place a large skillet over medium heat, add butter and melt around to cover the pan. Once hot, start cooking the pancakes, ¼ cup per pancake. Turn the pancakes over when the edges start to look firm (about 1-2 minutes). Cook on the other side for another 1-2 minutes.
Repeat with the rest of the pancake batter until all the pancakes are cooked. Add more butter to the skillet if needed.
Stack on a plate and top with apple butter, warm caramel sauce and pistachios.
Serve warm!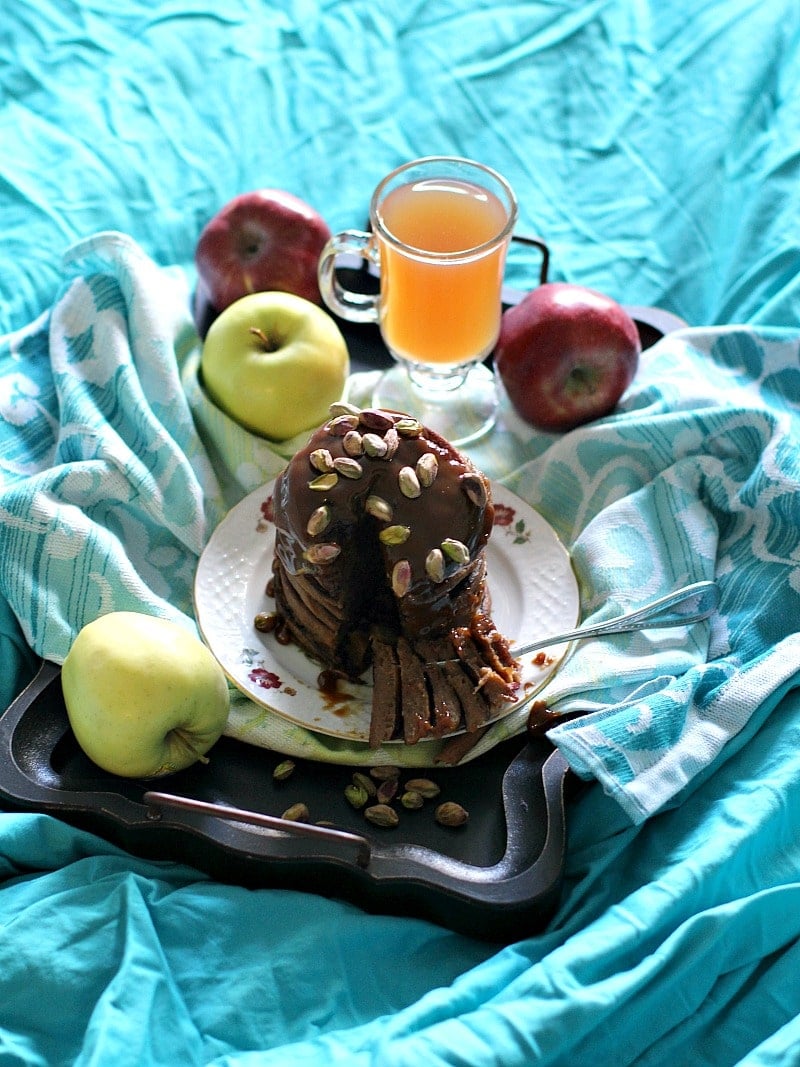 Breakfast goals!

Do you feel like eating Pumpkin Pancakes? Check these Pumpkin Cheesecake Pancakes: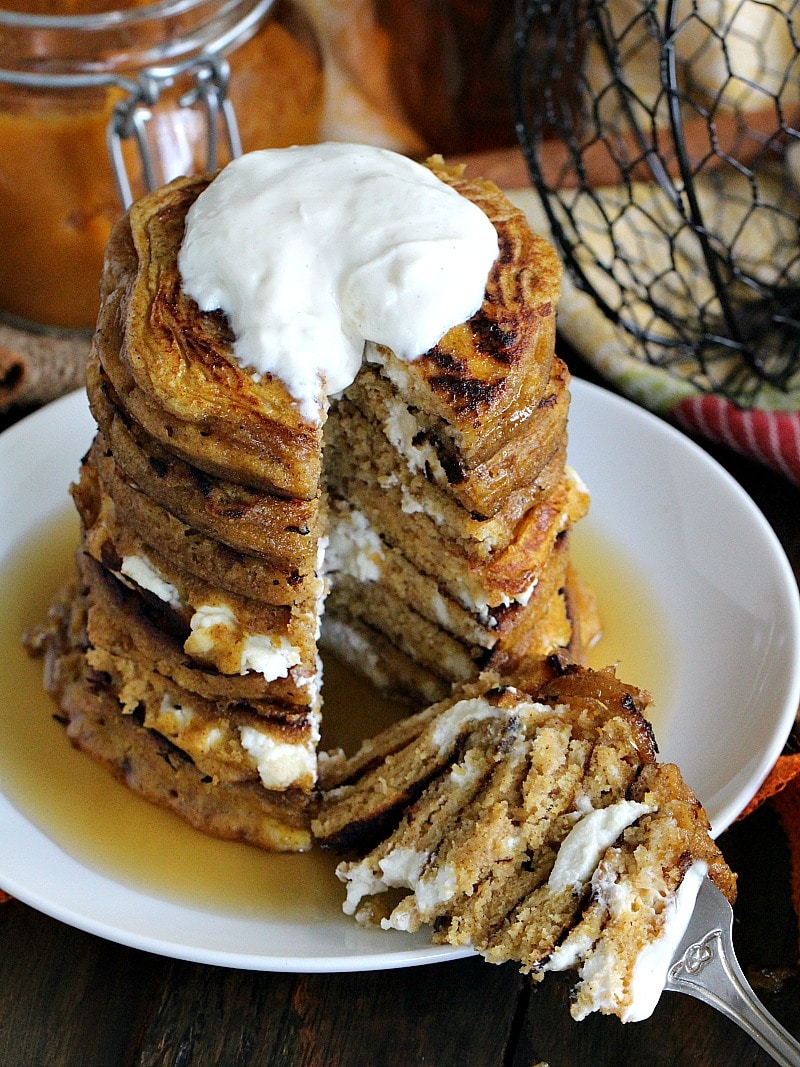 Don't forget the Apple Cider: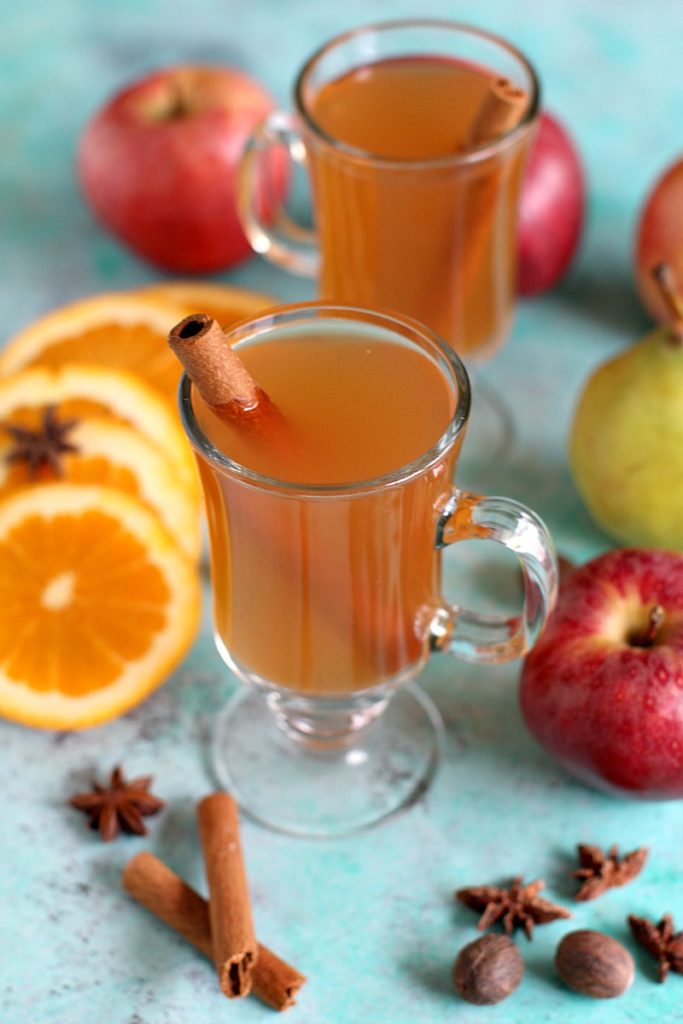 Peas and Peonies, LLC. owns the copyright on all images and text and does not allow for its original recipes and pictures to be reproduced anywhere other than at this site unless authorization is given. If you enjoyed the recipe and would like to publish it on your own site, please re-write it in your own words, and link back to my site and recipe page. Copying and/or pasting full recipes to social media or personal blogs is strictly prohibited. Sharing this recipe is very much appreciated and encouraged. Read my disclosure and privacy policy. This post may contain affiliate links.