Apple Butter Pancakes with a beautiful cinnamon flavor are topped with apple butter, caramel sauce and salty pistachios.
After making the Pumpkin Cheesecake Pancakes, I decided it would be a great idea to mix things up and do the pancakes with apple butter.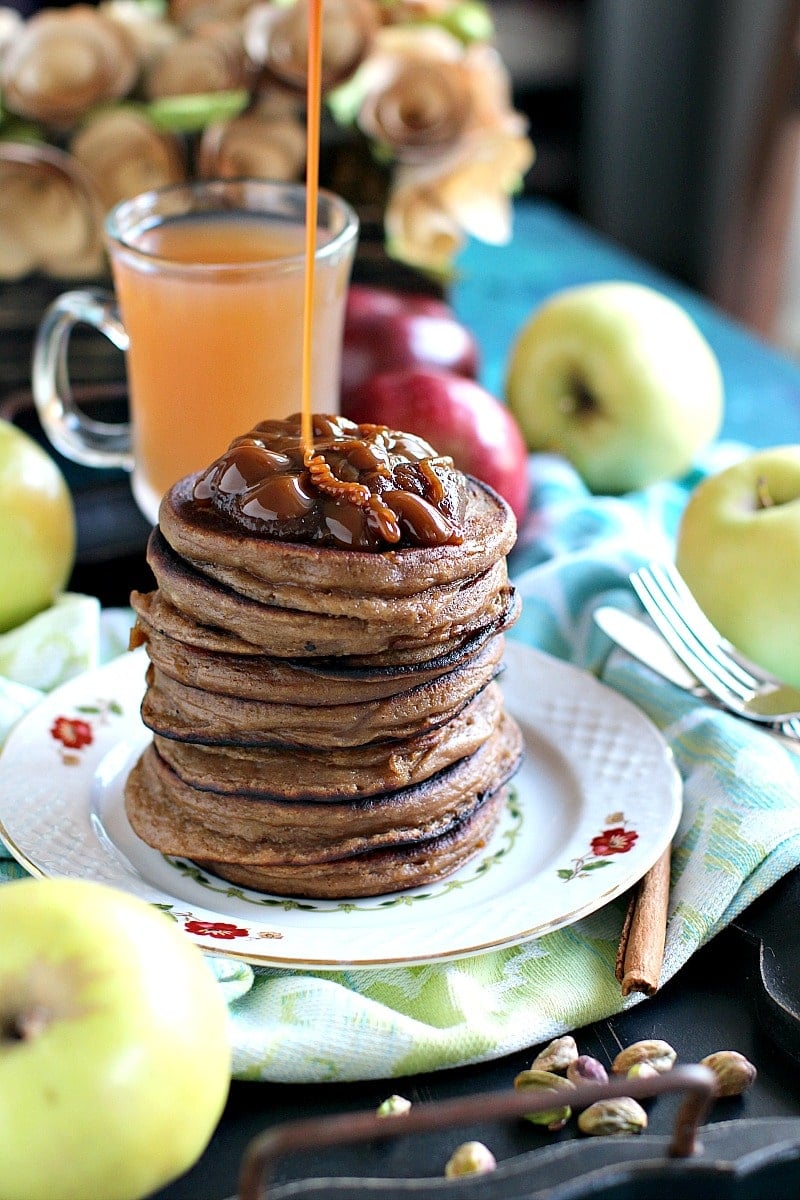 Apple Butter Pancakes
I made these Apple Butter Pancakes and you better try them as they are divine! Nothing like a good stack of pancakes to get you going on the weekend. I adore apple butter this time of the year. So making Apple Butter Pancakes to feed my obsession was a no brainier. These are not your regular fluffy, cake like pancakes. These are super dense, stick to your ribs pancakes, that will keep you full for hours.
Also, the pancakes smell of cinnamon, and are topped with extra apple butter that is covered in a layer of warm, sticky caramel sauce. Topped with salty, crunchy pistachios that add a nice pop of color.
You can make the batter ahead of time and keep it in the refrigerator overnight. Stir again in the morning. If it has thickened, whisk in a few drops of milk to make it pourable.
What makes pancakes fluffy: baking soda or baking powder?
Even though pancakes are cooked on a griddle rather than baked, baking powder works the same way by making them light and fluffy.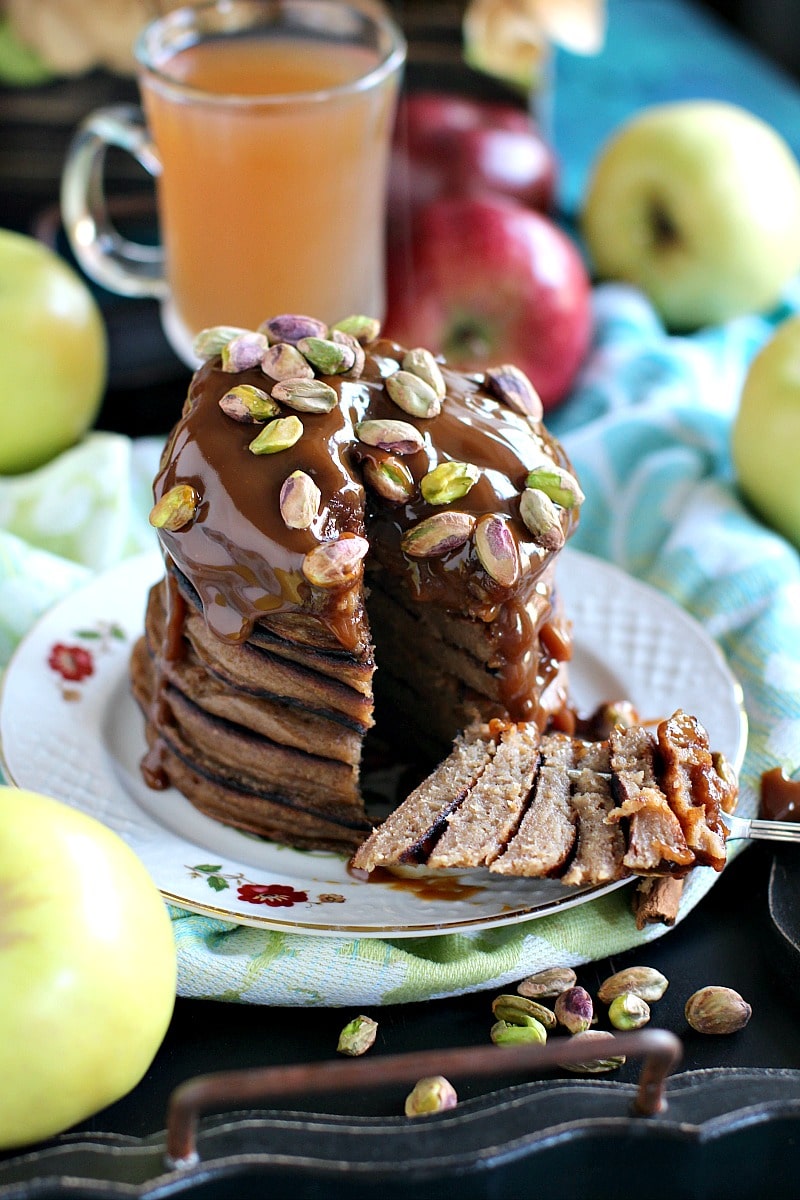 How to make fluffy pancakes
First, when you mixed together the wet and dry ingredients aim for "combined-lumpy". This way you allow the gluten proteins to become loose and create air bubbles. If you are not a fan of the lumps, try to smooth the batter with a whisk gently and slowly, not over-beating.
Over-mixing the batter until very smooth, results in overdeveloped gluten. This leaves less space for fluffy air pockets.
Also, if the batter is too thick, the pancakes may end up burned on the surface, and under cooked in the center.
If the batter is too runny, the pancakes will spread out too much and become flat.
Save Recipe
Pistachio Caramel Apple Butter Pancakes
Author: Catalina Castravet
Serves: 12 servings
Prep time:

10

minutes
Cook time:

15

minutes
Total time:

25

mins
Nutrition information
Calories: 153 Carbohydrates: 27 Protein: 3 Fat: 3 Saturated Fat: 1 Cholesterol: 17 Sodium: 23 Potassium: 216 Fiber: 1 Sugar: 10 Vitamin A: 115 Vitamin C: 0.2 Calcium: 93 Iron: 1.8
Save Recipe
More recipes you might love