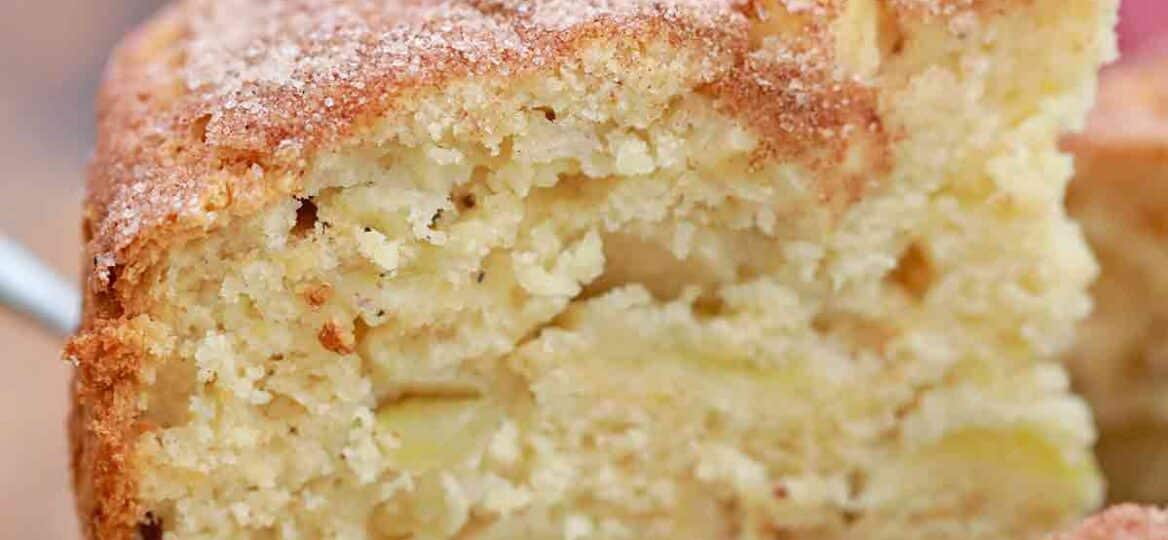 Irish Apple Cake Recipe
Irish Apple Cake is loaded with Granny Smith apples and it's the perfect dessert for the next time you have a St. Patrick's Day party. Fall is the perfect time because of all the fresh apples to choose from at the grocery store or farmer's market.
Other traditional Irish recipes you can try include our Irish Soda Bread made with buttermilk, raisins, and fresh butter, or this decadent Guinness French Onion Soup with Guinness Beer.
Our easy Irish apple cake recipe can be done fast with less prep work than the traditional apple pie and it tastes great. My favorite part is cutting the fresh apples because I can snack on them as I slice them.
An even better way is to use an apple corer/peeler/slicer for less prep work for this delicious cake. This dessert is great any time of the year when you want something sweet.
Next time you want some kind of traditional Irish dessert, try these Irish Mint Brownies with cream cheese and dark chocolate.
Follow us on Pinterest for more delicious recipes!
Ingredients needed:
This easy apple cake recipe just needs a handful of ingredients and can be made in minutes. Scroll down to our recipe card for the exact measurements and directions.
Batter:
All-purpose flour: You can use your favorite.
Baking powder: Not baking soda.

Seasonings: Salt, ground ginger, ground cinnamon, nutmeg, and allspice.
Unsalted butter: Cold and cut into small pieces.

Granulated sugar: Divided.
Apples: We used Granny Smith apples.
Milk: Any type will work.

Large eggs: At room temperature.

Vanilla: Pure vanilla extract.
Custard Sauce:
Milk: Whole milk works best.
Salt: Just a pinch.
Large egg yolks: Room temperature.
Granulated sugar
Vanilla: Pure vanilla extract.
How to make an Irish apple cake recipe?
For the cake:
Preheat: To begin, preheat your oven to 375 degrees F.

Prepare: Then, butter and flour a spring form pan and set aside.

Dry ingredients: Meanwhile, using a large bowl, whisk dry ingredients including flour, baking powder, salt, ginger, nutmeg, and allspice for about 20 seconds.

Butter and sugar: Next, use your fingers to rub the butter into the flour mixture until it looks like fine crumbs before stirring in one cup of sugar.

Cut and chop: Then, core and peel the apples before laying them on the flat side and cutting them into ¼-inch slices before dicing them into smaller chunks.

Coat apples: After, add apple pieces to the flour mixture and toss them to coat evenly. Make sure you separate apples, so they are not stuck together.

Wet ingredients: In another large mixing bowl, whisk the wet ingredients including milk, eggs, and vanilla until they are well combined. Then pour it over the flour and apple mixture. Toss them just until they are combined. It will be lumpy but do not overmix.
Cake batter: Immediately, pour the cake batter into the prepared cake pan and spread it evenly. Mix the sugar and cinnamon and add them to the top of the cake.
Bake: Lastly, bake for 45 to 50 minutes until the toothpick test comes out clean.

Cool: Immediately, let the cake cool on a wire rack for five minutes before removing the ring to let it cool all the way.

Serve: Finally, serve warm with drizzled warm custard sauce or chilled with cold custard sauce on top.
For the custard sauce:
Heat milk: Start by heating milk with a pinch of salt in a medium saucepan over medium heat just until it comes to a light boil.

Mix the yolks: Meanwhile, mix the sugar and egg yolks in a medium bowl with a whisk for two to three minutes until they are pale and fluffy. You could also use a hand mixer at high speed for 30 seconds.
Mix half: Then, turn the burner down to medium-low and pour ½ cup of the hot milk into the egg yolk mixture.

Coat a wooden spoon: While whisking, pour the egg mixture into the saucepan and cook for about three or four minutes, whisking constantly. It should be thick enough to coat the back of a wooden spoon when it is done.

Chill: Immediately, pour the mixture into a separate bowl and add the vanilla. Whisk for 20 seconds and cover it with plastic wrap to prevent a layer of skin on top.

Serve: Finally, serve warm or cold over cake.
Recipe variations:
Irish butter: If you can find (or make your own) Irish butter, that would make an even more tender cake.
Make muffins: Turn this into Irish apple muffins instead by using a cupcake pan. Start checking at 30 minutes instead of 45.
Other flour: You can also use cake flour or whatever kind you prefer.
Heavy cream: Try using heavy cream instead of milk in the custard sauce for a thicker and creamier sauce.
Brown sugar: Put ¼ cup of brown sugar in the mix for a richer flavor.
How to serve:
This moist cake is an excellent dessert for St. Patrick's Day or any day of the year. It is a huge hit whether you serve it at a party or afternoon tea. Here are some other great serving ideas:
Add a scoop of vanilla ice cream on top for a sweeter dessert.

If you want it a bit lighter, use a dollop of our homemade whipped cream instead of ice cream.
Use a layer of streusel to make a crunchy top.
For more apple flavor, top this cake with our apple pie filling.
Use cream cheese frosting instead of custard sauce for a richer cake.
This tastes great with a cup of tea.
Make this for dessert with our instant pot pork stew or corned beef.
This cake goes great with a glass of shamrock sour made from Irish whiskey and lime juice.
Top your slice with our thick and delicious keto caramel sauce for a caramel apple cake.
Frequently asked questions
What is the best kind of apples to use for this recipe?
The best apples are crisp apples like Granny Smith. Tart apples that are not soft are perfect because you do not want them to be mushy.
Other kinds of apples that are not as common are Irish apples such as Irish Peach, Kerry Pippin, and Ard Cairn Russet.
What is the national dessert of Ireland?
Also known as the Kerry apple cake, the Cast Iron Irish Apple Cake is the traditional dessert that everyone loves.
This traditional Irish apple cake was made steamed in a pot on an open fire before ovens became so common.
Considering that the Irish spend a million dollars on apples every year, it makes sense that apple cake is the favorite.
The ingredients are the same as our recipe here, but you cook it in a cast-iron pan on the stove instead of a springform pan.
Where did apple cake originate?
It depends on who you ask. Some say it was first baked in England in 1381 by Geoffrey Chaucer. But it had pears, raisins, and figs in it too.
Others say it originated in Poland. Still, others call it the Jewish apple cake because it is served on the Jewish holiday of Rosh Hashanah.
How to store leftovers:
Store: Put any leftover cake into an airtight container in the refrigerator for up to three days.
Freeze: If you have leftovers after a few days, put them in freezer bags in the freezer for up to three months.

Thaw: Thaw in the fridge overnight before serving.

Reheat: If you like your cake warm, heat it for about 20 to 30 seconds in the microwave.
More St. Patrick's Day recipes:
Cooking tips:
You could also use olive oil spray for your prepared pan instead of butter and flour.

Serve cool with cold custard sauce if you prefer.
Be careful not to overmix, therefore, the less you mix, the more tender it will be.
You can use a pastry cutter to mix in the butter if you don't want to use your hands.
Only heat the milk until it lightly boils and remove it from the heat.

Be careful not to overheat the egg and milk mixture or the eggs will curdle.
Optionally, use two small cake pans to make a taller cake.

As an alternative, you could also use a rectangular or square cake pan.
Irish Apple Cake
Ingredients
3

cups

all-purpose flour

1

tablespoon

baking powder

1/2

teaspoon

sea salt

1/4

teaspoon

ground ginger

1/4

teaspoon

nutmeg

1/4

teaspoon

cinnamon

1/8

teaspoon

allspice

1

cup

unsalted butter

cold and diced into small pieces

1

cup

granulated sugar

or use 1/2 cup white sugar and 1/3 cup brown sugar

2

tablespoons

granulated sugar

divided

1 1/2

lbs

granny smith apples

peeled, sliced in half, cored and stemed

3/4

cup

milk

2

large eggs

room temperature

1

teaspoon

vanilla extract

1/2

teaspoon

ground cinnamon
Custard Sauce - optional
1 1/2

cups

whole milk

6

large egg yolks

1/2

cup

granulated sugar

1

teaspoon

vanilla extract
Instructions
Make the cake:
Preheat oven to 375 degrees F.

Butter and flour a 9-inch springform pan set it aside.

In a large mixing bowl whisk together flour, baking powder, salt, ginger, nutmeg, cinnamon, and allspice.

Add the diced butter and work it into the mixture using your fingertips or a pastry cutter, until it resembles fine crumbs.

Using a spatula, stir in 1 cup of sugar.

Slice the apples into very thin pieces, less than 1/4-inch thick, then dice those pieces into smaller chunks.

Stir the apples into the flour mixture and toss well to evenly coat all the pieces.

In a separate mixing bowl, whisk together milk, eggs, and vanilla until well combined.

Pour the milk mixture over apple/flour mixture, using your hands or a spatula, toss just until combined (batter will be slightly lumpy, don't over-mix).

Transfer the batter into the prepared baking dish and spread it into an even layer.

In a small bowl stir together the remaining 2 tablespoons of sugar plus 1/2 teaspoon cinnamon, and sprinkle evenly on top of the cake.

Bake for 45 - 50 minutes, or until a toothpick inserted into the center comes out clean.

Cool for about 5 - 10 minutes on a wire rack then remove the ring from the springform pan and allow the cake to cool completely.
Make the custard sauce:
Add the egg yolks and sugar to a medium mixing bowl and beat until pale and fluffy, about 1-2 minutes.

Place a medium saucepan over medium heat and add the milk.

Bring just to a light boil. Reduce burner to medium-low heat, then while whisking egg yolk mixture, slowly pour in 1/2 cup of the hot milk mixture. Then, while whisking continuously the milk in the saucepan slowly pour the egg yolk mixture into the saucepan.

Cook mixture, whisking constantly, until thickened and it coats the back of a wooden spoon, about 3 - 4 minutes (be careful not to over-heat it, or the eggs will curdle).

Immediately pour into a glass container, and stir in the vanilla extract.

Cover the custard with plastic wrap pressing against the surface to prevent a skin from forming.

Drizzle warm or cold on top of the cake.