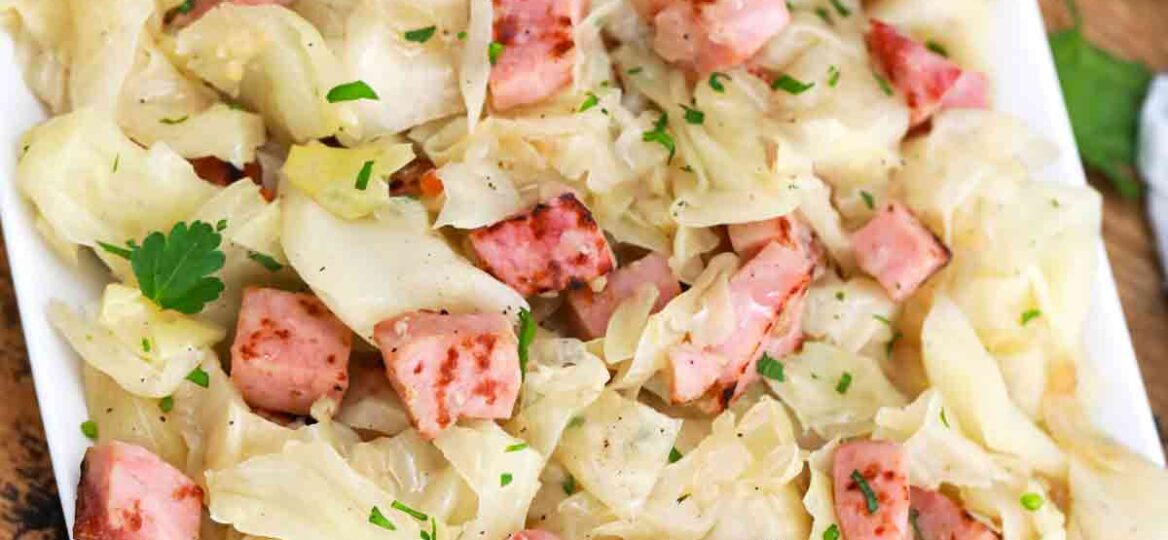 Slow Cooker Cabbage and Ham [Video]
Slow Cooker Cabbage and Ham is slow-simmered in stock and aromatics for an easy, healthy meal that's full of flavor. Serve with cornbread or your favorite entrees!
The crockpot isn't just excellent for savory dishes, but for sweet ones, too. Use your slow cooker for the BEST Baked Apples, Pumpkin Pie Pudding, and Chocolate Fondue!
Crockpot Cabbage and Ham Recipe
Slow Cooker Cabbage and Ham is a simple and comforting combo of meat and vegetables, cooked in stock and aromatics until perfectly tender. I love how easy it is – it takes less than 15 minutes to put together, and the crockpot does the rest.
While this may be simple, don't underestimate the flavor. The smoky, salty, and umami-packed ham almost melts into the vegetables during those two hours, and you can taste it in every bite!
Is Cabbage and Ham dish healthy?
Yes, especially if you use lean meat to lower the fat content further. Individually, the ingredients of this dish are all very healthy as well.
Cabbage is packed with fiber, vitamins, and minerals. It's also low-carb and low-calorie while helping to keep you full for longer. On the other hand, ham is loaded with protein and minerals.
There's not much oil in this recipe, aside from what we use in crisping up the meat. You can blot it out to take out excess fat. I also recommend using low-sodium stock if you want less salt in the dish.
In all, this is a really healthy and satisfying dish you can add to your regular meals!
What goes into Slow Cooker cabbage and Ham?
Ham: Diced, as small or big as you prefer.
Aromatics: Chopped onion and finely minced garlic
Cabbage: The regular green kind will do, chopped.
Stock: I use homemade chicken broth, but you can also use veggie or store-bought.
Seasonings: Basic kosher salt and fresh-ground black pepper.
How to make Slow Cooker Cabbage and Ham?
Sauté. Crisp up the chopped meat by sautéing in a bit of oil, then transfer to a plate. In the same pan, sauté the aromatics until fragrant and translucent.
Assemble. Put the chopped veggies in the crockpot. Then, combine the crisped-up ham and aromatics with the vegetables. Cover with the stock, and combine everything again.
Cook. Set your pot for 2 hrs. on high until the veggies are as tender as you like them.

Serve. Garnish with fresh, chopped parsley. Enjoy hot!
Recipe variations and substitutions:
Use beer: Sub half of the stock with blonde beer. Makes the dish taste like it's been simmered for hours!
Use other meats: Instead of ham, try this with browned ground beef, pork, or chicken. You can also dice and brown some thick-cut bacon or sausage in place of the ham.
Vegetarian: Use veggie broth and sub the ham with vegan meat.
Include other vegetables: Make it healthier with diced carrots, diced potatoes, mushrooms, or cauliflower florets. You can also stir in some baby spinach or kale at the end.

Try it with other seasonings and herbs: Give the dish a flavorful twist by using Old Bay, Creole seasoning, curry blend, and other herbs like basil and dried Italian herbs.
What to Serve with Slow Cooker Cabbage and Ham?
It's fantastic with fresh-baked cornbread and a bit of sour cream on top! This dish also goes really well with all sorts of entrees, from seafood to fried chicken and grilled pork.
How to store leftovers?
Cool it all down first, then transfer it to a container. Store in the fridge for up to 3 days, but try to consume it earlier if possible, for the best texture.
To freeze, transfer the cooled leftovers to a freezer-safe bag or container. Keep frozen up to a month. Thaw, then microwave or heat up in a skillet with a splash of broth.
More cabbage recipes to try:
Recipe Tips:
You can skip browning the aromatics and ham if you're really pressed for time, and just dump it all in the pot and cook.

You can also set this to cook on low for 4 to 5 hours.

Make sure to cut the core out of the cabbage, because it's too tough to eat.
Swirl in a pat of butter at the end to create a rich but light sauce.
Deliciousness to your inbox
Enjoy weekly hand picked recipes and recommendations