Slow Cooker Cream of Mushroom Soup
Slow Cooker Cream of Mushroom Soup is something you can prepare hands off! Make tons of dishes out of this easy recipe for the whole family!
Enjoy it as a side to savory dishes like the Instant Pot Pot Roast and Cube Steak, or as an ingredient to other recipes like Chicken a la King.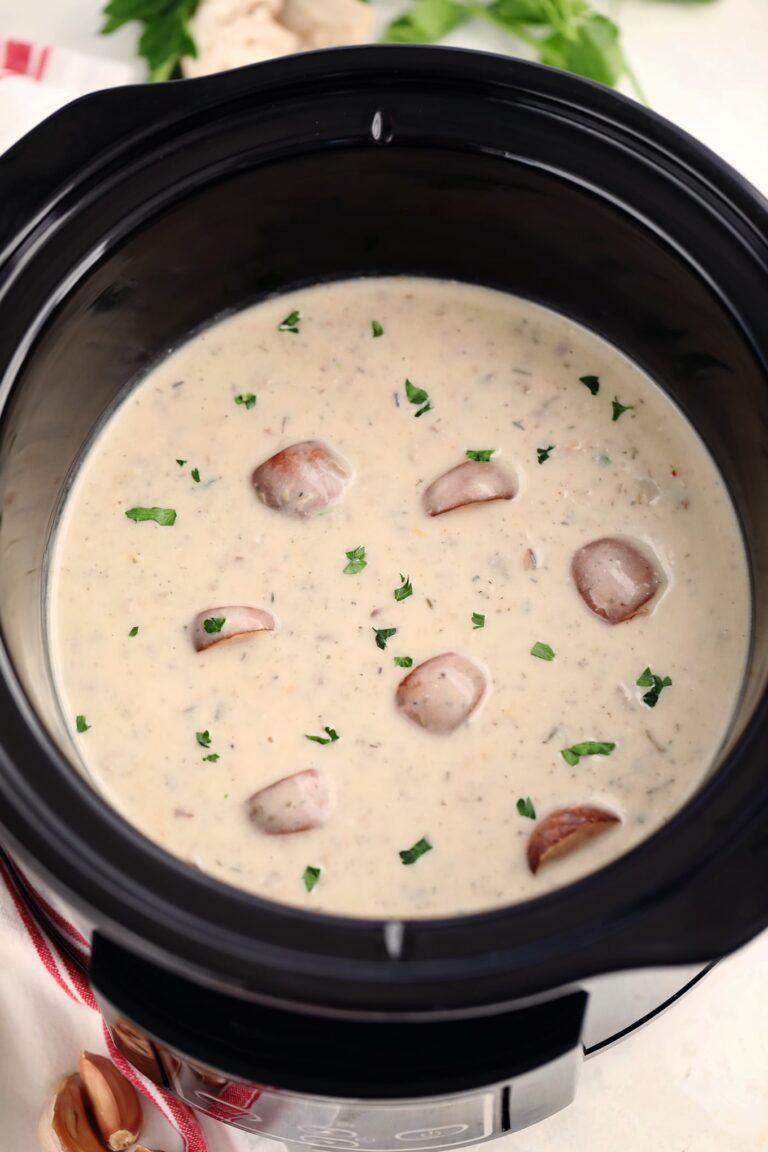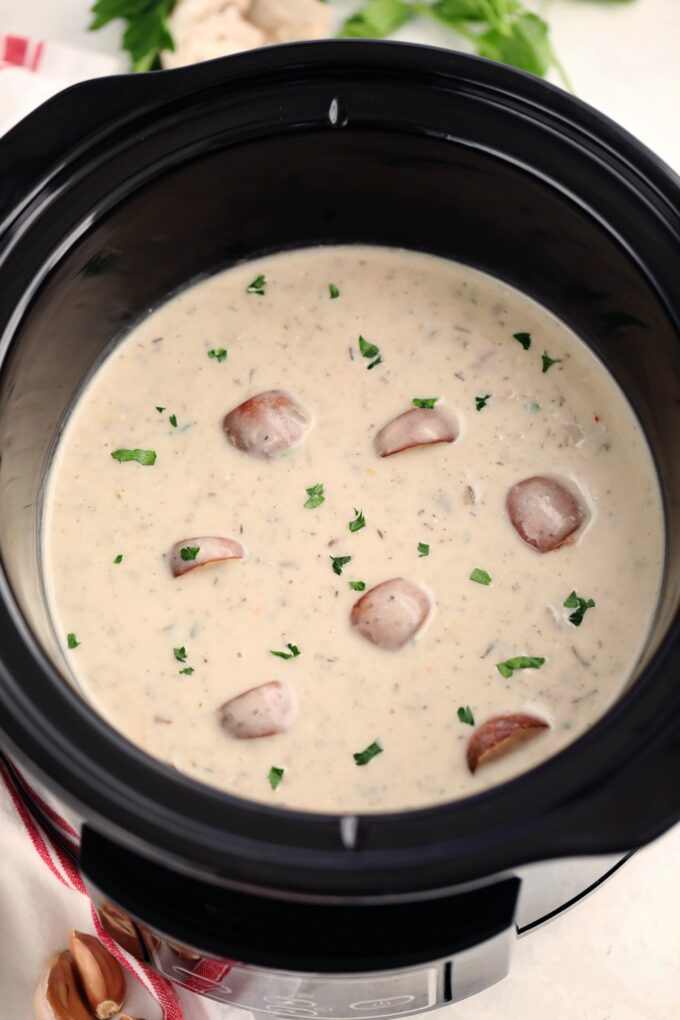 Crockpot Cream of Mushroom Soup
Slow Cooker Cream of Mushroom Soup is a great alternative to the canned ones available in stores. But why would you want to use the slow cooker?
The number one reason would be convenience. It is relatively more user-friendly than the Instant Pot, and unlike the stove, it can be left unattended. The crockpot can also double as the serving bowl, and so, you will have less to wash. And, the crockpot is perfect for soups like this recipe. It requires a low simmer and can maintain the dish warm.
You can simply prepare the ingredients, set up the timer, forget about it for a while, and then, check on it at the end of the day. This makes using the crockpot work well in busy households.
What is Cream of Mushroom Soup?
It is a creamy dish made of dairy and mushroom that is hearty and comforting. Versatile and a household favorite, it is a good base for other delicious recipes like the green bean casserole. It goes well with pork, pasta, and chicken dishes.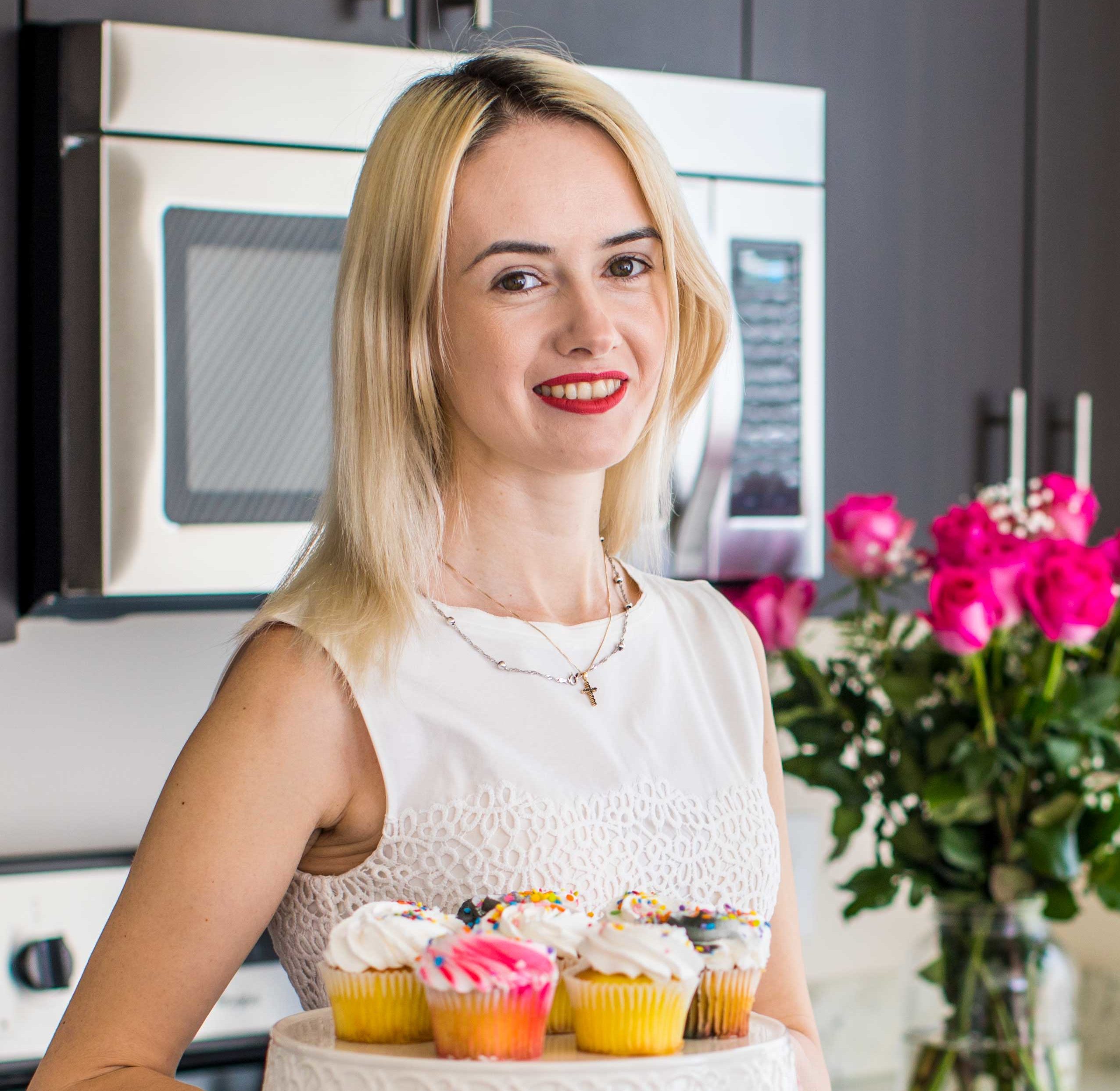 Follow us on Pinterest for more delicious recipes!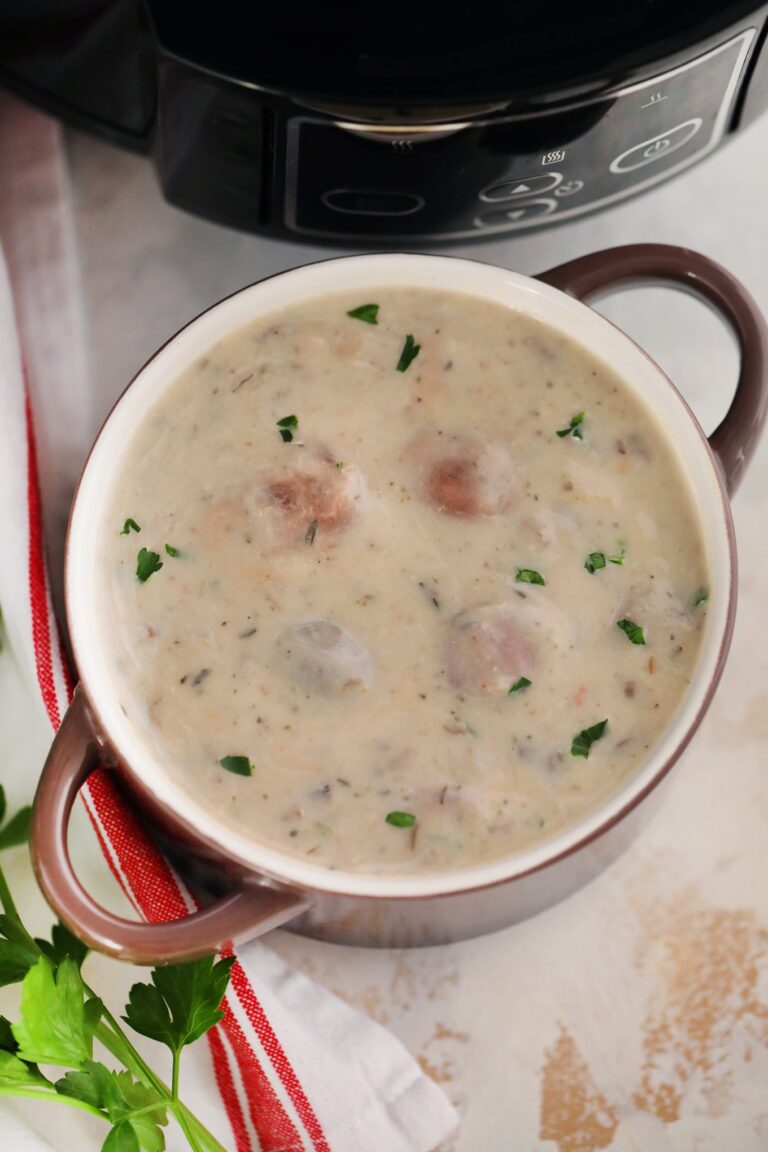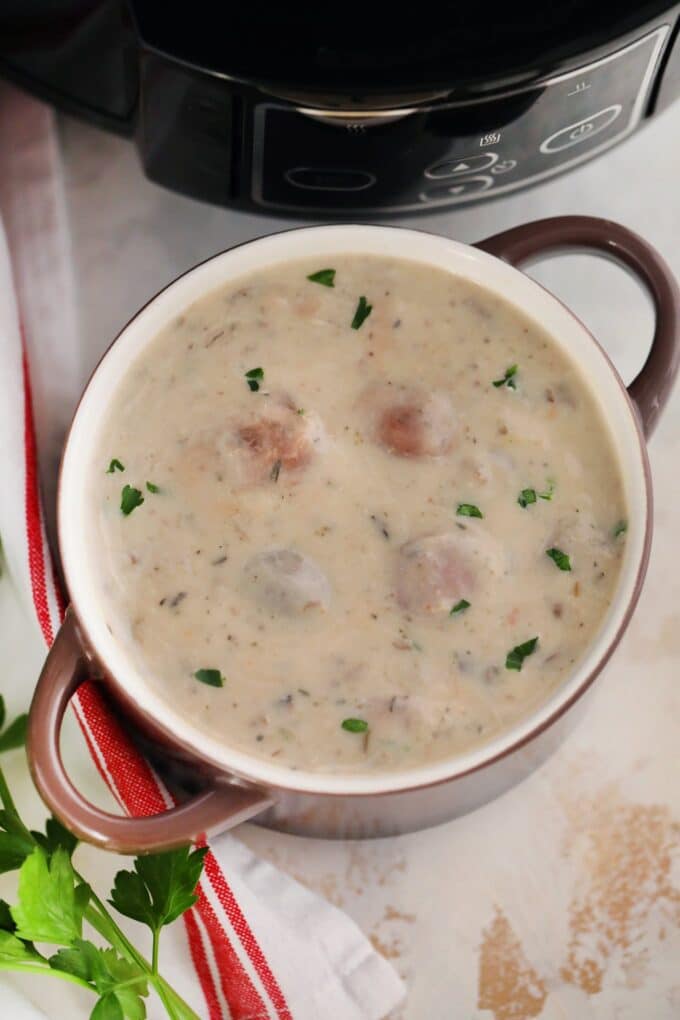 Is Cream of Mushroom Soup healthy?
This dish is healthy as it has mushrooms that are not only delicious and low-calorie, but also rich in nutrients, vitamins, and antioxidants.
It has high levels of selenium that can help improve your immune system. The antioxidants in it can help fight off cancer and slow down the aging process. Potassium, on the other hand, can help relieve muscle pain. That's why it is a great post-workout meal!
Is Slow Cooker Cream of Mushroom Soup vegetarian?
It depends on the kind of vegetarian that you are. Some vegetarians eat dairy products while others do not.
This recipe has some non-vegetarian ingredients like butter and chicken broth. The butter should be substituted with vegan butter and the chicken broth with vegetable broth.
Also, if you are a vegan, someone who does not intake dairy products along with eggs and other animal-based food, then, this exact recipe is not for you. We will be using heavy whipping cream in it, and so, you would have to substitute it with something vegan like coconut milk.
How do you make Slow Cooker Cream of Mushroom Soup?
The first part of this recipe is to sauté the onions, garlic, mushrooms, and the other herbs and spices, in butter on a skillet over medium-high heat.
Then, in a small bowl, whisk about a cup of broth and flour together.
Transfer everything and all the other ingredients into the slow cooker.
Lastly, cook it for about 4 hours on HIGH or about 8 hours on LOW.
Garnish with some chopped parsley and thyme.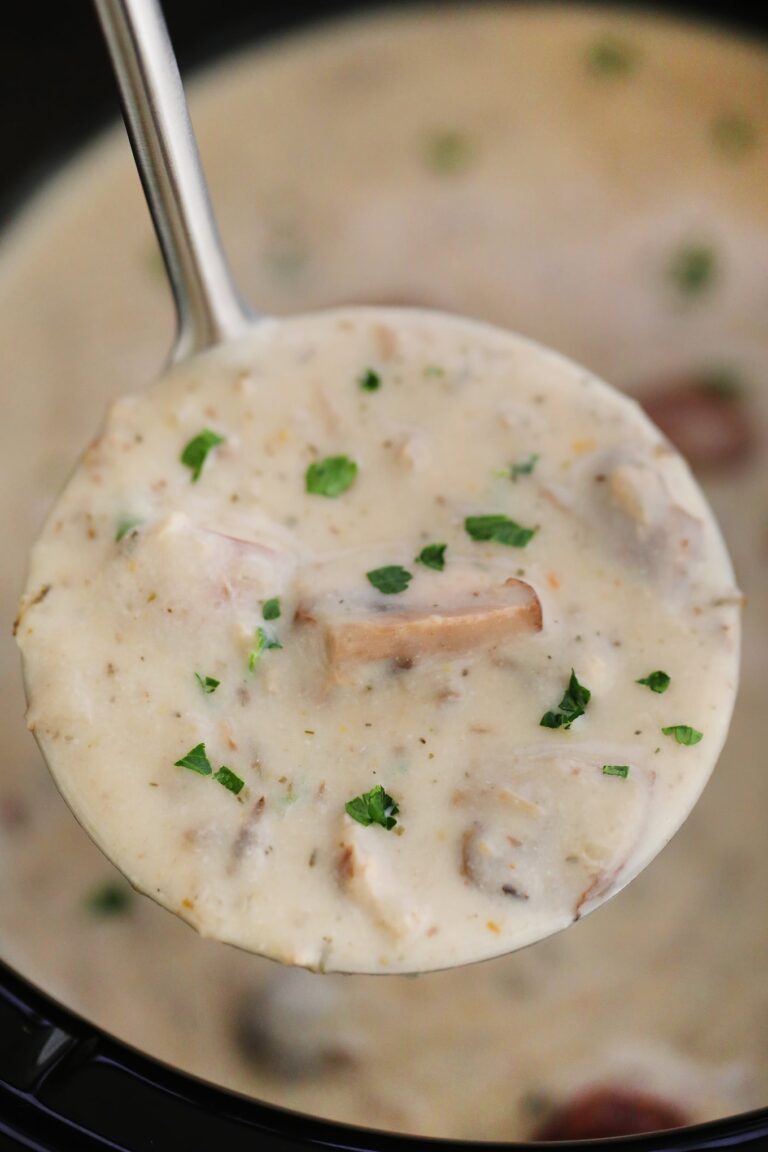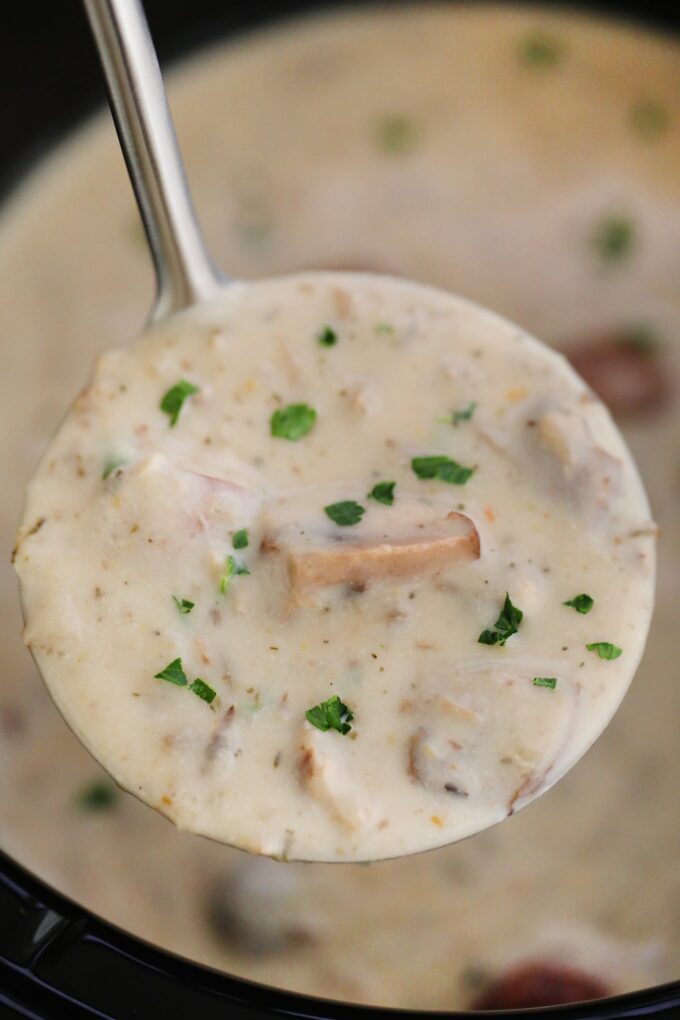 Variations:
Instant Pot: This dish can easily and conveniently be made in the pressure cooker as well. Follow the IP recipe here.
Stovetop: If you do not have a crockpot or Instant Pot, feel free to make it on the stove. Check out the stove recipe by clicking this link.
How do you thicken Cream of Mushroom Soup?
To thicken it, you can add in the roux. Make it by whisking flour, preferably cake flour for more starch, in melted butter in a heavy saucepan over medium heat. Cool this down to room temperature and then, add in your warm soup.
How do you store it?
It can stay good for up to four days in the fridge, just put it in an airtight container once it has cooled down to room temperature.
Also, this makes for a great freezer meal for when you are too busy (or lazy) to prepare a homecooked meal. Sure, there is a canned version for situations like this. But nothing beats a homecooked comfort food that has no preservatives and tastes just like how you want it!
You can freeze it in single-portion freezer bags. It can be consumed within three months. Thaw in the microwave to reheat.
To reheat, you may need to water it down with water, broth or milk first.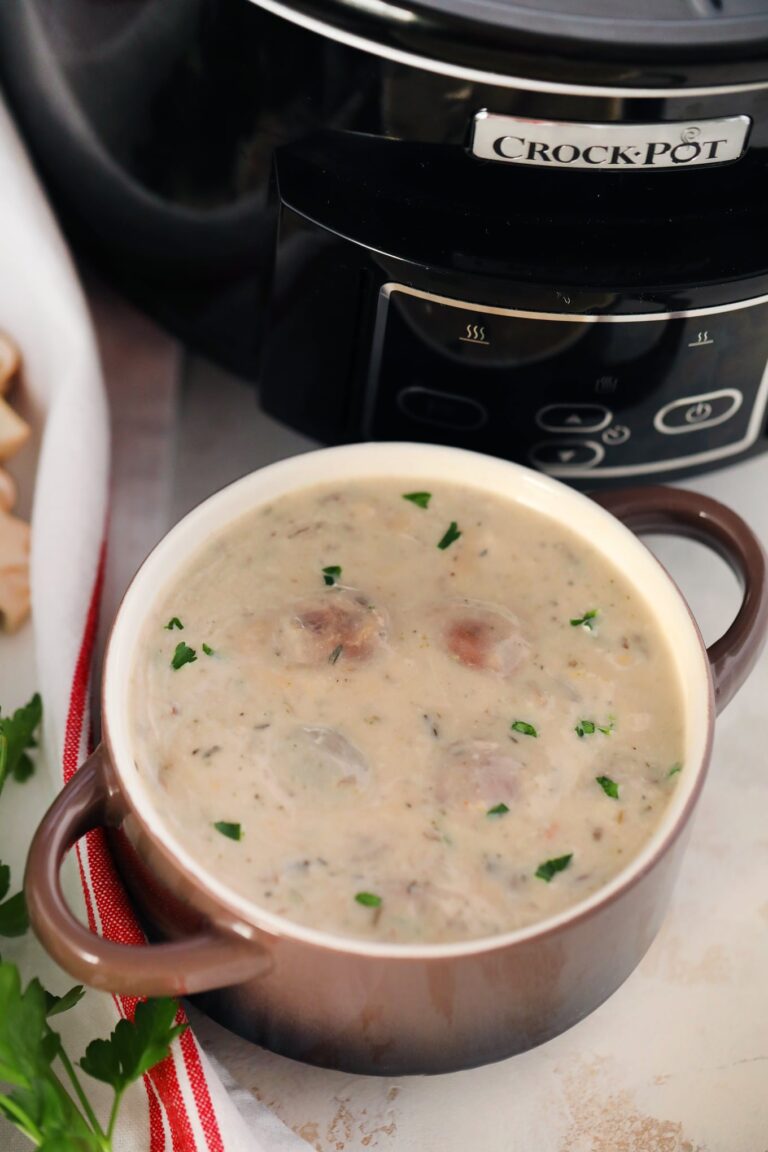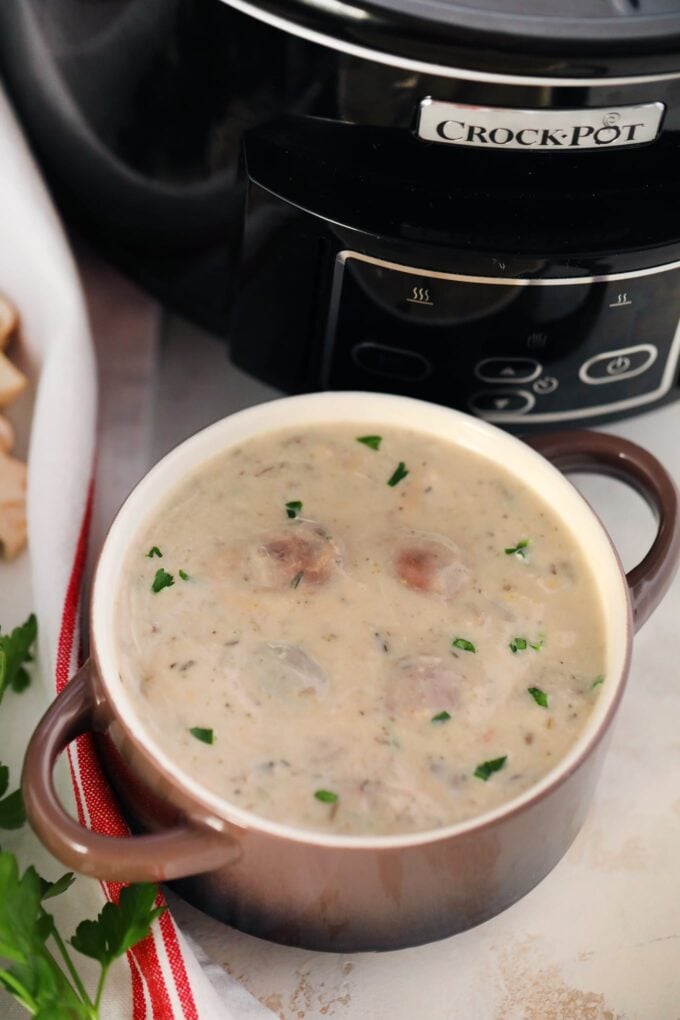 More homemade soup recipes:
Recipe Tips
Use any kind of mushroom, fresh or dried, or a combination of your favorite ones.
Also, instead of sautéing the mushroom, you can roast it in the oven at 375 degrees Fahrenheit.
You can also replace the mushroom to make cream of anything like chicken, asparagus, broccoli, celery, etc.
For extra flavor, top it with some Cheddar or Mozzarella cheese.
Save Recipe
Slow Cooker Cream of Mushroom Soup
Slow Cooker Cream of Mushroom Soup is something you can prepare hands off! Make tons of dishes out of this easy recipe for the whole family!
Author: Catalina Castravet
Serves: 6 servings
Prep time:

30

minutes
Cook time:

2

hours

30

minutes
Total time:

3

hrs
Nutrition information
Calories: 191 Carbohydrates: 22 Protein: 5 Fat: 9 Saturated Fat: 2 Cholesterol: 1 Sodium: 888 Potassium: 589 Fiber: 2 Sugar: 9 Vitamin A: 515 Vitamin C: 19.8 Calcium: 97 Iron: 1.6
Save Recipe
More recipes you might love
Categories: