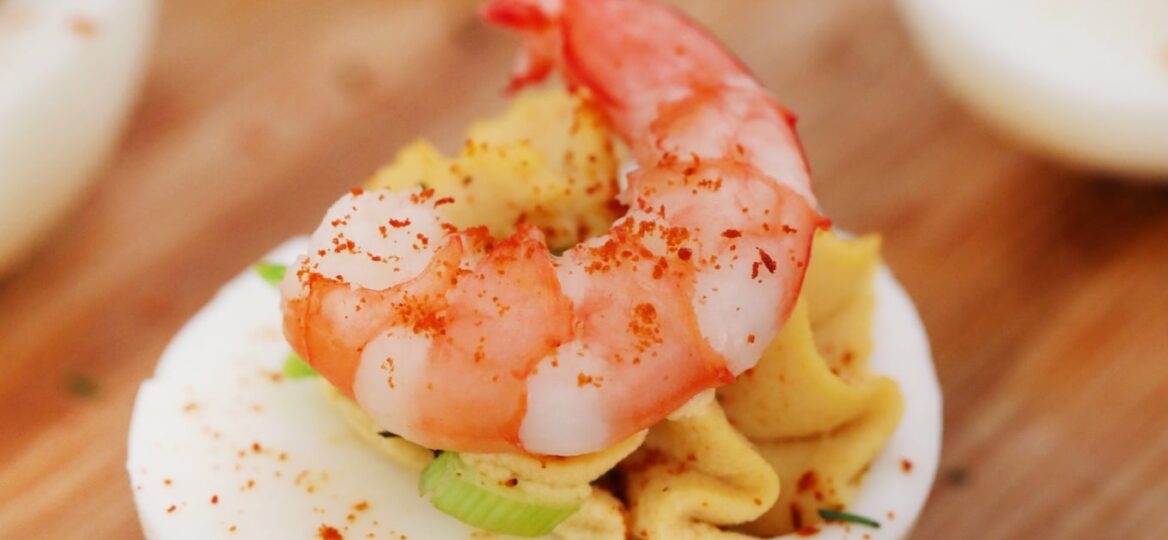 Deviled Eggs with Old Bay Shrimp [video]
Deviled Eggs with Old Bay Shrimp are easy to make and the perfect finger food for parties, potlucks, or Easter. They require a few simple ingredients and are ready in about 30 minutes.
These eggs are our favorite appetizer to serve on the Easter table. We love to serve them with Easter Lamb, Hot Cross Buns, and Scalloped Potatoes.
Homemade Deviled Eggs with Old Bay Shrimp
Just like our classic deviled eggs recipe, this one utilizes the Instant Pot hard-boiled eggs method. We love using the Instant Pot to boil them because they are always perfectly cooked, and very easy to peel. And this is very important when making this recipe at home.
You want to be able to peel them easily without damaging the eggs. Therefore, we strongly recommend boiling them in the Instant Pot. Once you have the eggs done and ready, the next part is simple. You can also boil the old fashioned way, just like we show in the video.
All is left to do is to make the filling mixture, then add the old bay shrimp on top. This is such an easy recipe to make, yet so delicate and flavorful. They can be enjoyed for breakfast, brunch, an appetizer, or side dish. No matter how you eat them, you are guaranteed to love them!
How to make perfect hard-boiled eggs for this recipe?
Our preferred way to boil them is in the Instant Pot. As mentioned above, they end up perfectly cooked and peel very easily. You can check the pressure cooker recipe here.
Alternatively, you could cook them on the stovetop for about 13-15 minutes in boiling water. Once cooked, it is important to transfer them quickly into ice-cold water and let them sit in for about 1-3 minutes. This will stop the cooking process and make them peel easily.
Also, you could use recycled leftover Easter eggs and fill them with the mixture.
HOW TO MAKE DEVILED EGGS with Old Bay Shrimp?
Once you have the eggs boiled and ready, the rest is pretty simple. Slice the eggs in half lengthwise, and scoop out the yolk into a separate bowl. Then, with a fork, smash the yolk and add some mayonnaise, mustard, vinegar, seasoning, and mix well.
Next, with a small spoon, scoop out some of the mixtures and fill the egg whites. Sprinkle with some paprika, and then top each piece with shrimp. The shrimp on top really give them a festive look and a nice delicate flavor. We've made this recipe over a dozen times, and it never disappoints. It is simple, delicious, and very flavorful!
Also, watch the recipe video attached, and see how easy this meal is to prepare!
How far in advance you make deviled eggs?
This is the perfect recipe to make in advance, as you can easily store them in the refrigerator for up to 3 days. We recommend keeping the shrimp, the whites, and the egg mixture separate in an airtight container.
When the serving time comes, simply fill the whites with the filling and top with the old bay shrimp on top. This way they will look completely fresh.
Alternatively, if you already have filled leftover deviled eggs, simply place them in an airtight container and store them in the fridge for up to 3 days.
DEVILED EGG RECIPE FLAVOR VARIATIONS
One of our favorite way of making this recipe is with old bay shrimp. However, this dish is so versatile that it can be made with various flavors. Some nice additions for toppings are:
Crunchy bacon
Chives
Shallot
Sliced jalapeno
Shredded cheese
Feta cheese
Dill
Basil
More egg recipes to try:
Sausage Egg and Cheese Breakfast Burrito