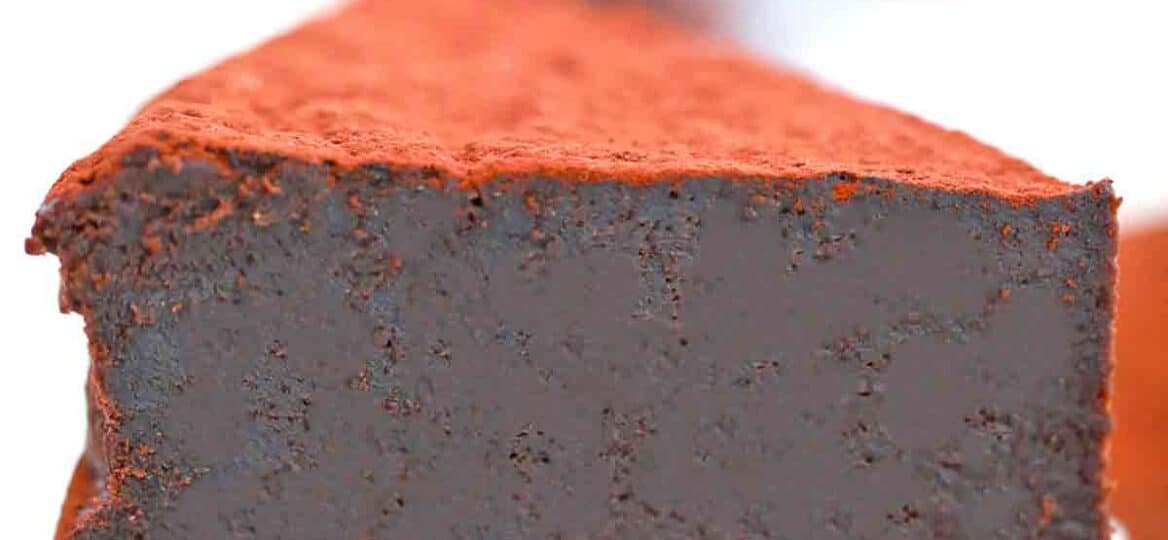 Instant Pot Flourless Chocolate Cake
Instant Pot Flourless Chocolate Cake is the best you have ever tasted with a fudgy, rich, chocolaty inside and light crispiness on the outside. It is easy to make, so you do not have to wait for a special occasion to enjoy it. With the rich taste of cocoa in every bite, your family will love this great recipe.
Looking for more instant pot recipes? Try our Easy Instant Pot Chocolate Muffins with cocoa powder and chocolate chips or this delicious Instant Pot Gingerbread Cake with cream cheese and maple syrup.
This flourless cake is naturally gluten-free and it is absolutely decadent! It is perfect to make in the instant pot, as you don't have to pick through the oven window or open it at the wrong time and end up with a cake that sunk in the middle.
Making it in the pressure cooker is just a breeze and the best decision when you don't want a hot house during summer days.
Also, this dessert is perfect for special occasions, or just to take to a summer potluck. Serve it with a variety of fresh berries, whipped cream or cold vanilla ice cream.
A drizzle of raspberry, blueberry, or strawberry syrup is another great choice to serve it with.
If you like this recipe, try our other instant pot desserts or this easy no-bake chocolate cake with Oreo cookies, cocoa, and cream that can entirely be made on the stove.
Alternatively, try our chocolate lava cake recipe you can make it four different ways. These are some of the easy recipes you can enjoy any day of the year, not just for holidays.
For something a bit fancier, try this decadent Chocolate Cake made with pudding mix, chocolate ganache, and cream cheese frosting.
Follow us on Pinterest for more delicious recipes!
Ingredients needed:
These are the basic ingredients for this instant pot chocolate cake recipe. Scroll down to our handy recipe card for detailed instructions and measurements.
Butter: Unsalted high-fat butter, such as Plugra.
Chocolate chips: We used semisweet chocolate chips.
Dutch process cocoa powder
Fine sea salt
Sugar: Granulated white sugar.
Light brown sugar
Strong coffee: Instant coffee is fine.
Vanilla: Pure vanilla extract.
Eggs: Large eggs at room temperature.
Toppings: Whipped cream and berries.
How to make instant pot flourless chocolate cake recipe?
Begin: To start, pour one cup of water into the bottom of the pot and line a seven-inch springform pan with parchment paper. Grease the sides of the cake pan and the paper at the bottom of the pan with cooking spray.

Melt: Then, add cocoa powder, chocolate, and butter to a microwave-safe bowl and microwave on high for several 40-second intervals, whisking each time, until the chocolate melts. Cook time may vary depending on your microwave.
Mix: Next, add both sugars and salt to the melted chocolate and whisk just to combine. Add the vanilla, coffee, and eggs, one at a time, whisking gently after each egg.
Cover: After, pour the cake batter into your prepared pan and tap it gently to remove air bubbles. Cover with aluminum foil and tuck the ends under the pan. Put a trivet in the bottom and carefully lower the pan into the pot.

Cook: Then, close the lid and set the pressure release valve to seal. Choose manual and set the cooking time for 50 minutes on high pressure. It will probably take about five minutes before the timer begins.

Release: After, do a natural release for 10 minutes before moving the valve to quick release the rest of the steam before using potholders or a towel to remove the cake by the trivet handles.

Remove: Last, remove the foil and check for doneness. The middle should jiggle in the center like a set Jell-o. If it is still liquid, cook for another five or 10 minutes. Blot the top with a paper towel to absorb condensation and let it cool on a cooling rack for about two hours.

Serve: Finally, remove the cake and garnish with cocoa and whipped cream before serving.
Recipe variations:
Other fats: Feel free to try other butter or oil like coconut oil.
Espresso: Alternatively, you can use espresso powder instead of coffee.

More chocolate: For the chocolate lover, add chocolate syrup and semisweet chips to the top of this rich chocolate cake.

Nuts: You can also add a cup of chopped walnuts or pecans for a crunchier cake.
No coffee: Skip the coffee if you do not like that flavor.

Other flavors: Experiment with other flavors using different extracts like almond, lemon, and lavender.
How to serve:
You can serve this as a perfect dessert with any meal or the next time you need to satisfy your sweet tooth. Or try one of these serving suggestions:
Sprinkle with red dusting sugar or use red frosting to decorate and serve for Valentine's Day.

Strawberry sauce would make a delicious topping for this dense cake too.
Add a dollop of vanilla ice cream to the top of or next to the cake.

Another way to enjoy this keto cake is with our keto caramel sauce.
Top the cake with berries like raspberries, strawberries, or blueberries.
Frequently asked questions
What is a flourless cake?
A flourless cake is great for those with gluten intolerance or those on a keto diet. It can be baked or unbaked and has a creamy and silky texture and flavor.
It is similar to a cheesecake consistency and stays together with eggs and fats. There is very little air in it, so it is a dense and, in this case, fudgy cake.
Can I make this in a slow cooker?
Yes, this dense cake can easily be made in a slow cooker using the water bath method. Put one cup of water into the bottom of the pot and then insert a baking dish that fits inside the cooker.
Cover it and cook for four hours but check after two. The timing depends on the thickness of the baking dish.
Why did my cake fall?
It happens quite often, especially for flourless cakes because there is no gluten to help them rise or stay risen. However, if your cake puffs up a lot when you cook it and then deflates as it cools, it probably has too much air in it.
The next time you make a flourless cake, be sure to stir it gently and just enough to combine the ingredients.
How to store leftovers:
Store: The instant pot flourless chocolate cake will store well in plastic wrap or an airtight container at room temperature for several days or in the fridge for up to a week.

Freeze: This is one of those cakes you can actually eat frozen and it will stay good for up to a month in the freezer. When you get a chocolate craving, just slice off a tiny piece and it will melt in your mouth.
Defrost: Thaw overnight in the refrigerator before serving.
Reheat: Reheat in the microwave for 45 seconds or eat chilled.
More instant pot desserts:
Cooking tips:
If you use salted instead of unsalted butter, make sure you omit the salt in this flourless chocolate cake recipe.

Instead of using the microwave, you can melt the chocolate in a medium-size bowl over a pot of boiling water.

If you do not have a trivet with long handles, use aluminum foil to make a sling. Just fold a long piece of foil and put it under the pot with the sides hanging out for handles.

To easily remove the sides of the springform cake pan, use a paring knife around the edges and then a long knife under the paper to loosen it a bit.

You could also use a little almond flour on bottom of the pan to keep it from sticking to the parchment liner.
Instant Pot Flourless Chocolate Cake
Ingredients
15

tablespoons

unsalted butter

1 1/2

cup

semisweet chocolate chips

or bittersweet

4

tablespoons

unsweeteened Dutch-processed cocoa powder

plus more for garnish

1/2

teaspoon

fine sea salt

1/2

cup

white granulated sugar

1

cup

light brown sugar

2

tablespoons

strong coffee

like liquid espresso (not espresso powder)

2

teaspoons

pure vanilla extract

6

large eggs

at room temperature
Instructions
Add 1 1/2 cups of water to the Instant Pot.

Line a 7-inch springform pan with a parchment paper round and grease the sides and paper-lined bottom with cooking spray or butter.

Add the butter, chocolate, and cocoa powder to a medium-sized microwave-safe bowl and microwave on high in 30-second intervals. Whisk well after each interval, until melted and smooth.

Add the salt and both sugars to the warm chocolate mixture and whisk to combine.

Add the vanilla and coffee. After that, add the eggs one at a time, whisking after each addition, until combined.

Transfer the batter to the prepared pan and tap the pan against the counter to pop any air bubbles.

Cover the pan with tin foil, place it on the Instant Pot trivet and lower the cake into the pot.

Close and lock the lid and set the pressure release valve to sealing.

Select Manual and set the cooking time for 50 minutes on high pressure.

When the cooking time ends, let the pressure release naturally for 10 minutes and then open the pressure valve and release the remaining steam.

Open the pot and using a dish towel, carefully remove the cake.

Remove the tin foil, and check if the cake is ready. If the center jiggles just slightly it is good, if it's liquidy, return it to the pot for another 5 to 10 minutes.

Let the cake cool to room temperature on the counter, for about 2 hours. After that, run a thin long knife around the edges and remove the springform sides.

Refrigerate the cake or serve it warm.

Serve garnished with cocoa powder, fresh berries, and whipped cream on the side.