Instant Pot Chocolate Pots De Crème
Instant Pot Chocolate Pots De Crème are little cups of thick, rich, and creamy chocolate goodness made with just 6 ingredients. To compare, they are a cross between pudding, custard, and mousse. It doesn't matter what you call it, the results are luxuriously delicious.
Want more easy dessert ideas? Try our Instant Pot Chocolate Lava Cake with an ooey-gooey middle that tastes like brownie batter. Our Instant Pot Crème Brulé is also yummy made with fresh vanilla beans.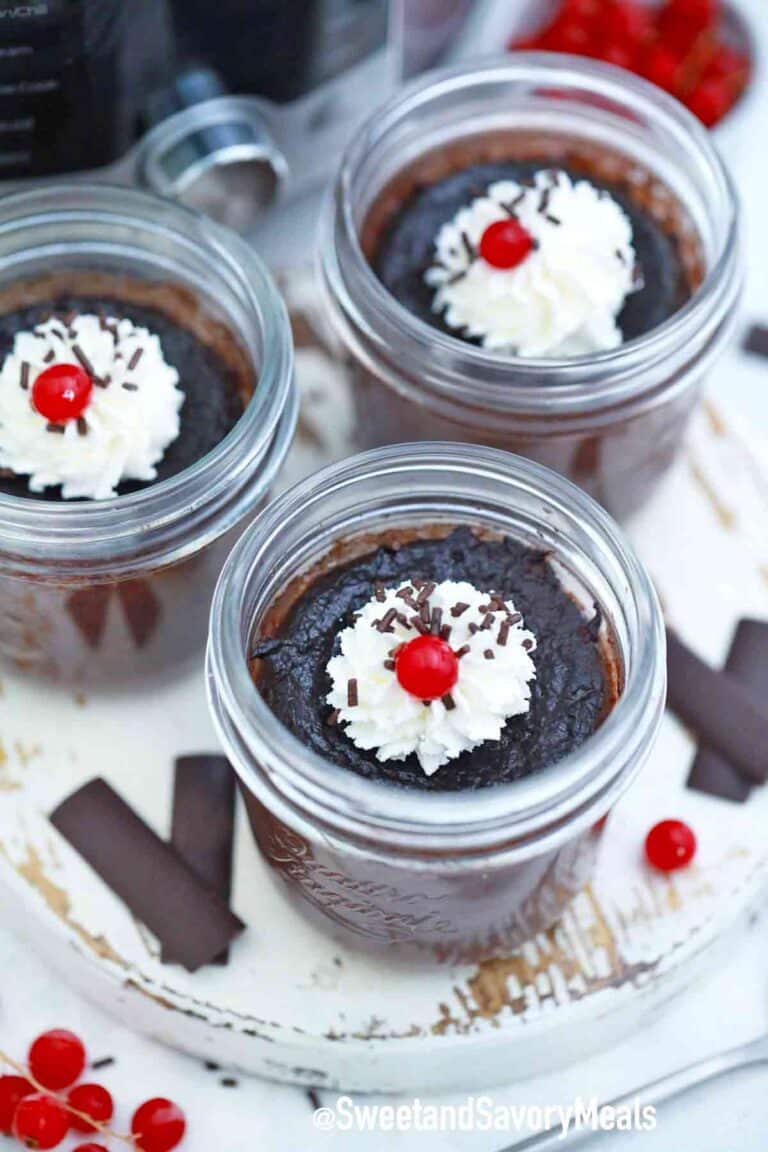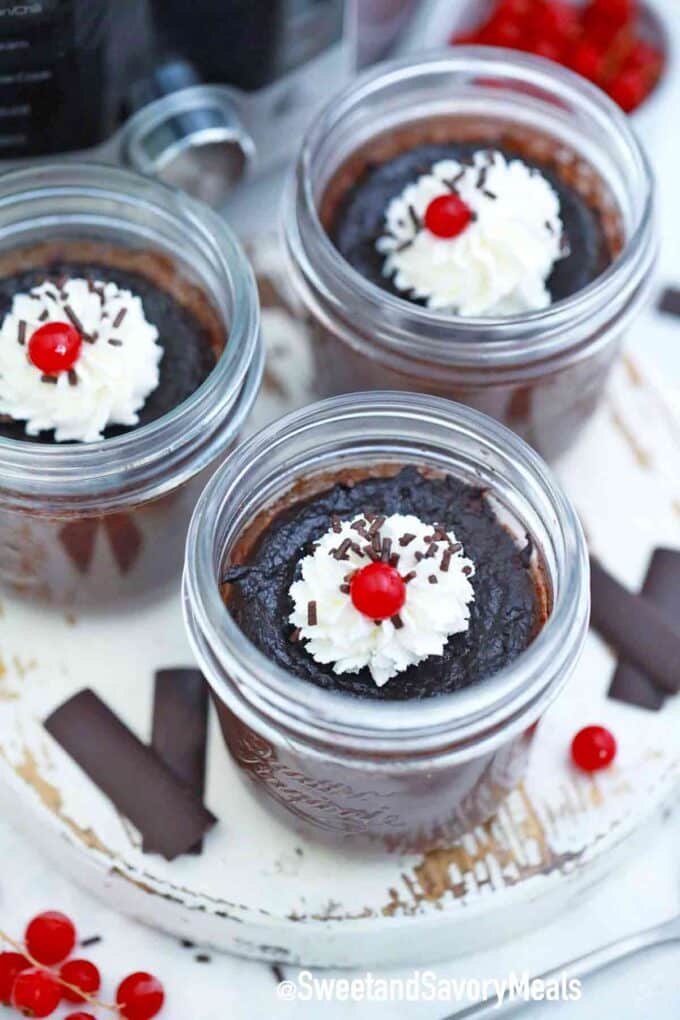 Using chocolate, cream, eggs, and sugar, you can have these done in less than 20 minutes. They are great to make in advance, as they need to be chilled before serving them.
I like to make them one or two days in advance and not have to worry about dessert. In addition, pots de creme recipes are great for potlucks as they are portable.
Just make them in small mason jars, cover with a lid and take them to church, cookouts, or tailgate events! Also, these are naturally gluten-free.
You can make just about anything in an instant pot and these little pots are the perfect recipe. You only need a few ingredients that you may already have in the kitchen.
Whether you are hosting a dinner or having a birthday party, the pots are the best size for easy individual servings.
Another idea is Easy Instant Pot Chocolate Muffins with chocolate chips and cocoa powder.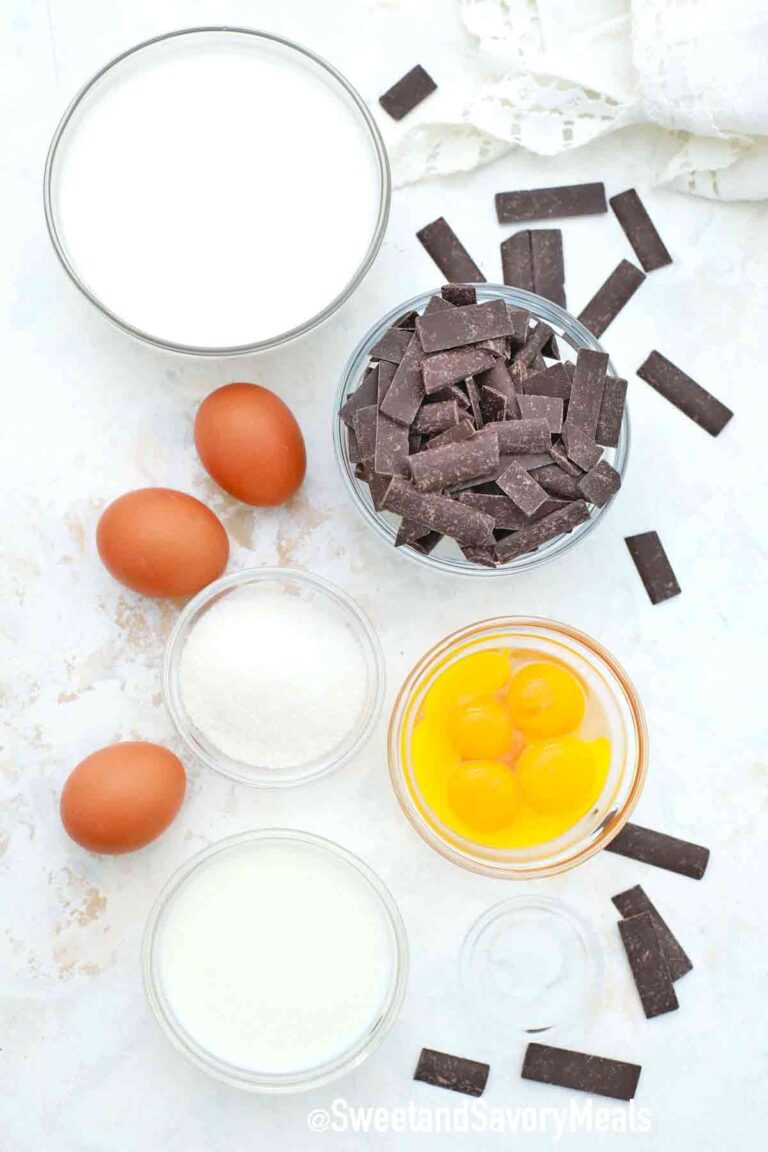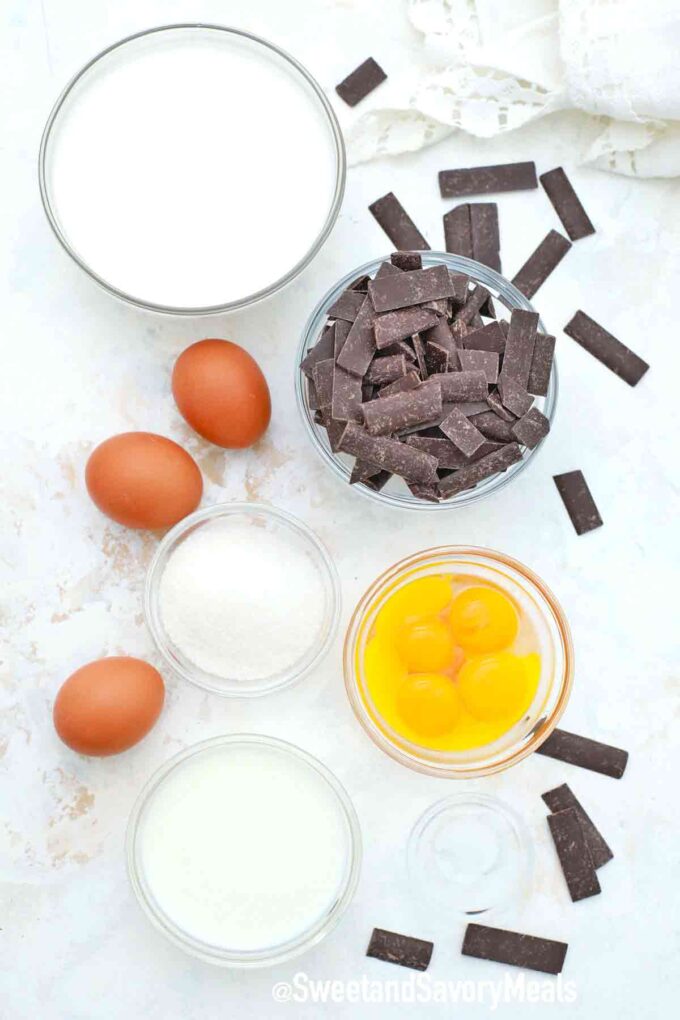 Ingredients needed:
Here are the basic ingredients for these chocolate pots. For step-by-step directions and exact measurements, scroll down to our recipe card.
Bittersweet chocolate: Dark chocolate, melted and at room temperature.
Heavy cream: Heavy whipping cream.
Egg yolks: Large egg yolks.
Sugar: Granulated white sugar.
Salt: Just a pinch.
Whipped cream and grated chocolate: For decoration.
How to make instant pot chocolate pots de crème?
Simmer: To start, bring the heavy cream to a simmer using a medium saucepan on medium heat. It is done when it covers the back of a wooden spoon.
Mix: Then, in a large bowl, whisk the eggs, sugar, and salt lightly. Then, add the hot cream and the milk before adding the chocolate. Combine cream well and divide the mixture into six cups.

Fill the pot: Next, pour 1 ½ cups of water into your instant pot before putting the trivet on the bottom. To cook all six, put in three of the custard cups and put a second trivet on top of them. Stack the other three cups on top and lock the lid.
Cook: Last, select high pressure and set the timer for six minutes. When time is up, turn off the pressure cooker and do a natural release for 15 minutes before doing a quick pressure release to get rid of the remaining pressure. Wait until the valve drops and then carefully remove the lid.

Mitts: Using oven mitts, take out the cups one at a time and let them cool uncovered on a cooling rack.
Chill: After they come to room temperature, cover the top with plastic wrap and let it chill for at least four to six hours.

Serve: Finally, add whipped cream and chopped chocolate or chocolate shavings to the top when serving.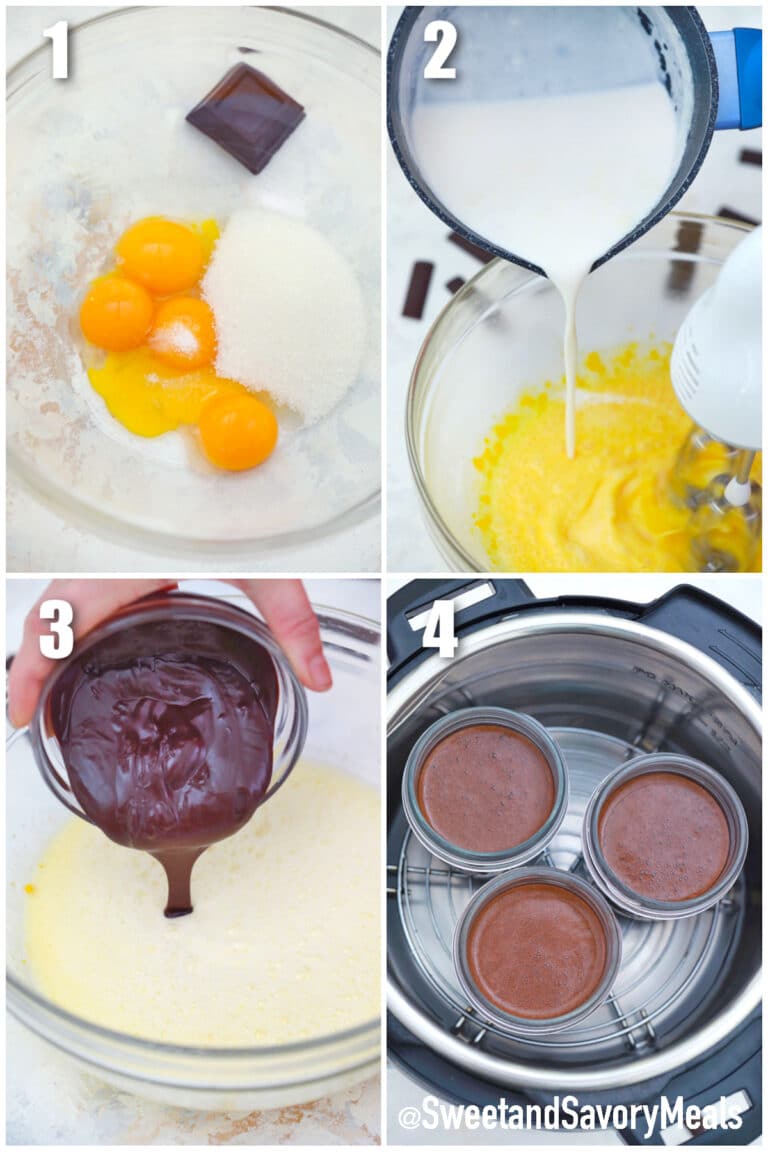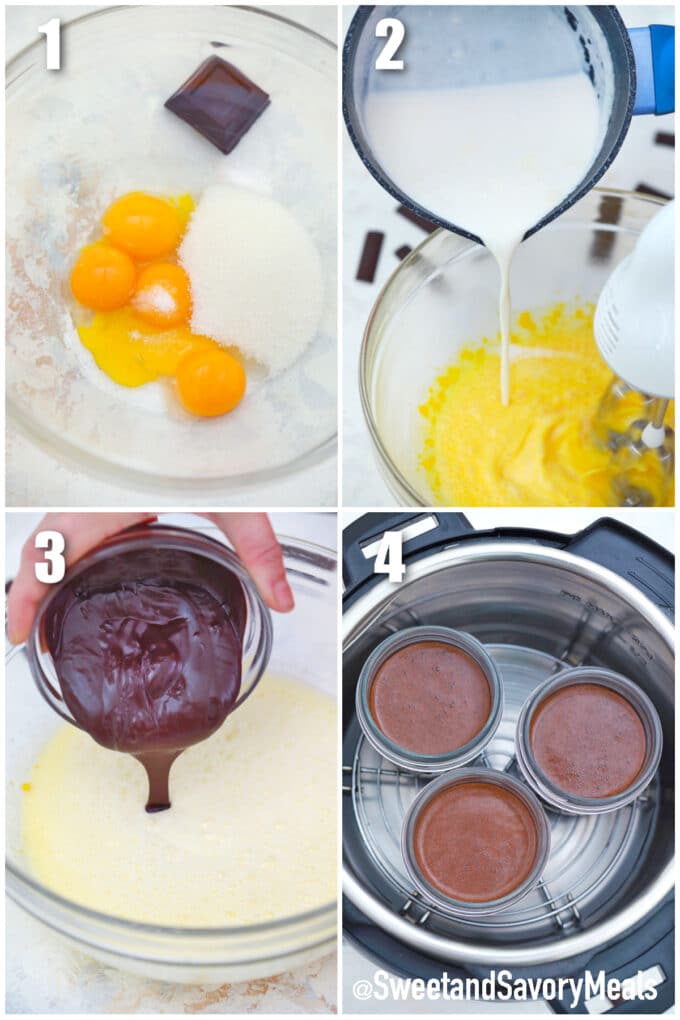 Recipe variations:
Vanilla: Add one teaspoon of vanilla extract for more flavor.
Coconut: You could also use coconut milk or extract to make coconut cream pots.
Milk chocolate: If you don't like bittersweet chocolate, feel free to use milk chocolate.
Minty: Add some mint extract for a minty flavor.
Go big: Alternatively, if you want a large serving instead of an individual serving, mix it all in a medium bowl before pouring it into a cake pan that fits in your cooker.
Go small: For child-sized servings, use three-ounce custard cups or ramekins.
How to serve:
These delicious desserts can be served at a dinner party, holiday meal, or any day of the year. It does not have to be a special occasion when it tastes so delicious. Or try one of these serving suggestions:
Add a dollop of homemade tangy and tasty strawberry sauce just before serving.
If you are having a party, sprinkle some candy decorations on top of each cup.
For a decadent dessert, top these with our homemade strawberry ice cream.
Another way to decorate these little cups of heaven is with chocolate chips on top.

Drizzle this thick and creamy caramel sauce or chocolate syrup on top for even more sweetness.
Topping these with nuts just seems to make sense. Try chopped walnuts or pecans.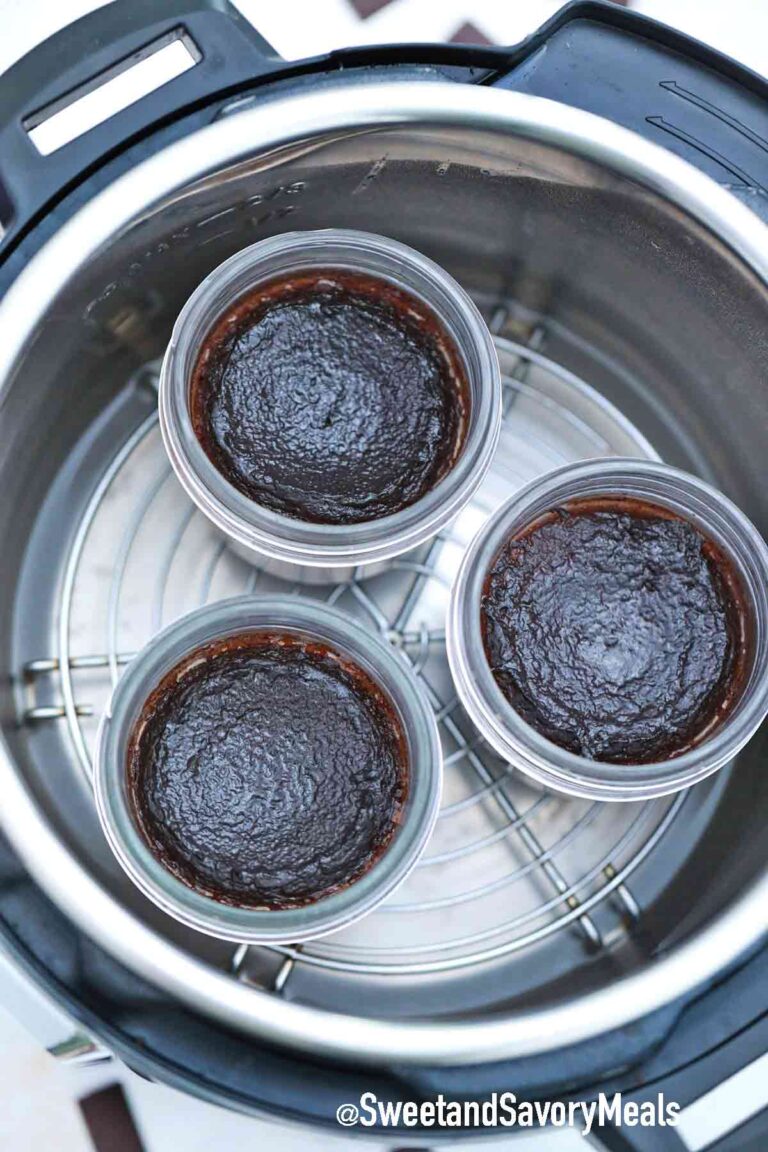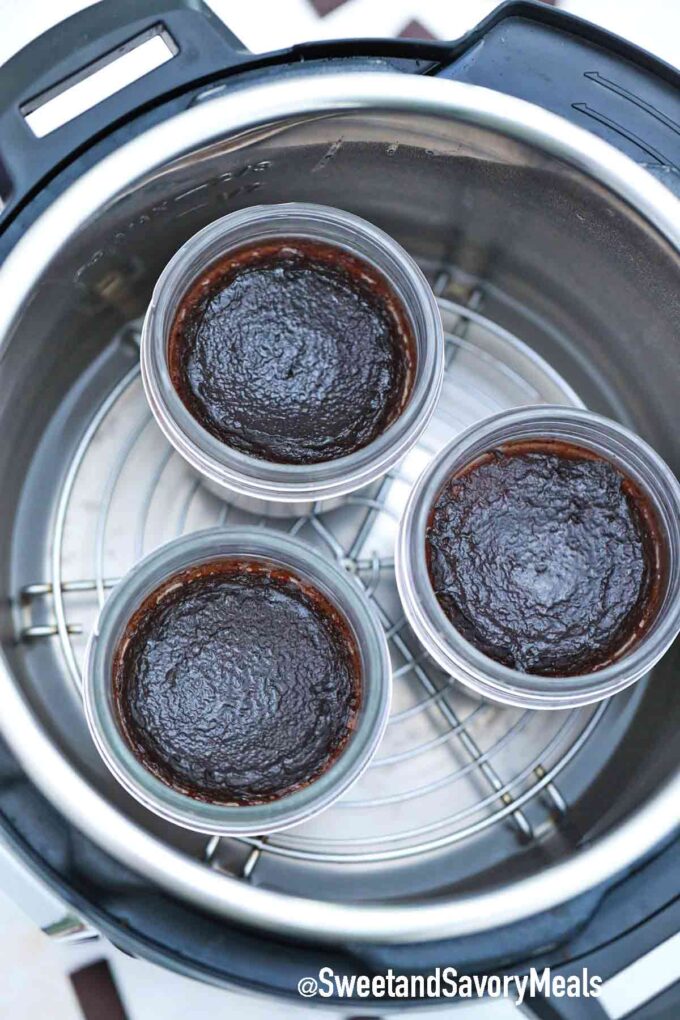 Frequently asked questions
What is a chocolate pot de crème?
Pot de creme is just a fancy name for rich thick pudding. Translated, it means little pot of cream.
The name came from the French, which is where it was first served in the 1600s. These are typically cooked in the oven in a water bath on medium-low heat.
What is the difference between pudding, custard, and mousse?
Mousse has a lighter texture and is typically not cooked, just whipped to soft peaks. Pudding is a stirred custard that is thickened with starch.
Our custard is not stirred and baked in a pot. Many people add a large pan with several cups of water if baked in the oven.
What is the best way to melt chocolate?
One of my favorite ways to melt chocolate is in the microwave in a heatproof bowl. It only takes about a minute or two, depending on how much you are melting.
You just have to remember to stir it every 30 seconds. However, many cooks say it has better texture and flavor when using a double boiler or heavy saucepan.
How to store leftovers:
Store: Wrap the whole custard cup in plastic wrap and place it in the fridge for up to four days.
Freeze: Alternatively, put the plastic-wrapped cups into a freezer bag and freeze for up to six months.
Defrost: Thaw overnight in your refrigerator.

Reheat: Many people like these chilled but you can heat them up. Reheat a small saucepan until it is liquid, and then pour it back into the cups.
More chocolate desserts:
Cooking tips:
If you use milk chocolate, omit the sugar from the recipe.

Don't have custard cups? You can use half-pint mason jars or ramekins.
Feel free to use a double boiler to melt the chocolate mixture.
Pour your custard through a fine-mesh sieve before cooking if there are any lumps.
If you don't have a fine sieve, you can use cheesecloth over a small bowl. You could even put a coffee filter in a colander as a substitute.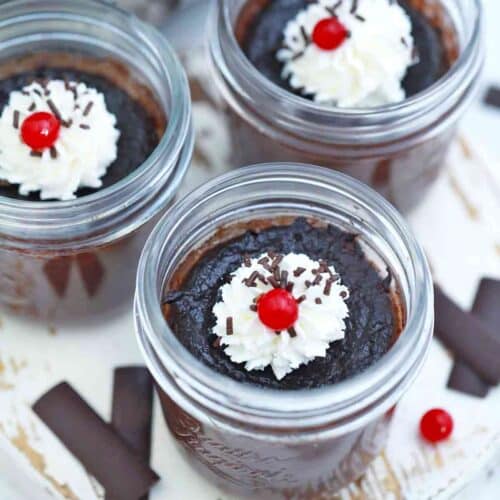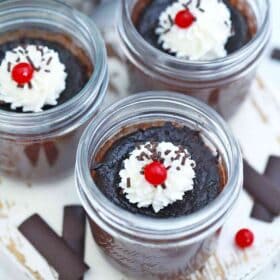 Instant Pot Chocolate Pots De Crème
Instant Pot Chocolate Pots De Crème are little cups of thick, rich, and creamy chocolate goodness made with just 6 ingredients.
Save
Share
Print
Pin
Rate
Ingredients
2

cups

heavy cream

5

large egg yolks

(room temperature)

1/4

cup

white sugar

8

ounces

bittersweet chocolate

(or semisweet chocolate - melted)

pinch

of salt
Garnish:
Whipped cream

Grated chocolate

Berries
Instructions
Place a small saucepan over medium heat and bring the cream to a simmer. Remove from heat.

In a large mixing bowl, whisk together the egg yolks, sugar, and salt until fully combined.

After that, slowly whisk in the hot cream, do not rush, and whisk until fully combined.

Next, whisk in the melted chocolate until combined.

Pour into 6 ramekins or small size mason jars.

Add a trivet and 1 1/2 cups of water to the pressure cooker's inner pot.

Arrange the ramekins onto the trivet, about 3 will fit, you can place a second trivet on top and stack the remaining three ramekins.

Close and lock the lid, on older models point the valve to sealing.

Select High Pressure and Pressure Cook for 6 minutes.

When done, turn off the pressure cooker and do a natural pressure release for 15 minutes, and then do a quick pressure release to release the remaining pressure.

Next, when the valve drops carefully remove the lid and use oven mittens to remove the ramekins onto a wire rack to cool.

Cool them to room temperature and after that refrigerate covered with plastic wrap for at least 4 hours or overnight.

Serve with whipped cream, shaved chocolate, and fresh berries.
Nutrition
Calories:
348
kcal
|
Carbohydrates:
32
g
|
Protein:
7
g
|
Fat:
21
g
|
Saturated Fat:
11
g
|
Polyunsaturated Fat:
1
g
|
Monounsaturated Fat:
7
g
|
Trans Fat:
1
g
|
Cholesterol:
174
mg
|
Sodium:
42
mg
|
Potassium:
353
mg
|
Fiber:
3
g
|
Sugar:
26
g
|
Vitamin A:
367
IU
|
Calcium:
143
mg
|
Iron:
3
mg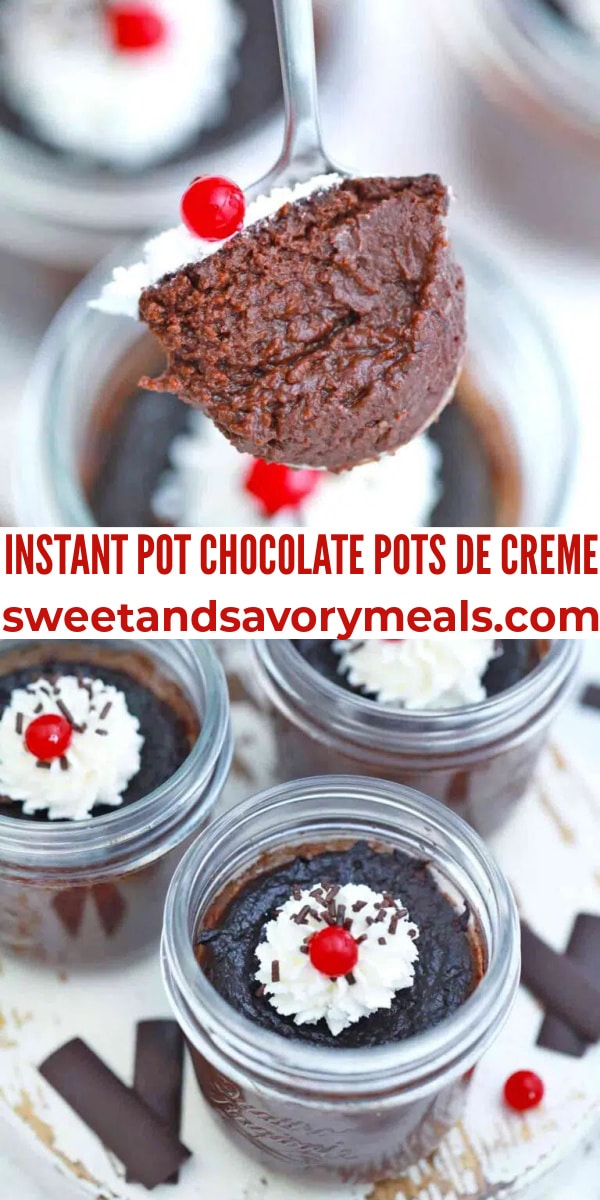 More recipes you might love