Instant Pot Creme Brulee [Video]
Instant Pot Creme Brulee is soft, luxuriously creamy, and so comforting! There is something complex about this dessert that people love but really, it is so easy to make! Watch the recipe quick video tutorial and learn how to make it without the mess!
The IP has been handy in making savory meals but also, it is a good dessert-making machine! Check my IP recipes for Chocolate Muffins, Baked Apples, and Pumpkin Cheesecake!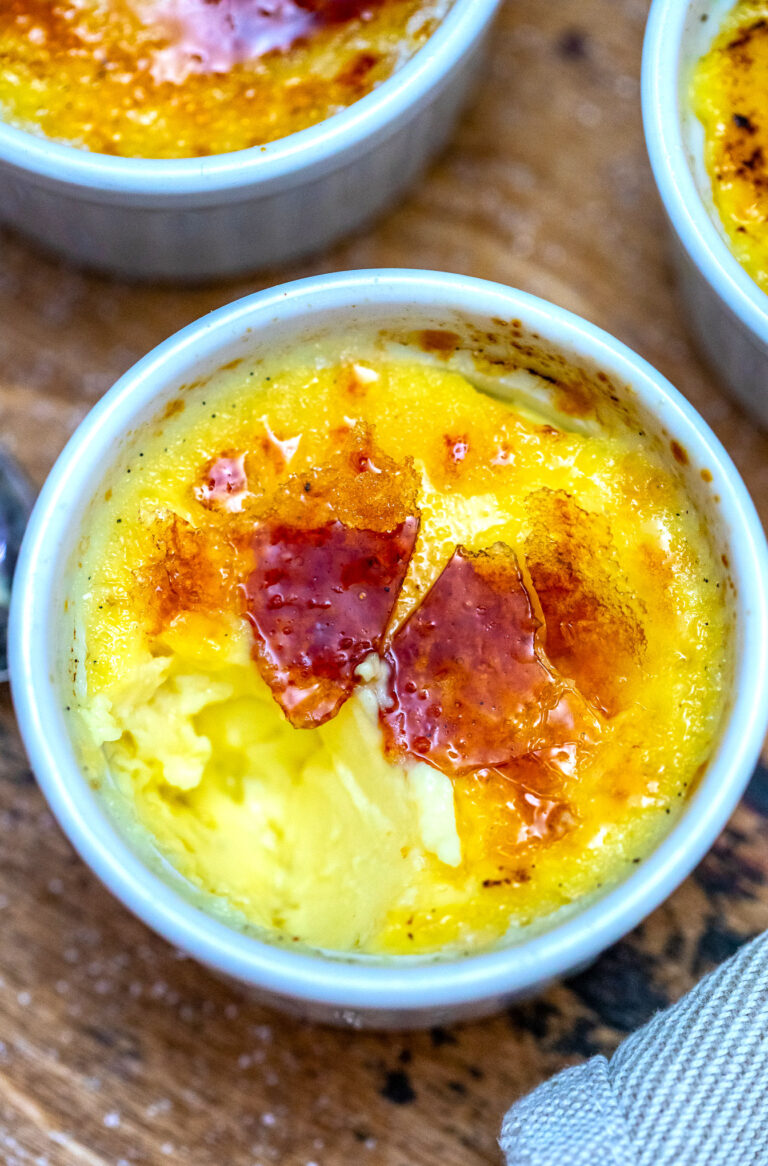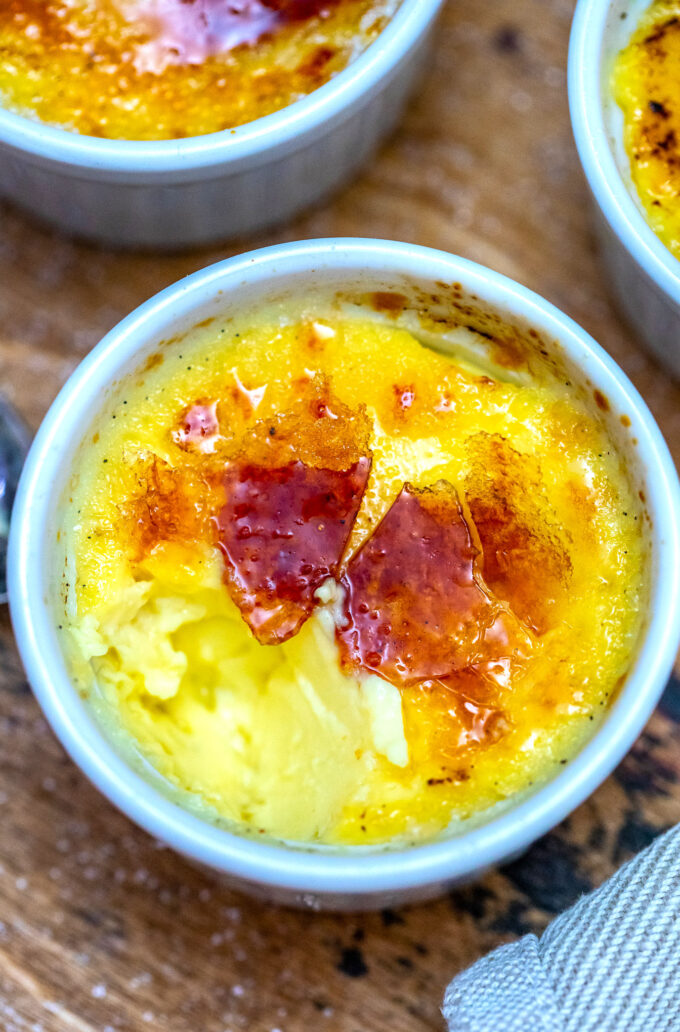 Pressure Cooker Creme Brulee Recipe
Instant Pot Creme Brulee is a French-inspired dessert that became popular in restaurants in the 1980s. Though history has it that a certain burnt cream recipe was recorded in the 17th century, not many records were found to have this recipe.
It is a nice dessert to serve to guests at a party. Aside from being placed in ramekins which makes for easy presentation and distribution, this dessert will not compete for your time on the day of the event itself.
You will need to have it prepared in advance for it to set. And that makes it all the more convenient.
And no need to use the oven, too! If you have dishes that will need the oven, by all means, use this recipe and make it in the pressure cooker instead!
What is Creme Brulee?
Primarily made with eggs, cream, and sugar, it is a kind of custard that has caramelized sugar on top. And for this, it presents a nice textural contrast.
It is not too sweet but not overpowering, too. It does its job well of cleansing the palate after a sumptuous meal.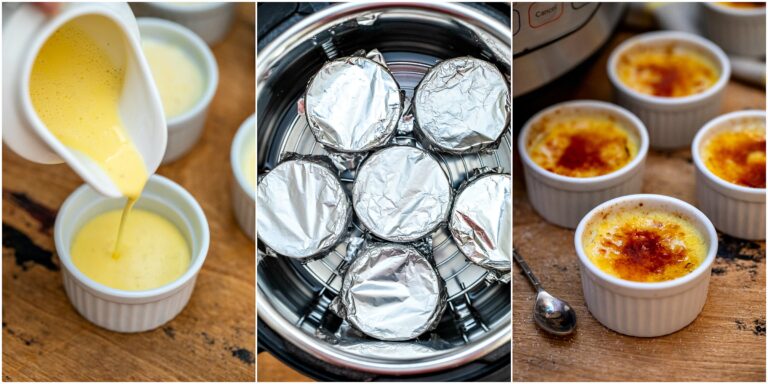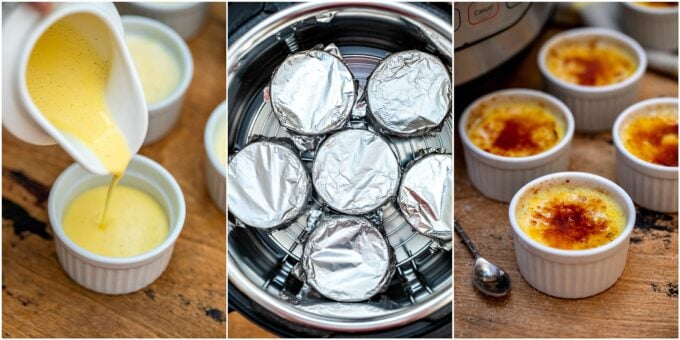 Why make Crème Brulee in the Instant Pot?
One main advantage of using the IP is that you can have the water bath effect by pressure-steaming it in the oven. The oven-cooked version will be a bit firmer than the outcome of this recipe.
That is not a bad thing, but if you want it creamier and melt-in-your-mouth smooth, then, go with the IP. Or, if the oven-cooked version is still not firm enough for your taste, then, use the IP at high pressure.
It is also much faster by around half the baking time. If you are using the oven, you will have to cook it for roughly 45 to 50 minutes, close to an hour.
But, with the pressure cooker, the actual cooking will be just around 13 minutes and add to that the natural pressure release which will take about 15 minutes.
How to Make Instant Pot Creme Brulee:
Prep the cream mixture: In a saucepan, put the heavy cream, vanilla, and sea salt and let the mixture heat up to the prescribed temperature range, occasionally stirring. Then, remove from heat and discard the vanilla beans.
Combine: Mix the sugar with the egg yolks, then, temper the mixture by pouring a little amount of the cream mixture. Then, stir well while pouring the remainder of the cream mixture. Straining the resulting mixture is optional but highly recommended.
Cook: Pour the mixture into ramekins, remove the bubbles, and cover with foil. Put a cup of water in the IP along with the steamer rack. Stack the ramekins on the rack and then, close the lid. Set the IP according to the prescribed time at low pressure. After cooking, release the pressure.
Chill: Take out one ramekin and check if the creme brulee inside is jiggly at the center. If it is jiggly all over, cook for about 3 minutes more. When done, put the ramekins on a rack to cool, then, chill in the fridge for a minimum of 4 hours, better if overnight.
Caramelize: Before serving it, put sugar on top and caramelize using a torch. Rest for a few minutes, then, serve.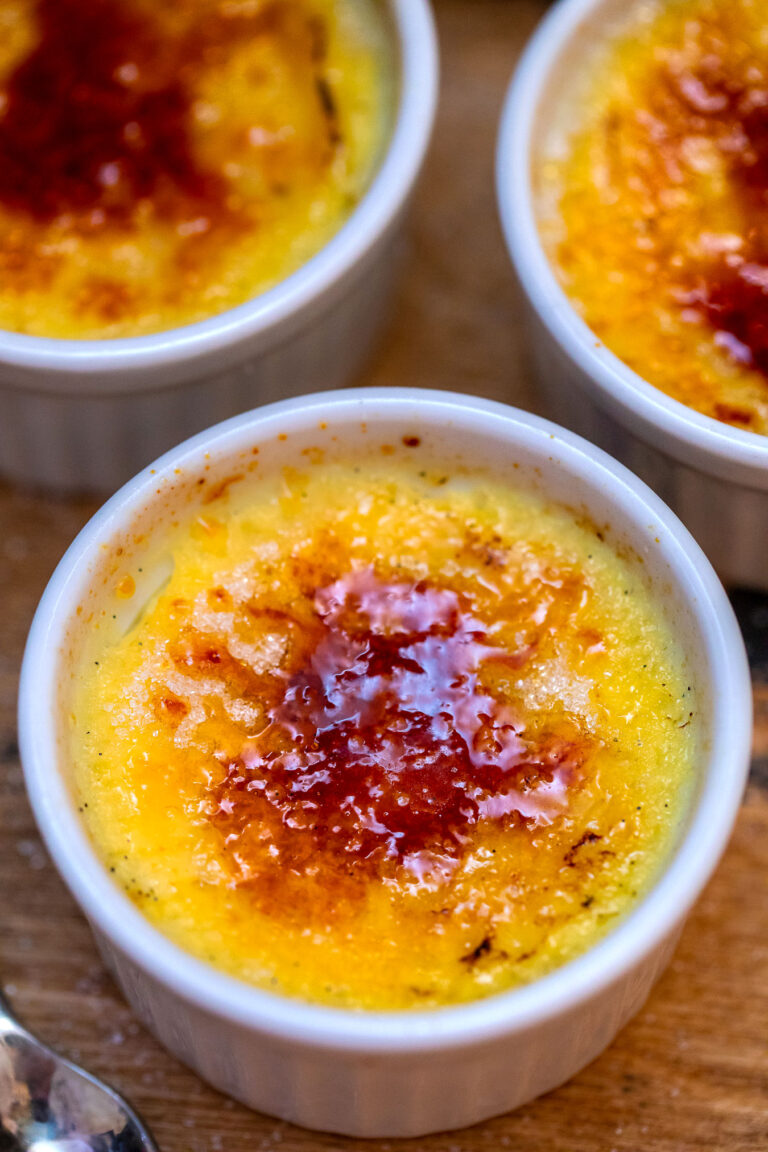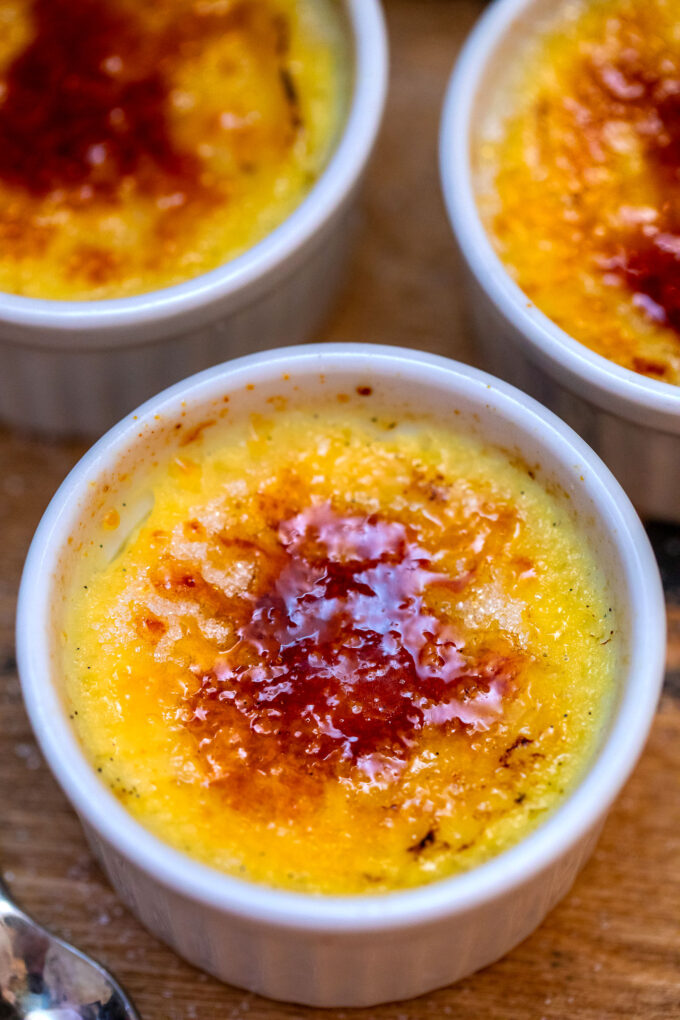 How to make classic Creme Brulee?
You can check the classic Creme Brulee recipe in this link. One difference is that this recipe does not have sea salt. Another is that this uses the oven.
How to Store:
Refrigerate: Store the ramekins in the fridge, covered with foil, for no longer than 4 days, before you put the topping.
Freeze: Secure the ramekins with heavy-duty foil or plastic wrap, then, put in freezer bags. Squeeze out air and then, seal. Freeze for up to 6 months or even beyond that. When ready to serve, simply thaw in the fridge, no reheating required.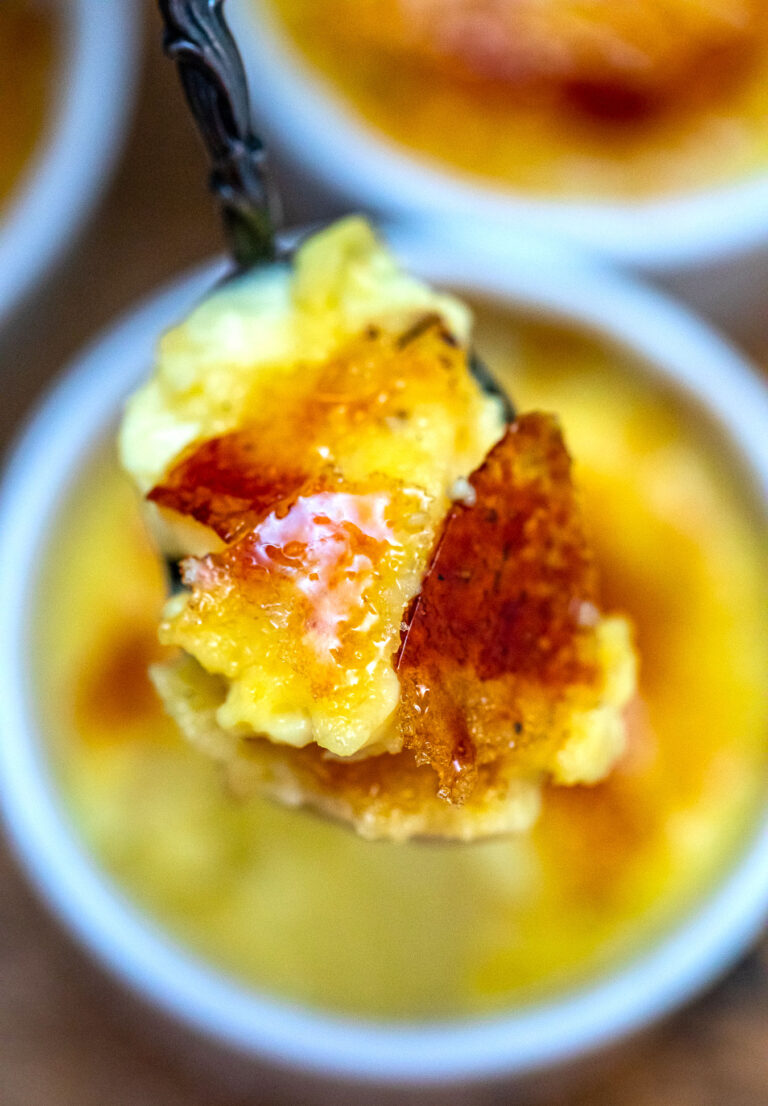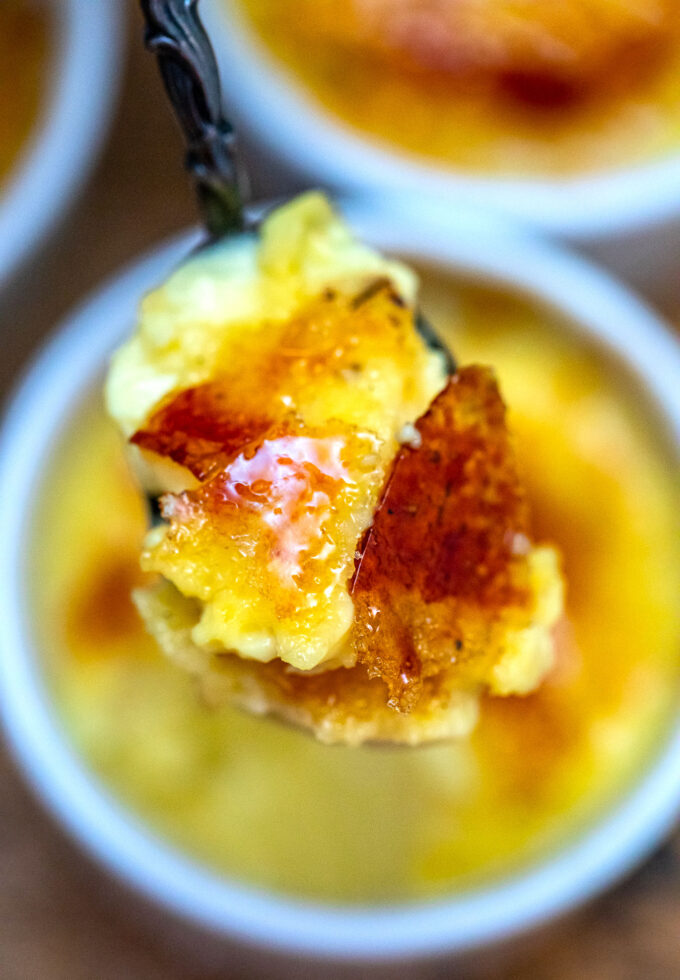 Recipe Tips:
Make variations of this classic dessert by taking inspirations from these flavored ones: white chocolate, red velvet, and pumpkin pie!
If you have no torch, do not fret, just use the broiler.
After you caramelize the sugar on top, sprinkle a little bit of sea salt for a nice balance that is almost like salted caramel.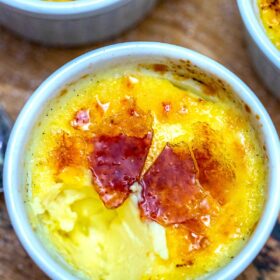 Instant Pot Creme Brulee
Instant Pot Creme Brulee is soft, luxuriously creamy, and so comforting! There is something complex about this dessert that people love but really, it is so easy to make!
Save
Share
Print
Pin
Rate
Servings:
6
servings of 6oz each
Ingredients
2

cups

heavy cream

1/2

cup

white granulated sugar

2

vanilla beans

(or 1 1/2 teaspoon vanilla extract)

1/8

teaspoon

sea salt

7

large egg yolks

(room temperature)
Caramel Top:
6

teaspoon

granulated sugar

(1 teaspoon per ramekin)
Instructions
Prepare the Creme Brulee:
In a medium saucepan, add heavy cream, vanilla bean seeds and vanilla beans (or vanilla extract), and sea salt. Stir over medium heat and warm the mixture up 170 degrees F. Turn off the heat and set aside.

Discard the vanilla beans.

Add granulated sugar to the egg yolks to a medium bowl and whisk until combined. Temper the egg mixture by pouring a small amount of the warmed cream mixture into and mix to combine. Mix well. Gradually, pour and mix in the remaining cream mixture.

Strain the cream brulee mixture through a mesh strainer for a smoother texture.

Pour the cream mixture into 6 6oz ramekins leaving about 1/2 inch from the top empty. Remove the air bubbles with a spoon.

Cover the ramekin with aluminum foil, wrap well so it stays in place.
Pressure Cook the Creme Brulee:
Add the steamer rack to the Instant Pot. Pour 1 cup of water.

Arrange the wrapped ramekins onto steamer rack, 4 at the bottom with 2 stacked on top.

Pressure cook at Low Pressure for 13 minutes, followed by 15 minutes Natural Pressure Release. Then, manually release the remaining pressure.

Uncover and if the custard is jiggling, wrap again and pressure cook for another 2-3 minutes.

Place ramekins on a cooling rack to cool. Once they have cooled down, refrigerate for at least 6 or overnight.
Serve:
When ready to serve, spread 1 teaspoon granulated sugar evenly on top of the custard.

Use a torch to caramelize the sugar to form a crispy top. If you don't have a torch, place the ramekins on a cookie sheet undet the broiler, watch them closely to avoid burning the tops.

Let creme brulee sit for at least 3-5 minutes before serving.
Nutrition
Calories:
201
kcal
|
Carbohydrates:
26
g
|
Protein:
6
g
|
Fat:
8
g
|
Saturated Fat:
4
g
|
Cholesterol:
236
mg
|
Sodium:
94
mg
|
Potassium:
130
mg
|
Sugar:
25
g
|
Vitamin A:
435
IU
|
Calcium:
119
mg
|
Iron:
1
mg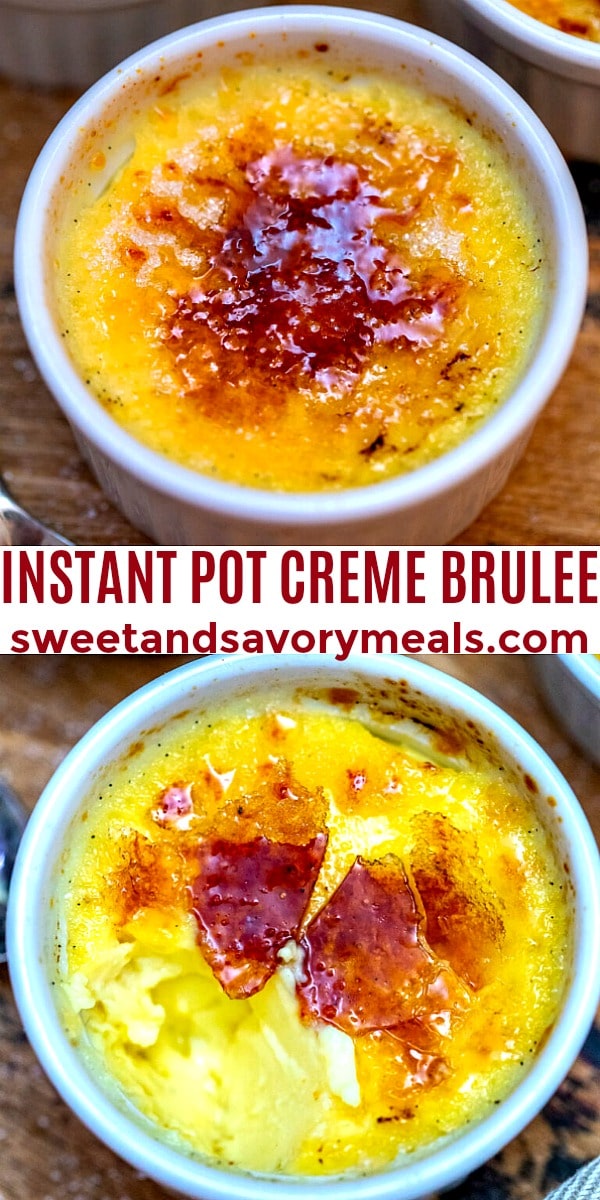 More recipes you might love