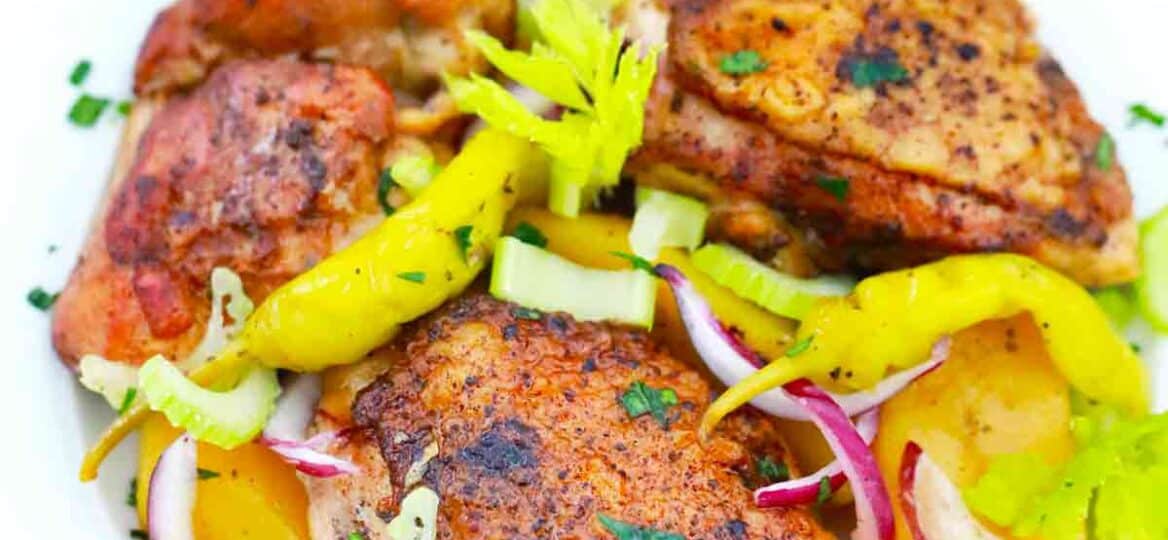 Pepperoncini Chicken is made with tender and juicy chicken thighs, fingerling potatoes, and tangy pepperoncini peppers, a dinner the whole family will love. This is just like a chicken version of Mississippi pot roast so you can even call it Mississippi chicken.
Our version of Instant Pot Mississippi Pot Roast with chuck roast, au jus, and ranch seasoning mix is also absolutely delicious. Another chicken dish you may enjoy is this Tuscan Chicken Pinwheels recipe made with cream cheese and sundried tomatoes.
This recipe is a great weeknight meal with little meal prep time and makes meal planning a breeze. Using fresh herbs and pepperoncini peppers, the flavor is outstanding. Shred the chicken and you can use it for sandwiches, salads, or casseroles.
Looking for more chicken recipes? Our easy instant pot crack chicken made with chicken breast, cream cheese, and ranch dressing mix is a delicious recipe for any meal. Instant pot chicken breast with garlic and onion is also divine. Or try our Hunan chicken recipe with oyster sauce and zucchini.
Our Homemade Beef Brisket is also a delicious dinner idea seasoned with soy sauce and brown sugar.
Follow us on Pinterest for more delicious recipes!
Ingredients needed:
These are the main ingredients for this pepperoncini chicken recipe. Scroll down to our recipe card for recipe notes, complete instructions, and exact measurements.
Chicken thighs: We used skin-on and bone-in chicken thighs.
Fingerling potatoes: Cut in half lengthwise.
Pepperoncini peppers: With ½ cup brine.
Kosher salt
Black pepper: Freshly ground.
Garlic cloves: Finely grated.
Extra virgin olive oil: Divided.
Dried oregano
Medium red onion: Thinly sliced.
Celery stalks: Sliced thinly with celery leaves for serving.
Parsley: Roughly chopped.
How to make pepperoncini chicken recipe?
Preheat: To begin, preheat your oven to 425 degrees F and coat a cast-iron skillet with one tablespoon of olive oil.
Season and arrange: Meanwhile, season chicken thighs with salt and black pepper and arrange them in the pan skin side down in a single layer.
Brown chicken: Next, put the skillet with chicken on the stovetop over medium heat and cook for about 15 minutes, or until the skin is brown. Do not move them as they cook.
Mix up the potatoes and peppers: In the meantime, toss the rest of the seasonings, oil, pepperoncini peppers, and potatoes in a large bowl. Set aside.
Combine: After 15 minutes, turn the chicken over and add the potatoes to the pan, scrunching them all together to form a circle around the chicken. Pour the brine around the edges of the pan and shake it a bit to distribute the liquid.
Bake: After, move the skillet to the oven and bake for 40 to 45 minutes or until the potatoes are tender. The internal temperature of the chicken should be 165 degrees F with a meat thermometer.
Remove: Then, remove the skillet from the oven and transfer your pepperoncini chicken to a plate.
Continue cooking: Put the skillet back on the stovetop on high heat and continue to cook the potatoes until the drippings are glossy, making sure to stir often. This should take about four minutes.
Serve: Lastly, remove from heat and stir in the parsley, celery, and onion. Put the vegetables on a serving platter with the chicken pepperoncini chicken on top, placing celery leaves as garnish. Serve immediately.
How to make slow cooker pepperoncini chicken:
Prepare: First, prepare your slow cooker or crockpot by coating it in non-stick cooking spray or just adding oil.
Brown the chicken: Then, brown the chicken, skin side down, in a large skillet for 15 minutes.
Add everything to the slow cooker: Meanwhile, add all the other ingredients to your slow cooker and stir everything to mix.
Put the chicken on top: After the chicken is brown, place it on top of the potatoes in the slow cooker. Add 1/2 cup of chicken broth and stir again.
Cook: Last, set your slow cooker to low and cook for six hours or cook for three hours on high.
Recipe variations:
Chicken broth: Replace pepperoncini liquid with 1/2 cup of chicken broth if preferred.
Boneless skinless chicken thighs: You can also substitute the bone-in chicken thighs for boneless skinless chicken thighs.
Chicken breasts: In fact, you can also use chicken breasts, skinless and boneless or otherwise.
Ranch dressing mix: Add ranch dressing mix (ranch seasoning) for an awesome ranch flavor.
Chicken gravy: Add some chicken gravy mix into your sauce for even more flavor.
Mississippi chicken: For the original Mississippi chicken recipe, add one packet of ranch seasoning, one stick of butter, and one packet of au jus gravy mix.
Spicy chicken: Add some red pepper flakes to your chicken for a spicy flavor profile.
Creamier: Add some cream cheese to the recipe for even creamier pepperoncini chicken.

Brown sugar: If you want a sweeter dish, add a 1/2 cup of brown sugar to the drippings.
How to serve:
Whether you make your pepperoncini or Mississippi chicken in the oven or in your crock pot, it is absolutely delicious. Serve with a salad and bread for a full meal or try one of these serving ideas:
Shred the chicken and serve it on sub rolls with some melted cheese.
Everything is better with bacon so add bacon bits or chopped bacon on top.
Add homemade ranch dressing on top of this dish before serving for a creamier dinner. You can use our creamy recipe for this idea.
This chicken dish is also delicious served on a bed of mashed potatoes.
Shred the chicken and serve in taco shells or tortillas with salsa for a flavorful chicken taco.

Sprinkle shredded cheese or parmesan on top before serving for a cheesy chicken dish.

Alternatively, you can serve this absolutely delicious chicken dish on rice or pasta.
Frequently asked questions
What is the difference between pepperoncini and banana peppers?
Banana peppers are sweeter and milder than pepperoncini peppers. In fact, pepperoncini peppers can sometimes taste bitter or sharp, especially if you use the Italian version of pepperoncini peppers. Both or either can be used in this delicious recipe as well as in Mississippi chicken or pot roast.
What is in ranch seasoning?
Making your own homemade ranch dressing mix or ranch seasoning is easy and much less expensive than buying it from the store. All you need is powdered buttermilk, dried dill, parsley, chives, onion powder, garlic powder, salt, and black pepper.
Can I cook this in the instant pot?
Yes, to cook your Mississippi chicken in the instant pot, use the saute function to brown the skin in olive oil before adding the trivet. Put the chicken pieces on the trivet with the rest of the ingredients around it.
Add one cup of chicken broth or one packet of gravy mix, or au jus with one cup of water. Set your instant pot to high pressure for 13 minutes before doing a natural release for five minutes. Then, do a quick release to let out the rest of the steam.
What is the difference between pepperoncini chicken and Mississippi chicken?
The recipe for Mississippi chicken typically calls for chicken breast, ranch dressing mix, and other flavorings like Worcestershire sauce, au jus mix, and minced garlic as well as chicken broth and butter. This is just like Mississippi pot roast only you are using chicken.
How to store leftovers:
Store: Save leftover pepperoncini chicken in an airtight container for three or four days in your refrigerator.

Freeze: If you cannot finish it in a few days, freeze your pepperoncini chicken for up to three months.
Thaw: Be sure to put leftovers in the fridge the night before serving.
Reheat: Reheat in the microwave for 90 seconds or in a saucepan for two minutes. Cooking time may vary depending on how much you are reheating.
More easy chicken recipes:
Cooking tips:
If you only have frozen chicken breasts, feel free to use them instead.
The cooking time may vary depending on whether you are using chicken breasts or thighs.

Save prep time by chopping and preparing everything a day in advance. Put it all in a sealed container in the fridge overnight.

Adding butter instead of oil will make it more flavorful but may have more fat and calories depending on what kind of butter you are using.

Use turkey or pork for a different kind of flavor.
Add jalapenos for a spicy chicken dish.

Remember to remove the stems from the pepperoncini peppers before using them.
Pepperoncini Chicken
Ingredients
2

lb.

chicken thighs

6–8 skin-on and bone-in

1 1/2

teaspoon

kosher salt

divided

1/2

teaspoon

freshly ground pepper

divided

2

tablespoons

extra-virgin olive oil

divided

1

lb.

fingerling potatoes

halved lengthwise

10

peperoncini

1/2

cup

pepperoncini brine

4

cloves

garlic

minced

1

teaspoon

dried oregano

1/2

medium red onion

thinly sliced

3

stalks celery stalks

thinly sliced

a few celery leaves

for serving

Chopped fresh parsley

for serving
Instructions
Preheat the oven to 425 degrees F.

Pat dry the chicken and sprinkle it all over with salt and pepper.

Coat a large cast-iron skillet with 1 tablespoon of oil over medium-high heat.

Arrange the chicken thighs, skin side down, in the pan, and place over medium heat. Cook, without moving, until the skin is browned, 14–15 minutes.

Meanwhile, in a large bowl toss potatoes, with pepperoncini, garlic, oregano, remaining oil, salt, and pepper. Set aside.

Flip chicken on the other side.

Add the pepperoncini mixture to the pan, arranging it around the thighs. Pour the brine around the edges of the pan a good shake to evenly distribute.

Transfer the skillet to the oven and cook until the potatoes are tender, 40–45 minutes.

Remove the skillet from the oven and transfer the chicken and peperoncini to a plate.

Place the skillet over high heat and cook potatoes, often stirring for about 4-5 minutes.

Remove from heat and stir in red onion, sliced celery, and parsley.

Arrange chicken and pepperoncini on top of the vegetables, garnish with celery leaves and serve.