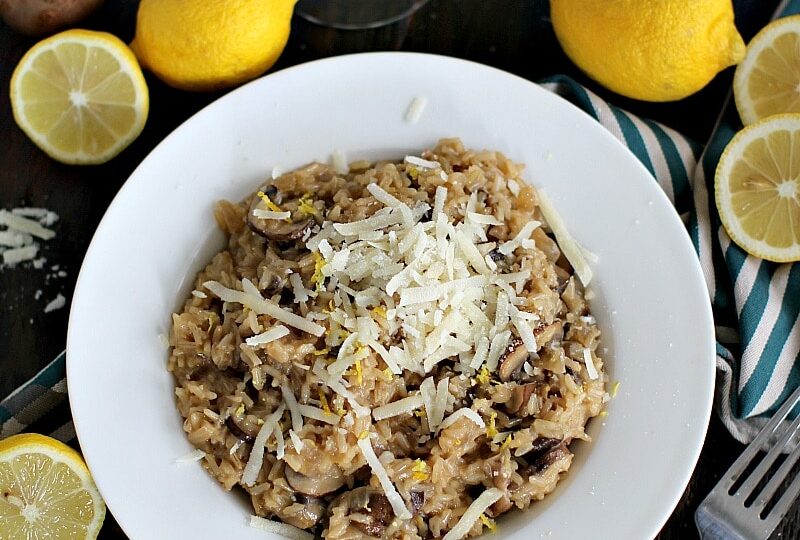 Brown Rice Risotto made with white wine, fresh lemon zest, mushrooms and freshly grated Parmesan cheese is the epitome of creamy, comfort food.
A good risotto is usually very labor intensive, but it's totally worth it. We have made an Instant Pot risotto version, that is made in the fraction of the time and tastes just as delicious.
Brown Rice Risotto
Brown Rice Risotto is our new obsession! Flavorful, creamy and fresh, absolutely divine! I was craving risotto so badly and since I had some delicious Garnacha White Wine on hand, I know it pairs beautifully with lemony dishes, I decided to cook Lemon White Wine Brown Rice Risotto for us.
To make the risotto even more filling, I added caramelized mushrooms and shallots. Let me tell you, mushrooms in risotto are the bomb! They add such a nice, earthy flavor, they are filling and so yummy when paired with caramelized shallots. If you like cooking with wine I highly recommend this Slow Cooker Pot Roast made with Red Wine!
Why You'll Love this Brown Rice Risotto:
This is a very filling and hearty recipe, it can be served as a vegetarian main dish or as a delicious dish.
The dish is creamy and cheesy with beautiful flavors and tastes like a gourmet meal.
You can easily make it fully vegetarian by replacing the chicken broth with vegetable broth.
This meal is perfect for a special occasion, its festive, bright, but also easy to make.
Brown Rice Risotto Recipe Tips:
Choosing the right rice is key. Risotto is best made with Arborio or short grain rice.
You should use a pan that distributes heat evenly, like a Dutch oven or an iron cast skillet.
When it comes to risotto, you should skip rinsing the rice, it won't be as creamy if you do.
You should sauté the rice in either butter or oil prior to cooking. This coats each grain and will make the rice absorb the liquid slowly. Make sure you don't burn the rice when sautéing.
After you add the broth, keep it just lightly simmering, not boiling. Simmering will help maintain a constant level of temperature and cook the rice uniformly.
Add broth one cup at a time and allow it to fully absorb before adding more. Also, stir often, very, very often. This is not the type of dish you can walk away from. Never let the rice dry out, it will reduce a lot from its creamy texture.
Adding wine to your risotto is a great idea, I added 1 cup of white wine, which added a beautiful level of acidity.
Risotto is done when the rice is al dente – it means it will have a firm center, while creamy and soft on the outside.
It is very important to taste the risotto while you make it. After the rice absorbed the broth, taste it to see if it still needs more broth and to be cooked more.
When the risotto is almost done you can get creative and add things that you like: sweet peas for a pop of color, poached lobster, shrimp, sweet corn, even crumbled cooked bacon.
Pin This Brown Rice Risotto Recipe to your Favorite Board
What is Risotto?
Risotto is a delicious Italian rice dish that is cooked in a broth to a very creamy consistency. Risotto is one of the most popular ways of cooking rice in Italy. It can be made vegetarian by using vegetable stock and cheese, or it can be made with meat or seafood.
How to reheat risotto:
Risotto tends to dry up quickly in the fridge, so while it may not have the same texture when reheated, it will still be delicious if you follow these tips:
Microwave: Place risotto in a microwave save bowl, add some water or broth to the risotto and microwave for about 3-4 minutes. Pause after each minute and stir the risotto, and if needed add more liquid. Repeat the process until risotto is hot. Use butter to make it creamier.
Stove: Add risotto to a saucepan, over low heat, and then add a little water or broth while stirring for about 2 minutes. Stir well, to ensure that it is evenly reheated. add a splash of white wine, some water and some butter. Stir it constantly to ensure that its evenly reheated and make sure you don't dry out the rice. Once butter has melt, take the sauce pan from the stove and continue to stir the risotto on the counter.
How to freeze risotto:
Let the risotto cool off a little bit and while it is still just slightly warm, transfer it to a plastic airtight container. Let it cool completely and transfer it to the freezer. Freeze for up to 3 months. You can also use freezer bags to freeze risotto. Make sure you lay them flat in the fridge. Frozen risotto should always be thawed, before it is reheated. To thaw homemade risotto, place it in the refrigerator overnight. After that reheat it using the Microwave or Stove method.