Creamy Instant Pot Risotto [VIDEO]
Creamy Instant Pot Risotto is ready in just about 30 minutes. It is smooth and fluffy, made with Parmesan cheese, mushrooms, and sweet peas. So easy, anyone can make it!
A good risotto is usually very labor-intensive, but not when you make it in the Instant Pot. This creamy risotto can be served as a starter, main meal or even side dish. If you don't have an Instant Pot, you can make this Lemon White Wine Brown Rice Risotto, it is incredibly delicious as well.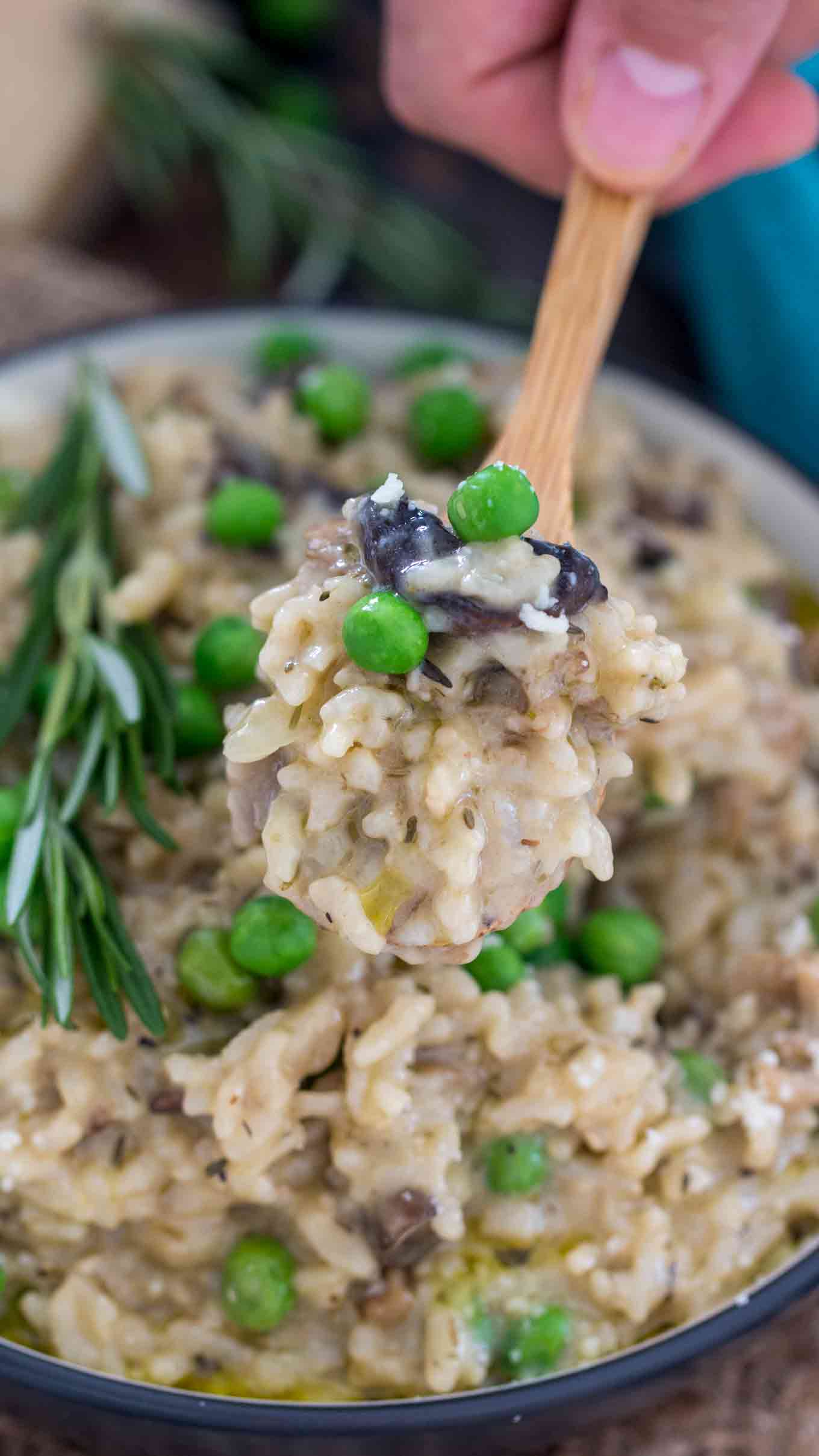 Easy Instant Pot Risotto
Creamy Instant Pot Risotto is one of my favorite meals to make in the Instant Pot. I love risotto, the creaminess gets me all the time, I just can't resist a bowl. Usually making it at home can be hit or miss, especially if you are a novice cook, but not with this recipe.
If you ever made stove-top risotto, you know that you should have some good arm muscles, as it involves so much stirring, and you are always guessing if its done cooking or it needs a few more minutes.
With this recipe all your risotto problems are solved, seriously, you should get an Instant Pot to specifically make this creamy risotto. What I enjoy about it most, is that you don't have to stress about messing up the risotto at all. You just have to follow the steps, sauté your ingredients, stir, cook and stir in the cheese. You are done. Basically, you can enjoy restaurant-quality risotto every single night!
What is Risotto?
Risotto is a delicious Italian rice dish that is cooked in a broth to a very creamy consistency. Risotto is one of the most popular ways of cooking rice in Italy. It can be made vegetarian by using vegetable stock and cheese, or it can be made with meat or seafood.
What ingredients are in Risotto?
Risotto can be prepared in a few ways, but below are the ingredients that usually are used to make a more classic risotto dish.
Arborio rice
Butter
Olive oil
Broth of choice – I prefer chicken broth
Dry white wine – can also be replaced with broth
Onion and Garlic
A mix of mushrooms – I prefer oyster mushrooms and shiitake
Sweet peas
Parmesan cheese
What rice is best to use for Risotto?
To make Risotto, use only Italian short-grain rice varieties such as Arborio, Carnaroli, Vialone, Nano, and Baldo. The most common one and easy to purchase in almost every supermarket is Arborio Rice.
If you are wondering why only short-grain rice should be used, its because it has a high starch content and tends to absorb less liquid, resulting in a stickier, more compact risotto.
Pin This Creamy Instant Pot Risotto Recipe to your Favorite Board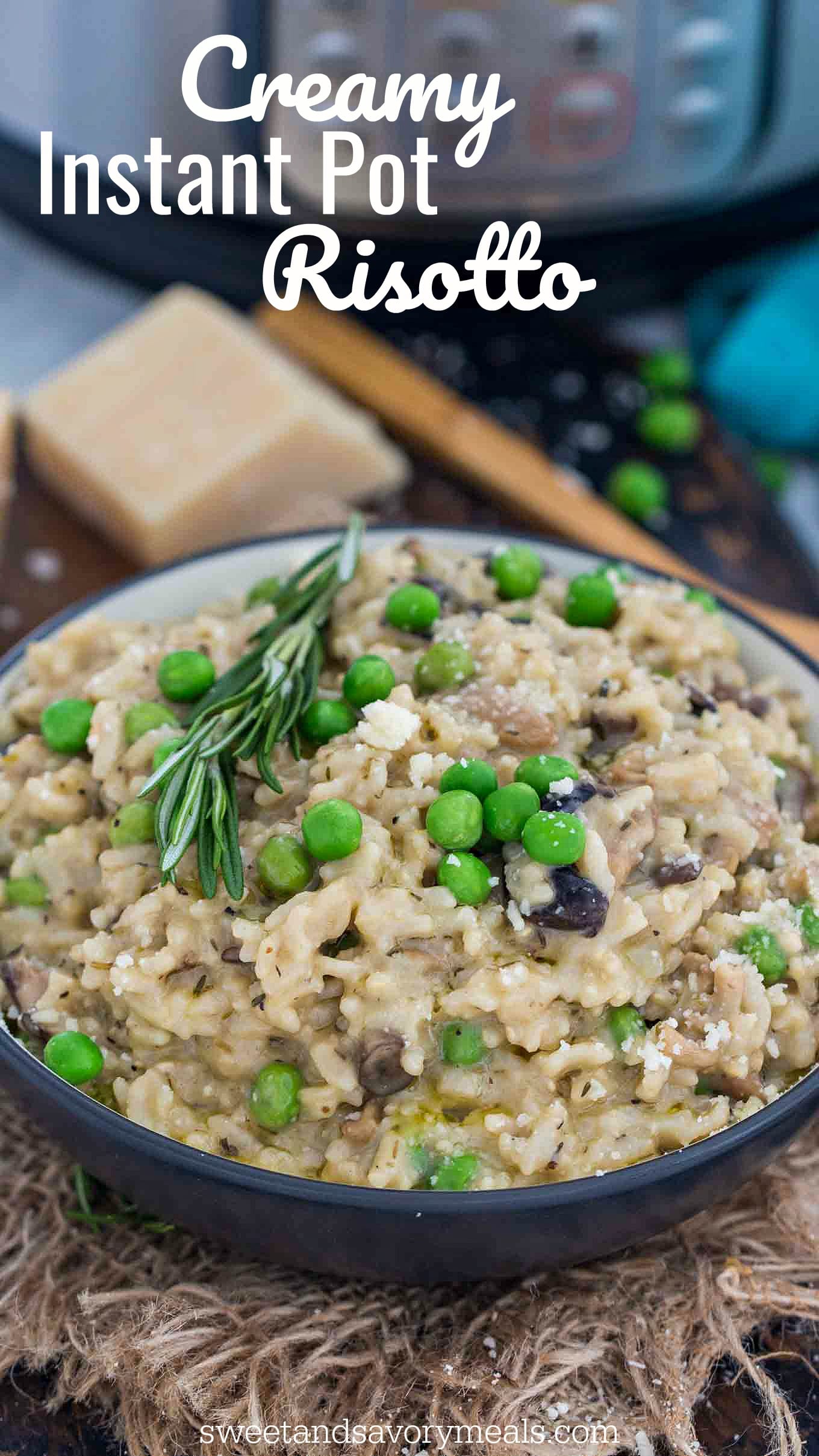 How to avoid the "burn notice"?
In some cases, you might end up getting the "burn notice" while sauteeing the mushroom or onion. This happens from tie to time when cooking in the Pressure Cooker. To avoid it, ensure that there are no browned bits stuck to the bottom of the pan after sautéeing the ingredients.
Also, I recommend using a bit of liquid, such as wine to deglaze it, and gently scraping up the browned bits with a wooden spoon.
Pressure Cooker Risotto Recipe Tips:
Why make Risotto in the Instant Pot: Making IP Risotto is so easy, that this will become the only way you cook it. First, you don't have to spend time watching and stirring it. After sautéing the ingredients, you just have to cook it on High Pressure for 6 minutes and you are done. Stir in the cheese and serve.
How long do you cook Risotto in the Instant Pot: Instant Pot Risotto should be cooked for 6 minutes on High Pressure, followed by a Quick Pressure Release.
Does the alcohol from wine cook-off in the Instant Pot: When you are cooking with alcohol using a Pressure Cooker (Instant Pot) or slow cooker, the alcohol won't evaporate fully as when you are cooking on the stove-top. The alcohol is sealed in this case, and only a portion of it will evaporate into steam. Therefore, the dish should only be served to adults. However, in the case of the Risotto, first we let the wine simmer after its added to the pot and also cook the risotto when adding the cheese, and since we used only 1/2 cup, it's safe to assume that most it has evaporated.
Can I make this recipe without the mushrooms or the peas: yes, you can reduce the amount of mushrooms or skip them. You can also skip the sweet peas.
How long can you keep a risotto in the fridge: Risotto can be stored for 3 days in a fully air-tight container in the fridge. Also, it should be refrigerated within 1 – 1 ½ hour after cooking.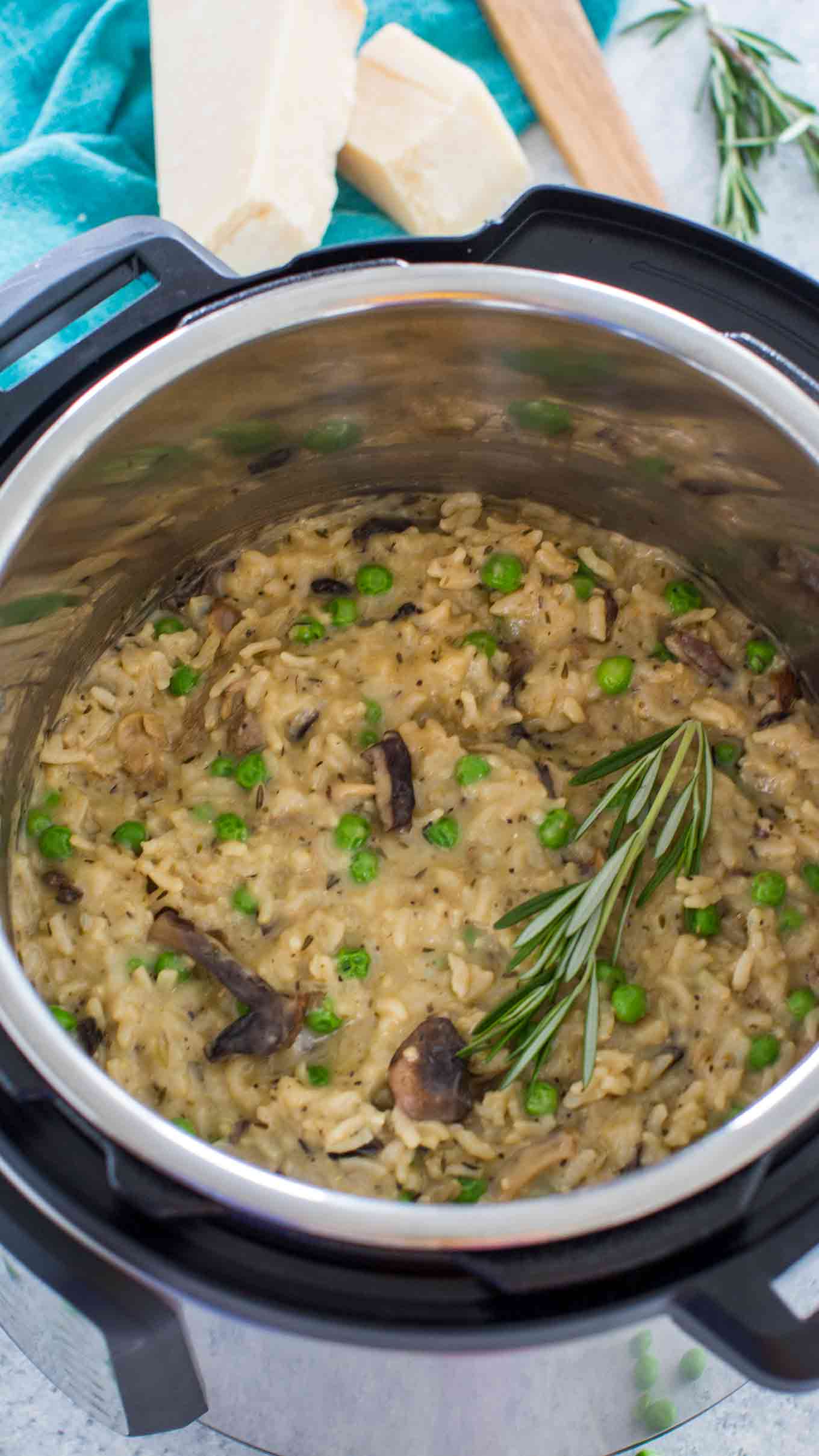 How to reheat risotto:
Risotto tends to dry up quickly in the fridge, so while it may not have the same texture when reheated, it will still be delicious if you follow these tips:
Microwave: Place risotto in a microwave-safe bowl, add some water or broth to the risotto and microwave for about 3-4 minutes. Pause after each minute and stir the risotto, and if needed add more liquid. Repeat the process until the risotto is hot. Use butter to make it creamier.
Stove: Add risotto to a saucepan, over low heat, and then add a little water or broth while stirring for about 2 minutes. Stir well, to ensure that it is evenly reheated. add a splash of white wine, some water, and some butter. Stir it constantly to ensure that its evenly reheated and make sure you don't dry out the rice. Once the butter has melted, take the saucepan from the stove and continue to stir the risotto on the counter.
How to Freeze Risotto:
Let the risotto cool off a little bit and while it is still just slightly warm, transfer it to a plastic airtight container. Let it cool completely and transfer it to the freezer. Freeze for up to 3 months.
You can also use freezer bags to freeze risotto. Make sure you lay them flat in the fridge. Frozen risotto should always be thawed before it is reheated. To thaw homemade risotto, place it in the refrigerator overnight. After that reheat it using the Microwave or Stove method.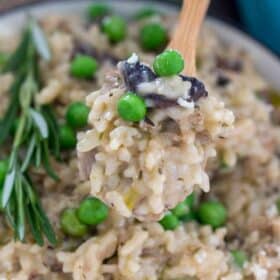 Creamy Instant Pot Risotto
Creamy Instant Pot Risotto is ready in just about 30 minutes. Smooth, creamy, with parmesan cheese, mushrooms and sweet peas. So easy, anyone can make it!
Save
Share
Print
Pin
Rate
Ingredients
1/4

cup

unsalted butter

1/4

cup

olive oil

3

cups

diced mushrooms

(skiitake, oysters or baby Bella)

1

medium onion

(diced)

1

teaspoon

minced garlic

1

teaspoon

dried rosemary

1

teaspoon

dried thyme

1 1/2

cups

Arborio rice

1/2

cup

dry white wine

3

cups

chicken broth

salt and ground black pepper to taste

1

cup

frozen sweet peas

(thawed)

1/2-1

cup

grated Parmesan cheese
Instructions
Press Sauté and wait until the Instant Pot reads Hot.

Add butter and olive oil to the inner pot and stir until butter melts.

Add mushrooms, stir and cook for 2 minutes and add diced onion, minced garlic, dried thyme and rosemary. Cook for about 4-5 minutes, stirring occasionally.

Add Arborio rice and stir until each grain is coated with the butter-oil mixture, cook rice for about 2 minutes.

Add white wine, stir to combine and simmer for 2 minutes. Be careful as the rice will absorb the wine, stir frequently to notice when there is no more liquid, as the rice may burn.

Add chicken broth, stir well to combine.

Cover with the lid and lock it. Make sure the valve points to sealed. Select high pressure and set timer for 6 minutes. The pressure will build for about 10 minutes.

Once the Instant Pot beeps and its done cooking, carefully do a Quick Pressure Release by pointing the knob to Vent. Use a spatula or wooden spoon to move the knob, to avoid burning yourself with the steam.

Stir risotto well and season with salt and pepper to taste.

Stir in thawed green peas and Parmesan cheese (1/2 cup or 1 cup) until melted and fully combined.

Serve immediately.

If you have leftover risotto, either transfer it to a container, or remove the stainless steel pot from the Instant Pot, risotto will continue to cooke because of the residual heat.
Nutrition
Calories:
580
kcal
|
Carbohydrates:
81
g
|
Protein:
17
g
|
Fat:
19
g
|
Saturated Fat:
4
g
|
Cholesterol:
11
mg
|
Sodium:
863
mg
|
Potassium:
900
mg
|
Fiber:
8
g
|
Sugar:
8
g
|
Vitamin A:
415
IU
|
Vitamin C:
28.9
mg
|
Calcium:
194
mg
|
Iron:
5.4
mg
More recipes you might love