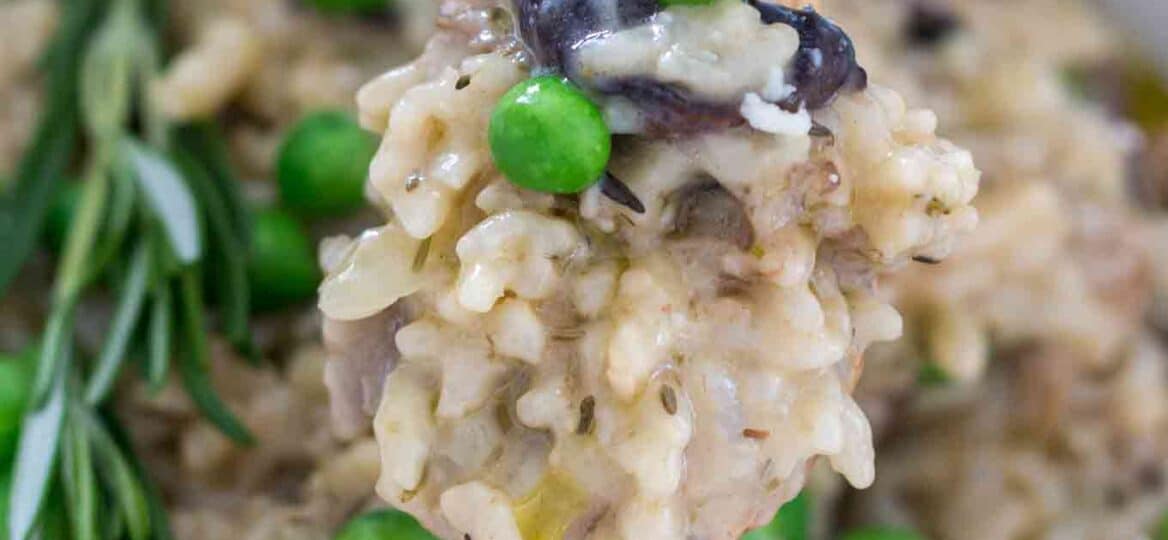 Creamy Instant Pot Risotto [VIDEO]
Instant Pot Risotto is creamy, cheesy, and ready in just about 30 minutes. Made with Parmesan cheese, mushrooms, and sweet peas, it is the best comfort food you can make in your pressure cooker with minimal effort.
A good risotto is usually very labor-intensive, but not when you make it in the Instant Pot. This creamy risotto can be served as a starter, main meal, or even a side dish. If you have any special occasions this fall, try this Pumpkin Risotto. As an alternative, try this Mexican Rice dish.
Easy Instant Pot Risotto Recipe
This perfect risotto recipe is one of my favorite meals to make in the Instant Pot. I love risotto, the creaminess gets me all the time, I just can't resist a bowl. Usually making it at home can be hit or miss, especially if you are a novice cook, but not with this delicious recipe.
If you ever made stove-top risotto, you know that you should have some good arm muscles, as it involves so much stirring, and you are always guessing if it's done cooking or it needs a few more minutes.
With this easy instant pot recipe, all your problems are solved, seriously, you should get an Instant Pot to specifically make this creamy risotto. What I enjoy about it most, is that you don't have to stress about messing it up. You just have to follow the steps, sauté your ingredients, stir, pressure cook, and you are done.
Basically, this is the easiest way to enjoy a restaurant-quality meal anytime a craving hits!
Ingredients needed:
This mushroom risotto can be prepared in a few ways, but below are the ingredients that usually are used to make a more classic risotto dish.
Rice – Use arborio rice
Butter – We use unsalted butter.
Olive oil
Broth of choice – I prefer chicken broth, also chicken stock or vegetable broth will work well.
Dry white wine – can also be replaced with broth for a non-alcoholic version. Pinot Grigio or sauvignon blanc are great choices to make this restaurant-quality risotto.
Fresh sweet onion
Fresh garlic
Herbs: Use a mix of fresh herbs and dried herbs, like dried thyme, dried rosemary.
A mix of mushrooms – I prefer oyster mushrooms, white mushrooms, and shiitake
Sweet peas
Parmesan cheese
How do you make instant pot risotto?
Sauté function: First, select the sauté setting and once the electric pressure cooker inner pot is hot add the butter and oil to the bottom of the pot, stir until the oil is melted.
Sauté the veggies: After that, saute the mushrooms, onion, garlic, and herbs.
Add nice: Next, add the rice, and stir it with a wooden spoon until fully coated in the butter-oil mixture.
Add liquid: Afterward, add the white wine and stir until absorbed and after that add the chicken broth.
Pressure cook: Cover with the lid and lock it, point the valve to sealing, and pressure cook on high pressure for 6 minutes.
Quick pressure release: Once the instant pot beeps, do a quick release. And when the valve drops, carefully open the pressure cooker.
Add the rest of the ingredients: Finally, stir in the thawed green peas and also the grated Parmigiano Reggiano.
Serve: Garnish with fresh chopped fresh parsley and serve.
Recipe Variations:
Cheese: As an option, add flavor to this recipe by stirring in some goat cheese or blue cheese.
Citrus: Alternatively, stir in some lemon zest and lemon juice for a refreshing flavor!
Leafy greens: Also, mix in some chopped swiss chard or spinach into this creamy dish.
Stove top version: Or if don't have an Instant Pot, you can make this Lemon White Wine Brown Rice Stovetop Risotto, it is incredibly delicious as well.
Veggies: As an alternative, make this main course with fresh sweet corn and crispy bacon.
What is Risotto?
Risotto is a delicious Italian rice dish that is cooked in a flavorful broth to a very creamy consistency. It is one of the most popular ways of cooking rice in Italy.
It can be made vegetarian by using vegetable stock and cheese, or it can be made with meat or seafood. The key ingredient is Arborio rice!
What kind of rice to use for Risotto?
To make Risotto, use only Italian short-grain rice varieties such as Arborio, Carnaroli, Vialone, Nano, and Baldo. The best rice and the most common one that is easy to purchase in almost every supermarket is Arborio Rice.
If you are wondering why only short-grain rice should be used, it's because it has a high starch content and tends to absorb less liquid, resulting in a stickier, more compact risotto. In case you can not find short-grain rice, use medium grain rice.
How to avoid the "burn notice"?
In some cases, you might end up getting the "burn notice". This happens from time to time when cooking in the Pressure Cooker. To avoid it, ensure that there are no browned bits stuck to the bottom of the pan after sautéeing the ingredients.
Also, I recommend using a bit of liquid, such as wine to deglaze it, and gently scrape up the browned bits with a wooden spoon.
How to store leftovers:
Refrigerate: First, make sure toilet the leftovers are fully cool. After that, store for 3 days in a fully air-tight container in the fridge. Also, it should be refrigerated within 1 – 1 ½ hours after cooking.
Freeze: Transfer the cooled leftovers to an airtight container. After that, freeze for up to 3 months. You can also use freezer bags, make sure you lay them flat in the fridge.
Thaw: Frozen risotto should always be thawed before it is reheated. To thaw homemade risotto, place it in the refrigerator overnight. After that reheat it using the Microwave or Stove method described below.
How to reheat risotto:
This easy risotto recipe has the perfect creamy texture, but it tends to dry up quickly in the fridge, so while it may not have the same texture when reheated, it will still be delicious if you follow these tips:
Microwave: Place risotto in a microwave-safe bowl, add some water or broth to the risotto, and microwave for about 3-4 minutes. Pause after each minute and stir the risotto, and if needed add more liquid. Repeat the process until the risotto is hot. Use butter to make it creamier.
Stove: Add risotto to a saucepan, over low heat, and then add a little water or broth while stirring for about 2 minutes. Stir well, to ensure that it is evenly reheated. add a splash of white wine, some water, and some butter. Stir it constantly to ensure that it's evenly reheated and make sure you don't dry out the rice. Once the butter has melted, take the saucepan from the stove and continue to stir the risotto on the counter.
More Rice Recipes:
Cooking Tips:
How long do you cook Risotto in the Instant Pot: Instant Pot Risotto should be cooked for 6 minutes on High Pressure, followed by a Quick Pressure Release.
Does the alcohol from wine cook off in the Instant Pot: When you are cooking with alcohol using a Pressure Cooker (Instant Pot) or slow cooker, the alcohol won't evaporate fully as when you are cooking on the stove-top. Only a portion of it will evaporate into steam. Therefore, the dish should only be served to adults. However, in the case of the Risotto, we let the wine simmer and also continue to cook the risotto when adding the cheese. And since we used only 1/2 cup, it's safe to assume that most of it has evaporated.
Rice: Also, make sure you choose the correct rice for this recipe.
Liquid ration: Equally important is to follow and use the correct ration of liquid to rice.
Deliciousness to your inbox
Enjoy weekly hand picked recipes and recommendations