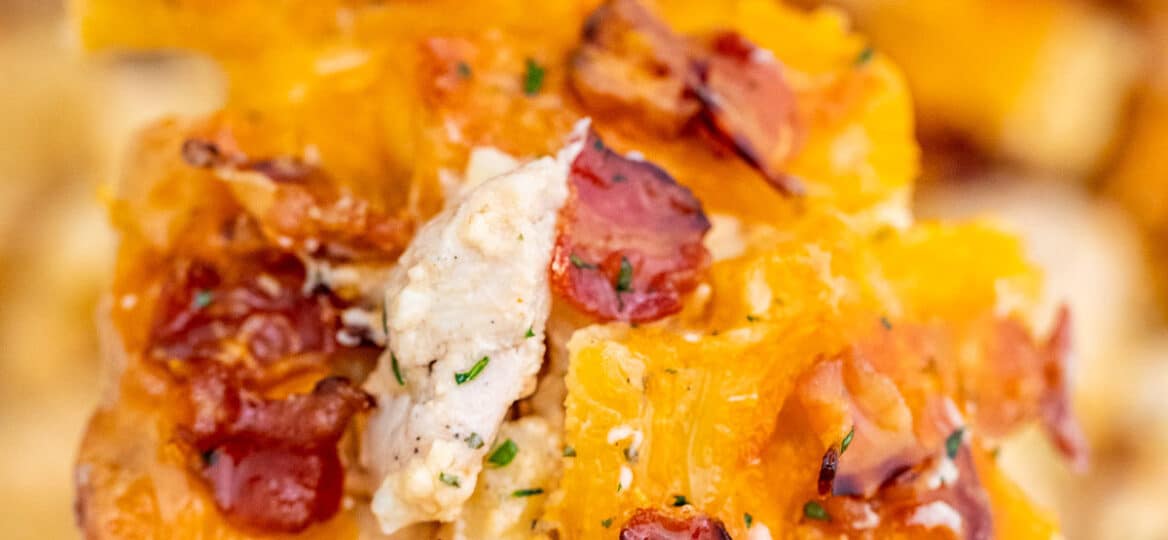 Crack Chicken Baked Ziti [Video]
Crack Chicken Baked Ziti is a comforting casserole dish featuring the famous ranch-bacon-cheese combo! This is an easy pasta recipe perfect to feed a crowd!
If you like pasta, then, try this recipe! You can easily serve it along with our other favorites like the Slow Cooker Pineapple Pork Loin, Grilled Steak, and Oven Baked Fish Sticks!
Baked Ziti Recipe
Crack Chicken Baked Ziti is easy to prepare and will only require less than an hour of your time. At home, not only adults like this dish, but my kid also adores it! So, if you are planning your menu, put this on your list!
It will surely be a hit on your weekend lunches or dinners with the fam. Mainly made with pasta, it is filling, and the chicken provides the necessary protein to complement all those carbs.
It has the famous combination of the ranch, cheddar, and bacon that we always love in our dishes. So, it is tried and tested already. You will never go wrong with this easy recipe!
What is Baked Ziti?
It is a kind of dish that is pre-cooked and assembled first before cooking in the oven. It is assembled by layering pasta, cheese, and sauce.
The ziti, the type of pasta used in this dish, is tubular. And the hollow space inside gets filled with the sauce which makes this dish creamy overall.
What is Crack Chicken?
It is a poultry dish that is flavored with ranch and cheese and added with crispy bacon. This combination of flavors is addicting hence the name of the dish.
How do you make Crack Chicken Baked Ziti
Prep the oven: Preheat to 375 degrees.
Cook the pasta: Simply follow the package instructions. Then, set aside.
Brown the meat: In a skillet, put some oil and stir in the chicken cubes. Season with salt, pepper, and paprika. Remove from heat when the meat turns brown and no longer raw in the middle.
Prepare the sauce: Use the same skillet to make the roux. Melt some butter and whisk some flour until thick. Add in the milk slowly while whisking continuously. Stir in the ranch mix, garlic, cream cheese, and cheddar cheese. Remove from heat when fully combined.
Assemble: In a bowl, combine everything – pasta, meat, and sauce. Distribute into a single layer in a 13×9 baking dish. On top, sprinkle bacon and cheese.
Bake: Cook in the oven until the cheese melts and the mixture heated through. This will take about 20 to 30 minutes. Then, serve!
Can you make Crack Chicken Baked Ziti in advance?
Yes! You can prepare everything the night before but assemble and bake on the day you are ready to serve.
This also makes for a good freezer meal. Hence, you can freeze it first. To reheat, simply bake again.
How to freeze baked ziti casserole:
Remember that before storing it, allow it to cool completely first. To freeze, cover it first with layers of foil and store in the freezer for 3 months.
How to thaw:
Simply transfer the frozen pasta dish from the freezer to the refrigerator to thaw. If you forget this step before reheating, do not fret. You can directly bake it frozen, but it will take longer.
How to store
Refrigerate: Allow the dish to cool down completely, then, transfer in an airtight container. Refrigerate for a day or two.
Freeze: You can freeze it for about 3 months.
Reheat: Simply bake again at the same temperature it was cooked initially. You may want to add more of the cheesy mixture because it tends to dry out more. Why? Storing it causes the pasta to absorb the sauce. Hence, it helps if you keep some of the sauce if you plan on storing it.
Recipe Tips:
In baking it, you can cover it with foil to prevent the top from getting burned prematurely. Then, uncover for the last 10 minutes and broil further. This is just an option if you like the top to crisp up.
You can substitute Greek yogurt to the cream cheese.
Other cheese options are mozzarella and pepper jack.
Deliciousness to your inbox
Enjoy weekly hand picked recipes and recommendations