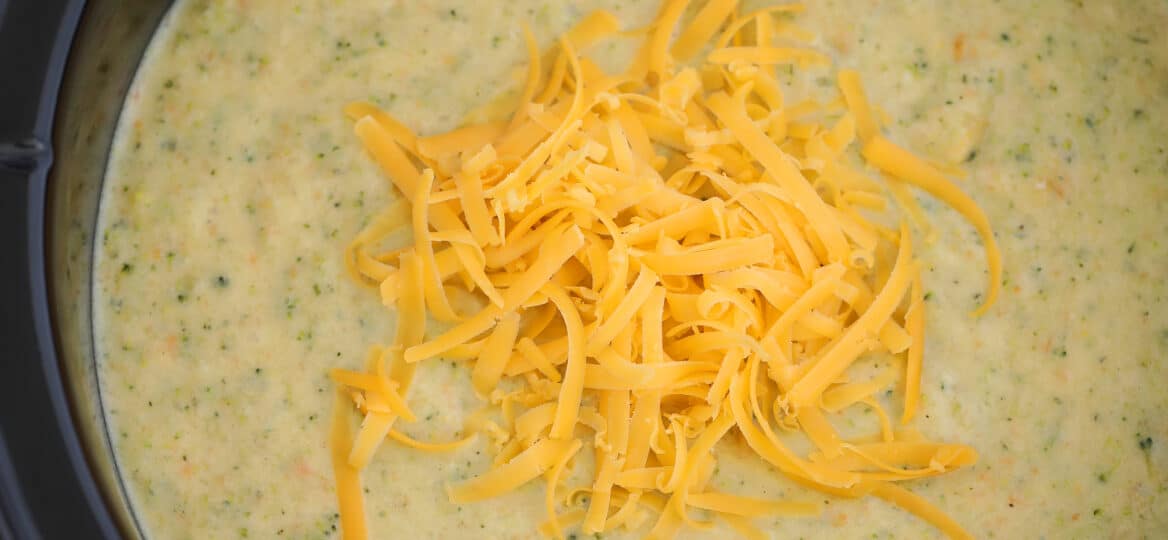 Slow Cooker Broccoli Cheddar Soup [Video]
Slow Cooker Broccoli Cheddar Soup is thick, creamy, and incredibly cheesy. This is the perfect comfort meal for the whole family to enjoy, easily made in the crockpot.
Crockpot recipes are such a time saver and bonus points for being so delicious as well. We highly recommend you try our famous Crockpot Meatloaf, the delicious Slow Cooker BBQ Ribs, and obviously the super tender Corned Beef with Cabbage and Potatoes.
This Slow Cooker Broccoli Cheddar Soup is reminiscent of Panera Bread's Broccoli Cheddar Soup. It is equally delicious and creamy, but unlike the stove top version, this one is slowly cooked in the crockpot.
With just 15 minutes of preparation time, you will end up with a delicious homemade family dinner. In addition, this is one of our favorite ways to prepare this classic recipe. By slow cooking it, all the flavors get to blend in together resulting in a delicious and cheesy soup.
All in all, this crockpot broccoli cheese soup is classic comfort food that is very easy to make. We especially love serving it during a rainy day, or cold weather in individual bread bowls.
Also, you can make a larger batch and enjoy it for days to come. Leftovers are easy to store and taste even better the next few days.
We used broccoli florets, carrots, and celery to make this recipe. In addition, the veggies are perfectly tender and infused with the delicious flavors from the chicken broth and all that amazing melted cheddar cheese.
Key Ingredients:
You will need a few simple ingredients:
Fresh broccoli: I use about 4 cups of broccoli florets here.
Heavy cream, butter: To make the creamy soup base.
Seasoning: Italian seasoning, red pepper flakes, salt, and black pepper. You can also add some garlic powder, onion powder, or ranch seasoning.
Veggies: Fresh ingredients like carrots, onion, garlic, and celery.
Chicken stock or vegetable stock: For richer flavor, I highly recommend using homemade chicken stock. Alternatively, feel free to use vegetable stock.
Cheese: I use sharp cheddar cheese and gruyere cheese.
Cornstarch: To thicken this delicious soup.
How to make Slow Cooker Broccoli Cheddar Soup?
Watch the recipe video for step-by-step guidelines. Here are the general steps:
First, add the veggies, seasoning, and melted butter to the bottom of the crockpot.
Pour the broth over, and gently whisk using a spatula.
Cover and cook.
While the mixture is cooking, make the cornstarch mixture.
During the last 30 minutes of cooking, open the lid, and add the cornstarch mixture and shredded cheeses.
Serve warm.
Possible variations and substitutions:
Add meat: You can add some proteins to it, such as shredded chicken breast, or cubed ham.
Cream cheese: For a richer and denser texture, add half a cup of cream cheese.
Extra cheese: To make it creamier, use more cheese or a combination of various cheeses.
Other seasonings: Feel free to use your favorite seasonings. Also, great additions would be cayenne pepper, white pepper, ground mustard, etc.
Instant Pot Broccoli Cheddar Soup: This is another great option if you are looking for a quick and easy dinner.
Cream soup: Alternatively, you could use cream of celery soup or cream of chicken soup for the base.
Favorite crockpot broccoli cheddar soup toppings:
This meal is already delicious, but you can elevate it even more if you use your favorite topping. Find our suggestions below:
Extra cheddar cheese
Chopped green onion
Diced chives
A dollop of sour cream
Croutons
Ritz crackers or regular crackers
Chopped jalapenos
How to make a roux?
If you want a creamy and thicker texture then making a roux is important. Here are the steps to make it:
First, in a large skillet over low heat melt butter.
Then, slowly whisk in the flour for about 30 seconds.
Next, add broth or some cooking liquid from the crockpot.
Let it simmer till it becomes consistent.
How to make the soup smoother?
I love my soup with chunks of broccoli and veggies in it, and with lots and lots of cheese 🙂
However, if you are looking for a smoother texture, simply use an immersion blender or regular blender. Then, just blend on low speed the ingredients together once they are done cooking.
More delicious slow cooker recipes:
Storing instructions:
Refrigerate: Prior to storing let leftover soup completely cool at room temperature. Then, transfer it to an airtight container and refrigerate leftover for up to 4 days.
Freeze: First, it is very important to let it fully cool. Next, use a cup to transfer it to freezer-safe quart bags or to a large air-tight container. Also, if using freezer bags, squeeze out excess air and seal the bags. Lay flat in the freezer. Store for up to 3-4 months.
Reheat: Transfer frozen soup from the freezer to the refrigerator and thaw it overnight. Another option is to add the frozen bag to a large casserole dish and place it under running warm water. Then, transfer it to a dutch oven or saucepan over low-medium heat. Keep in mind that when reheating this recipe you may have to add a bit of milk or cream, ¼ cup at a time. Stir to combine and simmer for 2-3 minutes.
Recipe Tips:
You can make this meal with just broccoli, we like adding carrots for some sweetness and the celery for extra flavor.
In addition, light cream can also be replaced with half and a half.
Use veggie broth instead of chicken broth for a vegetarian version.
Don't fully puree it, leave some of the veggies intact, they will add a nice texture.
Also, you can add as much cheddar cheese as you like, you can even add some Asiago cheese or Gruyere.
The best is to grate your own cheese instead of using pre-shredded
In addition, remember not to overfill the crock pot. Always keep it at about 2/3 full.
Also, do not open the lid often. Let it slowly cook with the lid closed so that the heat does not escape.
Deliciousness to your inbox
Enjoy weekly hand picked recipes and recommendations