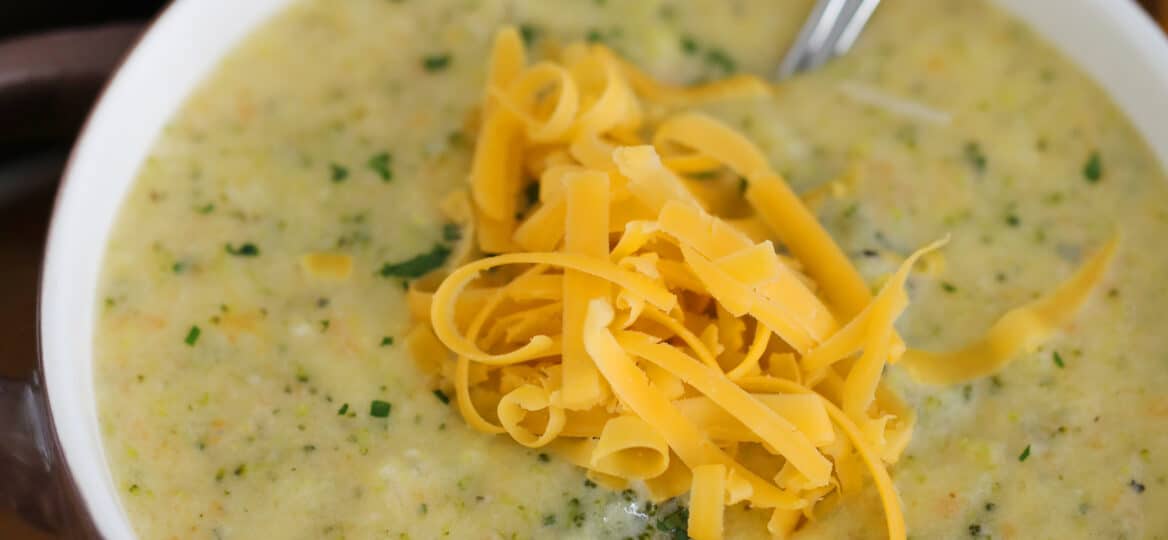 Instant Pot Broccoli Cheddar Soup
Best Instant Pot Broccoli Cheddar Soup is thick, creamy, and extra cheesy. Very easy to make and loaded with lots of veggies and cheddar cheese. The perfect comfort food that can easily be made vegetarian.
Soup recipes are soul-warming and perfect to make in larger batches and freeze for later. You should also try our famous Slow Cooker Baked Potato Chowder with Bacon, the super thick Slow Cooker Chicken and Dumplings, and always perfect Crockpot Chicken Noodle Soup.
Instant Pot Broccoli Cheddar Soup
Instant Pot Broccoli Cheddar Soup is definitely a must-try! This is the best comfort food during colder winter months. It is reminiscent of Panera Bread's broccoli cheddar soup but made in the pressure cooker in less than 30 minutes from start to finish!
Also, it has the perfect texture, creamy, and super cheesy. The veggies are blended with the broth to create a thick and hearty consistency. Made with broccoli, carrots, and celery, the soup is loaded with flavor.
We like using lots of cheddar cheese and some sour cream to give the soup a cheesy and smooth texture. Serve it topped with more cheese because that's what this recipe is about. The pressure cooker makes this recipe a breeze, and perfect to make even during weeknight!
How to make Broccoli Cheddar Soup in the Instant Pot?
Saute the veggies: Using the pressure cooker Saute function, quickly saute the onions for about 2 minutes until tender. Then, add minced garlic and saute for about 30 minutes. Next, add the rest of the veggies.
Add the broth: You can use chicken stock or vegetable broth. Once the veggies are ready, add the broth.
Cook: Close the lid, and cook on high pressure.
Make the slurry: In a separate bowl, make the cornstarch slurry. Then, add the slurry slowly to the pot, while gently whisking.
Serve: Add the shredded cheese, and serve warm.
How to make this Broccoli Cheddar soup on the stove?
If you don't own an electric pressure cooker, you can still make this recipe on the stove. Just follow this link for our Panera Bread version of this recipe. It will be ready in about 30 minutes and it tastes delicious!
INSTANT POT BROCCOLI CHEDDAR SOUP TOPPINGS:
Another great thing about this soup is that you can pile it high with your favorite topping to add different texture and flavors. Here are our favorites:
More cheddar cheese
Chopped green onion
Diced chives
A dollop of sour cream
Croutons
Crackers
Which cheese is the best for broccoli cheese soup?
I use good quality grated cheddar cheese in this dish. However, feel free to go with what you like and have on hand. You want to use good cheese or a combination of cheeses to get the creamiest results.
Sharp cheddar cheese, gruyere, parmesan, are all great alternatives.
What to Serve with Instant Pot Broccoli Cheese Soup?
Bread: this dish goes well with a warm slice of French baguette or a freshly baked homemade roll.
Salad: Pair it up with caesar salad, pear salad, or arugula salad.
Mac and Cheese: Just like the Panera Bread option, pair it with Mac and Cheese on the side. Super yummy!
How to freeze leftovers?
First, let it fully cool.
Use a cup to transfer it to freezer-safe Ziploc quart bags.
Squeeze out excess air and seal the bags. Lay flat in the freezer.
The bags can nicely be stored in the freezer for up to 3-4 months.
How to reheat it?
Thaw it overnight in the fridge the day before you would like to serve it.
Another option is to add the frozen bag to a large casserole dish and place it under running warm water.
Then, transfer it to a dutch oven or saucepan over low-medium heat.
Equally important, when reheating this recipe is to add a bit of milk or cream, ¼ cup at a time.
Stir to combine and simmer for 2-3 minutes.
More easy Instant Pot Soups:
RECIPE TIPS:
To make it in the crockpot, follow my Slow Cooker Broccoli Cheddar Cheese recipe.
Light cream can also be replaced with half and a half or even a dairy-free version like soy milk.
Don't skip the nutmeg, the flavor is very subtle, but it works amazingly with the cheddar in this recipe.
Use veggie broth instead of chicken broth for a vegetarian version.
To make it even creamier, you have to puree half of it, either by adding it to a blender or using an immersion blender.
Add as much cheddar cheese as you like, you can also add some Asiago cheese or Gruyere.
Deliciousness to your inbox
Enjoy weekly hand picked recipes and recommendations