Instant Pot Broccoli Cheddar Soup
Best Instant Pot Broccoli Cheddar Soup is thick, creamy and extra cheesy. Very easy to make and loaded with lots of veggies and cheddar cheese. Perfect comfort food that can easily be made vegetarian.
Soup recipes are soul warming and perfect to make in larger batches and freeze for later. You should also try our famous Slow Cooker Baked Potato Chowder with Bacon, the super thick Slow Cooker Chicken and Dumplings and always perfect Crockpot Chicken Noodle Soup.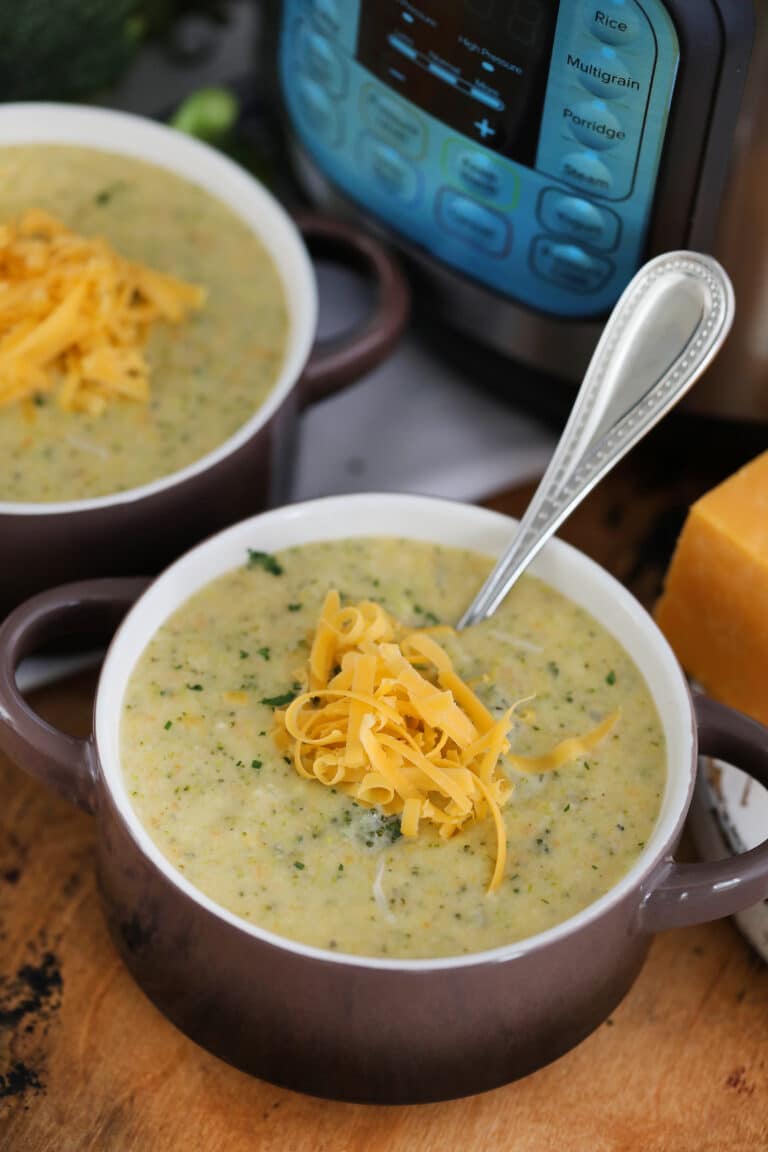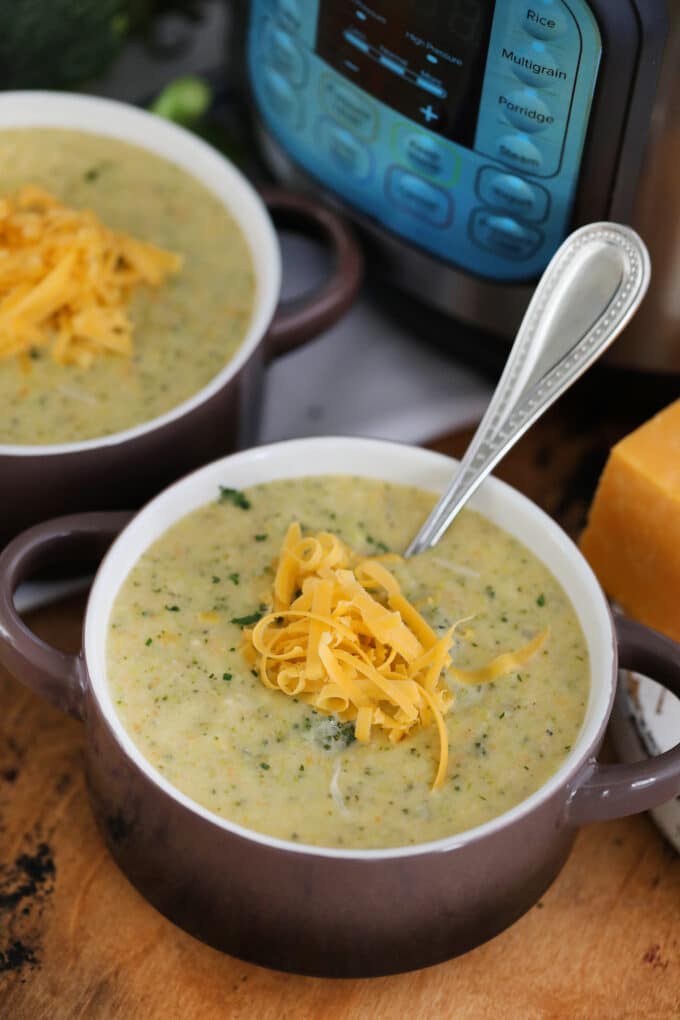 Instant Pot Broccoli Cheddar Soup
Instant Pot Broccoli Cheddar Soup is definitely a must try! It has the perfect texture, creamy and super cheesy. The veggies are blended with the broth to create a thick and hearty consistency. Made with broccoli, carrots, and celery, the soup is loaded with flavor.
We like using lots of cheddar cheese and some sour cream to give the soup a cheesy and smooth texture. Serve it topped with more cheese because that's what this recipe is about. The pressure cooker makes this recipe a breeze, and perfect to make even during weeknight!
RECIPE TIPS:
Light cream can also be replaced with half and a half or even a dairy-free version like soy milk.
Don't skip the nutmeg, the flavor is very subtle, but it works amazingly with the cheddar in this recipe.
Use veggie broth instead of chicken broth for a vegetarian version.
To make it even creamier, you have to puree half of it, either by adding it to a blender or using an immersion blender.
Add as much cheddar cheese as you like, you can also add some Asiago cheese or Gruyere.
Follow Sweet and Savory Meals on Pinterest for more great recipes!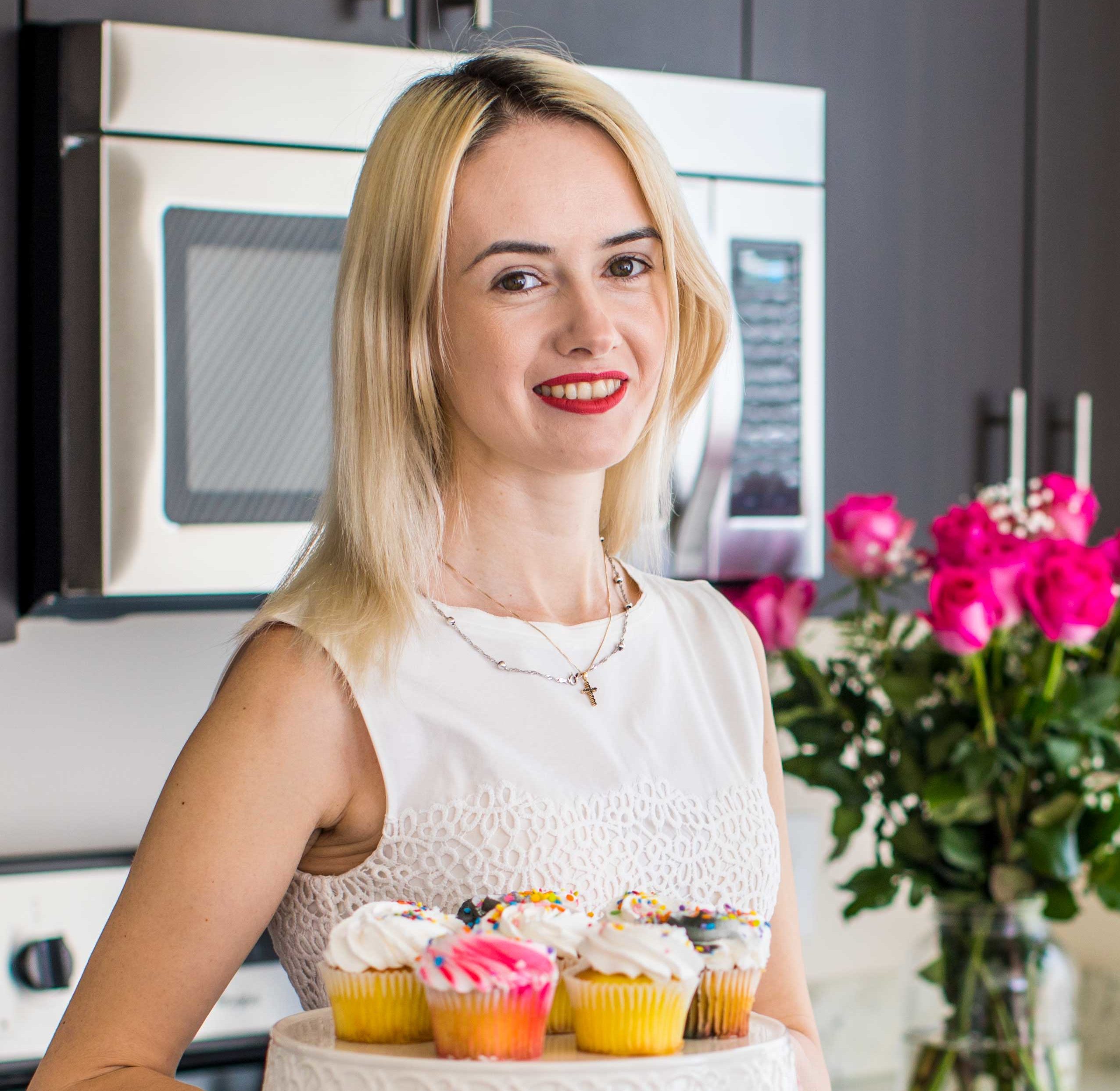 Follow us on Pinterest for more delicious recipes!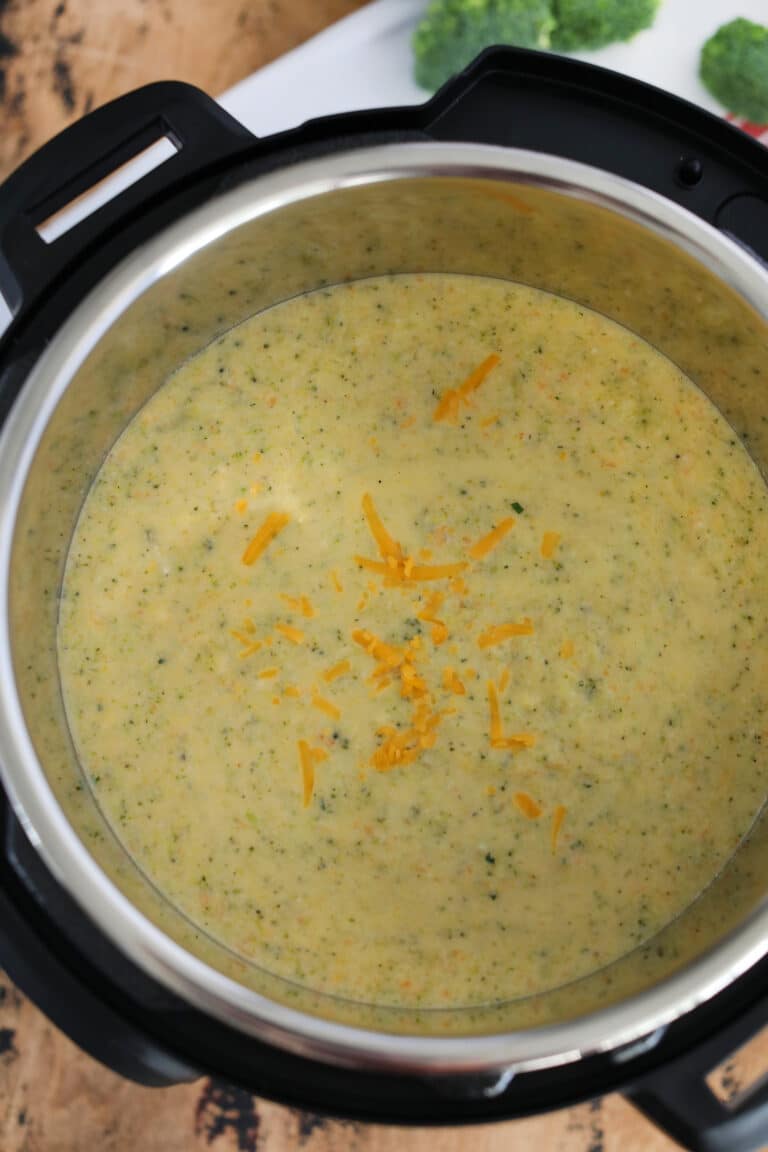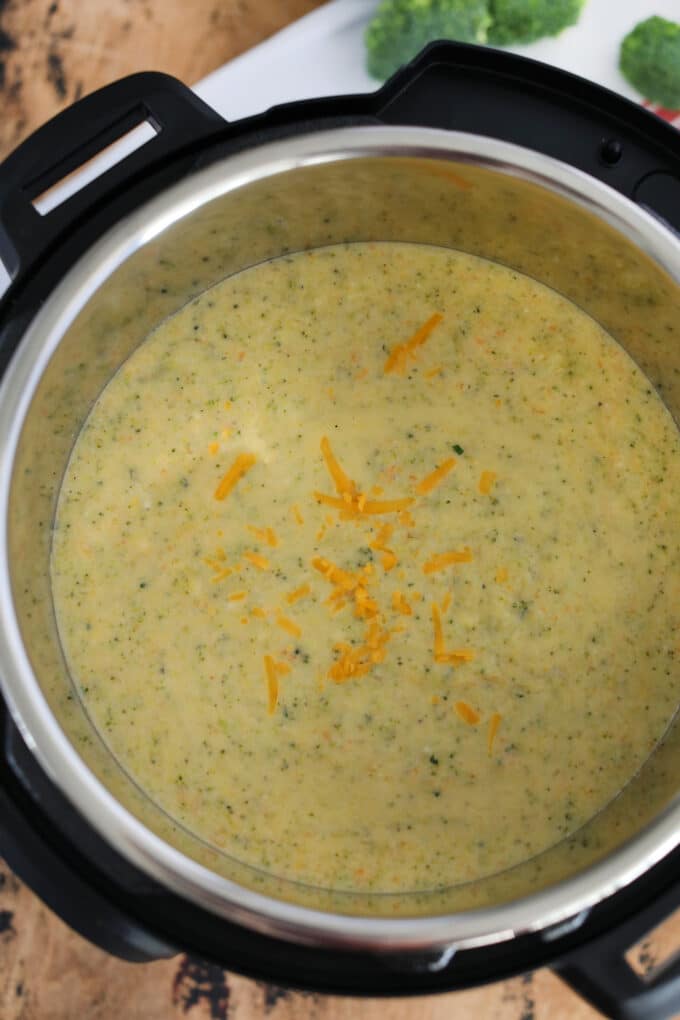 How to make this meal on the stove?
If you don't own an electric pressure cooker, you can still make this recipe on the stove. Just follow this link for our Panera Bread version of this recipe. It will be ready in about 30 minutes and it tastes delicious!
INSTANT POT BROCCOLI CHEDDAR SOUP TOPPINGS:
Another great thing about this soup is that you can pile it high with your favorite topping to add different texture and flavors. Here are our favorites:
Bacon
More cheddar cheese
Chopped green onion
Diced chives
A dollop of sour cream
Croutons
Crackers
HOW TO FREEZE:
First, let it fully cool.
Use a cup to transfer it to freezer-safe Ziploc quart bags.
Squeeze out excess air and seal the bags. Lay flat in the freezer.
The bags can nicely be stored in the freezer for up to 3-4 months.
Follow Sweet and Savory Meals on Pinterest for more great recipes!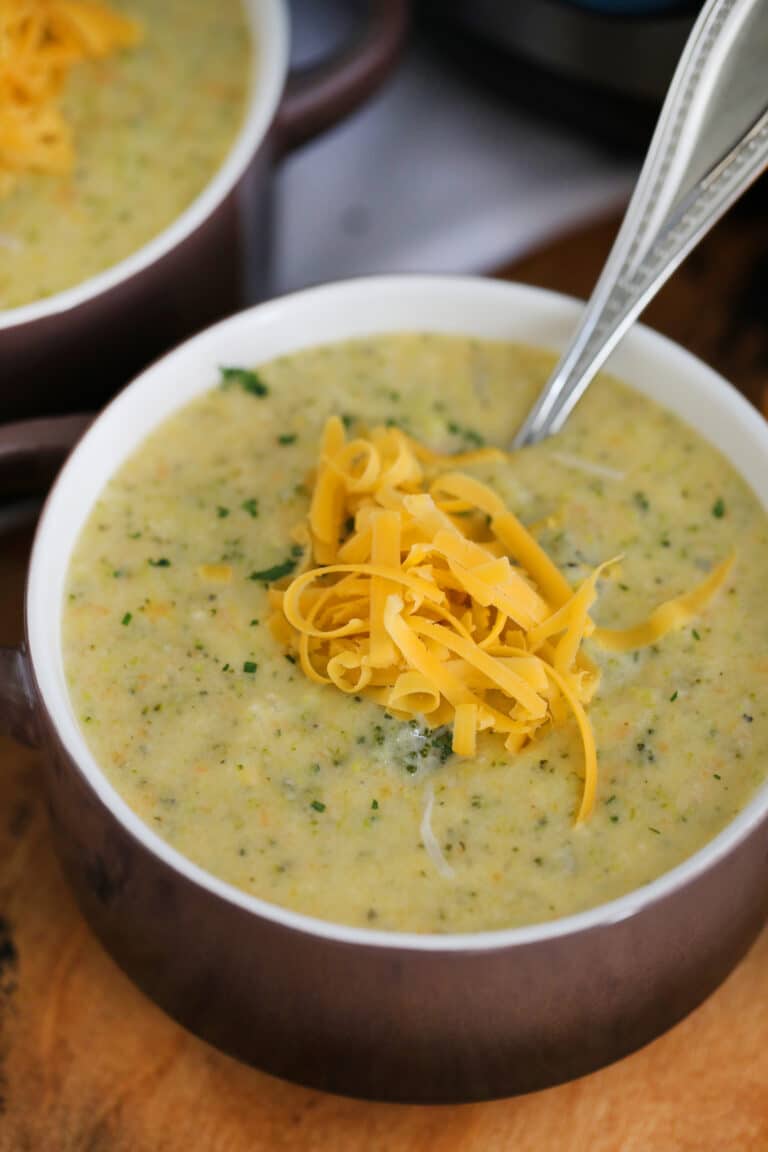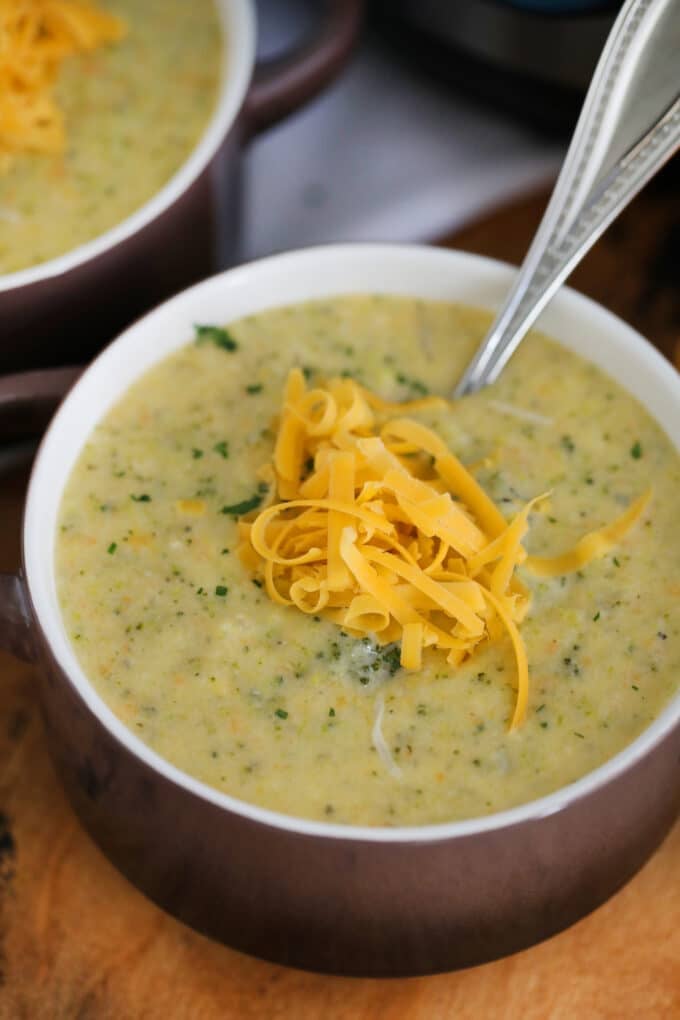 HOW TO REHEAT:
Thaw it overnight in the fridge the day before you would like to serve it.
Another option is to add the frozen bag to a large casserole dish and place it under running warm water.
Then, transfer it to a dutch oven or saucepan over low-medium heat.
Equally important, when reheating this recipe is to add a bit of milk or cream, ¼ cup at a time.
Stir to combine and simmer for 2-3 minutes.
Save Recipe
Best Instant Pot Broccoli Cheddar Soup
Author: Catalina Castravet
Serves: 6 servings of about 3 cups
Prep time:

10

minutes
Cook time:

2

minutes
Total time:

12

mins
Nutrition information
Calories: 497 Carbohydrates: 18 Protein: 13 Fat: 42 Saturated Fat: 24 Cholesterol: 127 Sodium: 1024 Potassium: 560 Fiber: 2 Sugar: 5 Vitamin A: 5285 Vitamin C: 56.4 Calcium: 382 Iron: 1.1
Save Recipe
Follow Sweet and Savory Meals on Pinterest for more great recipes!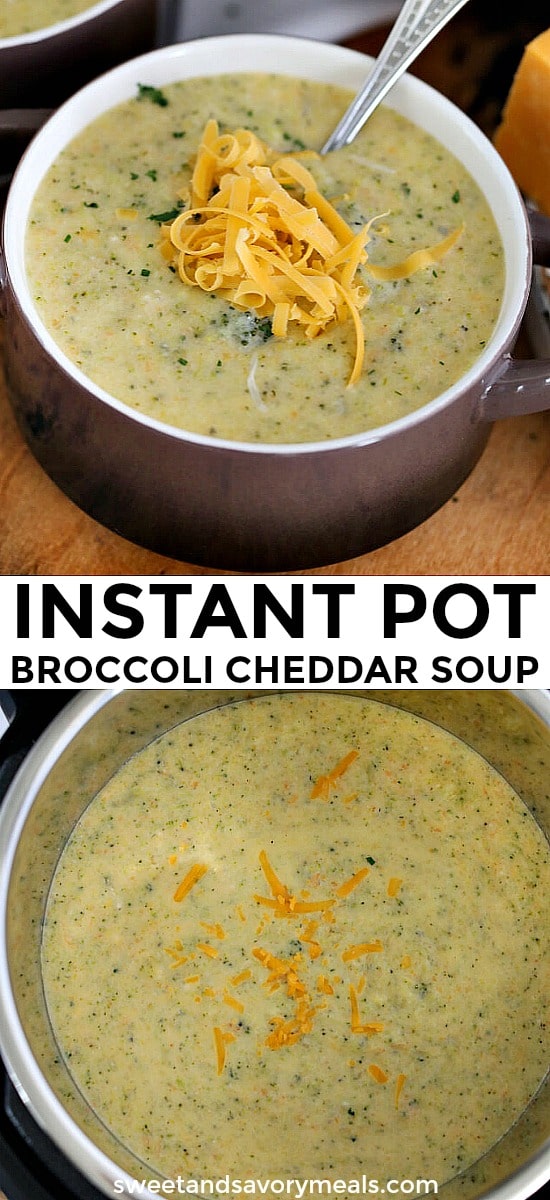 More recipes you might love
Categories: