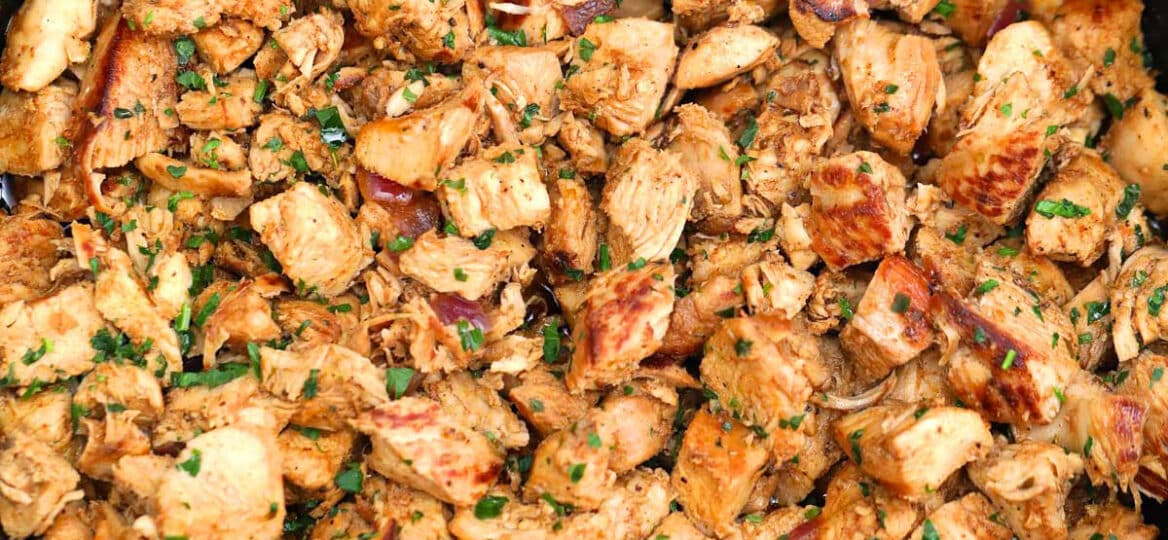 Chipotle Chicken Copycat is the homemade version of the popular, Chipotle's all-time favorite meat! Easy to prepare, budget-friendly, and perfect to use in burritos and tacos.
It's been a while since I've visited the famous Tex-Mex restaurant. And I miss all my Mexican-inspired favorites like Mexican Stuffed Peppers, Taco Soup, and Chicken Tortilla Soup! Now, it's time for another recipe that can be done at home!
Chipotle Chicken Recipe
This Chipotle Chicken Copycat recipe is simple yet packed with flavors. It is a basic recipe and you can add it to just about anything you like, think pasta or salad.
The marinade makes wonders for the rather bland breasts. I love the combination of saltiness and spiciness, with a hint of tang. The adobo sauce also adds smokiness!
The flavors sing as you bite into the moist meat. And grilling it to perfection makes this possible!
With this recipe in your repertoire, you will no longer need to go to Chipotle! Enjoy it in the comfort of your home. For sure, your family will thank you for this!
What is Chipotle Chicken made of?
meat: chicken breasts with the bone and skin removed
marinade: red onion, garlic, adobo sauce, chipotle chili powder, oil, cumin, dried oregano, paprika, ground black pepper, distilled vinegar, water, lime juice
garnish: parsley
What cut of chicken does Chipotle use?
The restaurant uses only dark meat, mostly thigh. This part is flavorful and moist. You can use it for this recipe, too!
But if you want fewer calories, follow this recipe exactly as it is by using boneless and skinless chicken breasts.
How do I marinate chicken?
For this recipe, follow these steps:
Prep the meat: The first step is to pound the chicken into a thinner and more uniform piece. This ensures even and quick cooking on the grill. For the thickness, aim for about half an inch.
Mix the marinade: Combine the ingredients in a food processor to blend. Then, put everything in the resealable plastic bag.
Refrigerate: Toss everything to coat and squeeze out as much air as possible. Refrigerate for at least 6 hours.
How to make Chipotle Chicken Copycat?
Marinate: Follow the steps described above in marinating the white meat.
Grill: Heat the grill to medium-high and put the meat. Grill for about 5 to 6 minutes per side. Then, chop the grilled meat.
Chop: In a pan, put the oil and stir in the grilled meat. This will crisp up each piece. Cook for another 4 to 5 minutes. Garnish then serve while hot.
What is a substitute for adobo sauce?
You can use a Tabasco Chipotle Hot Sauce and adjust the taste by adding other seasonings. It is smoky enough but maybe not as spicy as you would want.
Or, simulate the flavors of this traditional Mexican condiment by combining the smoked paprika and cayenne. This combination will give smokiness and spiciness. If you have chipotle powder, that will do, too.
How to use Chipotle Chicken?
Use it for the following recipes:
What to do with leftovers?
Wrap it in foil or put in an airtight container to refrigerate for up to 4 days. Use it in any of your recipes calling for shredded, grilled, or rotisserie white meat!
Recipe Tips:
You can marinate it in advance and cook it the next day.
Another method to cook this is to bake it in the oven at 400 degrees Fahrenheit. It may take around 30 minutes to finish.
You can use a slow cooker for this instead of grilling. And if you do, there is no need to pound the meat.