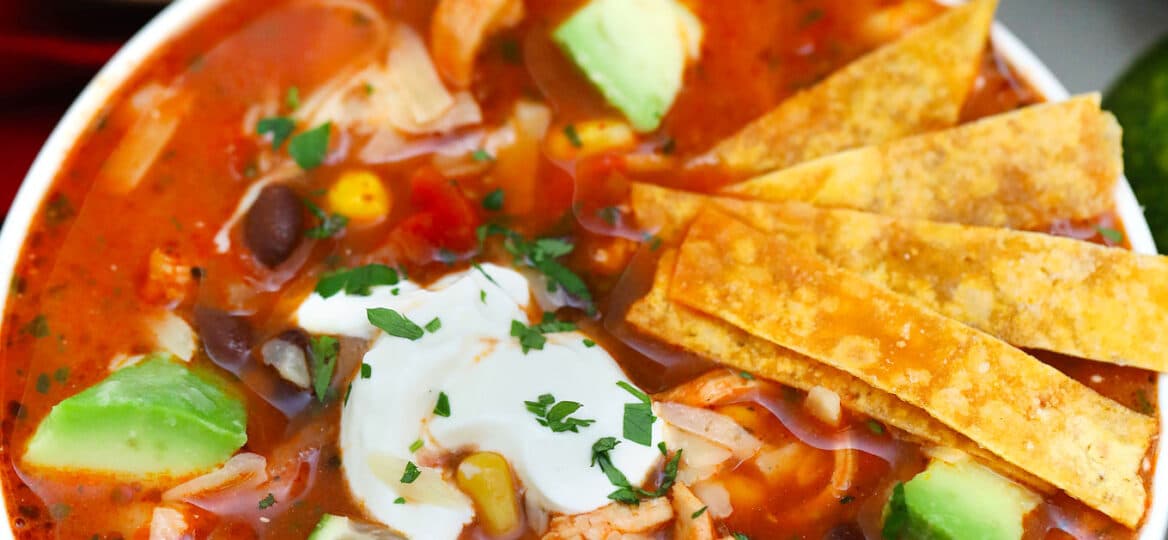 Instant Pot Chicken Tortilla Soup
Instant Pot Chicken Tortilla Soup has all your favorite Mexican flavors in one appetizing dish! It is easily prepared using this pressure cooker recipe!
Mexican cuisine is rich in terms of flavors and colors and these you can find in this recipe. For other Mexican food ideas, check out our recipes for the Mexican Wedding Cookies, Chicken Quesadillas, and Black Bean Salad.
Pressure Cooker Chicken Tortilla Soup
This Instant Pot Chicken Tortilla Soup recipe is one great comfort food for the cold winter, or, for just any season. The broth is tasty with hints of spice and a nice tang.
And the addition of beans, sweet corn, jalapeno, and cilantro simply screams Mexican flavors, and colors, too! This is one festive-looking dish that you can serve to the whole family and everyone will love it!
Despite the long list, the ingredients are rather simple and readily available. And this recipe is quite flexible, you can add and omit as many ingredients as you want.
The use of the trusty Instant Pot also makes this recipe doable anytime as it takes only less than an hour to prepare. The IP can even cook frozen chicken directly without thawing. That is how hassle-free it is to use!
What is Chicken Tortilla Soup made of?
Protein: Use any kind of cooked chicken, may it be rotisserie, boiled, or leftover, to shred.
Broth: Make sure to use the low-sodium kind.
Tomatoes: I use a combination of diced and whole canned ones.
Beans: I use a combination of black and pinto ones.
Aromatics: They impart flavor and sautéing them first in olive oil further deepens that.
Peppers: To add a spicy kick, I like adding jalapenos and the red bell pepper adds a sweet balance.
Lime: Widely used in Mexican cuisine, it adds a bright and acidic flavor.
Sweet corn: It is also a fundamental ingredient and even the tortilla is made with corn.
Salt, pepper, and other seasonings and spices
Cilantro: It adds balance to the spice.
Toppings: Favorite ones are avocado, more jalapenos, sour cream, cheese, and tortilla strips.
How to Make Instant Pot Chicken Tortilla Soup:
Sauté: Use the sauté function of the IP then, cook the aromatics in olive oil.
Pressure-cook: Put all the ingredients including the vegetables, broth, juices, meat, and spices except for the cilantro. Then, cook according to the prescribed settings in the recipe card below. That should take just a few minutes. Then, depressurize either quickly or naturally.
Shred: Open the lid and take out the meat. Using two forks, shred it then, stir it back to the soup together with the cilantro. Heat some more. Or, you can shred your cooked chicken before adding it to the pot.
Serve: Garnish, then, serve. For the tortilla strips, lightly toss them in oil and kosher salt if you wish, then bake them in the oven preheated to 375 degrees Fahrenheit until crispy for 15 to 18 minutes. Remember to line the baking sheet with parchment paper.
Is Instant Pot Chicken Tortilla Soup spicy?
This soup has a medium spiciness level. But you can adjust the heat based on your preference. To make it spicier, simply chop in some more jalapeno.
What goes with the Soup?
This soup is a hearty meal on its own as it has carbs, protein, and fiber already. But if you wish to complete your Mexican feast, serve some enchiladas, salads, and other sides together with some beer, tequila, or even wine. Here are some recipes that may help you out:
How to cook Chicken Tortilla Soup in the crockpot?
Crockpots are good for making soup! You can make this one by following this crockpot recipe.
Can you make it on the stovetop?
Yes! You can use your Dutch oven for this. For the rest of the details, follow this stovetop recipe.
How to store chicken tortilla soup?
Let it completely cool prior to refrigerating. Then, transfer to an airtight container and refrigerate for up to 4 days.
Recipe Tips:
Double the recipe and serve one half immediately. Then, store the leftovers for later. This dish keeps well in the freezer for up to 6 months. In the fridge, it will keep for 5 to 7 days.
Fresh and frozen chicken meat can lengthen the cooking time in the IP. But when using frozen, just separate the pieces so that each piece will be cooked through and add extra 10 minutes of pressure cooking time.
Add vegetables like carrots and celery if you wish.