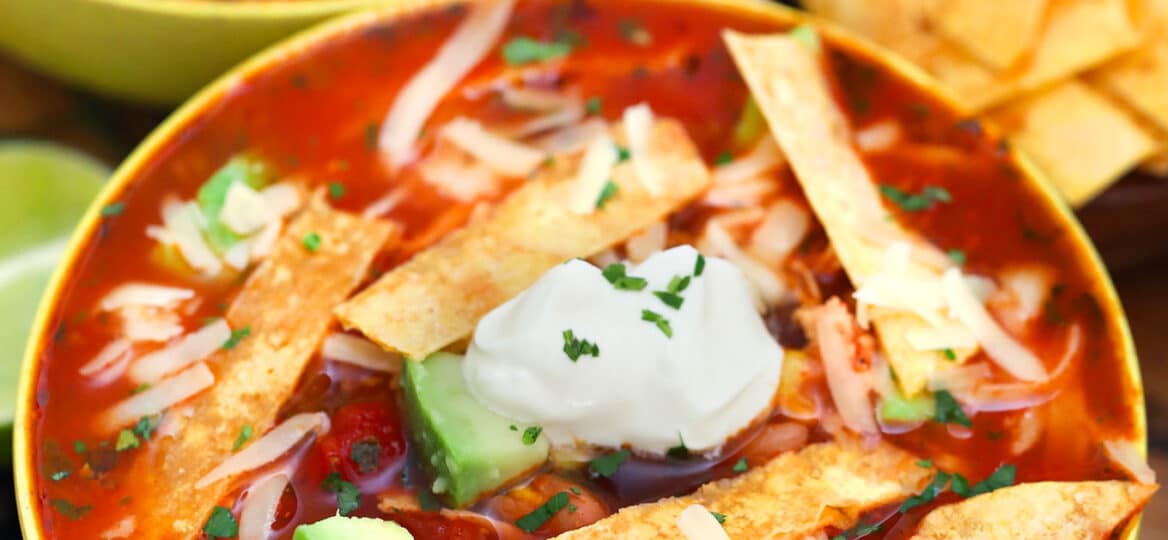 Chicken Tortilla Soup [Video]
Chicken Tortilla Soup adds heat to the cold nights of winter! Let this dish warm you up this season! It is flavorful, hearty, and makes for a quick dinner! Check out the recipe video below for a quick step by step tutorial.
I have got a handful of tortilla inspired recipes like this one alongside Crack Turkey Pinwheels, Chicken Enchilada Casserole, and Cheese Quesadilla! Be sure to check them out!
Chicken Tortilla Soup Recipe
Chicken Tortilla Soup is a colorful and heartwarming and will make any gloomy winter night truly festive and warm! It is a Mexican kind of night here at our home and this dish is the star.
I love how it is so easy to make and yet, I can feed my whole family and still manage to have leftovers. And yes, it makes for a great freezer meal!
If it is too cold outside, or if you are too lazy to make anything fancy, then, have this dish ready for reheating. Besides, it is a complete meal already.
It has protein, carbs, vegetables, and spices that make this dish flavorful. And my favorite part? The crispy tortillas that provide a nice textural contrast to the tomato-based soup!
What is Tortilla Soup?
It is an amalgamation of all things Mexican! Having been brought along by migrants, it is a common offering among Mexican restaurants.
It has a rich combination of spices that provide the most authentic Mexican flavors. These spices, along with the aromatics, impart flavor the protein and veggies that can also be found in this dish.
It contains tomatoes, beans, corn, and cilantro cooked and seasoned in a low-sodium broth. And most especially, this soup is named after the crunchy tortilla strips that this dish is topped with and makes it more hearty.
How to make Chicken Tortilla Soup:
Prep the tortilla: Toss the corn tortillas in olive oil and season with kosher salt. Then, pop in the oven placed on a lined baking sheet. This will take a while, so, it is good to prepare the soup at this point.
Sauté: In a Dutch oven, cook the aromatics and some peppers.
Boil: Add in the rest of the ingredients except for the cilantro and allow it to boil for a few minutes. If the soup seems too thick, feel free to add more broth. You simply have to adjust the taste later. Then, add in the cilantro last. Simmer some more and season to taste.
Serve: Portion into bowls and top with the crispy tortillas. Garnish as you like and serve.
How to make it thicker?
You can put a slurry of cornstarch and water into the soup and stir. Or, you can have the tortillas dissolve into the broth and make it thicker.
What to serve with Chicken Tortilla Soup:
It is a complete meal on its own. But if you are to serve this with something else, then, a light leafy salad will do or any of the following:
How to Store:
Refrigerate: Putting this in the fridge in airtight containers extends the shelf life of this dish for up to 5 or 7 days.
Freeze: This makes for a great freezer meal that can last for up to 6 months. Simply wait for it to cool completely, then, transfer to freeze-proof containers.
To reheat: Thaw it overnight in the fridge, then, reheat on the stove.
Recipe Tips:
Since we are using canned beans for this, make sure to rinse the beans before adding them in, to wash off any excess salt.
The flavors could be intense, especially the spiciness, so, feel free to cut back on the spices depending on your preference.
For the meat, you can use any part of the chicken, and even leftover or rotisserie chicken. Just shred it with forks. You can even use beef!