Cheese Quesadilla Recipe [video]
Cheese Quesadilla is an easy and cheesy dish that takes about ten minutes total to make. This is the best meal if you are in a hurry and craving a Tex Mex dish.
With its gooey and cheesy insides combined with the crispiness of the outside, it will take you back to your childhood. Serve this dish with Homemade Guacamole, and Pico De Guillo and you will have the perfect lunch meal.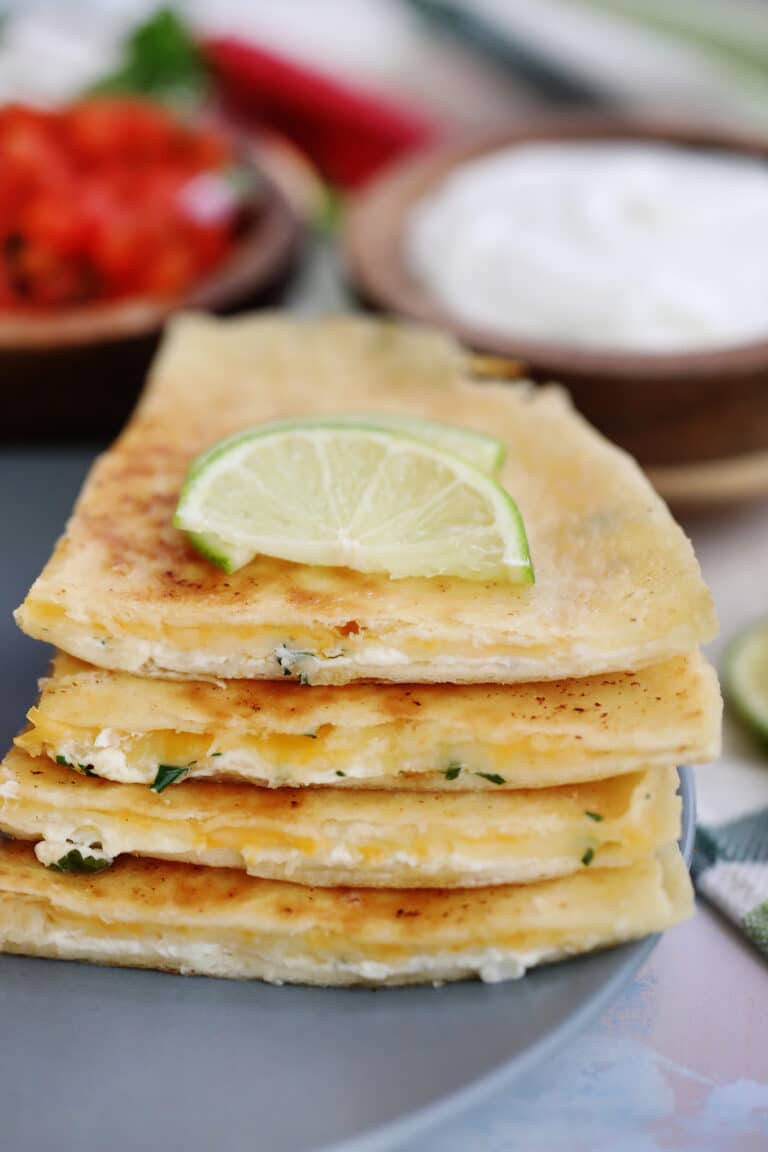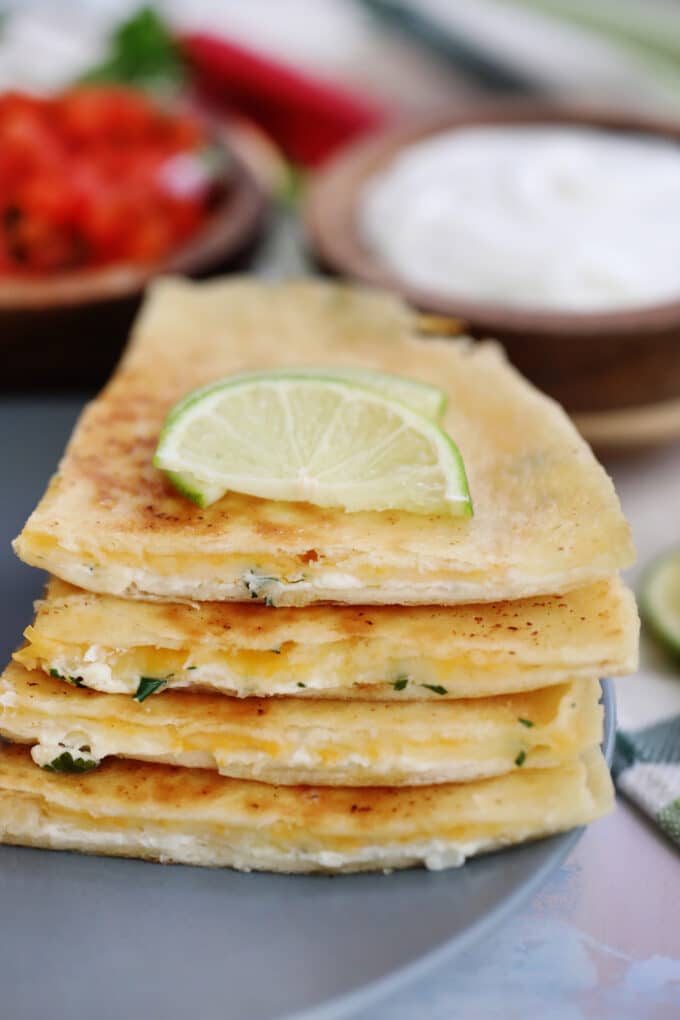 The Best Cheese Quesadillas
A cheese quesadilla is a meal every parent and college student goes to when they are crunched for time. Spice it up a little bit by putting in Monterey Jack, mozzarella, and cheddar cheese. The secret to having the best quesadilla is in the kinds of cheese you put in. By combining these cheeses it will leave you wanting more every time.
It is also extremely important to get tortillas that are uncooked. By getting them this way you can prepare them freshly at home. Be sure to spread a little bit of unsalted butter on the outer side of the tortilla so that it can cook to a nice golden brown color.
Take this classic Mexican dish and introduce it to your weekly diet. It is affordable and so easy that you will truly not want to eat anything else. Also by eating it with guacamole, Pico de Guillo, and sour cream, it will really feel like you are enjoying authentic Mexican cuisine.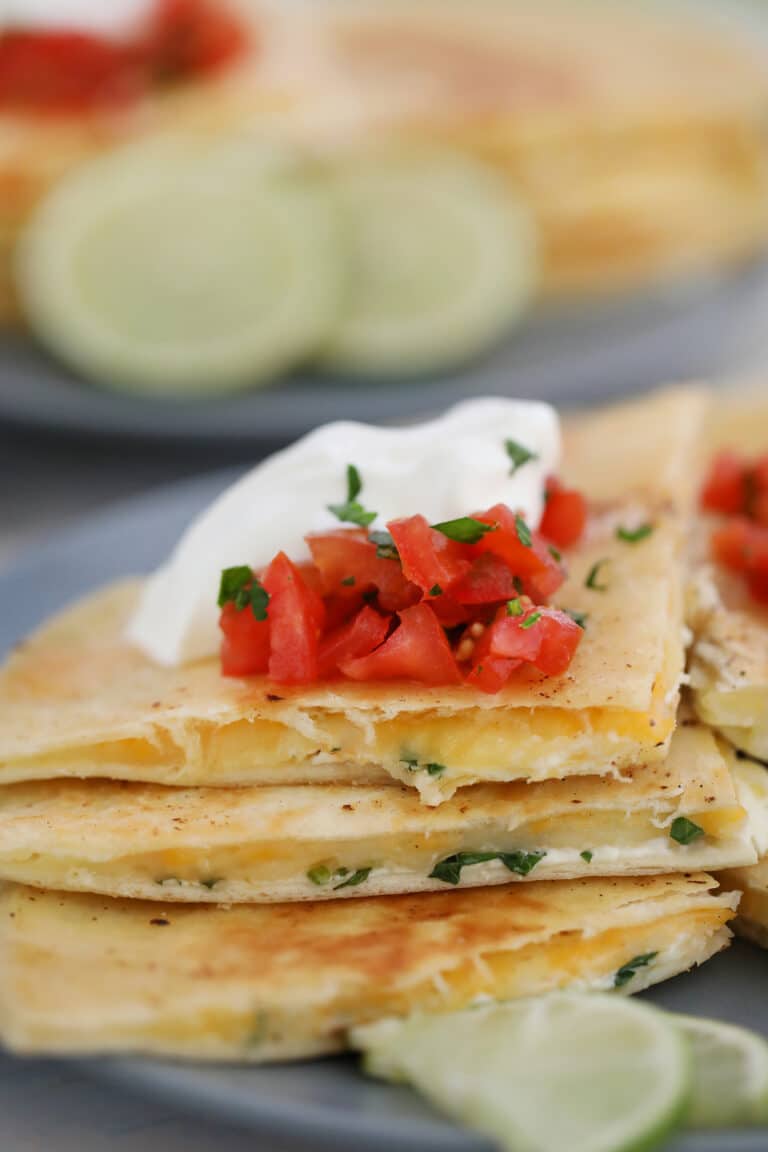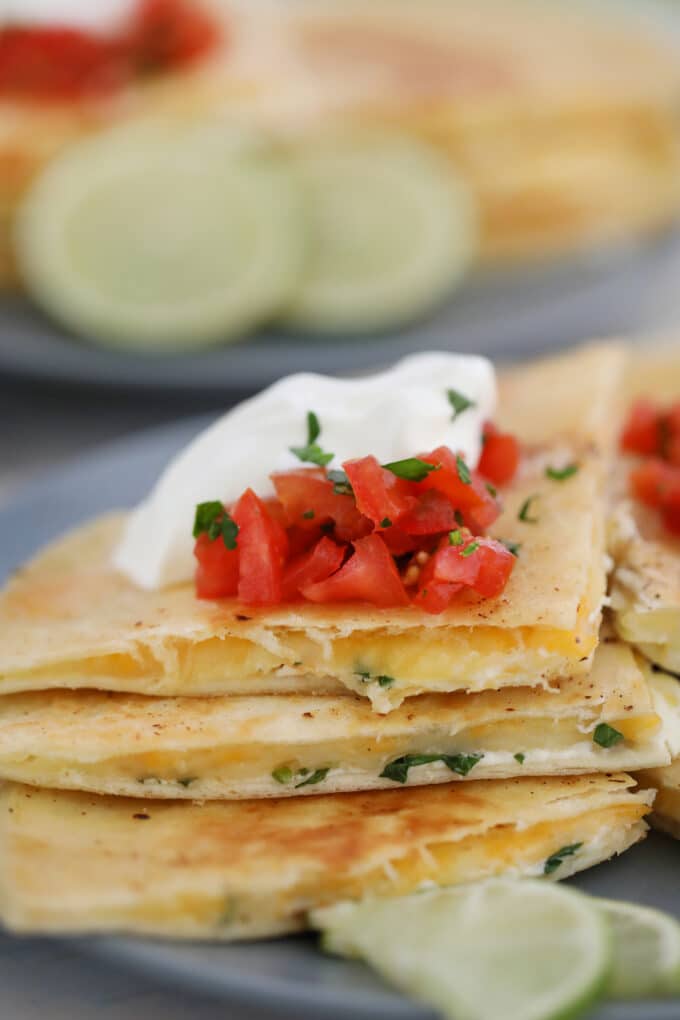 What kind of cheese do Mexican restaurants use in quesadillas?
Mexican restaurants use a cheese called "Asadero." This is creamy and smooth and melts really well in quesadillas and other Mexican inspired dishes. However, this does not mean you cannot use other types.
You can use whichever type you like and prefer. Some other great mixes to use are cheddar, mozzarella, or Monterey Jack.
How to make cheese quesadillas in the oven?
This is one simple yet delicious dish to make in no time. All it takes is basically to combine three or more kinds of cheeses of your choice and place them inside the quesadilla. Then, set heat them up until golden brown.
To make them in the oven, follow the steps below:
Make sure the oven is set to 450 degrees F'
Take two tortillas and coat the outside of them with cooking spray.
Between two tortillas place cheese inside of them and place them in the oven for approximately ten minutes.
A tip to remember when backing them in the oven is to ensure to not put too much oil on the tortillas. This is because it can make them extremely greasy and unpleasant to eat.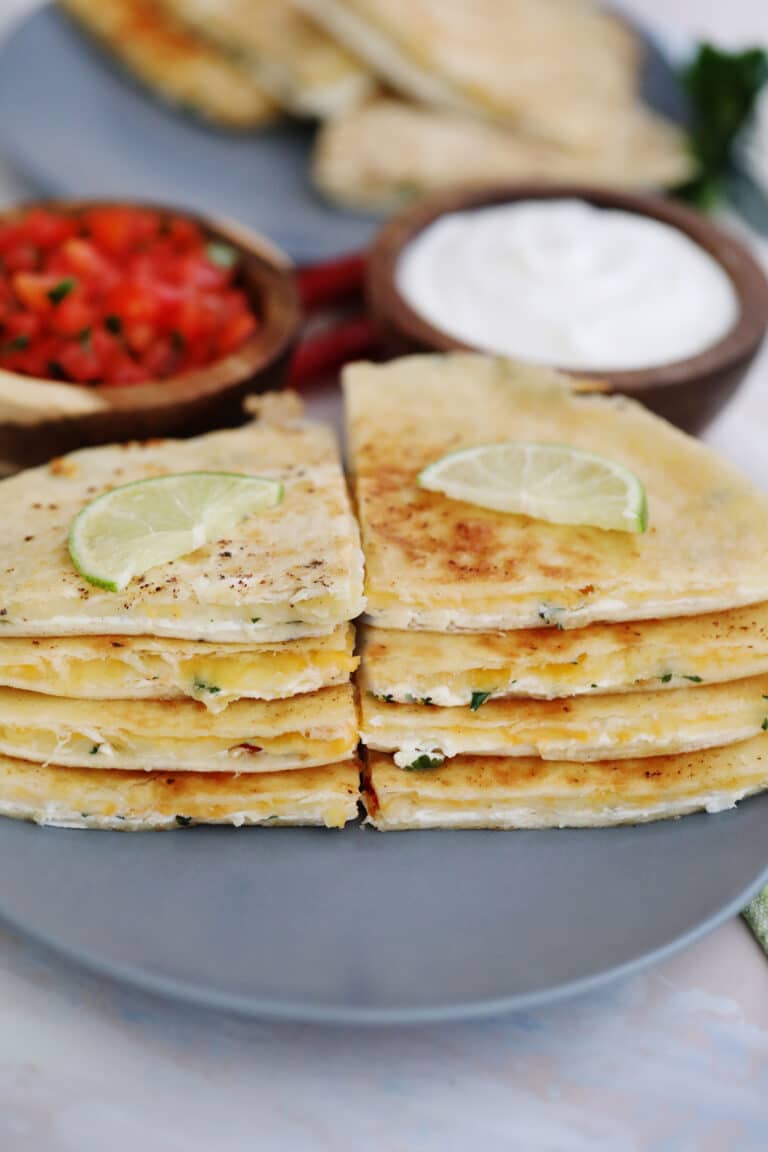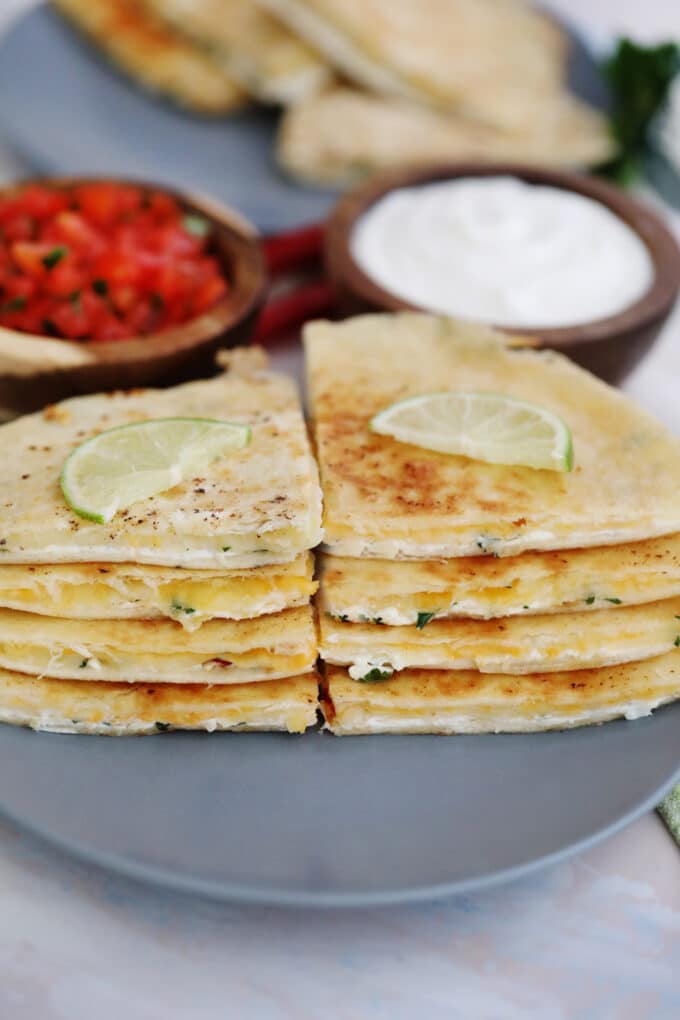 How to make cheese quesadillas on the Stove?
Take a flat pan and spread a little bit of unsalted butter on one side of the quesadilla.
Then, place your cheese of choice on top of it, and then place another tortilla with a little bit of butter spread on top.
Set the stove to medium heat and flip the quesadilla after a few minutes
Tips:
I find it easier to flip the quesadilla if you use two spatulas because that way the quesadillas will not have all the cheese spew out of them.
It is better if you use metal spatulas because the plastic ones tend to melt.
To reduce calories, use non-fat products.
How to make cheese quesadillas on the griddle?
Making them on the griddle is one of our favorite way to make them. You end up with a nice melted cheese, and crunchy tortilla!
Coat the griddle with cooking spray and turn the griddle to medium heat.
Take a tortilla place cheese inside and fold it in half.
Leave it on the griddle for about one minute or until it is golden and flip it.
Tips and notes:
When using a griddle it is best to cook it for half the cooking time that the recipe calls for.
If you want the classic grill marks then turn the griddle to 90 degrees to finish cooking.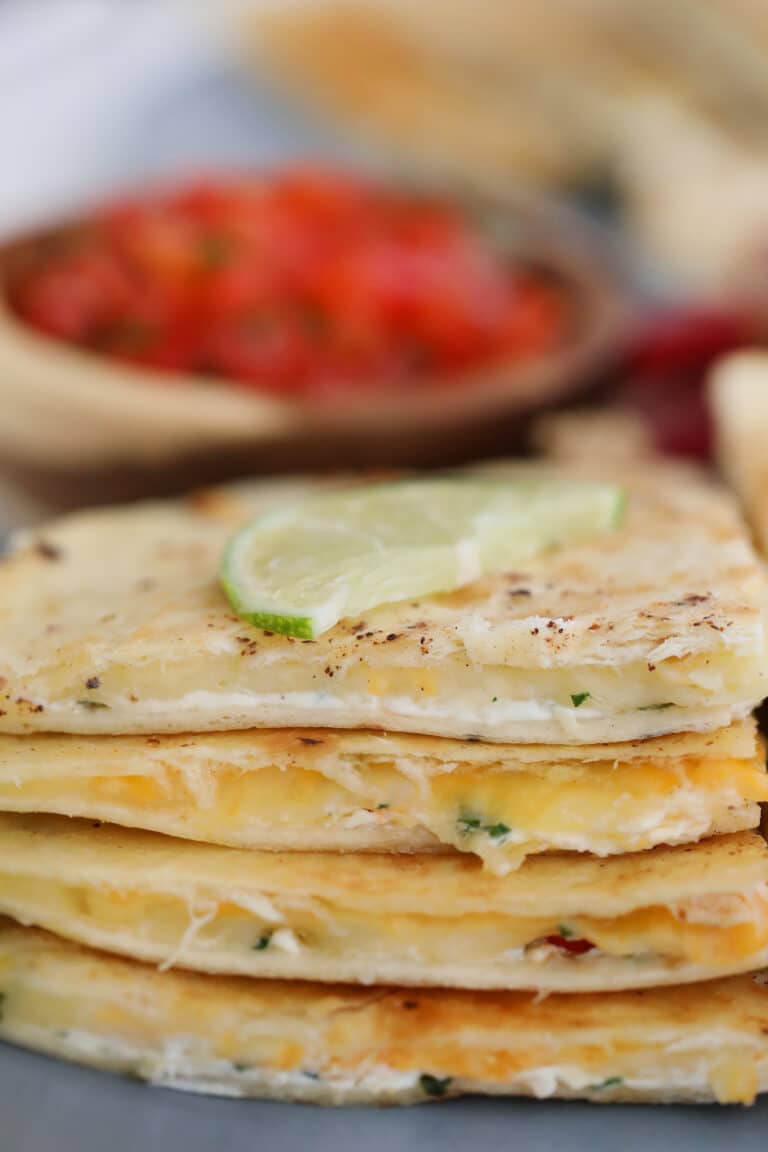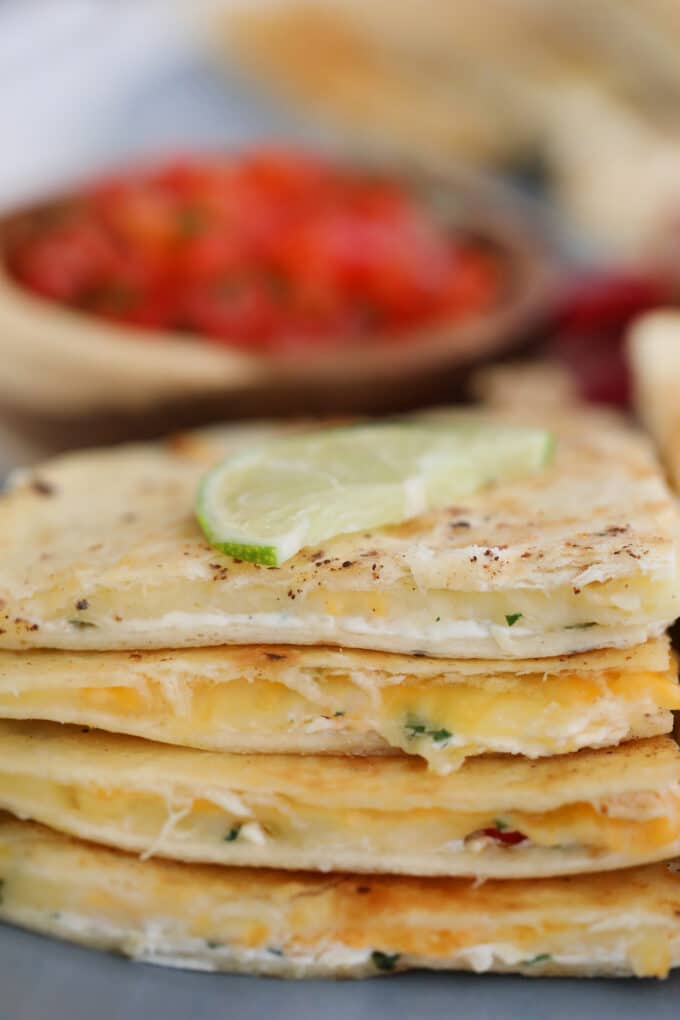 How many calories are in cheese quesadillas?
There are about 500 total calories in them. To cut down the calories it is best to use reduced-fat cheese products and put less than you would usually think to put in. Also, if you take out the sour cream it makes it so there are fewer calories. Sour cream alone has about 46 calories.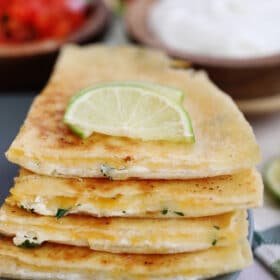 Three Cheese Quesadilla
Cheese Quesadilla is an easy and cheesy dish that takes about ten minutes total to make. This is the best meal if you are in a hurry and craving a Tex Mex dish.
Save
Share
Print
Pin
Rate
Ingredients
6

large flour tortillas

4

ounces

cream cheese

(room temperature)

1

cup

Mozzarella

(grated )

1

cup

cheddar cheese

(grated)

1

cup

white cheese

(grated )

1

jalapeno or chili

(cut into rounds)

2

tablespoons

parsley

(chopped)

6

tablespoons

butter

(for frying)
Instructions
Sizzle 1/2 tablespoon of butter in a non-stick skillet over medium heat.

Spread cream cheese over one side of the flour tortillas, and lay a flour tortilla in the skillet, cream cheese side up.

Build the quesadillas by laying a combo of three types of grated cheese on the bottom tortilla, and then sprinkle parsley and jalapeno rounds. Top with a second tortilla, cream cheese side down.

When the tortilla is golden on the first side, carefully flip the quesadilla to the other side, adding another 1/2 tablespoon butter to the skillet at the same time. Continue cooking until the second side is golden. Repeat with the remaining tortillas and fillings.

Cut each quesadilla into wedges and serve with Pico de Gallo, sour cream and black beans on the side.

Enjoy!
Nutrition
Calories:
770
kcal
|
Carbohydrates:
36
g
|
Protein:
35
g
|
Fat:
53
g
|
Saturated Fat:
32
g
|
Cholesterol:
152
mg
|
Sodium:
1488
mg
|
Potassium:
293
mg
|
Fiber:
1
g
|
Sugar:
5
g
|
Vitamin A:
1770
IU
|
Vitamin C:
3.5
mg
|
Calcium:
852
mg
|
Iron:
2.7
mg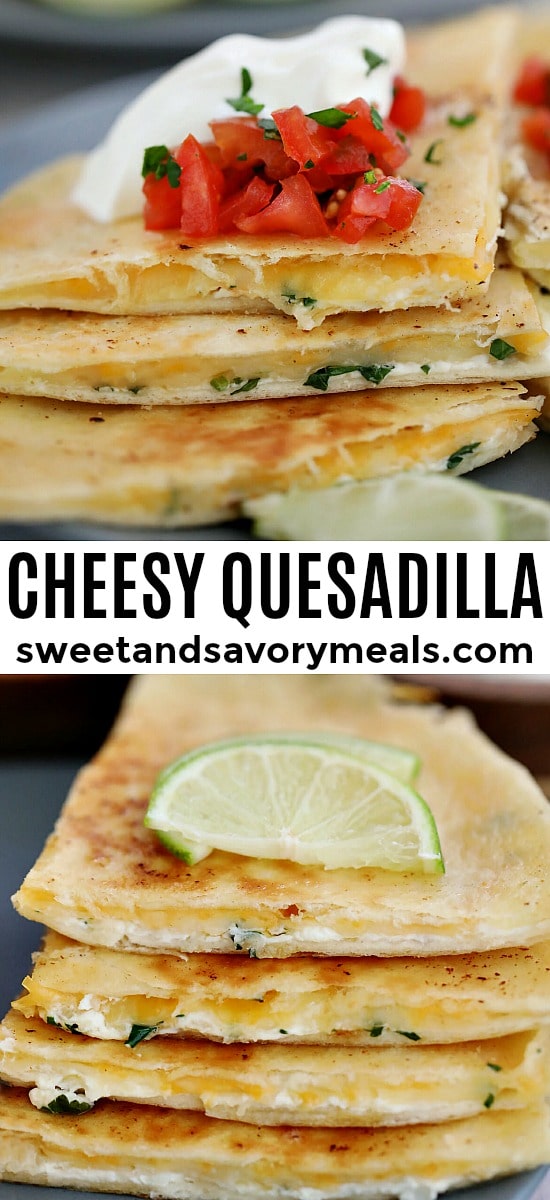 More recipes you might love