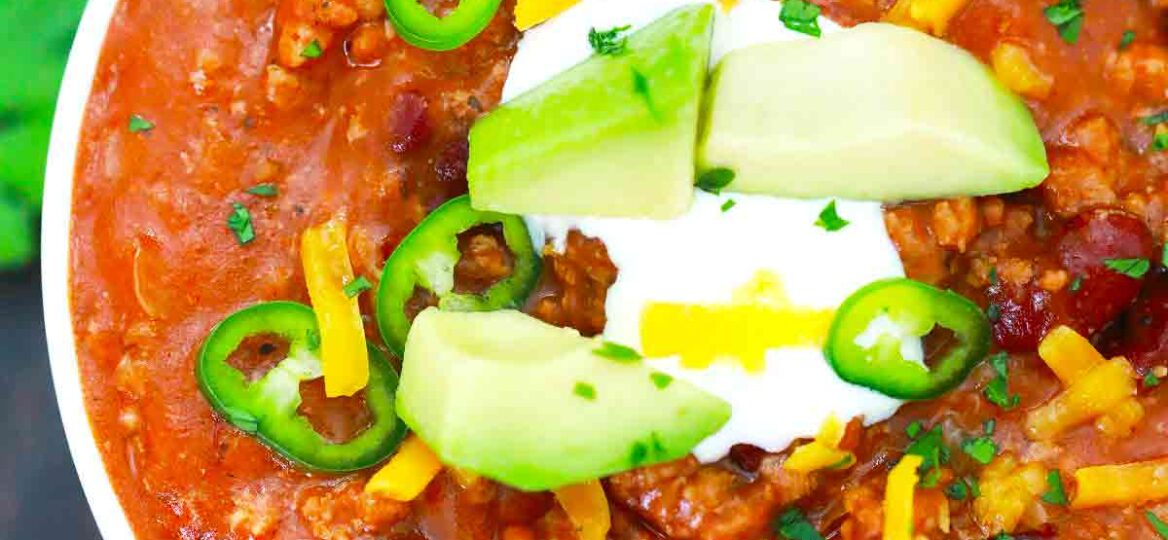 Instant Pot Mexican Chili
Instant Pot Mexican Chili is made with taco seasoning, poblano peppers, beef, and beans in a tomato broth. A hearty and delicious recipe, incredibly easy to make in the pressure cooker. Packed with flavor and Mexican seasonings, this Tex-Mex recipe is a must-try.
Having an Instant Pot is such a time saver, you can make so many recipes in a fraction of the time. Also, you can make sweet and savory dishes, make sure to try our famous IP Orange Chicken. Learn How to Cook Rice in the Instant Pot, or go for a fudgy IP Chocolate Cake.
Pressure Cooker Mexican Chili Recipe
Instant Pot Mexican Chili is hearty and satisfying, made with perfectly browned ground beef, lots of peppers, black beans, and all simmered in a mixture of chicken broth and tomatoes.
The recipe is spicy and loaded with Mexican flavors, like cumin, chili powder, oregano, and lots of taco seasoning. We used a mix of jalapeno and poblano peppers, and if you want to make it spicier, make sure to add a chipotle pepper in adobo sauce.
This is a very easy recipe and a very delicious meal that also makes great leftovers. It is also the perfect freezer meal, that you can make in advance and freeze for later.
What do you need:
Ground beef – We like to use lean ground beef, to keep the fat content on the lower side. Equally important is to remember to discard the grease after cooking the beef.
Olive oil – Just a bit is used for browning the beef. Keep in mind that the beef will release its own juices, so there is no need to use lots of oil.
Seasonings – Garlic powder, oregano, chili powder, cumin, bay leaves, and taco seasoning. All these are used to add extra flavor to the chili.
Veggies and Beans – Onion, garlic, jalapenos, poblano peppers, and black beans. As you can see, a variety of peppers and beans are used to add extra texture, fiber, and protein to the dish.
Liquids – Worcestershire sauce and beef or chicken broth, both are used to thin out the chili and enhance the beef flavor.
Tomatoes – We use a combination of tomato paste and crushed tomatoes to make the broth more acidic with a touch of sweetness.
How do you make Instant Pot Mexican Chili from scratch:
Spices: First, in a small bowl, mix all the spices that will be added to the beef.
Brown the Beef: Second, start by adding the oil to the IP, and browning the beef. Once browned, add the diced onion, garlic, and peppers and saute for a few more minutes. After that, stir in the mixed spices and continue to cook.
Deglaze: Keep in mind that when you brown the beef some bits will stick to the bottom of the pan. Therefore, if you don't deglaze the pan, you may get a Burn notice later. That's why add a bit of broth and scrape the bits that stuck.
Remaining ingredients: Next, after you have deglazed the pot, you can add the rest of the remaining ingredients, except crushed tomatoes. Those you add last on top of the beef mixture and do NOT stir. Finally, lock the lid and point the valve to sealing.
Pressure Cook: Pressure cook for 12 minutes, followed by 15 of Naural Pressure Release. After that, Quick Release any remaining pressure.
Thickener: Now, stir and check the texture of your chili and adjust for any seasonings. Also, if the chili is too thin, make a slurry of cornstarch and water and add it to the chili. Don't forget to stir and simmer it for a few minutes, until thickened.
Serve: Finally, the Pressure Cooker Mexican Chili is done and can be served with your favorite toppings.
Recipe Variations:
Meat: We make this recipe with beef, but you can use a combination of beef and ground sausage. Other options are to combine it with chorizo, or use ground chicken/turkey, for a leaner version.
Peppers: This recipe is all about the peppers, you can use as many as you want and you can choose from a variety of them. Mexican cuisine is incredibly rich in peppers and you can use your favorites in this recipe.
Spicier: Make it spicier by adding more spicy peppers, fresh or dried. Also, you can add some pepper flakes or cayenne pepper powder, even hot sauce will work.
Beans: Add a variety of beans, we used black, but red beans, pinto beans, and cannellini beans will work as well.
Salsa: Replace the crushed tomatoes with your favorite salsa!!
Veggies: Mix in more veggies for a healthier, veggie-packed meal. We suggest belle peppers, mushrooms, corn, or zucchini.
Slow Cooker: Make this recipe in a slow cooker. Brown the beef, saute the onion, garlic, and peppers, and add everything to the slow cooker. Cook on low for 7-8 hours or on High for 4-5 hours. To thicken, add the cornstarch slurry in the last 30 minutes of cooking.
Frequently Asked Questions
How to serve Instant Pot Mexican Chili dish:
Since this is a Tex-Mex inspired recipe, there are so many delicious ways you can serve it. We recommend having some Southern Cornbread on the side, and definitely a homemade Blueberry Margarita with it.
This recipe is all about the toppings, that the beauty of it, pile them high and check our suggestions:
Chopped jalapeno peppers
Sour cream
Mexican cheese blend
Cheddar cheese
Queso Fresco
Spicy Salsa
Avocado
Crushed corn chips
Sweet corn kernels
Chopped cilantro
How to freeze:
This is a very versatile recipe and a great meal to make in advance. We actually make a double batch, and always freeze some for later. Here are the steps you should follow in order to freeze this meal:
First, make sure you cook the chili to room temperature.
After that, add it to a freezer-safe container, or to a freezer-safe Ziploc bag.
If you added it to a Ziploc bag, lay it FLAT in the freezer.
Next, freeze for up to 3 months.
When ready to serve, defrost it in the fridge overnight. After that reheat it on the stove and serve.
How to store:
First, cool the chili to room temperature, next add it to a container with an airtight lid and refrigerate for up to 4-5 days.
More Mexican Recipes:
Recipe Tips:
For more delicious Tex-Mex recipes, try our Chicken Fajitas, Chipotle Sofritas, and Instant Pot Pina Colada Cheesecake.
While you can choose to Dump-and-Cook all the ingredients for this recipe, and it will be delicious. We recommend that you take the time to brown the beef, it will add extra flavor to the recipe.
Equally important is to taste and adjust for seasonings as you like. Since this is a recipe rich in flavor, it is important to taste and see what you need more so you can easily customize it.
Make this a beef-only chili, by using two pounds of beef and skipping the beans.
Deliciousness to your inbox
Enjoy weekly hand picked recipes and recommendations