Cheesy Hashbrown Casserole like Cracker Barrel [Video]
Hashbrown Casserole is our favorite casserole ever! It is a true comfort food loaded with cheddar cheesy, sour cream, frozen hashbrowns, and put together in only 5 minutes! Watch the recipe video attached below for an easy step-by-step tutorial.
If you are into making homemade casseroles, you will also enjoy our other easy recipes such as Cheesy Carack Chicken Casserole, Asparagus Casserole, and Corn Casserole.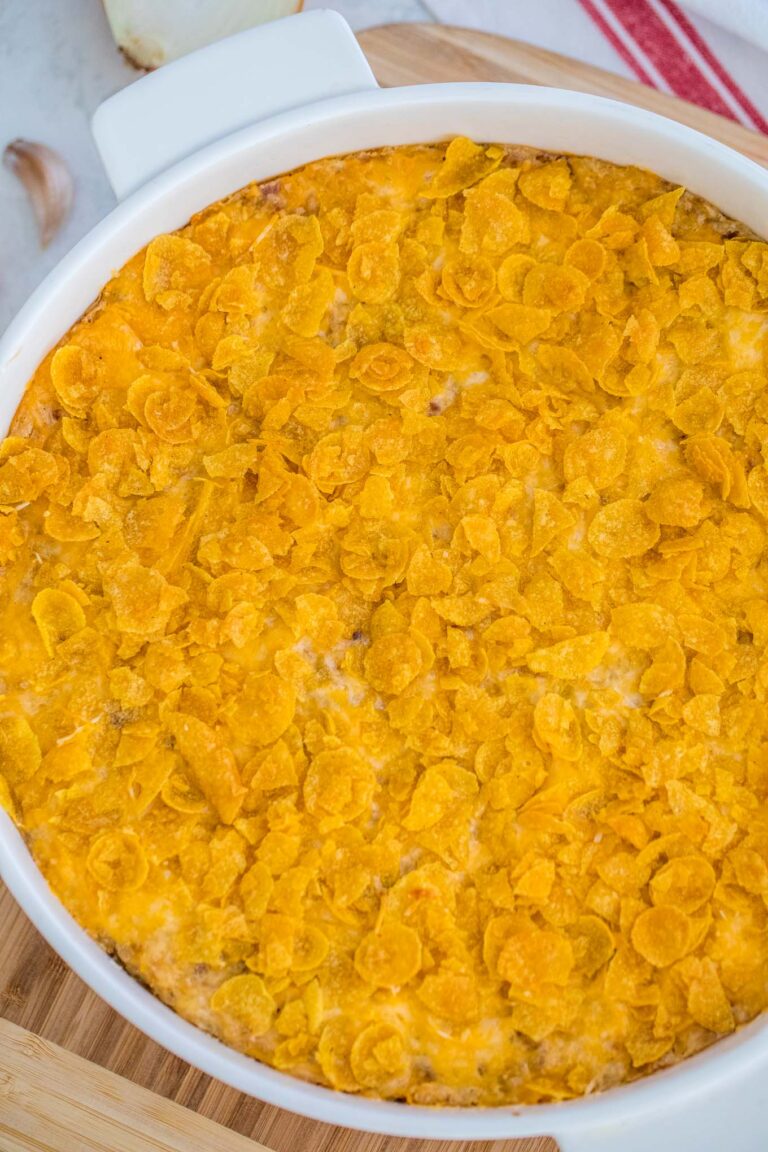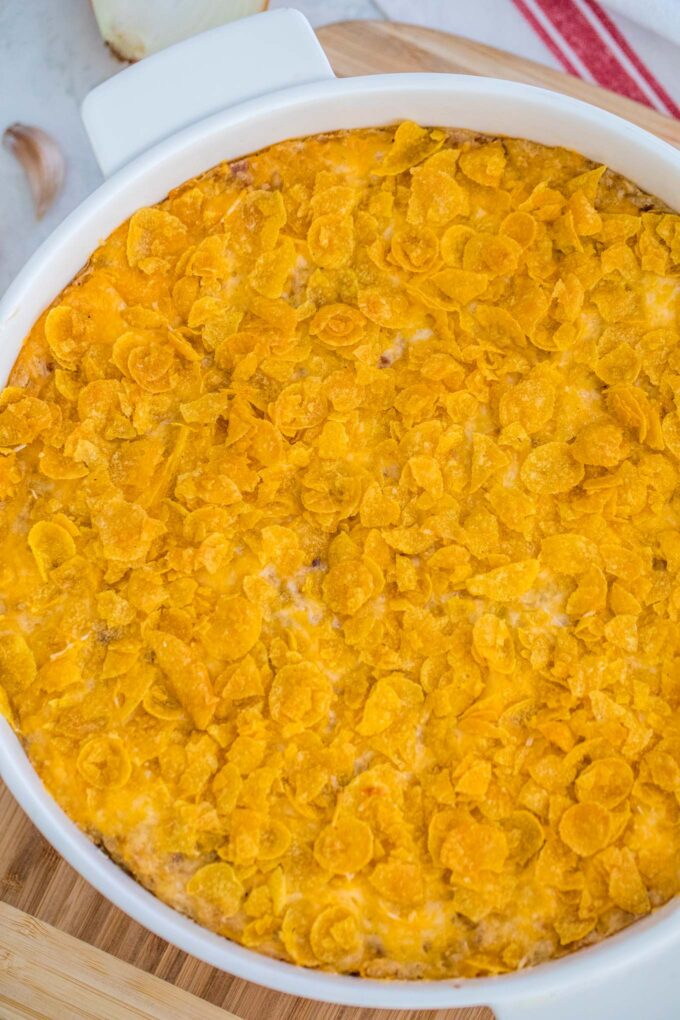 Funeral Potatoes – An Easy side dish
This Cheesy Hashbrowns Casserole is a combination of melted cheddar cheese, condensed cream of chicken soup, and topped with crunchy corn flakes. It is one of our family's favorite side dishes and is a great addition to any holiday meal or potluck dinner.
The reason I included this dish in our holiday meals is the fact that is super easy and quick to make. Some people call it Funeral Potatoes because it is usually served at the funeral!
However, we enjoy this delicious recipe for breakfast, as a snack, or as a great side dish to the main meal. Also, it is versatile as you can pair it with almost anything making it an all-time favorite side dish! We enjoy making it quite often, because it feeds a larger crowd, and can be easily made ahead for days to come.
If you have eaten at Cracker Barrel restaurant, you might have tried it, as is their best-seller dish. However, for those that did not have a chance to try it before, this is the perfect time to try to make it at home. Not only is this recipe easy, but making it at home is healthier, and also budget-friendly.
Ingredients Needed:
How to prepare the hashbrowns for this dish?
If you are going to use frozen hash browns, then, it is best to thaw them out in the refrigerator.
Also, drain any moisture before using in this recipe as frozen and moist potatoes will need prolonged baking.
In addition, feel free to make your own hash-browns, and utilize them in this recipe whenever you need to.
How to make hashbrown casserole?
For quick step-by-step guidelines, please watch the recipe video attached. But the general steps are as follows:
Preheat the oven to 350 degrees Fahrenheit, and grease the 9×13 baking pan while you prepare the other ingredients.
In a large bowl, combine cream and flour until smooth.
Then, in a separate bowl, mix well the sour cream, cream cheese, melted butter, and the seasonings: salt, pepper, onion, garlic, and paprika.
Next, mix in the hash browns and the cream mixture prepared earlier. Then, pour the whole thing and distribute it evenly across the baking pan. Top with shredded cheddar cheese and a mixture of melted butter and crushed cornflakes.
Cover the whole thing with foil. Then, pop it in the oven for about an hour. During the last 10 minutes of cooking, remove the foil, and bake uncovered to get a perfectly golden brown, and crunchy topping.
Serve the casserole hot and garnish it with some chopped parsley.
Variations and substitutions:
Sweet potatoes: Feel free to make this cheesy has brown casserole with sweet potatoes instead. It would make for a delicious side dish, as well as a healthier alternative!
Seasoning: Use what you like. Some great mix-ins would be garlic powder, ranch seasoning, etc.
Meat: To make it a complete meal, add some ground beef, turkey, chicken, or even Italian sausage.
Spicier: Also, to add some heat to it, simply chop in some fresh jalapeno peppers.
Favorite Toppings:
Generally, we like to keep it close to the original Cracker Barrel version. Therefore, we only top it with cheese.
But, at the same time, we also like a nice crunchy topping. So we add some cornflakes. Simply, crush 2 cups of cornflakes and toss with 1/4 cup of melted butter. Then, sprinkle over the casserole before baking.
Alternatively, feel free to add crumbled bacon, potato chips, Ritz crackers, panko bread crumbs, ham, or even leftover chicken or turkey will work. Go with what you like the most, as this dish is very versatile!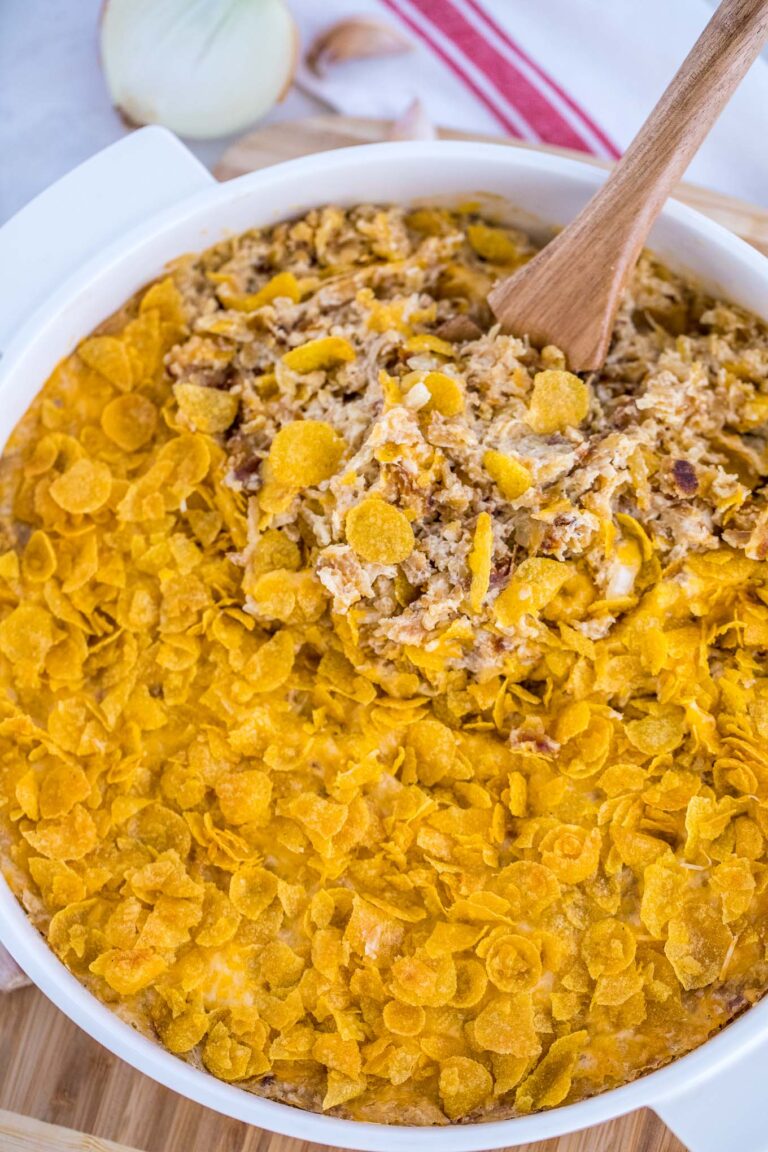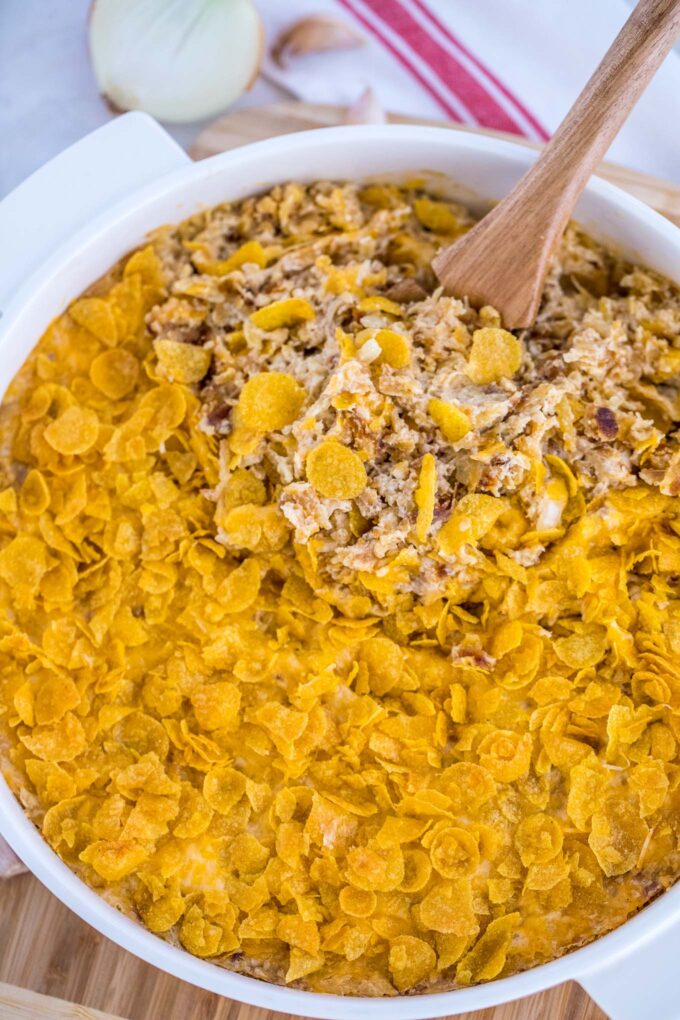 How to make it cheesier?
To make your extra cheesy, simply add in more cheese of your choice. We love using freshly grated cheese, such as Parmesan or mozzarella, but any type will perfectly work here.
Who doesn't love cheese anyway?! 🙂
Can I use fresh shredded potatoes?
Absolutely! Feel free to use fresh shredded potatoes if you want. Just ensure to shred them right before adding them to the other ingredients. Else, they will turn brown.
Also, grate potatoes using a food processor. This will save some time and energy!
How many calories are in this casserole?
There are about 190 calories in a serving of this Southern favorite.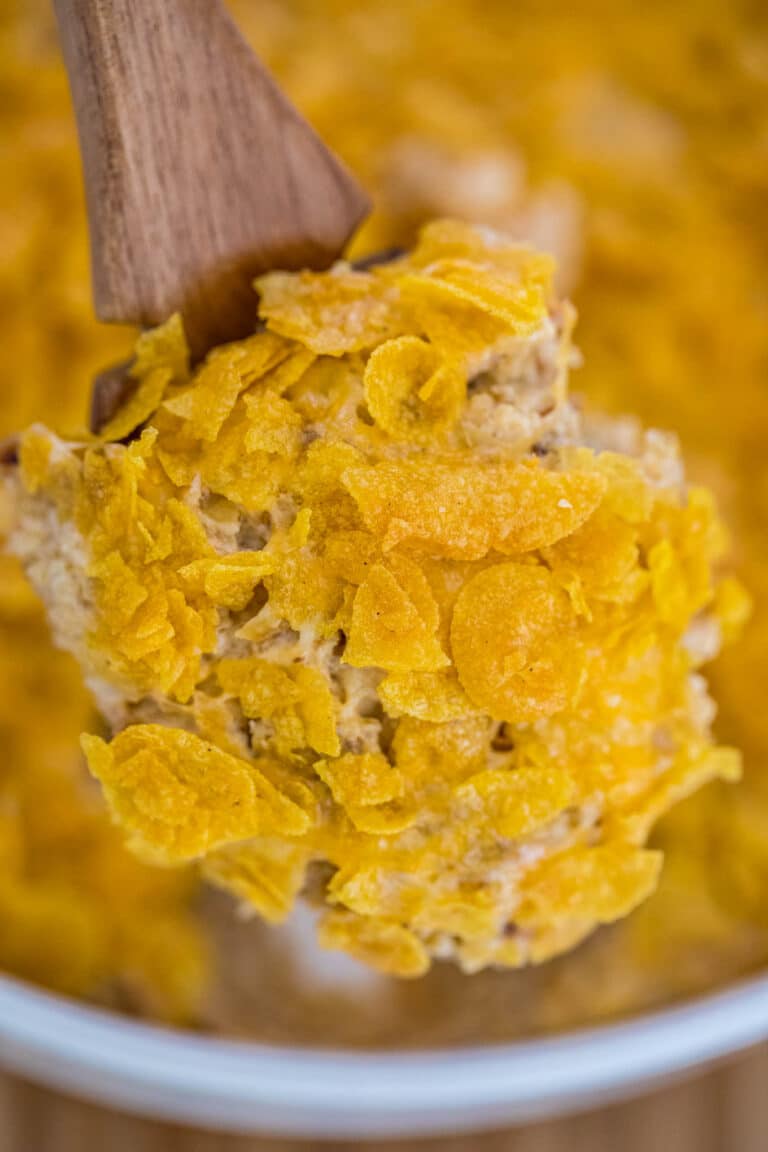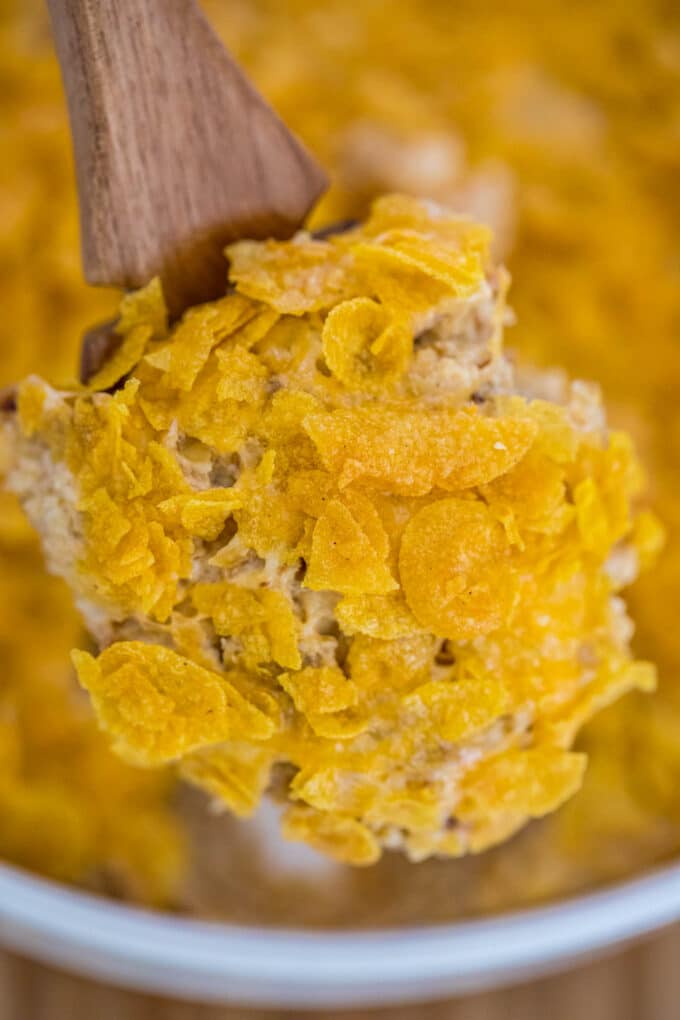 How long is it good for after being cooked?
Cooked potato dishes must be kept in the refrigerator within two hours of being exposed. In the fridge, hashbrown casserole can stay good for about 3 to 5 days as long as it has been cooked and properly stored.
Store leftovers in airtight containers, and just reheat them when you need to.
In addition, it is best to transfer this to smaller individual containers so that you can thaw only the amount that you will be eating and not the whole dish.
How to freeze it?
You can freeze the leftovers or the uncooked casserole before baking it in the oven.
If you intend to bake it first before storing it, then, you can bake it halfway first. Then, remove it from the oven to cool completely. This way, when you will cook it again, you will not overcook it.
Also, to keep it for a long time, then, covering the dish with aluminum foil or freezer wrap will protect it from freezer burn. It can stay in the freezer for three months. Thaw it out completely when you are about to cook it again.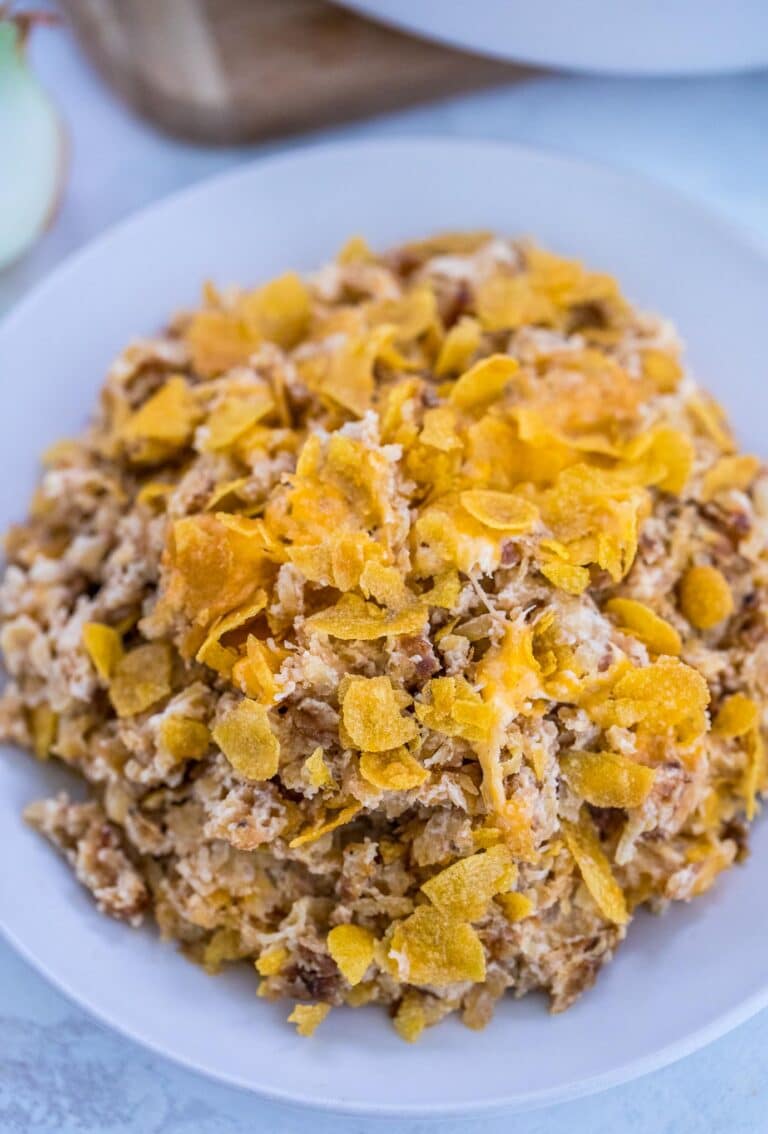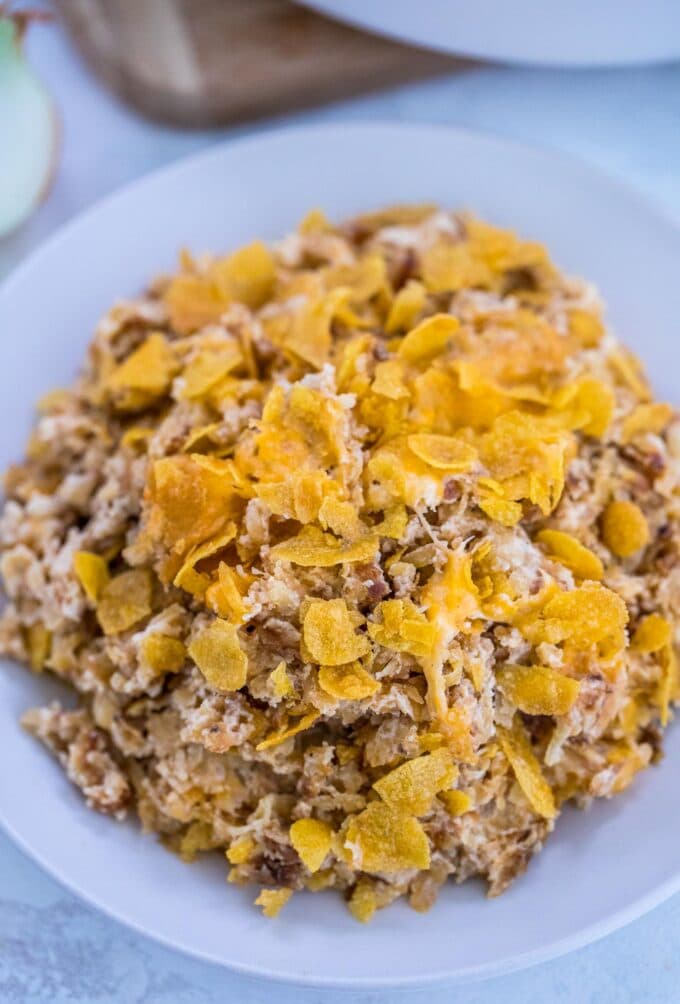 More potato dishes you will love:
Recipe Tips
We use a bag of frozen hashbrowns that thaw prior to cooking. You can also use freshly shredded potatoes, or check out how to make homemade hashbrowns.
This dish can be altered by incorporating other vegetables like peas and broccoli. Also, for enhanced flavor, add some bacon, ground beef, or ham to it.
Enjoy this cheesy potato casserole as is, or served it with honey & butter ham or a side salad.
Any cheese will work great here. However, for a deeper flavor, we prefer to go with cheddar or sharp cheddar cheese. You can also use Colby cheese, but it is a bit sweeter with less tang.
Use a glass casserole dish when freezing it. The glass can withstand the lower temperature, and when reheating, you will no longer need to transfer everything to another container.
Top it with a sprinkling of parsley for added color and flavor.
Also, if you want to mimic the exact Cracker Barrel recipe, then substitute the cream mixture with cream of chicken soup or cream of cheddar.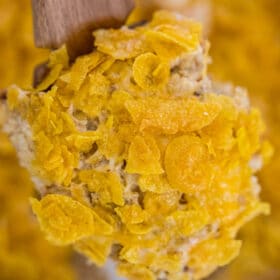 Cheesy Hashbrown Casserole
Hashbrown Casserole is a classic breakfast staple that is creamy and cheesy. With all its cheesy goodness, you will forget it is so easy to prepare!
Save
Share
Print
Pin
Rate
Ingredients
2

lb

frozen hashbrowns

(thawed)

1/2

cup

butter

(melted)

8

oz

sour cream

8

oz

cream cheese

(room temperature)

2

cup

shredded cheddar cheese

1

can

(10 1/2 oz cream of chicken soup, optional)

1 1/2

cups

cream

1/4

cup

flour

1

teaspoon

kosher salt

1/4

tsp

black pepper

1/2

teaspoon

paprika

1/2

onion

(finely diced)

4

cloves

garlic

(minced)
Topping:
1

cup

cheddar cheese

(grated)

1/4

cup

melted butter

2

cup

corn flakes

(crushed)
Instructions
Preheat oven to 350 degrees F.

Grease a 13x9 baking dish and set it aside.

In a measuring cup combine cream and flour, whisk until smooth. Set aside.

In a large mixing bowl, combine sour cream, cream cheese, salt, pepper, onion, garlic, paprika, and 1/2 cup of the melted butter. Mix until combined.

Add the hash browns and the cream mixture, also the cream of chicken soup if using, stir to combine. Pour into the prepared 13x9 baking dish.
Topping:
Sprinkle 1 cup of grated cheddar over the top.

In a small bowl, combine 1/4 cup melted butter with crushed corn flakes. Sprinkle over the top of the casserole.
Bake:
Cover dish with foil and bake for about 60 minutes.

Remove foil and bake an additional 5-10 minutes until topping is golden and crunchy.
Nutrition
Calories:
606
kcal
|
Carbohydrates:
32
g
|
Protein:
16
g
|
Fat:
46
g
|
Saturated Fat:
24
g
|
Cholesterol:
119
mg
|
Sodium:
874
mg
|
Potassium:
490
mg
|
Fiber:
1
g
|
Sugar:
2
g
|
Vitamin A:
1855
IU
|
Vitamin C:
10.5
mg
|
Calcium:
349
mg
|
Iron:
3.2
mg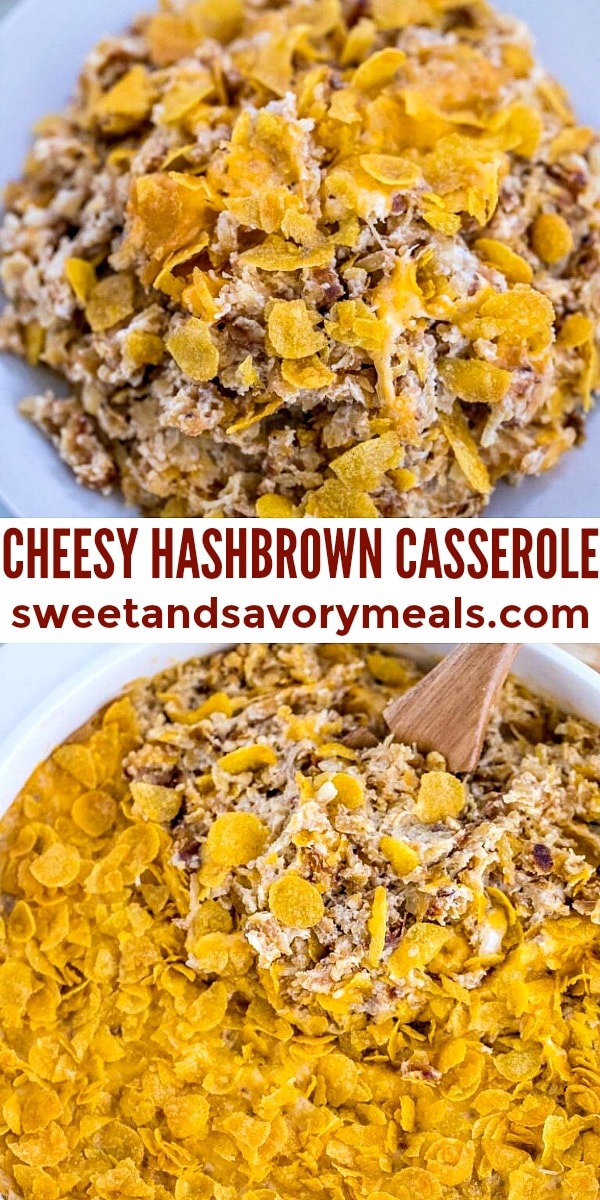 More recipes you might love